No less than a star, Nishriin Parikh is a 52 year old international  fitness athlete, a national award winning fitness trainer, the most renowned yoga teacher, GNC brand ambassador, an IBBF athlete and much more. She's is an inspiration and one of the most popular fitness icons of the nation.
Nishriin has won the 4th place in Open category for Sports Physique at the recent Asian Bodybuilding Championship in pune that took placed between 2nd to 8th of October, 2018.
She has also won the 2nd place in National Yoga Championship on 7th October in Mumbai. Nishriin has given a numerous reasons for India to be proud of her inspite of her age looking at the achievements she has made throughout her career.
In the year 2015, Nishriin won "Best Personal Trainer of the Year" ATP award for excellence in personal training. Nishriin is quite versatile when it comes to fitness, she has earned credentials in various different fields like Martial Arts, Weight Lifting, Yoga,  Pilates, and nutrition and diet. Nishriin has been helping her students reach their fitness goals since 1987.
Her immense passion for fitness and Yoga has made the lady evolve the concept called as 'Yogastrength' https://yogastrength.org/. The Yogastrength  concept transforms a person into strong, agile, injury free and joyful individual. It focuses on integrating body, breath and mind.
We are glad Nishriin could spare some time for IBB to share her views on fitness, discipline and determination. Read on to know more about this awe-inspiring 52 year old female and get motivated to achieve your fitness goals no matter what age you are!
You are a seasoned fitness & Yoga coach and an athlete, how did you get into the fitness industry?
My journey goes back to 1982, that's when I enrolled for Karate Classes and went on to get my black belt in 1987 after which I participated at the national level. I got married in 1990 and thereafter a lot of my time went into raising my children due to which going for Karate was becoming difficult, so I started teaching aerobics. I had Talwalkar's in the same locality where I stay at Breach Candy and they asked me if I would take classes for them and that's how I started taking classes at Talwalkars. I did this for almost 10 years of my professional life. About 15 years ago, I got introduced to Yoga and then I decided to get certified in Yoga, I have been studying Yoga all throughout my career and has got a number of certifications in it.  I also have done a 1 year Advanced Diploma in Yoga. Yoga is something  I am deeply passionate about, you can see that in my Yoga classes called as Yogastrength. Yogastrength takes you to a deeper level of awareness about your mind and body. I have been doing Yogastrength since last 15 years and  I myself teach in each of my yoga classes. This is something that I learnt from my Karate teacher who takes every single class himself. I believe somebody else cannot do as good job as you can when you have so much knowledge to share, you cannot be replaced.  I do not want to compromise on the quality of teaching in any of my classes. So long as I am capable of teaching  I will pour out everything that I know for the awareness of my students.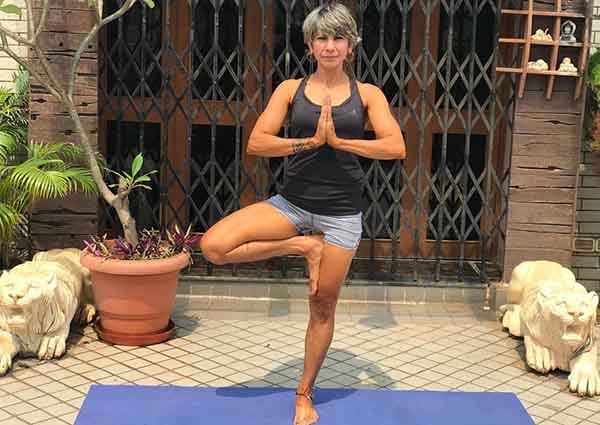 You are so energetic, in your daily routine how do you manage to find time for yourself and the multiple things you are into?
My kids have grown up and are pursuing higher studies, they are now quite independent. All these years when my kids were growing up I had been the best mother, best wife, best daughter and the best daughter in law. Now my kids want me to do things for myself for which I couldn't find time earlier. They want me to do all that I ever wanted to and make the best out of the rest of my life. For me my health is the first priority which I know would only come through right eating and right time and duration of exercise. If you want your optimum health do it everyday. I am doing everything that I am passionate about and my passion revolves around fitness for myself as well as others.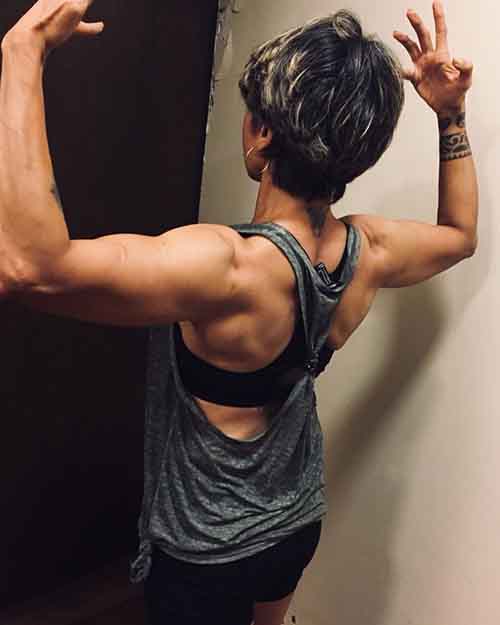 In the past like 10 years back, I used to be training in the super slow method of training and used to suffer from muscle fatigue, then I went on for conventional training and appointed a personal trainer for myself. He changed my diet and exercise, he is the best coach I ever had. Now I am very disciplined with my food, throughout the year, for 365 days, I completely rely on protein based diet through natural and best sources of protein. I was a vegetarian earlier, now I have resorted to non-vegetarian sources of protein as well like eggs. I do not want to jeopardize my health by relying on some growth hormones or steroids, I don't want to invite unnecessary health troubles or tumours. I completely rely on natural and quality sources of protein like eggs, season nuts, apple, banana pre-workout. I take GNC supplements, I started this when I was in U.S.A and they now have me on board for endorsing their brand.  Supplements are very important along with your diet.
We would like to know more about your preparation for the upcoming Asian Bodybuilding and Physique Sports Championship 2018 happening in Pune this October.
I don't have a gaining or a lean phase. For me 365 days I am on my optimum diet and regular exercise. From Monday to Saturday I train everyday, so I am in season all the time. Sunday is a weekly off. I am crazily disciplined, every single day and every single moment of my life I am determined to make my best, that's how I live. I won't bulk or shred, throughout the year I will be like this. I am not sweating it out for Asian championship in particular. I will be 45-46 Kgs and my body fat percentage is not as low as a single digit, it is 16 and  that's the way I get on to the stage. I do not want to win the 1st, 2nd or 3rd  title, I do not want to torture my self to get those titles. I don't want well defined muscles, I want to be a happy person who's really working hard and inspiring others to  be fit inspite of the age  and believe me irrespective of the age you can have crazy energy as good as a teenager.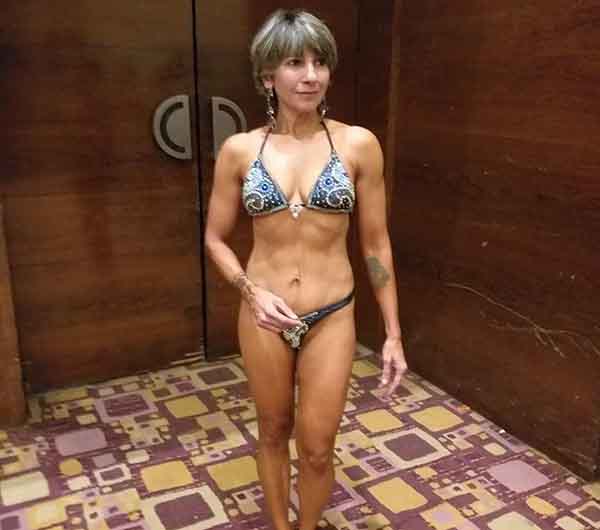 What motivates you to be disciplined every single day and work hard? who is your coach?
Everyone has a deep passion within, when we discover that passion, we shine. Why can't your passion be your own self? You have one life to live, where every moment counts so you might as well do your best. I feel I am doing the right thing by stepping on to  the stage at 50, when  I see young people at 21, they look at me and say "we wish our mom was like this" and that gives me the zeal I want.
I have been training under my coach Tausif Kazi for last 3 years who gets the best out of me and looking at my discipline and dedication he says I have inspired him enough to be an athlete himself.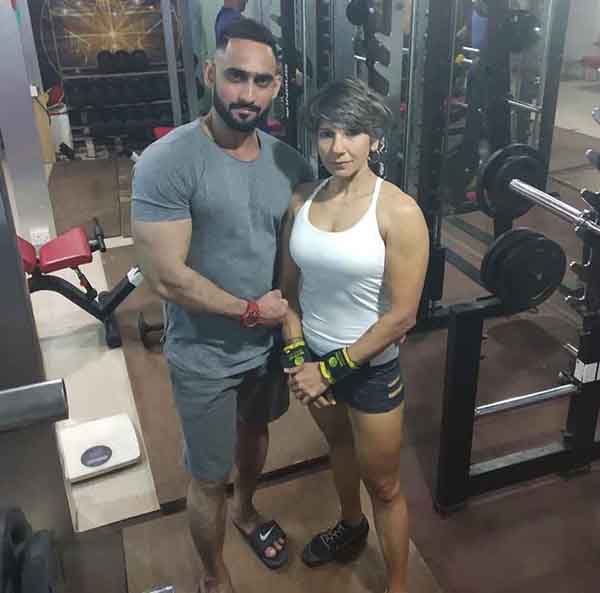 How does it feel to be a female in the fitness industry, what are advantages or drawbacks?
If a women thinks fitness is not for her, she is free to sit back. The world is full of opportunities irrespective of whether you are a man or a women. I have been to places, I have been on stage, been to IBBF and many more events and the amount of respect they have for women can be clearly seen, why do we still need to shy out? Women buy beautiful lingerie because they want to look good inside but bad food can put you out of shape and diminish your confidence. So when women work  on their bodies  the confidence to display themselves comes naturally. There are men who  are extremely respectful of women, even at this age I earn respect. Every time I go to their event IBBF makes sure to handover the mic to me.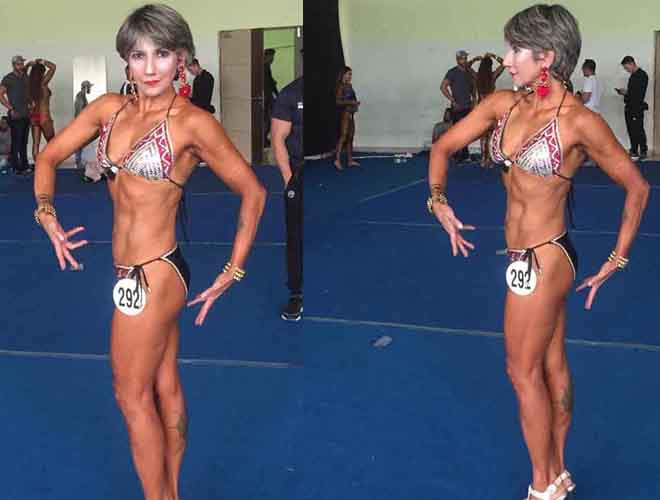 Did you encounter any set backs or failures in your journey and how did you get over them?
3 Years back I had to undergo a major surgery for removal of a 16cm fibroid through a c-section. The pain was unbearable and for 15 days I couldn't even move. With the help of my coach on the 15th day I started with a less intensive training and gradually overcame. I even had a kidney ailment, for which I went through a major operation but I jumped out of that as well, I never let these obstacles hinder my progress for a long time, every time I was down I made sure I gradually rise up. Set backs do come, they are a part of our life, but whether you choose to make peace with those set backs or you willingly take steps to move ahead is your choice.
What message you would want to give to the younger generation?
When I am on stage with a mic, I tell people all of you are really fit, I am sure somebody back home has really worked hard on getting you fit and that's your mother. So now its your responsibility to make sure your parents are fit. I want a revolution in the country with fitter old people. If you go the Everest and look at the number of people climbing at 70, you would be shocked.
My advice to the younger generation is be away from bad vices like alcohol your life is very precious. To inspire others you have to first change yourself and then will others join you. When I see a young person at 21, depending on steroids to build muscles, I feel bad for them. If I can work on my body at 51 with a sluggish metabolism, why can't the younger generation do it?
When it comes to diet, I see all grain eating people who eat more than what's actually required by their bodies. My advice is to eat only in proportion to your requirement. Mindless eating is only going to add on to unnecessary fat. Food is for growth and nourishment do not turn it into a form of indulgence. We are also exposing our kids to processed and junk foods, why can't you give them bananas or other fruits? I am not telling people to be bodybuilders or intend to grow the bodybuilding community, the bodybuilders are already disciplined and doing well. It's the other people who I want to be aware about diet and healthy living.
Nishriin is a fitness inspiration for people of all age groups. If she can do it at 52, others might do it as well and of course the younger people. With her recent success at Asian Bodybuilding Championship 2018 and National Yoga Championship 2018, we believe there is nothing that can stop her from reaching her goals. That's not all, we will also get to see her participating in the Bodybuilding and Physique Competition in Chiang Mai, Thailand in December. Nishriin has proved us time and again that a person with discipline and dedication can beat all odds and emerge as the winner!
You can follow Nishriin on Instagram @ https://www.instagram.com/nishriinparikh/
To know more about the 52nd Asian Bodybuilding and Physique Sports championship, Mr Asia 2018 visit https://www.indianbodybuilding.co.in/events/mr-asia-2018-wbpf-52nd-asian-bodybuilding-and-sports-physique-championship/
To read more of such inspiring interviews with professional bodybuilders and athletes visit