Winners are not born, they are made through sheer hard work and perseverance this has once again been proved by a young new entrant Jiten Marke who won a Pro Card in the Men's Phsyique Category in IHFF Amateur Olympia 2018.
Read through the inspiring story of Jiten as he engages in some upfront and honest conversations with IBB's Managing Editor Shafiya Shaikh.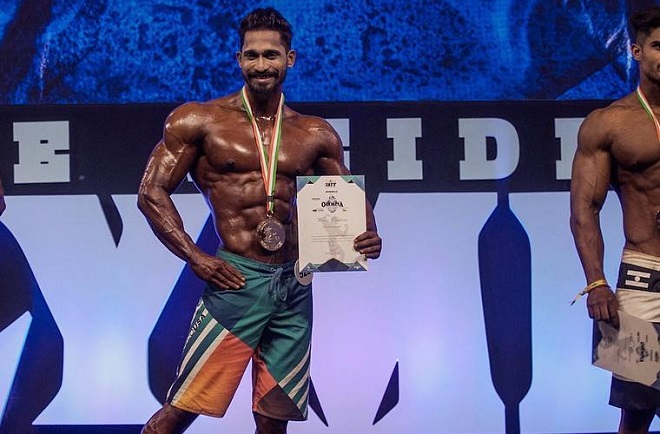 "It is not luck, nor politics that will bring you the medal, your hard work and the smart choices that you make is all that matters. I do not want to endorse brands for some quick money or be just another businessman, I want to be a legend, I want to inspire others and guide them in every possible way I can!" says Jiten.
Watch Jiten Marke winning Pro Card at IHFF Amateur Olympia 2018
1. Tell us more about your background and your journey to the Pro Card.
I am an engineer and that's what I and particularly my dad always wanted me to be. I grew up having a very lean body however my physique hardly mattered to me at that time. Although I was ridiculed for a long time by friends for being severely underweight, I never took it seriously. I was one of those overconfident guys for whom physique did not make much of a difference and I was quite comfortable the way I was.
It all started about 8 years back, when I once went for a trip to Alibaug with my friends, we were all about to dive in the water and when we took our clothes off, I was made fun of for being so skinny by my friends and that is when I really felt embarrassed about my weight. One of my friends approached me to suggest going to the gym since he believed I had a great body and was blessed with good looks, if I work out on my body it would really compliment my looks and my personality would be impressive enough. That is when I was convinced about going to the gym to gain weight and muscles.  I knew nothing about gym or weights all I knew was the story of the great legend Arnold Schwarzenegger and that's about it. I approached many trainers to assist me however they lacked the desired knowledge about fitness and bodybuilding and that's when my dad suggested I can study fitness if I want to and do it all by myself however stick to my professional goals of becoming an engineer.
I studied fitness and nutrition from Gold's Academy and then I also acquired a nutrition certificate from BFY fitness. I not only trained myself but also started training others as a freelancer. Gym had now become my passion which I did not realize, it slowly turned into my obsession and when I completed my engineering I landed up in jobs about 2-3 of them, which I quit because it was getting difficult for me to manage my diet and workout. My dad was not really happy when I quit jobs and that put me under a lot of pressure as well to do something. That is when my fiancé suggested why don't you participate in the bodybuilding competitions since you already have a great body that you have maintained from past 7 years. It was not easy for me to imagine myself competing on stage, I knew nothing about it. She encouraged me to participate in the men's physique category and when in 2017 it was announced that athletes do not have to belong to any particular association they can independently register themselves, I found some hope. I never wanted to participate in small stage competitions, I wanted to make it big however knowing the big names who are already established in this category like Junaid Kaliwala, Siddhant Jaiswal, Manoj Patil, my morale was down. I knew nothing about posing, I researched online and got to know about it and then started practising posing regularly. In 2017 when I participated in IHFF for the first time I stood 4th in the category which actually motivated me to do more. I also recently participated in Mr. Asia where I won bronze. When I got to know more about this field I realized that a pro-card is essential to compete on any international stage and that's when I got obsessed with the idea of winning a Pro Card.
2. How did you prepare yourself to win a pro-card in Amateur Olympia at IHFF this year?
I was on prep for about an year before I won the Pro Card and being on prep is actually very expensive especially for a middle class family like mine, so I decided to work hard for it. During the night I spent my time consulting my clients and during the day I focused on my workout and diet. I could hardly get sleep for more than 5 hours on any given day. I am not a known face and not everyone knows that I have worked hard to maintain my physique for last 7 years and it is only grooming that I have done in the last 1 year. I have sacrificed a lot during the last 1 year and worked really hard towards my goals.
3. Who has been your true source of inspiration or role model?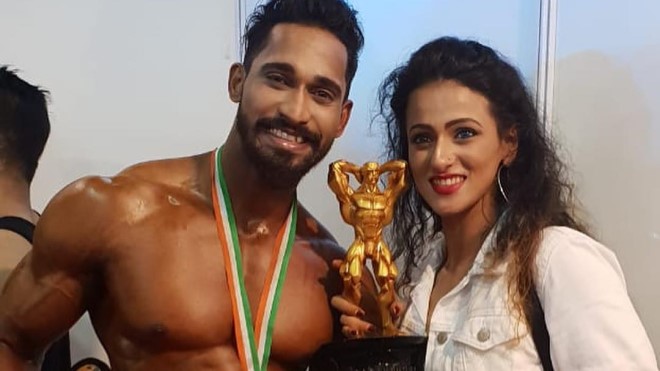 I tried trusting many people, however they all lacked the required knowledge. I have always done what I feel is the best for my body in concurrence with my fiancé's advice. She is the one I look up to, she is my role model and for every important decision I choose to count on her opinion. So as of now, I am my own coach but yes, there is someone who really inspires me and he is Jeremy Buendia, I take inspiration from him for everything.
4. We would like to know more about your workout and diet.
As of now I am in my gaining phase so I have a complete diet which includes carbs, fats, protein etc. and stick to working out on alternate days. Since I choose to consult my clients on the other days when I am not working out. During my prep days also, I follow a heavy calorie diet since I believe I am blessed with a good body and no matter how much calories I consume, it gives me a good beefy look. From overall 5 to 5.5 k calories that I consume daily, about 220 to 250 gms consist of protein and the rest is carbs, for carbs I rely on simple sources like sucrose as well.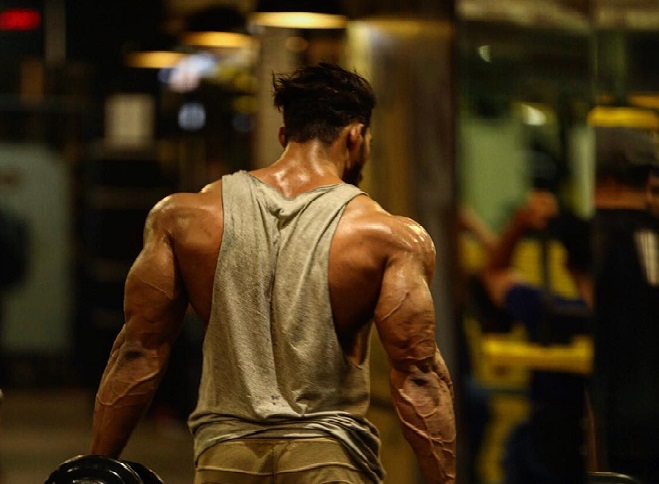 I start my day with tea and home made chapati by my mom and that's actually my all-time favourite which I cannot skip. Then I consume fruits and my Whey protein supplement. I also have chicken and fish for my protein sources in breakfast.
My lunch and dinner does not include any carbs, I only rely on chicken or fish and some fresh salad. It is only before workout that I have a heavy carb meal. I workout generally in the evening and right before my workout I have a meal high on carbs. I have about 12-13 egg whites in my lunch and also right before I hit the bed, I also have casein supplement before my bedtime.
5. What's is your vision and your future plans?
You will see me for the first time participating  in a first ever Pro show in India in May next year and as of now I am preparing for it. I want to be a legend,  I do not want to be just another business man or end up endorsing products to fool the new comers, I am not that money minded. Money is important of course, but for me what matters more is the pride I bring to my nation with each medal I win. Every time I win and  I hear the national anthem it's an overwhelming experience altogether, I cannot explain the number of emotions that run through me. I want to give back to the society and my family what I owe to them and that's my vision.
6. What message do you want to give to the people who aspire to establish themselves in this field?
Although, I have not been through many competitions, still what I have always experienced is some kind of animosity between the participants backstage. I want each one of us to be focused towards one goal which is of bringing medals to our country and it does not matter whether I do it or somebody else. The one who deserves is the one who wins, is what I believe. Many of us do not understand expectations of a category like men's physique which does not want you to be muscular but the focus is more on your overall physique. When we don't understand what the category is all about and on losing we blame it on politics, I think that is quite unfair and shallow on our part. I have won through sheer hard work, I never approached anyone to handover a Pro Card to me, I have earned it. I believe we all should cheer up the fellow participants from our country and encourage each other to do our best.
Watch Men's Physique Pro Card winners in Amateur Olympia at IHFF 2018