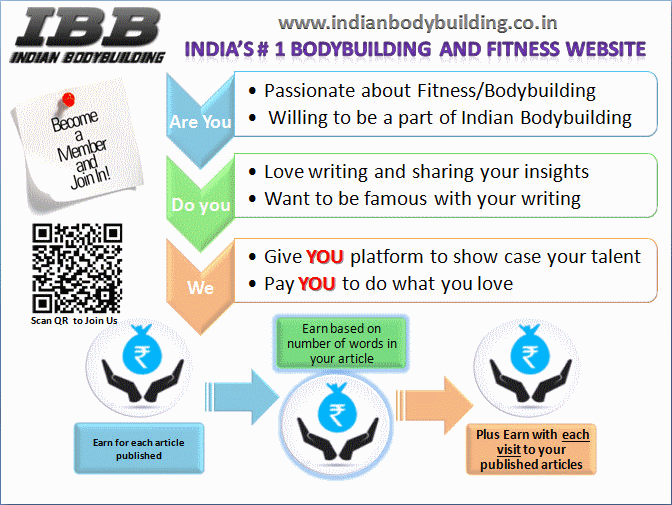 Indian Bodybuilding is the # 1 Bodybuilding and Fitness Website in India. We started on 26th Jan 2013 and have grown rapidly ever since. Today we have 193,000+ Facebook Fans and 123,000+ Email subscribers. Our aim is to provide quality content to our users in the field of bodybuilding and fitness.
We want to extend this platform to allow fitness enthusiasts to join us and contribute towards the growth of this community.
How to be a part of Indian Bodybuilding
If you want to work full time with Indian Bodybuilding, email to us at info@indianbodybuilding.co.in
We want anyone who is interested in the field of bodybuilding, supplementation or fitness and want to contribute to the community to be part of Indian Bodybuilding. However we would like to stress on few points. Just within 18 months of starting, we are receiving around 4500 visitors daily to our website. This is because of the immense efforts we have put in setting up this site with quality content. We have added several sections to our website like Bodybuilding Events, Workout Guide, Supplement reviews etc.
We expect anyone who would like to join Indian Bodybuilding to maintain the authority and quality of this site
which we have built over the years.
Here are some of the guidelines to get you started.

If you want to ask question or post some content, then use our Forum instead.
Check out the articles we have already published to get a feel of what is expected from standard post on this site.
You must have interest in the field of bodybuilding, fitness, supplementation, nutrition and willing to share your thoughts and knowledge with the community. Please don't join us just for the sake of money.
Articles must be written with the sole intention of providing value to our reader.Remember, best article is when it teaches anything, or is an unbiased opinion based on research, facts and experience.
Article Quality: Article should be a minimum of 500 words and should cover the topic in detail. Incomplete details are like half-cooked food and no one would love such articles. We take quality as one of the major consideration in accepting your posts.
Self promotion : Indian Bodybuilding will give full credit to your work. Author Name and social profile details will be published with each article. You will get a chance to build a brand of yourself by contributing post to Indian Bodybuilding.
Copyright : We respect everyones work. In case we found out that you have copied post from somewhere. This will lead to instant ban and removal of all your blog posts, and profile from Indian Bodybuilding. Also by submitting post to Indian Bodybuilding, you give us the copyright ownership of the post. This helps us to deal with any kind of DMCA related issues.
Here are few of the categories that We invite article on:
Bodybuilding Events and Results
Bodybuilder Profiles and Interviews
Exercise Guide and Workout Plan
Diet Plan
Weight Loss
Supplements Ranking and Reviews
Nutrition
Other topics related to bodybuilding and fitness
Earn money with Indian Bodybuilding
Yes, you can earn money by doing what you like and that too at your convenient time. As we are monetizing Indian Bodybuilding site with advertisements and affiliate program we wish to share the same with our partners i.e YOU. So you can earn money by joining us. The good thing is that you just don't earn one time for writing post on the site (like all other site) , Instead with Indian Bodybuilding you keep earning as the number of visitors to your post increases. Once you register with us and your account is approved, in the dashboard you will see list of all your posts and the visitors for each posts. To know more about how you can earn with Indian Bodybuilding, write to us at
info@indianbodybuilding.co.in
So, What are you waiting for? If you think you have it in you to join the #1 Bodybuilding and Fitness site in India, fill out this small from and we will email you the membership link.
[gravityform id="2″ name="Join Us" ajax="true"]
We are eagerly waiting to get you on-board.
Team, Indian Bodybuilding.