Yatinder Singh is a professional bodybuilder from Saharanpur, U.P. who has bagged several medals and won many titles for the country. He recently won silver medal in the World Bodybuilding and Physique Sports Championship 2015 in Bangkok, International Indian Bodybuilding Championship, 2016 in Dubai where he won Bronze and Mr. India 2016. The list of his achievements is quite exhaustive with several, international and national level championships where he has won medals and exemplary titles.
Yatinder Singh is occupied these days preparing for the 52nd Asian Bodybuilding and Physique Sports Championship, Mr. Asia 2018 which will be conducted from 2nd to 8th October in Pune, India. With a hectic schedule of intensive training, we are glad he could spare time for us and give some of the most inspiring insights into achieving one's professional and personal goals. Read to get inspired and know why Yatinder is all up to bring medal for the country.

1. How are you preparing yourself for the upcoming Mr. Asia 2018?
Mr. Asia 2018 will be held in Pune this October, my preparations for the competition are in full swing. Like for any other competition, I have been preparing for Mr. Asia since last 12 weeks and that is the minimum time span one must devote to preparing for any competition. A lot depends upon your body type and workout schedule and it is definitely not just about your diet and training, it is more about focusing on your individual goals.
It is a huge responsibility to represent one's country at such a big stage, I have sacrificed every single thing that has a potential to divert me from my goals. Everything I do in my 24 hours schedule is about meeting expectations of the nation. Let me tell you this sacrifice is not easy, from last 3 months I am avoiding parties, eating out with family or friends, I am determined to bring the medal for India as my first priority , everything else is secondary as of now, even my family and my business for that matter.
Along with an intensive workout of 5 hours, involving cardio and strength training I also ensure that my nutrition and calorie intake is in the right proportion. It is not only the quantity of nutrition but also the quality that matters. Let's say chicken and fish both are good sources when it comes to amount of protein, however the quality of protein in a salmon is far better than that in chicken. Besides, while training one needs to focus primarily on the weaker muscle group be it calves or biceps or glutes.

2. What really inspires you to win a medal in the upcoming Mr. Asia when you have already established your name in the industry?
I have won several titles and medals in the past, I have a well-established business of my own brand of supplements and gyms and I am also extensively into coaching and attending or conducting seminars or events, at this stage of my professional life I don't actually need to put in so much of hard work to win a title, why am I still doing it? Well, I am doing it for our nation and society.
There are so many athletes and professional bodybuilders who no longer participate in competitions once they get their business established and money starts flowing in. They don't feel the need to push themselves into bringing medals. If good athletes do not feel the need to compete or participate, who will bring medals to India and eventually who will the society look upto?
Like any other athlete, I believe it is my responsibility to give back to the society what I have earned, it is my responsibility towards not only the younger generation but also their parents who lookup to people like me as role models for their children to get into fitness or adopt a healthier lifestyle. Bodybuilding is not for everyone, neither do I encourage it for all. I want bodybuilding to motivate people to get the best out of them, they may not necessarily have great bodies but at least try to be fitter and healthier drawing inspiration from those who have brought medals to the country. The society needs icons and role models to understand discipline, determination, hard work which will inspire them to achieve their health and physique goals. I owe my success to the society and will not leave any stone unturned to live upto their expectations.

3. What is an important advice you would give to those who aspire to participate in the bodybuilding or physique competitions?
I have heard people say, bodybuilding is a sport of the uneducated or illiterates. I say bodybuilding can never be done if you do not have proper education, specially if you are not aware of how your body works. It is the science of your body that you must be aware of, before you start with your bodybuilding or fitness plans. Apart from training, diet and supplementation, you also need to take care of several other things like the essential pro-biotics which will help in effective digestion and support your metabolism, liver support is required if you are on a high protein diet, which multivitamin you need to switch to, how much zinc and b-complex you need in your diet since if you are on a calorie deficient diet you may need vitamin supplements to help you get good sleep.
It is not just about training and diet, you also need a good team of professionals working on your body to align it with the final goal of winning the competition. You will need a chiropractor for massage of your muscle tissues. After an intensive workout muscles get sore and a deep tissue massage is not only relaxing for your muscles but also helps speed up the recovery process and prepares the muscles for your next workout minimizing the chances of workout injury. You also need a doctor on call 24*7, incase if you notice sudden joint pain or increase in heartbeat, you need to call your doctor immediately. So this team of your training coach, your chiropractor, doctor, physiotherapist all need to work together for 12 weeks to bring the medal.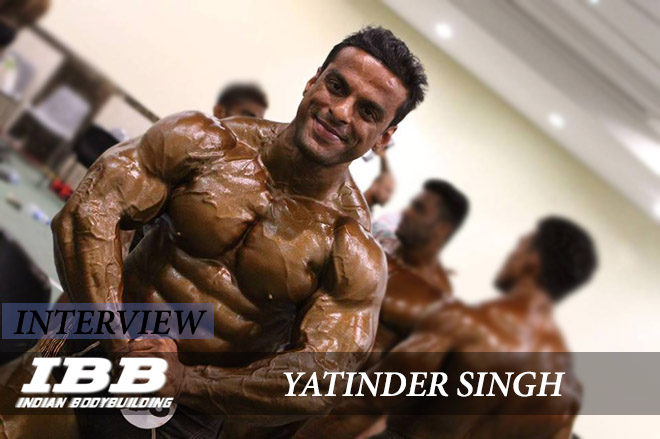 4. You have been training online for sometime now, would you like to share more about it?
Yes, I am extensively involved in online training through my website https://yatindersingh.in/. For those who can access gym, I have a chain of 5 gyms under my own brand of Otwo Gym n Spa www.otwogym.com. I am focused on giving online training specially to those who live in remote areas of the country with no access to gyms. Besides, I am a brand ambassador for Jerai fitness and also do corporate seminars in Gurgaon and other locations to motivate people to adopt a healthier lifestyle. I don't want people to surrender to the corporate culture of working for 8 hours, 5-6 days a week where they are drained of all their energy and time and fail to prioritize their health. I want them to understand the importance of fitness, it is something they need to do for themselves not for anyone else.
5. Your schedule seems to be quite hectic, how do you manage to devote time to your training on a daily basis?
I have people in my gym who make excuses for not being able to make time for workout. They say they couldn't come because something happened in the family or something unexpectedly came up. I say all of us be it Arnold Schwarzenegger or President Mr. Narendra Modi, are blessed with 24 hours, what we do with this 24 hours determines our success. I workout for 5 hours everyday along with online consulting, workshops, seminars, how do I rope in multiple things in my schedule? Well, the secret is I sacrifice on my sleep. It's the quality of sleep that matters more rather than sleeping for 8-9 hours at a stretch. From last 7 years I have been sleeping for not more than 4-5 hours. I made my body adapt to this, its all in your mind, if you tell your body it still has to build muscles given the short time span of sleep, it will retaliate for at the most 3-4 months, but then it will adjust and adapt. I also have a family, I have a 5 year old son and I still work hard towards my goals because I have set my priorities, I set my day. So if you want a different identity for yourself, you need to invest in that.

6. What inspires or motivates you to stay focused on your goals?
Well, bodybuilding is my passion and I love doing it. I have seen people working for corporates 5 day a week from Monday to Friday and then they don't even want to move on a Saturday or Sunday. I don't understand why they can't workout for themselves when they have been working the entire week for their bosses. I personally do not take any weekly offs. It is all in your mind, first your mind gets tired and then your body. I follow my grandfather who passed away a few years back, he used to say if you need to achieve anything in life you need to have control over your hunger and sleep. Opportunity will knock your door at the right time and it is you who has to be alert enough to notice it. God and supernatural power is for everyone. If you waste 1/3rd of your life in eating and the other 1/3rd in sleeping how are you ever going to find time to work on your goals? In my gym I have 30 year olds who do not work or assume any kind of responsibility and then there are ones who are just 15 and still working hard to succeed. No one can make you do things that you are supposed to do, you need to assume the responsibility yourself be it your profession or your health. Having money is important but once it fulfils your needs it no longer has the power to motivate you.
I have had huge success in my profession, still I am motivated and all charged up to workout every single day and follow my routine. I have a 5 year old son and I want to be the one he looks up to when he grows, I want to be a source of inspiration for him and that is what motivates me, I want to live a life that will inspire others. If all that you do is abuse yourself with alcohol, go clubbing and indulge in parties, who are you going to get inspired? Your life is a blank book, write your own amazing inspiring story, supernatural power is always by your side to assist you.
No profession is good or bad, it is all about the way we do it. When I started bodybuilding way back in 1999, people used to mock at me saying this profession can never bring you money or success, but look at me, where I am today. It doesn't matter whether what you do is a big or a small job, it the consistency that matters, once you excel as the best in your profession, success is inevitable. Everyone does things for their families, that's something which is good, yet it is very ordinary and common. If you want to stand out from the rest of the crowd don't do just for your family, do it for your society as well.
Yatinder is an icon of dedication, perseverance and hardwork. With an intensive preparation regime, he is sure to rock the stage at the upcoming Asian Bodybuilding and Physique sports Championship by IBBF, the nation looks forward to his victory!
To read more of such inspiring articles and interviews of Indian athletes visit
To know more about the inspiring journey of Yatinder Singh visit
Inspiring Journey of Yatinder Singh – from Wheel Chair to India's Best Bodybuilder