There is a thin line between dreaming of success and actually becoming successful and that thin line is your determination. There are many people among us who want to reach the top but often give up halfway through their journeys. However, there are a few solid souls whose dreams and courage beat the odds and pave a remarkable way to success. One such inspirational figure for us is Yatinder Singh – a simple man with an extraordinary will. His journey has left us speechless and we are in an awe of his determination and never giving up attitude. For us and for every person who knows his story, Yatinder is not less than a hero. Once, wheelchair bound, Yatinder today, leave his competitors and judges stunned with his meaty physique and powerful aura. Getting an opportunity to talk to this unrealistic personality was indeed our honour. We bring to you the first hand story of how a man kept defeating the odds and continued to climb the ladders of success one after the other.
Early Life:
Yatinder was born in a small town of Saharanpur in Uttar Pradesh to Ravinder and Mesho Singh on 25th of December. Since he was born on such a special day, his family had the belief that someday in the future, he will do something big and he has indeed proved them right by all means! Yatinder stayed in a joint family since birth. He had a huge family with 20 to 30 people staying together. Yatinder was blessed with highly cooperative parents. They allowed him to focus on sports in addition to studies. They wanted their kids to be dedicated and focused in whatever they did.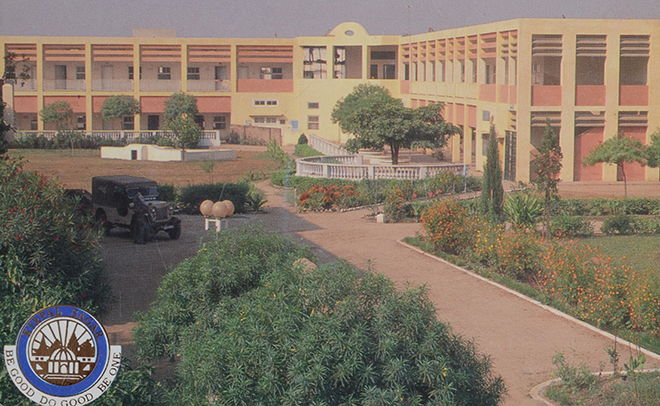 Saharanpur did not have good schools or a good cultural life. His parents wanted him to have the finest education and hence, they send him to Kripal Sagar Academy located near Nabha in Punjab in around 1997-98 after he completed his eighth standard. Yatinder still recalls how difficult the early days at the hostel were and how he missed the comfort of being at home.
We were surprised to know that Yatinder, back in those days, was a very skinny boy. On the top of that he had a dark complexion due to which his relatives kept criticizing him. The persistent criticism affected his self-esteem and he developed an inferiority complex in the early years. This was another reason why his father sent him to a hostel – to keep him away from such pricking negativity. However, being in Punjab, he was surrounded by students who were healthy, fair, and sturdy. Thus, his complex stayed with him even at the hostel as well. However, what Yatinder did not know was that at that same hostel he would meet the passion of his life.
Start of the Bodybuilding Journey
Yatinder was good at studies but he was exceptional at sports. He says that at that time Punjab was the most sports oriented state and so at his academy, he actively participated in sports. He was regular in 100 meters and 200 meters races as well as javelin throw and was the fastest sprinter in his academy. He participated at the district as well as the national level in 100-meter sprint. However, he soon found out that he was not meant for running but for something else.
The hostel where Yatinder was staying started its own gym. This was the first time that he saw what a gym looks like. At that time he thought there was nothing novel about a gym and the exercises could be done even on an open ground. However, he soon developed a liking for the equipment and routines.
However, the problem was that the hostel did not allow juniors to work out and Yatinder was among the juniors there. Being of a persistent nature, Yatinder started sneaking into the gym quietly and started working out. Nevertheless, one day, the warden saw him and gave him a half hour-long beating for breaking the rules. Yatinder could not tolerate this and decided to leave the hostel. However, his parent's persuasion and a written apology from the warden made him continue to stay at the hostel.
Yatinder had started admiring bodybuilding and what fuelled this growing passion was his cousin, Vitender Singh who was already a star in the world of bodybuilding. He was a national champion and was also a medallist at the Asian Championship. He had a great physique and personality. When he came to the hostel he was wearing a black T-Shirt and Yatinder says that he looked like a different being altogether. Yatinder started picturing himself in that black T-shirt and decided that he too would become a bodybuilder. Yatinder had always dreamed of being a centre of attraction. He always envied the celebrities who had fans following them around all the time. He too, wanted to experience that. He wanted to have an existence that is noticed and acknowledged by others and he saw bodybuilding as the path to that dream.
However, Yatinder did not like the hostel gym rules; for him they were unfair. Firstly, juniors could not use the gym even if they were dedicated and interested. Secondly, a student could gym only for half an hour a day and the gym used to stay shut on the weekends. So even when Yatinder cleared his tenth and finally qualified to become a gym member, he chose not to do so. He was keen on getting out of the hostel and this time he finally managed to convince his parents to take him home.
Thus, Yatinder came back to Saharanpur in 2000 and over here, at the age of 16 years, he started working out and this marked the beginning of his bodybuilding career.
The First Encounter with Success
The first person to coach Yatinder was trainer Asad Nafiz. Yatinder says that he ran a very basic gym with few equipment and facilities. The gym did not have electricity and students used to work out under candle light post sunset. Even though the gym lacked facilities, Asad Nafiz was loaded with experience and knowledge. He was a man of great physique and had a great teaching technique.
He asked Yatinder what he wanted to become and Yatinder said in a confident tone that one day he will become the world champion. Asad liked his confidence and he started teaching the young boy. Asad noticed a remarkable thing about Yatinder right on the first day of training; his forearms were huge and that was an incredible trait for an aspiring bodybuilder.
Asad had also coached Vitender for some time and so he knew their family physique very well. Genetically, Yatinder had an O shaped body and not V shaped due to which he had a broad waistline. The larger the waistline the bigger the shoulders need to be to have a proper physique. Keeping this in mind, coach Asad started working on Yatinder.
Just after one year of training, Asad asked Yatinder to participate in the inter gym contest. Even though Yatinder felt that he was not ready, coach had seen and assessed his potential. He taught him the basic poses and pushed him onto the stage and on that day Yatinder bagged his first winning shield.
This was the thrill that Yatinder had never felt. He ran to his father and told him about his victory who congratulated him. At home, he faced a lot of criticism from his relatives who kept on demotivating him for doing something as pointless as bodybuilding. However, it was too late for anything to stop Yatinder anymore.
He had tasted success and now he wanted more of it.
First Defeat and the Way Ahead
The inter club contest had filled Yatinder with confidence and ambition that wanted to get on a bigger stage. At that time, Mr. Saharanpur was a coveted event and Yatinder had laid his eyes on it. He started pushing his coach to prepare him for the competition, Mr. Saharanpur 2001.
Coach Hasad, although aware of his potential, knew that Yatinder was not ready for such a big event. However, Yatinder, unaware of what it takes to be a professional bodybuilder, insisted on participating and thus, coach gave in to his persistence.
In order to prepare him for the event, coach asked Yatinder to start having eggs. Till then, Yatinder had lived the life of a vegetarian and had never had eggs before. He used to have paneer, soya bean and lots of milk – 5 to 6 litres a day. Initially, his body could not tolerate eggs and he used to end up puking however, he gradually got the hang of it.
Finally the day of the event arrived and Yatinder went onto the stage in full spirit. He was contending in the 70 kg category. However, he could not stay in the competition for long. He had just started bodybuilding a year ago and the others in the competition were already pros. Hence, he could not even reach the top 5 and he could not understand what went wrong and why he was not being awarded. He wanted to win desperately and thus, he refused to leave the stage even when the judges asked him to. They entered into an argument and the demotivating words from them about his immature physique broke his heart.
Yatinder recalls that on that day he cried a lot. He was in the green room shedding tears over the humiliation he had faced on the stage. All the confidence and enthusiasm had left his body and he felt that he had no more courage to face the people around.
After the event, Yatinder locked himself in his room and for almost three days he deprived himself of food, water, and people. He thought he will no longer be able to go to the college. His grandfather, with whom Yatinder shared a close relationship, asked him what he wanted to do. Yatinder was still adamant on becoming a bodybuilder and so his grandfather called Vitender Singh to guide him.
Yatinder went to see his cousin who introduced the basics of professional bodybuilding to him. He told him about the work out regimes, balanced diet, supplements, even steroids, etc. and asked whether he was willing to take up the profession.
Yatinder agreed readily and with this he began his journey towards professional bodybuilding.
The Bodybuilding Star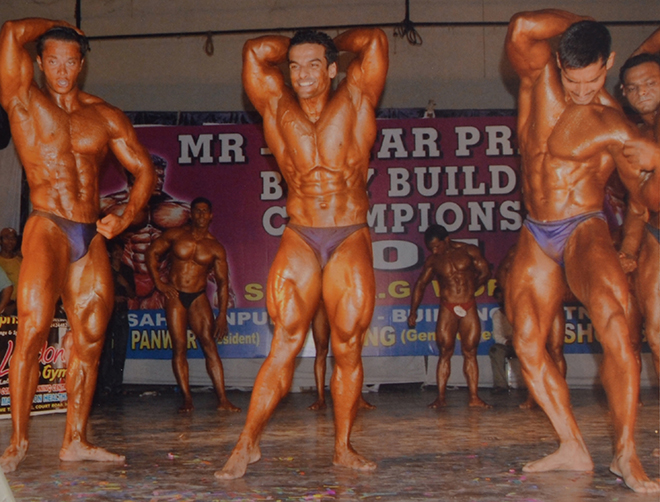 To start his professional career, Yatinder changed his gym and moved to Vitender's own gym where he trained under his guidance for a year. He taught him about the technical things and importance of supplements.
Yatinder did not rely heavily on supplements because they were expensive. He used to take Pro Vita a local brand that was very economical. He mentioned that he could not purchase the known brands like Mega Mass as they were only available in large packaging and he could not afford to shell out so much money in one go. Pro Vita was available in smaller packaging and hence it was affordable for him. He used to buy a 200 gm. pack for INR 90 that used to last 2 days (100 gm. each day). He says that he used to save his pocket money and borrow money from his mother to purchase it.
After a year of proper training, Yatinder went to claim what he could not the last time – Mr. Saharanpur 2002 title. He impressed everyone with his physique and finally emerged victorious and claimed the title of Overall Champion at the event.  This was just the start of his glorious journey. Post this he participated in a series of competitions and became a rising star in the world of bodybuilding.
By 2004, Yatinder Singh had become a brand in himself. Everyone was talking about a new comer who was doing exceptionally well. One thing about Yatinder's physique was very incredible and that was his symmetry. Yatinder, till then, was not a man of a huge physique. He was neither too strong nor too muscular. However, an impressive thing was that all his muscles were very well balanced. There was not a single muscle that was being overpowered by the other. So be it triceps, biceps, abdomen, shoulders, deltoid, calves etc. every muscle had the right mass and strength and thus, every muscle would stand out on the stage. His body exhibited a perfect symmetry.
During the 2004 Federation Cup, Yatinder was competing against the Asia Silver Medallist, Jagjit and contenders feared to such an extent that no one wanted to compete against him but Yatinder was ready for him. They were both contesting in the 75 kg category and to everyone's surprise, Yatinder beat the international champ claiming the category title. Yatinder, only at the age of 20, had defeated the feared 32-year muscular champion. This caught the eye of the IBBF (Indian Body Building Federation) President. He praised Yatinder and gave him a special award, Best Improved Bodybuilder. The president introduced this award just to honour Yatinder. Looking at his potential and development, the president soon nominated Yatinder for Mr. Asia 2005 that was being held in Sri Lanka and asked him to start preparing for it.
Well, Yatinder did start preparing for it; however, what happened ahead brought his entire life to a standstill.
The Tragic Accident and the Struggle thereafter
Yatinder had started preparing for Mr. Asia 2005 on president's insistence. However, Yatinder soon started overworking himself. He started working out for longer hours and even on the weekends. He did not take any break from his regimes. One evening, he was working out at the gym all by himself. He needed assistance in squatting as he was using heavy weights. He asked a young lad working nearby to come and help him. The boy was naïve and did not know how to assist someone during a routine and so Yatinder ended up bearing the entire weight and could not get up. Moreover, the boy also lost his balance and fell on Yatinder who then lost consciousness.
Yatinder then woke up at a hospital where he was informed about his medical condition. Due to overworking and the impact of the recent incident he had damaged his spine. Yatinder's lower back vertebrae (bones in the spine) had ruptured and this had caused nerve injuries. Yatinder mentioned that when he woke up he had a terrible pain in his right limbs and he could not move them freely. The broken discs and the associated nerve injury had paralysed his right hand and leg by about 30 percent.
He was then moved to Yashoda Hospital where his uncle was an orthopaedic. He stayed at the hospital for around one and half month and had to undergo physiotherapy and chiropractic heath group routines. Even during the rehab, Yatinder kept asking just one question to the doctors "When can I start working out again?" The doctors had the opinion that with an injury of that magnitude, it would be a miracle if he could manage to do normal day-to-day activities in the future. In their opinion it was the end of his bodybuilding career. Yatinder was wheelchair bound and was asked to take complete bed rest for the next 4 to 6 months. He was confined to a room as he could not move around. He spent endless hours crying over his misery. He just wanted to hit the gym again and do what he was so passionate about. However, that seemed like a distant dream.
Another thing that was pricking him was the fact that the people had started criticizing the bodybuilding profession owing to his wheelchair bound state. Yatinder was still young, unemployed, unmarried, and bedridden. After 6 months, the doctor advised him to get a complete bed rest for another 6 months. Yatinder could not exercise and could not be the world champion that he always dreamed of. This helplessness had hit him hard and he entered into a state of severe depression.
It seemed to the world and even to Yatinder that his story has come to an end. However, it was only the beginning of a true champion.
The Second Chance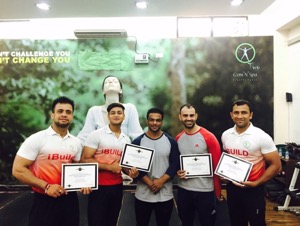 Owing to this terrible incident Yatinder had to stay away from bodybuilding for the next 3 years. Slowly and gradually he started walking again. However, Yatinder still could not work out as he had a weakened spine. Yatinder's family as well as doctors understood his passion for bodybuilding and hence, knew that if he stayed away from it, he will never recover from his depression.
Hence, Yatinder was advised to start his own gym. This would have kept Yatinder close to the profession he loved so dearly. Yatinder also accepted the notion that if he cannot work out he can at least help others to work out. However, he did not have enough money to start his own gym and so he took up the job of a trainer at a gym in Merut. He says that taking up that job was very important for him as after being bedridden for so long, he could not stay at his house anymore. He wanted to get independent as early as possible and so, he moved to Provogue Gym in Merut as a trainer.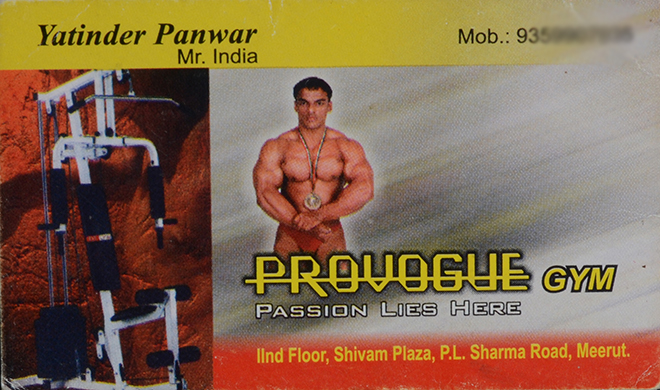 Yatinder took training very seriously and shared every bit of knowledge that he had. He used to train his students personally. Thus, within a few months, the gym picked up really well and became well known throughout the region.
In 2008, due to an incident Yatinder had to leave the gym. However, he did not wish to go back home and so he tried to seek some guidance from his close friend, Rahul.  He was a member of the Provogue Gym and shared a very good bond with Yatinder. Rahul suggested that they should start a gym in Gurgaon and offered to become Yatinder's partner in that venture.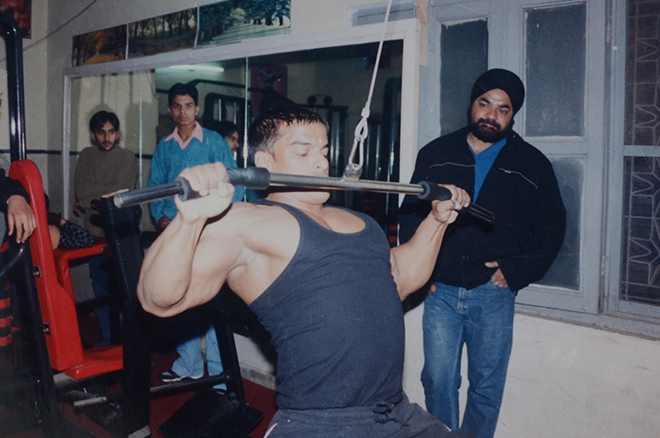 At that time, i.e. in 2008, Gurgaon was a newly developing region and Rahul's friend had an 1100 sq. ft. property there. Yatinder and Rahul decided to set up their gym there. They named the gym "Otwo Gym and Spa" and it became a big hit. It soon came to be known as the finest gym in Gurgaon. The gym's success also made him financially stable and hence, he got married in 2008 to Neelam. Yatinder says that with Neelam's entry, all his problem and pain took an exit. He mentions that his back had recovered substantially and his pain had lessened. Everything was going great however, Yatinder was not at peace and he always knew why. He still wanted to be a bodybuilder more than anything else.
So, he decided to give bodybuilding another shot.
Rebirth of the star
Yatinder started working out at his own gym. With absolutely no workout in 4 years, his physique had collapsed completely. However, Yatinder's determination was stronger than any hurdle. He started working out with small weights like 10 kg, 15 kg and 20 kg and gradually moved on. He noticed that he did not experience pain any more on lifting weights. However, he was still finding it difficult to do squats and lunges etc. Therefore, he started researching and studying techniques that could help him to work out without straining himself.
This search for knowledge took him to ACE (American Council of Exercise for Personal Training). This is a course that teaches about nutrition, human anatomy, physiology etc. Thus, Yatinder started learning about his body and about better ways to build it. After clearing this, he took up ACSM that is an advanced version of ACE. This knowledge of human body gave him immense courage and confidence to start his journey towards the stage, once again. He started using this newly gained knowledge at his gym as well that definitely made him a well qualified trainer for the people.
Finally, in 2010, Yatinder made his way to the stage again. In this year, he won at least 6 to 7 championships like Mr. UP Overall title, Mr. North India, Senior Mr. India title in 75 kg category. He was also the first runner up in the overall Sr. Mr. India.  In 2010, he bagged the title of the Best Improved Bodybuilder and this was no less than a miracle for Yatinder. He says that in 2010 his physique was as good as or may be even 10 percent better than what it was in 2004 (before his injury).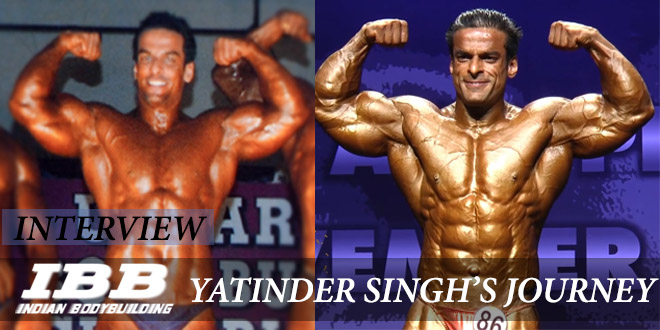 Yatinder – Family Comes First
Yatinder taking a lecture
Yatinder had made a comeback and had proved his worth yet again. However, his concerns did not end with that. Yatinder was now a married man and had a small son as well. It was true that he wanted to make his career but he also wanted to make sure that his family does not suffer due to his passion. Yatinder strongly believes that it is unfair to make your family suffer to pursue your dreams. He therefore, started focusing on his business.
He decided to expand his gym and moved it to a 6000 sq. ft. area. Rahul had moved out of the partnership and Yatinder started the gym as his own. Since, Yatinder was also an ACE and ACSM qualified trainer, he started taking lectures on heath and training for corporate. He had to establish his business and that required a lot of hard work. Yatinder mentions that with lectures, personal training at the gym, he used to work for 16 hours a day. Due to all this, he could not work on his own physique or participate in any contest between 2011 and 2012. However, he was ready to pay that price for his family and their future. All his hard work paid off and his gym as well as corporate lectures worked really well and soon his business flourished.
He was growing financially and socially however, he was still not happy. He continuously felt that something was missing from his life. He discussed this with his who also knew that Yatinder's happiness lies only in bodybuilding. With his wife's support, Yatinder started gyming again after a span of 2 years.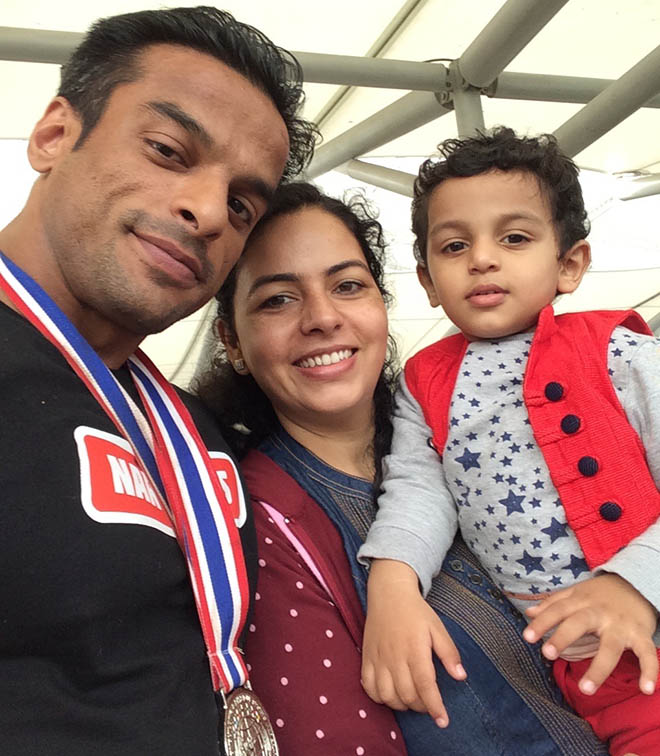 The Victory

In 2013, he started working out again and participated in very few contests. His performance was not good and his physique was still not ready as he was not into hardcore bodybuilding. Along with being a bodybuilder, he was also a fitness trainer and was giving personal training to some elite members as well as taking lectures. So it took him some time to prepare his own body for the grill. However, he did not give up and kept working hard. He participated in 2014 as well and finally started seeing appreciable results. A noteworthy achievement was that he claimed the 4th spot at the World Championship 2014. Even though he did not reach the top 3, he had still achieved something commendable.
The year 2015, completely turned around Yatinder's career and he had finally become one of the nation's best. He again participated in the World Championship 2015 that was being held in Thailand and he bagged Silver at the event. He still had not bagged the title of World Champion but he had made the nation proud; he was the second best and just one step behind India's most consistent performer, Bobby Singh. Yatinder mentions that this was the most fulfilling moment of his life. When during the award ceremony, he had the national flag in his hand and the stage echoed with the glorious National Anthem, he had tears in his eyes. He finally got the contentment that he had achieved what he wanted to.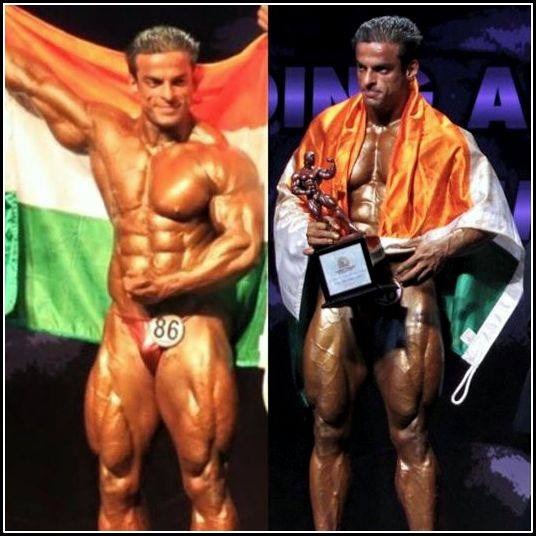 With this Yatinder became the first bodybuilder ever from UP to bag a medal at an international event. He was congratulated by the UP Federation including Akhilesh Yadav, CM Uttar Pradesh, for his achievement. His dream of being known and acknowledged was now slowly turning into a reality.
The next big thing to happen was receiving an invitation from Talwalkar's Classic who sent out invitation only to the nation's top 30 bodybuilders every year. Yatinder could not believe that he was now being considered as one of the top 30 athletes. Yatinder knew the level of competition that Talwalkar puts on the stage and hence, his target was to reach the top 10. However, he not only reached the top 10 but also bagged the second spot in the competition while first was bagged by Ram Nivas. Bobby Singh, who had defeated Yatinder at the world championship just 15 days back, had secured the third position. With this iconic victory, Yatinder became a true star. He finally became the celebrity he had dreamed of becoming.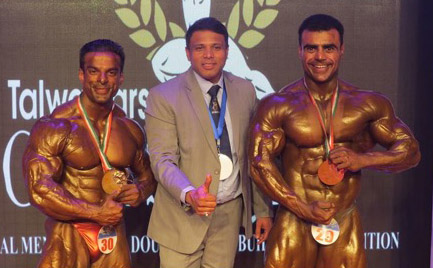 The next event, just 4 days later, was the Satish Sugar Classic at Belgaum. People had high expectations from Yatinder and he did not let them down. Here, he bagged Gold in the 80 kg category and also became the overall champion defeating Ram Nivas. With this, Yatinder had become a sensation. He started receiving appreciation calls from big names in the industry. After this he again became Mr. UP. However, he took a voluntary retirement from the state competitions so that the youngsters stepping in could get their fair chance.
He then went on to compete in Mr. Dubai 2016 where he received bronze in his category. Next in line was the Mr. India 2016 where he bagged gold by defeating Bobby Singh who was claiming Gold medal since the past 9 years. He also stood as a runner up in the overall championship. However, the entire fraternity was of the opinion that one who deserved the title was Yatinder Singh. His fans had started increasing day by day.
Next he was asked to go for the Federation Cup 2016, taking place in Ludhiana, where Yatinder participated in the 90 kg category and bagged the overall title.
Diet Plan:
Workout Regime:
Milestones Achieved
Press and Media Coverage
Yatinder's life is truly an inspirational one. He not only made a comeback after a dreadful injury but also gave his second chance, all he got. Here is a list of the major events where Yatinder had startled everyone with his physique and performance. We are speechless looking at his achievements.
International Championship 2016 Dubai – Bronze Medal 80kg.
Senior Mr. India Body Building Championship 2016 Maharashtra – Gold Medal 80kg.
Federation Cup 2016 Ludhiana – Overall Title.
World Body Building & Physique Sports Championship 2015 Bangkok – Silver Medal 80kg.
India Satish Sugar Classic Championship Karnataka – Overall Titles.
India Talwalkar's Classic Bodybuilding Championship 2015 Mumbai – Silver Medal.
U.P. 2015 – Overall Title.
North India Championship 2015 Delhi – Overall Title.
World Body Building & Physique Sports Championship 2014 Mumbai – 4th Place 75kg.
U.P. 2014 – Overall Title.
Senior Mr. India Bodybuilding Championship 2014 Gujarat – Bronze Medal.
Best-Improved Bodybuilder of the Year 2010.
50th National Bodybuilding Championship 2010 – Gold Medal.
North India Bodybuilding Championship 2009 Chandigarh – Overall Title.
North India Classic Championship 2009 Faridabad – Silver Medal.
5th Federation Cup Championship 2004 Chhattisgarh – Gold Medal 75 kg.
Best Improved Bodybuilder of the year 2004.
Mr. India 2004 – Overall title
North India 2004 – Gold in weight category as well Overall Title
Saharanpur 2002 – Overall title
Western Uttar Pradesh 2002 – Gold in weight category
Guide and Mentor:
An impressive thing about Yatinder is that in spite of all the victory and success there is no airs around him. He knows very well and very generously admits that all his achievements are due to that one man who has taught him everything in life – his coach. Yatinder is being coached by K. N. Sharma since the year 2010. He not only guides Yatinder's profession but also his personal sphere. Yatinder says that he is not less than a God for him. If he would have not been there to support and guide him, Yatinder would have not emerged as a champion.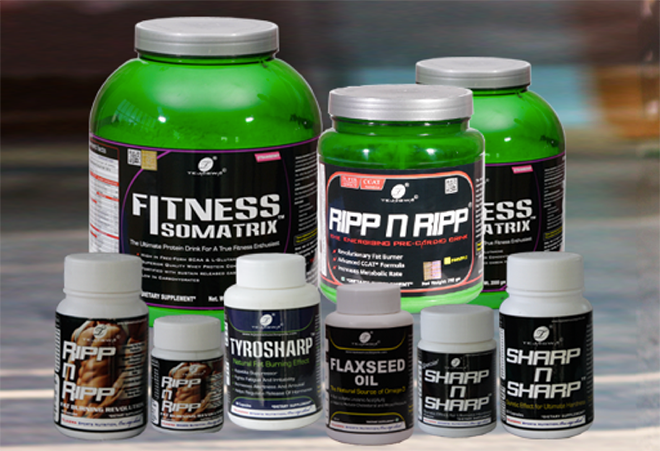 Motive in Life:
Yatinder says that being a part of the body building profession brings you face to face with the concept of health and fitness. He wants to spread this knowledge to an average individual. He believes that the sole reason why Indian's are so prone to health disorders is their uncontrolled and unhealthy eating habit. Hence, in spite of being hard-working in nature, they still suffer from obesity, diabetes and other disorders. He wants people to take up fitness actively. That is why he is so keen on continuing his role as a lecturer. He is also working on a website that will spread his message, his techniques and methods to the masses. He is also writing a book "Journey of Yatinder Singh" which is dedicated to his son so that one day he feels proud of his father. We are sure, just like us, Agam too will be proud of him.
Yatinder is not less than a legend for this nation where majority still think that bodybuilding is not a profession worth fighting for. He says that he stays amidst a lot of well educated people but it is sad to see that they do not think any different from what his uncle used to think 16 years back from now. He has constantly faced people who maintain the notion that only illiterates and incapable people opt for such a muscular profession. However, Yatinder has put everyone to shame by becoming a qualified fitness trainer and lecturer in addition to being a champion of international fame. He wants the people to know how difficult it is to become a bodybuilder. His journey still continuous and we are sure that he will soon emerge as the new champion whom world will look up to.
Next Yatinder Singh has his eyes are on the World Championship 2016 that will be held in November in Brazil. At this event, Yatinder will once again give his dream of becoming a world champion, another shot. He is ready to do everything possible to prepare himself for this event and he will leave no stones unturned this time.
We wish him all the best and hope that he lifts the National Flag again and bags gold making all of us proud.