Sandeep Yadav, the 27 year old athlete who won Gold in Men's Physique at Amateur Olympia is not just another young man who wants to compete, he is a man who nurtures bodybuilding as his passion and inspiration to achieve more in life.
"Nowadays people are more interested in knowing about supplements than diet, people hardly ask me about my diet. Supplements alone cannot work wonders, unless your diet is sufficient in nutrition and calories." Says Sandeep.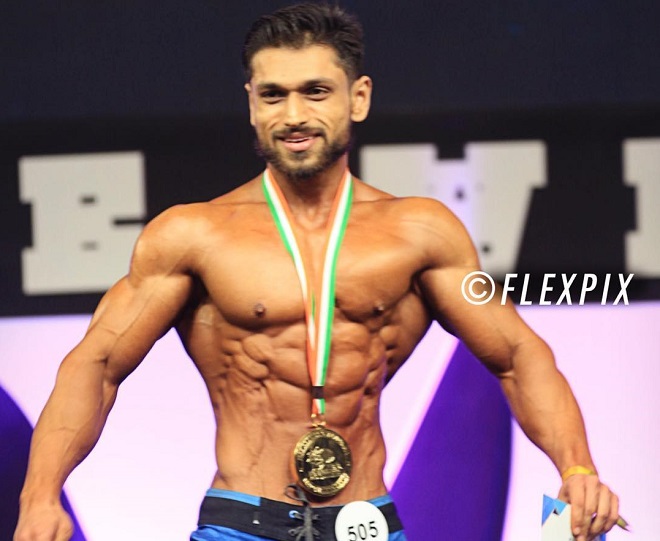 Team IBB had a wonderful time engaging in some enriching and soulful conversation with this young athlete.  Read on to know more about his perspectives on bodybuilding and life.
Tell us more about yourself and your journey to winning Gold at Amateur Olympia this year
I am 27 and I am into a full time corporate job at a firm in Gurgaon, Haryana. I have been competing since 2016 and Amateur Olympia this year was my 10th competition. I have always been inclined towards being fit, however I started going to gym as I was too skinny and desired to put on some weight and muscles. Once I started seeing results in my workout it turned into my passion. To develop my passion further I started participating in bodybuilding and physique competitions.
Before participating in Amateur Olympia I had participated in several other state level competitions I also won gold and overall championship in Haryana in 2016 and thereafter in 2017, I participated in Jerai Classic where I was shortlisted among the top 10 finalists.  Next, I participated in Sheru Classic Pro qualifier series in Ludhiana in 2018 where I stood 4th in the category and again in Sheru Classic in Delhi earlier this year.
2. Who has been your mentor or role model?
I have been following many prominent icons in the industry however I have realized that if we blindly imitate or try to be like someone, we can never explore our own uniqueness, strengths and weaknesses. Every individual has his own unique charm and it is true that we limit ourselves by our own thoughts. I find my motivation or inspiration in myself, when I achieve my goals like shredding and dropping my fat percentage to the lowest, I am inspired to do more. When I competed in Amateur Olympia this year I did win Gold but missed out on the Pro Card, I take this is as a learning to explore where do I lag behind and workout on those aspects. So the next time I present myself on stage I would have moved to the next level of winning.
3. How do you create a balance between your passion and profession since many athletes or bodybuilders avoid a full time corporate job so that they can devote all of their time and energy to this sport?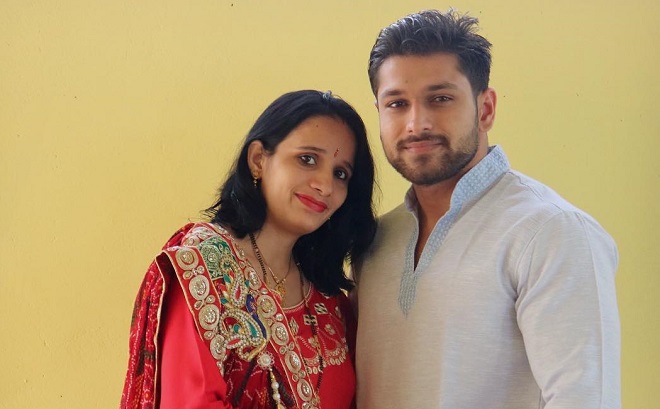 It took a while initially for me to strike a balance. When I  first started, it was initially very irregular as my job had rotating shifts and hence my schedule was quite irregular and demanding. I knew I had to workout regularly to feel lively and energetic and most importantly to pursue something I really loved. I convinced myself, I made up mind and pushed myself harder to be regular with my workouts. Later on as my shift was changed to a regular one or general shift, I could get it all streamlined with support from my family. To nurture any passion you must be willing to give  time, and specially after a hectic long day when once chooses to workout instead of spending time with family, your family needs to be supportive enough. Without the support of your family you cannot really give your best to anything you do. I am grateful to have my wife and a family that understands that I need time for myself and supports me in my passion.
4. Tell us more about your diet
I am glad you asked about my diet, since nowadays people are more interested in knowing which supplement to take and how. Well, honestly supplements cannot work all by themselves. Unless you have a good balanced diet with sufficient calories, supplements cannot really do much. So the most important aspect is your diet.
Keto diet doesn't suit me somehow, so I follow a low carb and minimal fat diet during the shredding phase. While I am in my gaining phase I follow a high carb diet with moderate fat content. Also, when I am in my shredding phase I make sure I do not drastically cut down on my carbs, I take it slow week by week keeping a track of my progress.
I am used to workout as the first thing in the morning and before I begin I have black coffee without sugar. I follow a sugar free diet to cut down on the empty calories. Coffee is something I rely on as an energy booster, it motivates me to begin my workout with a great zeal, while caffeine is also known to enhance your metabolism rate. Although I restrict my coffee intake to at the most 2-3 servings in a day, consisting of single coop in each serving.
During my breakfast I generally have my protein and muesli and after a gap of 2 hours I consume egg whites and salad. There are multiple meals that I have in a day at specific intervals where I rely on fruits and salad. My lunch consists of 500 gm of grilled chicken (my all-time favourite) and then again in the evening I have some egg whites and salad.  Anytime of the day if I find myself craving for food I resort to eating cucumber which is not only satiating but also helps you cool down without adding on to unwanted calories. My dinner again consists of grilled chicken and salad and if I feel I haven't consumed sufficient protein during the day, only then I have my protein shake, so the number of scoops depend upon how much more protein intake is really required over and above my intake from food. If I have already had enough of protein during the day I avoid taking the shake altogether.
5. Tell us more about your workout
During the gains when I am putting on muscle, I do a single body part workout 6 days a week and cardio once a week. My body needs more rest during weight training so I lift heavy and have more rest during gains. During the shredding phase, I do one body part workout in the morning followed by a cardio of 30 mins and repeat the same in evening targeting a different body part followed by 30 mins of cardio. I increase the duration of my cardio sessions as  I move closer to the  competition. I do weight training for about an hour during my gaining phase and while I am shredding, I do 30 mins of weight training and 30 mins to 1 hour of cardio.  I repeat the same twice i.e. in the morning and again in the evening depending upon how far I am from the competition.
6. What motivates you to hit the gym daily?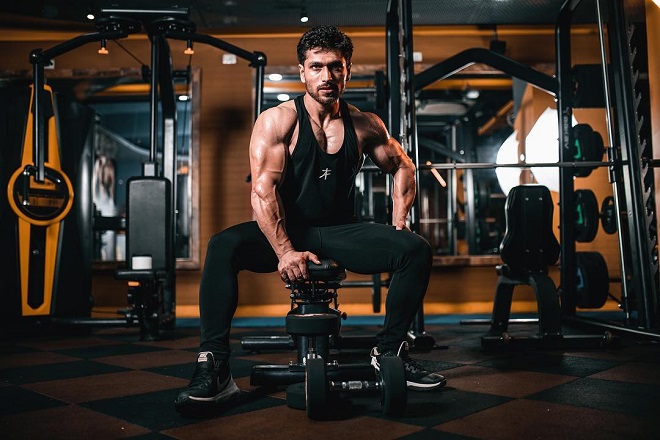 More than motivation, for me , its more of a fear that I would feel low on energy if I skip on my workout. I am so used to or you can say addicted to workout that I feel I wouldn't be able to do the multiple tasks I am supposed to throughout the day, if I do not spend time on myself  doing what I love the most. Hitting the gym keeps me energized and positive to accomplish my goals, it itself is a big source of motivation for me to achieve in other areas of my life.
7. Who has been your trainer so far in the journey?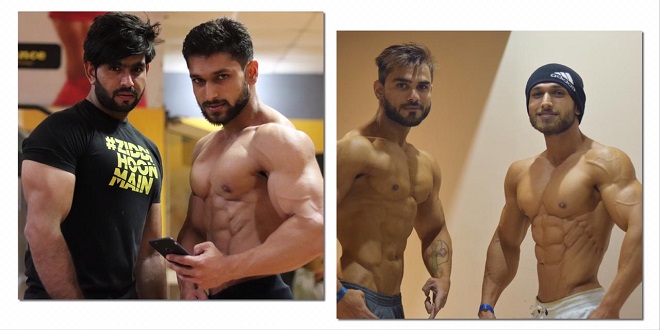 Well I don't have one but 2 trainers who were with me throughout my journey. My first trainer with whom I started way back in 2014 is Mr. Deepak Gurawaliya. In 2017, I started training under Mr. Pankaj Gajwani, a popular  name in the industry..
8. What are your future plans and your vision?
Looking at my accomplishments in the field of bodybuilding people think this is my career and I aim to be a bodybuilder, but to be honest, this is not the ultimate career I want to get into. I am doing very well in my corporate job where I am into managing alliances and partnerships. Bodybuilding is my passion and a part of my personal life, I do not intend to replace it with my  professional aspirations.
9. What message you would want to give to the new entrants who want to establish themselves in the industry?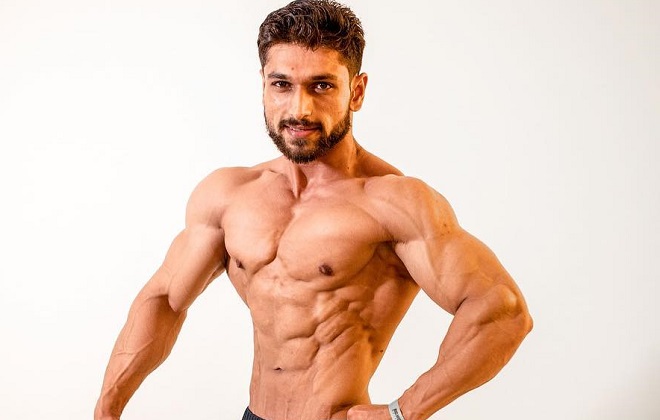 Well, my only piece of advice is do not give up on your goals, stay focused if your goals really do matter. I believe it is always good to have trainers by your side who know more than you do, rather than experimenting all by yourself and asking for tips from novice people who lack sufficient knowledge. There are no short cuts, its only hard work so be persistent and your hard work will pay off.
Watch Men's Physique Pro Card winners in Amateur Olympia at IHFF 2018