It feels proud to see and say that India has come a long way as a civilization. Our nation has transformed beautifully from being a male dominated society to a land of magnificent women. Be it Rani Laxmibai, Razia Sultan, Sarojini Naidu, Indira Gandhi, P.T. Usha, Sania Mirza, Chanda Kochhar or Mary Kom; the list of Indian women who have written and re-written global history is endless. Women power has penetrated and conquered almost every sphere – be it politics, business, entertainment or sports. One such woman of substance that we were privileged and honored to talk to is Sonali Swami. For bodybuilding fans and enthusiasts Sonali is no less than a mega celebrity. When most of the women shy away from their passion and dreams succumbing to their married life, Sonali chose to walk the ramp to flex some muscles after giving birth to two. She is the face of a true Indian woman. A wife, a mother, an instructor, an athlete and a winner – Sonali has given the world a rock solid glimpse of what an Indian woman can do and achieve by bagging Bronze at the recently held WBBF Asian Championship 2016. We present to you our conversation with the Woman of Substance – Sonali Swami.
1)   Your father has served the Indian military. Does your passion for fitness come from him?
Yes, I would say that he imbibed the concept of fitness in us. We hail from a small village and therefore, my father worked very hard to become a part of the Indian Army. A thing with army officers is that once they go through that training which is so difficult and demanding, their whole life becomes disciplined. Hence, my whole family was like that. We were responsible for our own work; we used to keep ourselves physically active in some way or the other. My father never missed his morning walks and he used to also play badminton. My brother, he is a national level cricketer.  Even I used to play badminton and I also dance. I am trained in Kathak. Yes, the desire to be active and fit definitely came from my father.
2)   What pushed you towards fitness on a serious note?
It was after my marriage actually. In just one year after my marriage, I had put on 12 kilograms. My clothes did not fit anymore and that scared me. I did not want that. So I decided to do something about it. I joined an aerobic class like most women do. However, I did not get the expected results. Then, I joined a dance class. I had always been passionate about dancing and hence, I did that with a lot of dedication. I did a lot of Latin dancing there and shed those extra kilos from my body. I even became a Latin Dance Instructor and started teaching dancing to kids. I had tasted fitness and I did not want to let it go.
3)   When did you first hit a gym?
Actually, for quite some years, I kept up with my efforts of staying fit only with dancing and walking. The idea of going to a gym never crossed my mind. I did not know what it looked like, what the equipment are, how you lift weights and I had never seen a woman lifting weights etc. I had shed my post pregnancy weight by walking and eating wisely. 3 years after my first child I had my second child and it was a C-section. So almost 4 months I was at home not able to go on my walks. That was all on my mind, I just wanted to start walking again.
Then one day, we went to a mall. There I saw a gym, Fitness First, and my husband and I decided to check it out. That was the first time, I ever entered a gym, we interacted with the instructors there but I did not enter the weight section of the gym. I took a membership mainly because of the group classes, as a dance instructor, it seemed fun. I did that with a lot of dedication. In just two months, my instructor told me to take up certain certifications as I was good at it. So I completed several certifications there and became a certified Zumba Instructor, Bokwa Instructor, Aerobics Instructor, TRX Suspension Instructor, and Les Mills Body Pump Instructor. I therefore became an instructor at the gym from just a member. I started taking aerobic sessions at the gym and started working as a freelancing instructor with corporate and gyms but even till then, weights and bodybuilding were still far away.
4)   How did you get into bodybuilding then?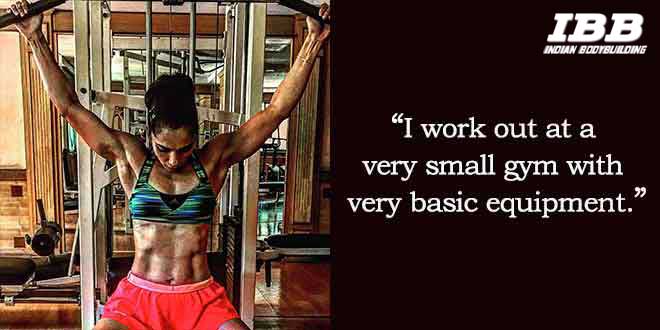 It all started at Fitness First. They had organized five trial sessions only for the instructors at the gym because they wanted the instructors to be fit. So even I had attended those five sessions and they were pretty painful. I had screamed my lungs out but I completed them. There was pain, soreness but I still got hooked on it. I could sense a difference in me in just those five sessions. I had a sense of achievement. Then I paid for the next 11 sessions just to continue and then I started training. There was a marked difference in just a month. My shoulders were toned, my biceps were toned, and my stomach had become flat. My trainer pushed me all he could and I too gave my 200 percent and so we could achieve great results in just a month. While I was doing these sessions, I came to know about Body Power Expo's Fit Factor. This was a very popular event and India was hosting it for the first time. This was in 2014 and I decided to participate. I prepared, I participated and I won. With this, I entered bodybuilding.
5)   How was your experience at Body Power Expo Fir Factor?
Like I said, I did not know anything about bodybuilding and bodybuilding events before. It was during my sessions I came to know about Fit Factor. I was very nervous; there were too many things on my mind. I was married, with two kids; the idea of walking in a bikini in front of a crowd gave me chills. Secondly, I was not in such a good shape. I was improving but not great enough to compete at such an event. I started my sessions in November, I came to know about the event in January and it was scheduled for March. I did not have much time to prepare. Thirdly, I was 38 years and girls in the competition are much younger – late teens to early-twenties. I did not feel confident enough. However, my instructor pushed me. More importantly, my husband was there. I finally participated and to my surprise, I won, I bagged Gold. This made me think that maybe I am good at it and I should continue it. Next, I participated in Muscle Mania and won there too. I have not turned back since then.
6)   How did your family respond to your ambition of becoming a fitness athlete?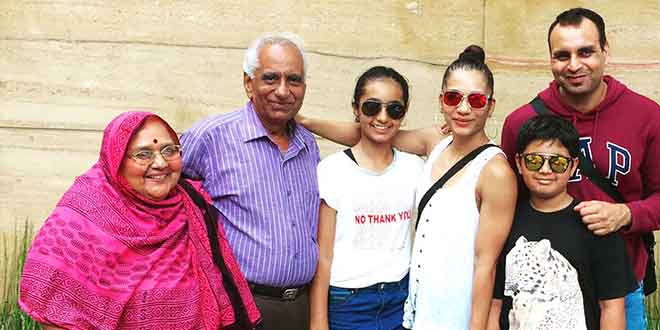 My husband was the one who boosted my self-confidence when I was being paranoid with the idea of competing professionally that too in a bikini. He did not look at me as a married woman, a mother of two, he saw me as a competent athlete. He told me to look at it as a "SPORT" and made me believe that people too will look at it the same way eventually. My parents-in-law too gave me their full support. When I returned home with a trophy, my mother-in-law told me that I should get more trophies home. They were and are proud of me. On the contrary, my mother was against the idea of me competing. She told me to focus on my family and kids whereas my dad gave me his full support. Now even my mom has recognized my potential and has become my cheerleader. I have a gifted family to be honest.
7)   How do you manage your family with your career?
I give equal importance to both. I don't let my family suffer because of my career and vice versa. My day starts as early as 5 am. I exercise a little in the morning. My kids need to leave for school by 7 am and so I cook for them, pack their lunches and send them off. Then begins my work – I have a few clients whom I personal train. I finish my sessions with them, have my lunch, relax. Around 3 my children return from school and I am at home for them. They have their classes and other activities too so they rush out by 5:30 pm. This is when I head out for the gym. I spent the next hour or two in doing a quality workout that I require. By the time my kids get home, I am back too.
This is how I manage my day. When my kids are free – I keep myself free, when they are busy – I keep myself busy. My career is my choice; it is something I do for myself. My kids, my husband or my family should not suffer because of it. My daughter is 13 and my son in 10 years old, they share with me a lot of things, there are so many things they need to talk about. I am always there for them.
Yes, I have to be away from them when I am traveling for my events. I do miss on many things but my kids are very supportive and so when I am here, at home, I make sure that I am always available.
8)   What is your workout routine?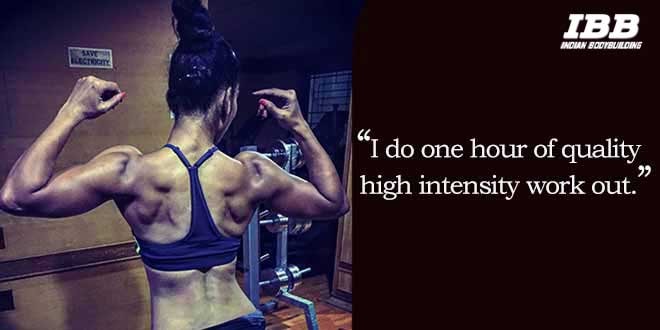 Like, I said, I wake up by 5 am. I do a small cardio session in the morning. Then my day goes in attending my clients. It is actually in the evening that my actual workout begins. I hit the gym by 6 pm when my kids are out for their classes or games.  Then for an hour and a half or so, I workout with all I got – a quality high-intensity workout.
I work out on 5 days a week i.e. Monday to Friday. In the evening, I keep weight training sessions, I take two muscle groups a day – one big muscle group coupled with a small muscle group and do at least 3 variations of each muscle group. So one day I would do back and biceps and the next day chest and triceps or shoulder and back. I don't group legs with any other muscle because legs require a lot of work. That is how I work out. I usually let a muscle group rest for two days before working out on it again.
9)   Tell us something about your trainer?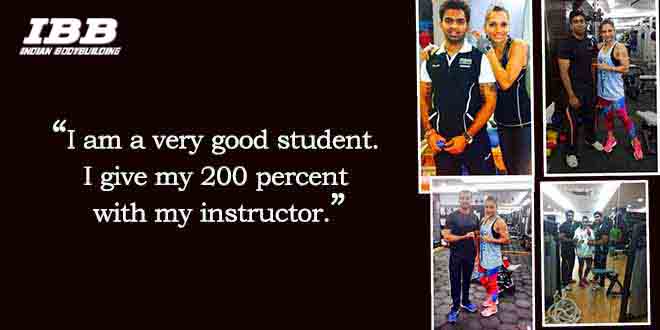 At present, I am working out with my instructor Viswa at a gym called WORKOUT. It is a very simple and a small gym with very basic equipment. However, that simple equipment combined with all the efforts my instructor and I put in, are working great for me. Viswa is just 23 to 24 years old, a simple instructor who has a lot of enthusiasm to try new things and get better results. I am working out with him since the past two years and he has evolved immensely in this short span. I put my trust in him. I tell him to guide me, give me something challenging, something new and I do as he says. I give him the liberty to choose new things for me that can make me better than what I am. This is very important. You need to trust your instructor and give him or her a fair chance. I am a very good student and I give my 200 percent to what my instructor brings to me. I have learned a lot of new things from Viswa.
10) What is your diet plan?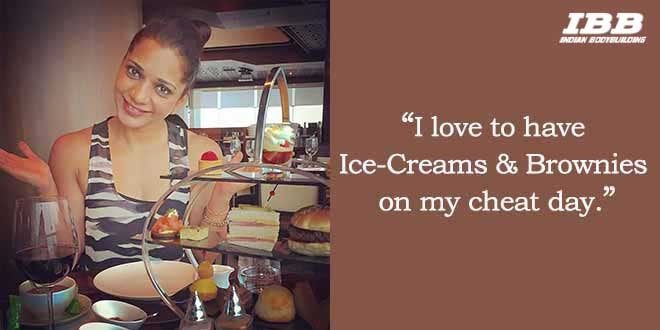 I have 6 meals a day and my last meal is at around 9 – 930 pm. My daily diet plan obviously includes a lot of protein as it is very important to help your muscle recover after high intensity workout. I have complex carbs like oats, brown bread, brown rice etc. Then I have a lot of vegetables in my diet. It gives me all the necessary nutrition. I make sure that the vegetables are close to raw. I do not cook my greens much. Then I also include nuts like almonds, walnuts etc as they are a great source of healthy fats and high on nutrition.
I largely rely on my diet for nutrition. However, since I am a part of this fitness profession, I need to take supplements. They help the muscle to recover faster and develop better. I take only the most necessary ones like protein shakes and other vital supplements.
I follow a strict diet except for Sunday which is a cheat day. I don't cheat the whole day but just one meal on Sunday is my cheat meal. I love having ice cream and brownies on my cheat day.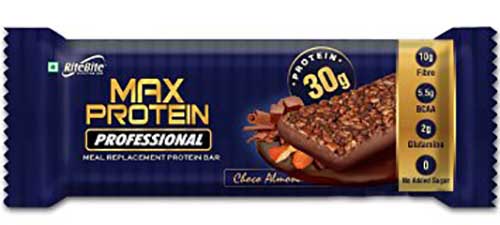 Protein bars from Max Protein, this 30gm Professional bar gives you essential Proteins and other necessary vitamins & minerals. You no longer have to worry about skipping meals due to your busy schedule. RiteBite's Max protein will take care of your nutrition requirements any time during the day.
11)  How was the winning moment at Asian Championship?
It was a dream come true moment.  People were applauding, cheering, praising while I held my country's flag in my hand and a medal around my neck. Last year at the same event, I was in the top 10 and this year, I was at the podium, as a winner. All the hard work paid off and I made my country proud. All that you can imagine about living such a moment, it was 10 times more precious and special for me.
12) As a woman, did you face any difficulty being in this sport?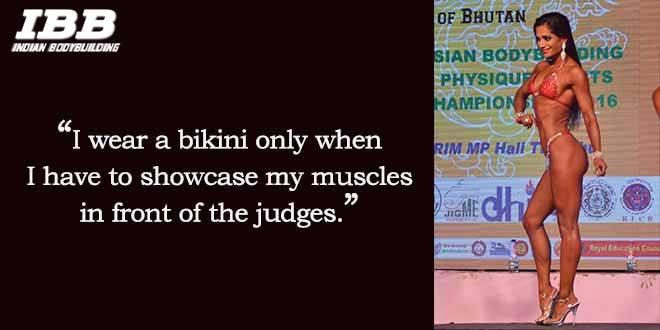 In the beginning, there were some men who had negated my ambition. I used to get messages saying that what I was doing is wrong. I am an Indian woman; I should not be walking around in a bikini etc. However, I had just one answer to these comments, my husband was with me, and my family was with me, why I would think I was doing anything wrong. This was in the start. As people started seeing my efforts and started realizing that this is no bikini show, it requires a lot of hard work; they started looking at me as an athlete. I have all the support now from my family and fans. I kept giving my best at every opportunity and eventually paid off. I even got sponsorship from prestigious brands like Optimum Nutrition and ADIDAD Training India. I have always looked at myself as an athlete first and then as a woman and people have started doing the same. That makes me feel really good.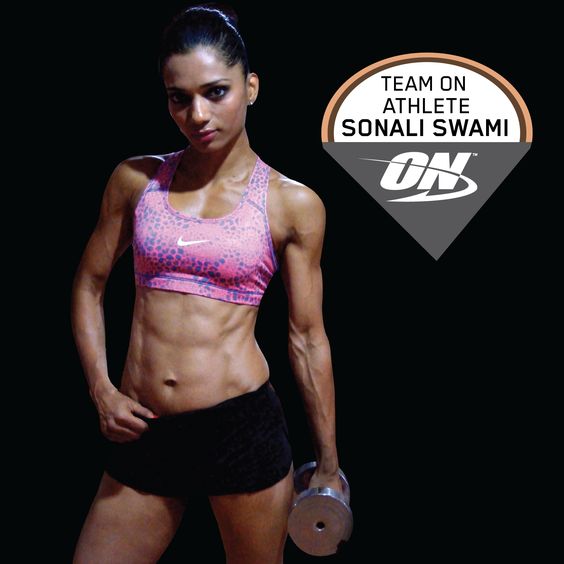 13) Do you think women have changed their perception towards health?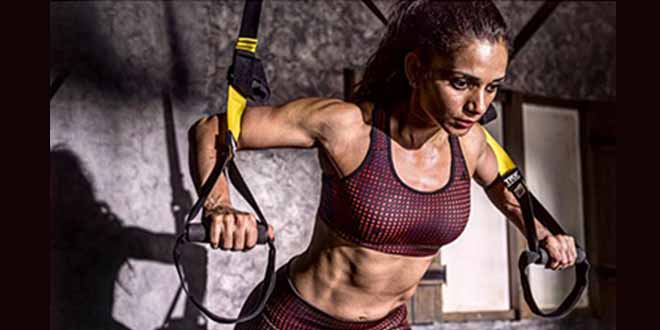 It has changed immensely. Women have started realizing that fitness is not about losing weight and being skinny. They have started realizing how important it is to have correct muscle mass. Earthier they were obsessed with shedding off weight. No matter what occasion it was, they wanted to lose weight and get skinny. However now, they have started working out, weight training, they want toned muscles, abs etc. They have understood the true concept of fitness. Bodybuilding makes you fit and it automatically adds to your self-confidence, improves your state of mind. When a woman is happy in true sense, it shows in the way she looks after her family too.
14) How has bodybuilding changed you?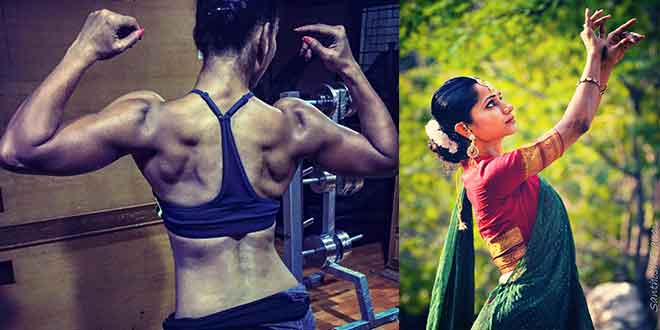 In addition to the physical difference, my behavior has changed a lot. I used to be a very introvert girl, however; I have become a strong, extrovert and influential person. I have become more responsible. People look up to me, they have expectations from me, and I do not want to let them down. I have a family that has supports me in everything I do, I want to give my best for them. This sense of responsibility that you have to overcome the hurdles and achieve your goal for you and your people has come with bodybuilding.
15) Who inspires you in life?
I actually seek inspiration from a lot of women. My mother – I always wanted to be like her. My mother-in-law inspires me. My daughter inspires me – at such a young age she is doing so well.
When I entered this profession, I did not see any women lifting weight. I did not know any athlete. I had just seen some women in general on YouTube lifting weight and exercising and they looked hot. Now, there are a few athletes who have become my inspiration. One of them is Ashley Horner – a beautiful woman and a mother of three and a successful personality. Another athlete is Pauline Nordin; she is beautiful, very muscular and very knowledgeable too. I admire them because they are the real women of substance. They are not just into fitness; their life has much more to offer.
16) What is your next target?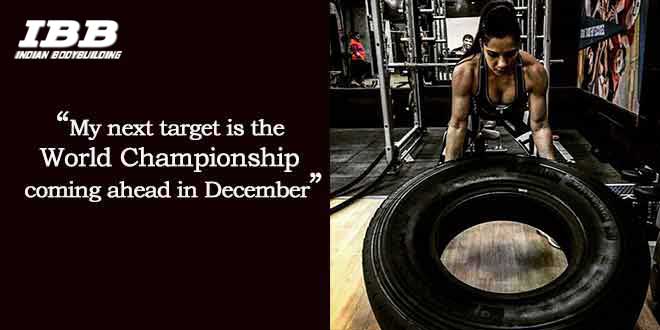 My next target is the World Championship which will be held in December in Thailand. This time, I got a bronze medal, next time all my efforts are for bagging that Gold for my country. I am pretty sure I can achieve it. I have a good feeling about this.
This is our lady of substance Sonali Swami – a complete and competent woman in every sense. She is an eye opener for girls who take marriage, kids and their being woman, as an excuse for not being able to achieve something in life. Dream big and give it all you got and don't back down till you reach there – this is what Sonali Swami is all about. She was not born special; she became special with her hard work, her dedication, and her determination. Her life story is also an eye opener for our families too. This is what a woman can achieve when she is supported and backed up by her family. We wish her all the best for the upcoming events and hope to her swaying Gold next time. You go, girl!
You can follow this iconic athlete and support her with your love and admiration through her Facebook page FitnessWithSonali. Let's cheer for her together!