People can be broadly classified into two categories. First category belongs to the people who have mastered the art of making excuses for every possible thing in life. The second category belongs to a special class of people who give life a tough fight at every stage. These daring souls don't believe in giving up and thus, sooner or later, succeed in reaching their goals. The personality who we got in a conversation with this time is probably, the finest example of this category.  Claiming the title of Champions of Champions at the age of 40 years, Malik Israr has proved it to the world that with focus and hard work, anything can be achieved.
His determination, experience and confidence reflect in his deep humble voice. In spite of completing more than 15 years in this profession, his enthusiasm is still unmatchable. A dedicated husband and a father, a capable business man and an athlete par excellence, he does everything brilliantly. His knowledge and views are enriching as well as enlightening. We are glad to present to you our special conversation with Mr. MP 2016, Israr Malik.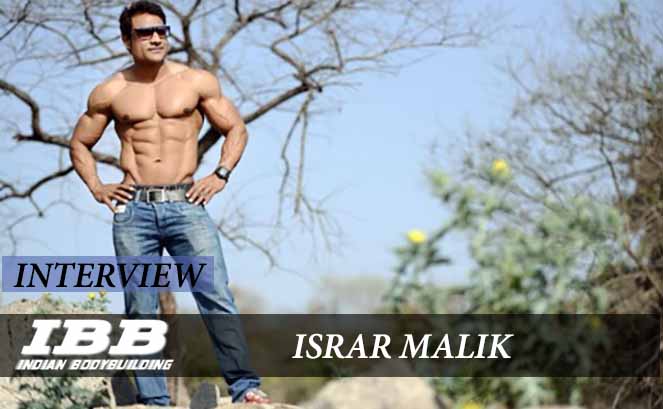 Israr Malik, please tell us a little more about you.
Well, I was born in the year 1974 in Bhopal, Madhya Pradesh and this is where I have lived my life so far. Bodybuilding has been a part of my life for a really long time now and it has made my life more meaningful and satisfying.
Please tell us about your family.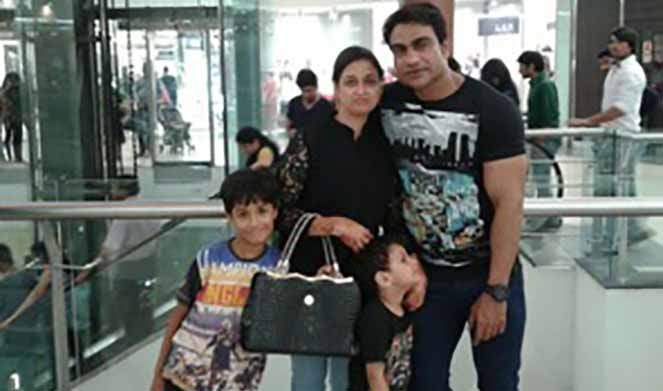 My family stays with me in Bhopal. My father is no more. I have my mother, a lovely wife – Nilofer Malik. I have two sons, Ibrahim Malik who is 5 years old and Ishaque Malik who is 10 years old. I have 5 siblings – 3 brothers and two sisters.
Who else in your family shares this passion with you?
To be honest, there is no one in my family who is fond of body building. I am the only one who has taken it as a profession. It might surprise you to know that all my siblings are doctors. My family has always emphasized on seeking education however, destiny had planned something else for me.
All your siblings entered the field of medicine. How did you come across body building?
Reel Life He-Man                                                                     Real Life He-Man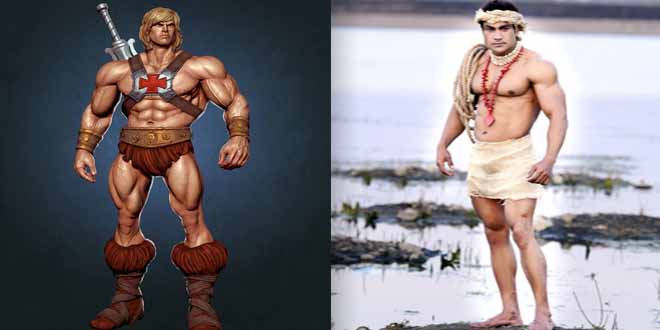 I was not born with an inherent love for body building. Talking about 1980's and 1990's, bodybuilding was not an obsession at that time. We rarely had proper gyms around. I grew up watching He-Man. He was a symbol of power for us. Big muscles, super strength, he could beat bad guys to pulp and that was impressive. I also watched Arnold's movies. Again, his huge muscles portrayed pure power and strength. Then Bollywood brought in Salman Khan and Sanjay Dutt who introduced good physique to young Indians. All these, slowly started attracting me towards a good physique, strength etc. My friends and I started going to a gym around on a casual note that we should try this and slowly, I fell in love with it. I never gave up on it then.
So when did you exactly start working out?
                                                Then and Now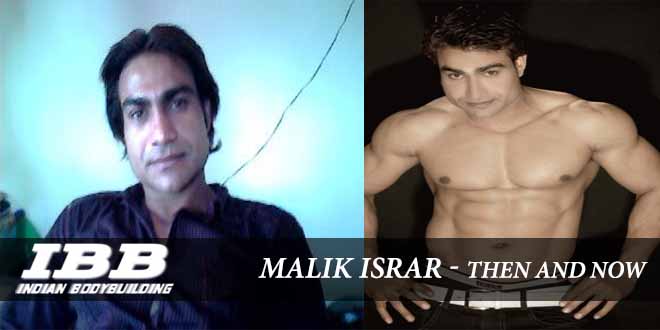 I think it was the year 1998 when I started working out quite seriously. My friends who had joined with me did not stay for long. So I was accompanied by newer faces all the time. I was serious about working out but I never thought about competing. At that time, we did not have so many competitions and events. It was my coach who motivated in doing so and I will always be thankful to him for that.
Who was this coach who pushed you onto the stage?
My coach's name is Sayed Mumtaz Ali. He was the one who emphasized on the fact that we should go on stage and become professionals. He has trained me, guided me all these years. Even till date, he is my guide. From 1998 to 2016, we have come a long way, together.
You started bodybuilding in 1998. Has this been your full time profession since then?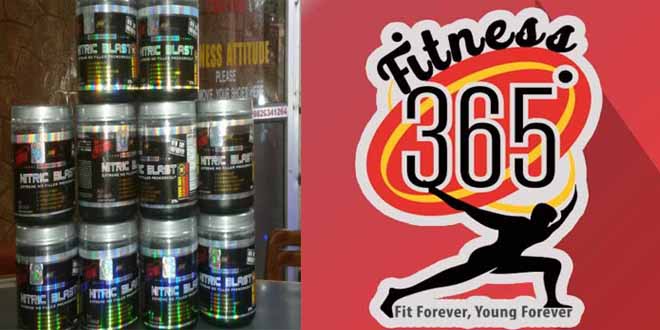 Well, yes bodybuilding is my full time profession however it is not my sole profession. I also have my own business. I set up a store by the name Fitness Attitude in the year 1999. We sell bodybuilding equipment and supplements. I also have a private brand of supplement products released by my firm, Express Nutrition private limited.  So, I am establishing my business as well as pursuing my career as a bodybuilder.
I workout in gym called Fitness 365.
When did you get on the stage?
I started in 1998 and just two years later, i.e. in 2000 I was competing at the state event of Jr. Mr. Madhya Pradesh. This was my first competition ever and I have not looked back since then.
How many event have you participated in since 2000 and how many have you won?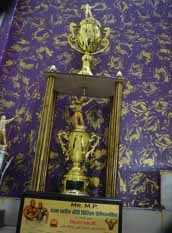 Jr. Mr. MP in 2000 was my first event and I claimed Silver there. At that time I was contending in the 55 kg category. Since then, I have competed in many events in different categories. Going up from 55 kg category, I participated in 60 kg, 65 kg, 70 kg, and 75 kg and went up to 90 plus kg category. Not just state, I have also participated in many national events and have reached top 5 and top 3 lists. However, I have not secured Gold at the nationals so far and that is my aim right now.
Which has been the most memorable victory of your life?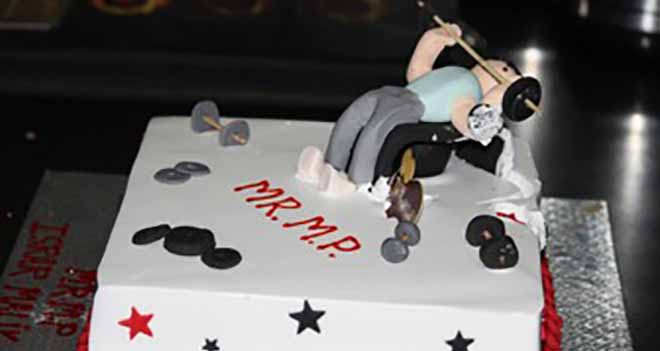 My last victory i.e. Mr. Madhya Pradesh 2016 is the most memorable one. I received the title of the Champions of Champions at the age of 42 years, after years of struggle. My son got on the stage, took my trophy and started waving it around. I will never forget this moment. We had a celebration too.
Do you think competition is even tougher for you because of the age gap between you and your competitors?
It is true that my competitors are quite young as compared to me. They are in their twenties while I am in my forties right now. However, in this profession, age is just a number. Working out, healthy diet, healthy routine naturally slows down your aging cycle. So, it's never a drastic disadvantage. Yes I agree that young boys can lift heavier weights, their bodies are more responsive to the wok out regimes and they can give a tough competition but that does not mean someone in forties cannot compete or win.
There are many people who make several excuses like they are married or they have crossed the age etc. for not taking up body building. How do you react to this?
These are mere excuses. Like I said, age is just a number. It cannot slow you down. Let's talk about Bollywood, Shahrukh Khan, Salman Khan and Amir Khan, they are at least 10 years elder to me, but look at them. They have beat down all the age restrictions. Amir did not have a body before Ghajni; Shahrukh has just recently got his abs. If they can have a commendable physique in spite of reaching fifties, how can you say you have crossed the age to take up bodybuilding? I grabbed the title of Champions of Champions at the age of 42 years. I am married, I have two kids and I have my own business, but these are my motivators not my hurdles. People should stop making excuses and take up a challenge readily.
Talking about motivators, who has been that rock solid support for you all these years?
My wife, Nilofer, has been my rock all these years. No matter what the situation was, she has stood by me. It is because she values fitness and health herself. If you look at her, I bet you cannot say she is a mother of two kids. She is so fit. She goes to gym regularly. Also, since the last 5 to 6 years, my kids have been the source of infinite positive energy. They are my critics, my fans, my motivators.
How do your sons respond to bodybuilding?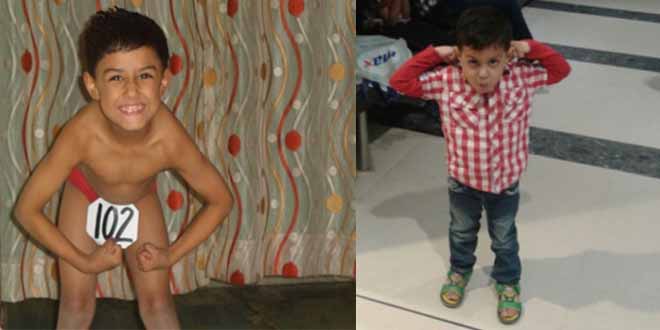 My sons are in love with this. They visit my gym to see me work out at least twice a week. If there is an event in the nearby region and they know I am a participant there, then they have to be there. They will give up on food as well, if we do not take them there. When we have guests and they ask my kids what they want to become, my kids instantly say, we want to be bodybuilders. However, there is no pressure from us on them. We want them to focus on studies. They have a fondness for sports. My sons are already into Kayaking and gymnastics. They are free to choose what they want.
How does it feel when your sons are sitting among the audience?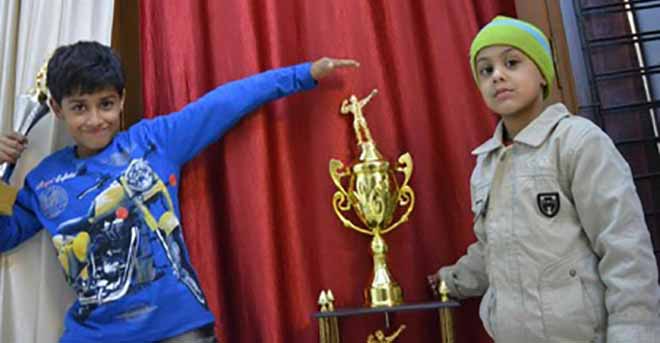 It definitely adds a lot of pressure on you. My sons see me work out, train, and struggle and hence, they expect me to win. Kids do not understand as if now that winning and losing are a party of any sport. When they are sitting there, looking at me, I feel that I should not loose now. My kids will feel let down or broken. When I was preparing for my last event, Mr. MP 2016, my 10 year old came to me and said that this time he wants a Champions of Champions trophy in my hand. No more runner up trophies. Just imagine the amount of pressure such expectations put on you. Hence, I give my best every time, just for them.
Have you thought of going international?
Well yes definitely. I was even selected for Mr. World Championship held in America in Al Salvador. However, due to some unfortunate reasons I could not participate in it.
Can you please tell us why you missed an event as prestigious as Mr. World Championship?
I did not receive enough support from the association on this. I was informed very late about my selection for the event. I did not have sufficient time in hand to prepare myself for an event as tough as Mr. World. In addition, participating at an international level is a very costly deal and I was receiving no financial assistance from the authorities. Due to these reasons, I could not participate even though I wanted to.
It has been more than 15 years that you are into professional body building. How supportive has been the government?
All these years, I have not received any support from the authorities. No official comes forward to support us in any way. I have managed my journey on my terms so far.
Not receiving Government support is pretty consistent with the sports sector in India. Why do you think this exists?
The biggest reason is corruption. Whenever we approach the association for financial assistance, we are told that there are no funds. The association never has funds, never. Any grants or funds that are given unfortunately never reach the athletes. Such is the level of corruption in our country. Body building as a sport does not enjoy the status that cricket does. We are still struggling to make our place.
What has been the most disappointing or most difficult part of your journey?
I have competed at the state level many times. For five times, I bagged the title of the best poser and the first runner up. I just could not reach the number one spot. Every year, I would think that this year I will do it. My friends would motivate me, but it was just not happening. I was continuously losing to one guy. He is a friend and a great athlete and I somewhere started feeling that I won't be able to beat him. That point or that phase became very frustrating for me.
What do you think was keeping you away from the number one spot?
See, I think every bodybuilder will agree with me on this that different muscles react differently to a workout routine. Each body has a muscle that is genetically weaker as compared to the others. So when you work out, the normal muscles grow faster than this genetically weaker part. Usually biceps, triceps, shoulders and abdomen develop very fast. In most people, the legs, thighs, calves or back are the genetically weaker muscles. An athlete needs to pay extra attention on this part.  For me, my legs were the weaker part. My thighs, calves were not developing like my biceps, triceps and shoulder. This kept me from becoming the best all this while.
How did you ensure that this time you bag the Champions of Champions title?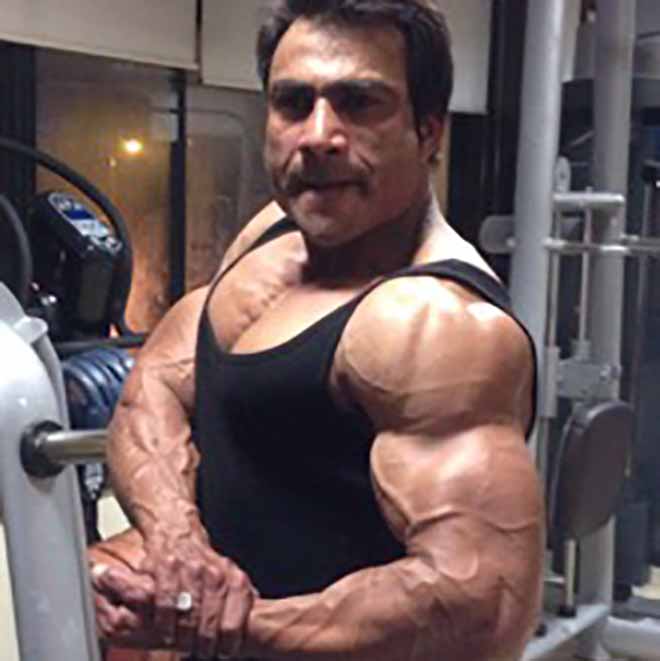 I spotted my weakness i.e. my leg muscles. I started working out on that. To prepare for this I did not participate in Mr. MP 2015. So the entire off season of 2014 and the entire year of 2015, I just focused on my muscles and then participated in Mr. MP 2016 in full form. You won't believe it but it took my at least five to six years to develop my leg muscles.
So when you are preparing yourself, what is your diet plan like?
I have studied sports nutrition. I am also doing a PhD in nutrition and hence, I can say without a second thought that diet is the most crucial part about bodybuilding. I think over the years this has been the most important refinement in this field i.e. more emphasis on diet. Talking about my diet, in my off-season, my natural diet consists of 50% carbohydrates and 50% proteins. Protein sources include egg white, chicken, fish while carbohydrate sources include brown rice, white rice, oats etc. So I basically take complex carbs and proteins.
I have 5 to 6 meals throughout the day and in every meal I have five to six egg whites and around 250 to 300 grams chicken. So in this way, I have around 25 to 30 egg whites and around one kilogram of boneless chicken in a day.
During the on-season, I completely exclude carbohydrates from the diet and rely on proteins exclusively.
How do you support your diet with supplements?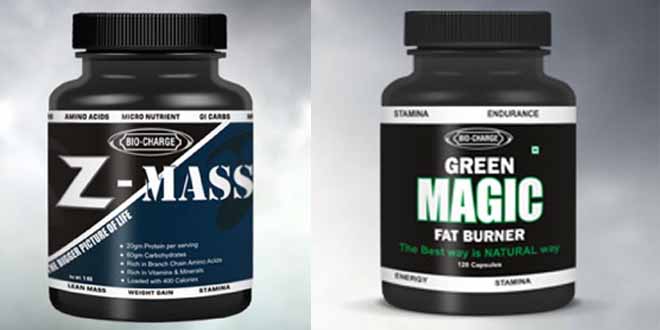 Supplements are very important and one needs to be very careful while choosing a supplement. I tried to grasp as much information as possible about nutrition and with that I created my own range of supplements Bio-Charge that can be trusted completely. In my off season I just rely on pre work out and Whey protein. However, during the preparatory phase, I increase my supplements. I take whey protein, pre work out, during work out, after workout, glutamine, amino acids and several multi vitamins.
Please tell us about your workout plan.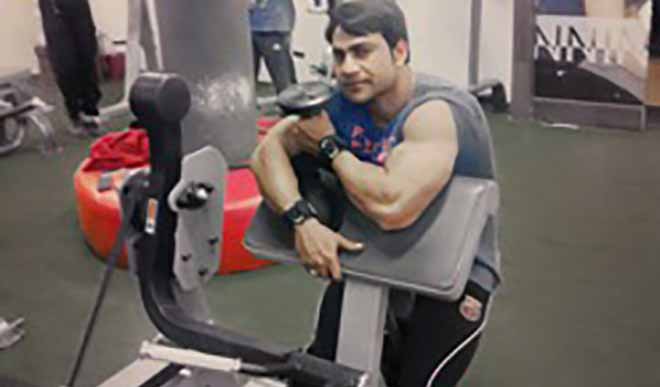 I do not believe in hours and hours of rigorous training. A perfect combination of routine, diet and supplements is ideal for me. I work out 6 days a week, Sunday is my off. I work out 4 hours each day, two hours in the morning and two hours in the evening. In my preparatory phase i.e. a few months before the event, I work on 3 to 4 muscles a day. So my work out schedule is like
| | |
| --- | --- |
| Day | Muscle |
| Monday | Chest, Shoulder, Triceps |
| Tuesday | Thigh, Calf, Abdomen |
| Wednesday | Back, Neck, Biceps |
| Thursday, Friday and Saturday | Repeat the above routine |
| Sunday | Off Day |
In this way, I work on every muscle twice a week. Talking about my routine, let's say it is a Monday and I have to work on my chest, shoulder and triceps. Then morning I take up chest and shoulder and evening would be triceps.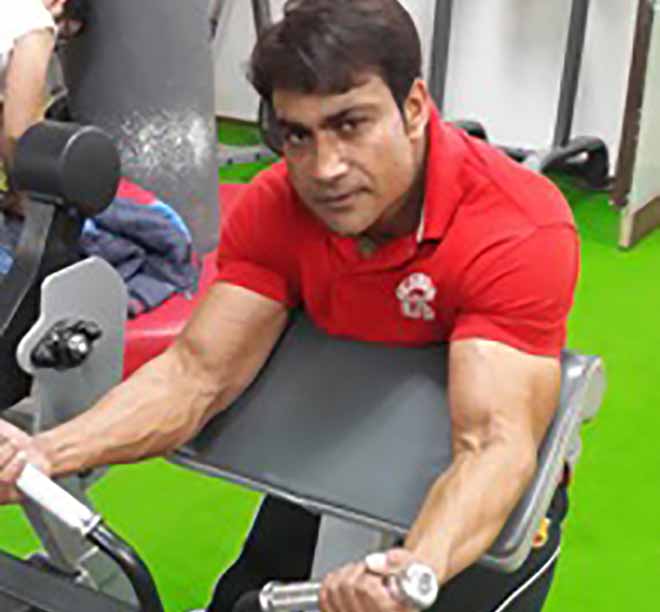 Muscle
Routine
Sets

Chest

Warm up on trade mill or cycle
5 to 10 minutes
Decline Bench Press
4 sets
Dumbbell Press
2 sets
Incline Bench Press
3 sets
Dumbbell Press
3 sets
Flat Bench Press with Rods
4 sets
Double Bar
100 Reps in one go
Table cross
Pec Deck Fly
Triceps
Closed Grip Bench Press
4 sets
Skull Crusher
4 sets
Table Push Down
4 sets
Dumbbell Extension
4 sets
Shoulder
Upright Row
4 sets
Military Press
3 sets
Overhead Dumbbell Press
4 sets
Dumbbell Lateral Resist
6 sets
We call this routine 4X4 i.e. 4 muscles and 4 different exercises. We have 6 to 8 reps for every set. In this way, every day, 3 different muscles are worked upon.
Have you received any sponsorship from any brand?
A friend of mine from Delhi wanted me to promote his range of nutritional supplements. However, I did not accept that as I already have my own range of supplements.
Body Power Expo 2016 chose you as an ambassador. How did this happen?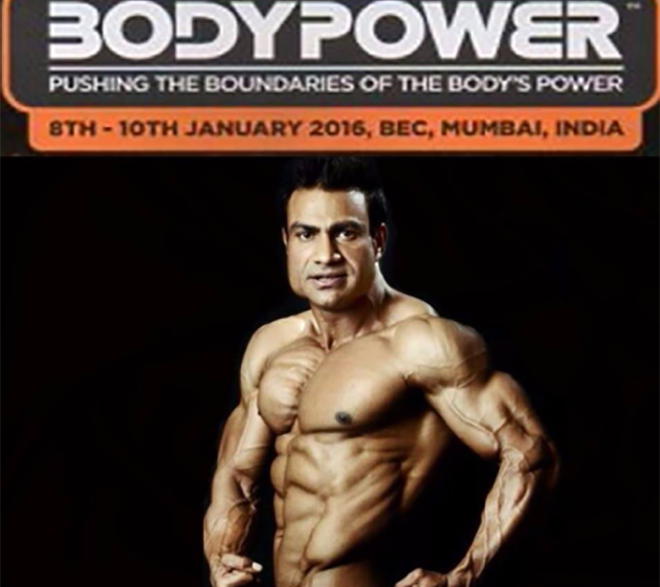 The expo is a really big event and they look out for athletes all across the nation through whom they can get more audience. I was chosen by them as one of the ambassadors. Representing such a huge event helps you to get more fans and at the same it helps the expo to get more audience.
Do you coach aspiring youngsters?
Yes I definitely do. There are a lot of young boys who are training under me. I guide them, groom them in every way that I can. I have wasted a lot of my time in my youth due to lack of resources and knowledge. I do not want these young lads to do that. Hence, I am always there for someone who is genuinely interested in this. My students are competing at national and event international levels. They are winning too. It makes me feel really proud.
A lot of young boys run towards steroids and medications for body building. What is your take on this?
Steroids are not meant for young people. A young healthy body has plenty of natural testosterone and other hormones running through. Why would you need more? There are two main issues that direct people towards steroids and medication. First, youngsters do not have patience. They want immediate results and body building is a slow process. Your body takes time to reach its optimum level. You can't push it unethically. The flow is work hard, diet and supplement. For young these days, the flow is supplement and medications, diet and work out. They just do not want to work out. Steroid is not a magic pill. It will not transform your body overnight. The second issue is that there are no qualified coaches. If your mentor does not know the in and out of body building, how will he teach you? He directs you to wrong routines, techniques and steroids. The boys need to know, there is no substitute for hard work and a good coach.
Has Indian perception towards bodybuilding changed?
It has definitely. We are yet to go a long way, but we have improved a lot. The biggest revolution for Indian Bodybuilding is that girls have now stepped into this profession. There are so many Indian girls who are competing at national and international level and they are doing so well. An online student of mine, Farah Khan who is a master trainer at Gold Gym in Agra, went to compete at a national event in Ludhiana and even reached the top 5. I am very happy to see this change.
So, when will we see you next on stage?
MY next event is Senior Mr. India going to held on 25 and 26 of March. It will take place in Noida I am preparing for it. I need to bag Gold at the nationals soon.
How can your fans connect with you?
I am there on Facebook. They can connect with me there. I am also coming up with my website in the next 2 to 3 months. I will provide online training to youngsters through this website. So, I hope I can reach the right people at the right time.
What would you like to say to us (IBB Team)?
You guys are doing a fantastic job. You are trying to reach out to the people who have the potential to be athletes but lack knowledge and that is commendable. I would suggest that you have been interviewing so many athletes and health gurus. Why not make a panel of experts who are qualified and willing to give some time to the people who want to enter this field. You can connect the youth to this panel. This will allow the people to get correct and direct advice that might shape their career well. (We will definitely try to achieve something like this)
Every word shared by Israr Malik was pure experience and knowledge. There are some people who simply do body building. However, there are people like Israr, who live body building. An undefeated athlete with an equally daring spirit, he has proved to the world that all it takes is determination and you can achieve anything. We hope that his next event fulfill his dream of grabbing gold at the nationals.