We all have heard of legends about heroes, patriots, warriors, leaders who have left a legacy behind them. History has put on display hundreds of inspirational figures who motivate us even now. However, how many of you have seen a legend in making? Very few get this privilege and we feel grateful that we got a chance to peek into the life of this splendid personality, a fearsome body builder and a die heard patriot – Motilal Dayma. With strength and courage flowing in his veins, he has proved to the world that nothing is impossible to be achieved, if one is determined to do so.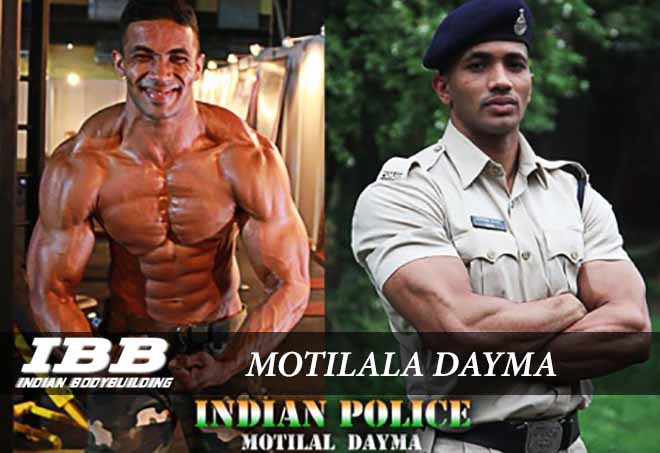 It might surprise you to know that this meaty guy has leaded a life following the footsteps of Gandhiji, Swami Vivekanand and Bhagat Singh. Motilal says that he was born a "Gautam Bhudda" and stayed away from violence and believed that strength should be used as a shield and not as a sword. He grew up with an aching love for his motherland and to make a difference to the society that we live in, he joined the Indore Police Department in 2012 as a constable and began his exhausting journey to victory that made him Mr. Indore for three consecutive years. This interview with Dayma will remain one of the most memorable ones for us.
I was born in Dhar, a district some 80 km away from proper Indore city. It was only after I joined police force in 2012, I moved to proper Indore city. I joined Indore Police Force in 2012. I am a National Cadet Course 'C' Certificate Holder. I am an RDC Return with Guard of Honor at Republic Day Camp 2010 – 2011. I could complete 100 meters less than 11 seconds.
Who all are there in your family?
I stay with my parents. My father Hajarilal Dayama, also belongs to the Indore Police Department. I am married and I have a 4 year old beautiful daughter. She is my angel. My wife is expecting and we will be blessed with another child soon (Many congratulations to Motilal). I have a younger brother too, Gopal Dayma.
Is there anyone else in your family who is into bodybuilding?
My brother, Gopal, he is doing really great. He was declared as Jr. Mr. Indore in 2014and he has also won the University Championship. He is a very dedicated person. He is doing well than what I did at his age.
How did you come across bodybuilding?
Since my childhood, I had only one dream and that was to be a part of the Indian Army. I never intended to join the police force. However, army was the reason that I started gyming. To join the Indian army you need to have a body weight of minimum 50 kg and a chest of 80 to 85 cm. At that time, around 2007, I was only 45 kg with a chest measuring 70 cm. I joined the gym so that I can join the army. However, when I started and observed the society around me more closely, I realized that there is a lot that needs to be done. A strong police force is also equally important to maintain peace and security and hence, I joined police. I continued my bodybuilding because I did not want to stop until I have achieved something. My dream is to bring India glory and only then I will stop.
When did you realize that you will do professional bodybuilding? 
My initial intention to start body building was to gain weight and body so that I could reach the army and I was seeing some great results. My body was responding beautifully to the work out regimes and hence, I gave it my complete attention. We used to participate in competitions but not championships. I did not hold any medal or title till then. However, when the Mr. Indore 2013 happened, I began to see it as an opportunity to do something remarkable. I saw bodybuilding as a gateway to make my nation feel proud.  This was when I got serious about everything. I had succeeded in achieving a great body, I became Mr. Indore. Next, I wanted to be a champion and not just a body builder. This is how body building became my life.
Who has been your inspiration or motivation in this journey?
There is no inspiration as I never dreamed about body building. It was something that I came across in the later stages of my life. Yes, a core support for me has been my friend Sohan Singh Sankla. This man is my energy booster and spirit charger. Whenever I feel negative or let down or when I start falling apart, he is the one who gathers me back.
What keeps you motivated or what fuels your body with such strong determination?
This journey has not been easy for me. There have been many situations where I felt let down, cheated and hurt. Every time such a thing happened I got more determined to prove myself. I am capable of winning, I am capable of bringing India that gold and I will do that no matter what. This desire to prove myself keeps me going.
How many titles have you won till now?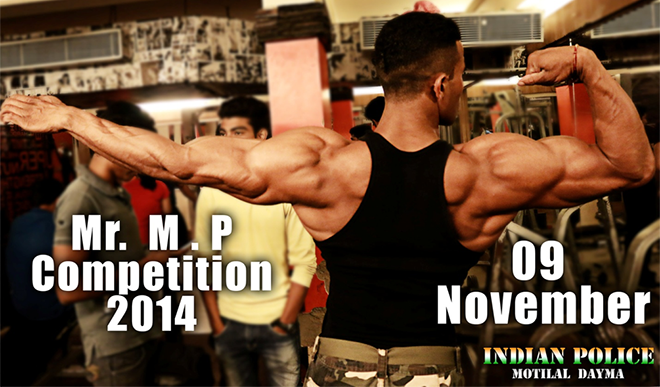 I did not participate in a competition until 2013. Mr. Indore was my first title.
Competition
Title
Mr. Indore 2013
Champion of Champions
Mr. Indore 2014
1st Position
Mr. Indore 2015
1st Position
Mr. India 2014
4th Position
Mr. M.P. (Madhya Pradesh) 2014
1st Position

Best Muscle Man

Mr. M.P. (Madhya Pradesh) 2015
1st Position

Best Muscle Man

Indore Top 10
1st Position
How was it to become Mr. Indore 2013?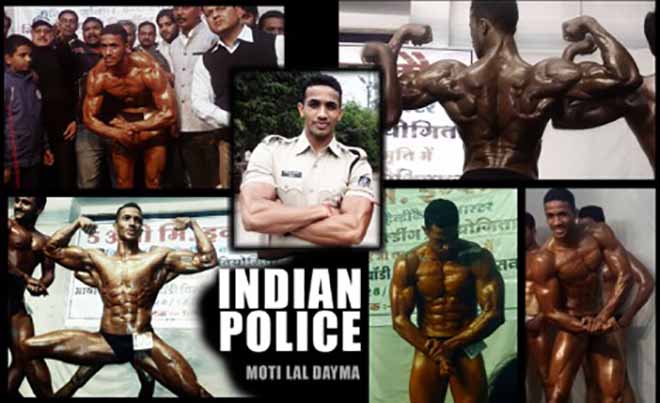 This was a much unexpected victory for me. I was an eggitarian. I never had meat. Even at that time I was not financially established. I earned only Rs 14,000 which is not sufficient to support a body builder. I met my body requirements from eggs, groundnuts, sprouts and milk powder. I could not afford so much milk. With this diet and with absolutely no meat, I became the Champions of Champions at the event. This is an example for every person who says that you cannot be a builder without meat. I did it, so you can too.
What is your most memorable achievement?
Well, every event gives you a lifelong memory. However, if you ask my personal favorite, it was Mr. Indore 2014. I won the title this year and in this same event, my brother won the title of Jr. Mr. Indore 2014. It was a historic moment. Two brothers participating in the same event and both emerge victorious. This will keep us proud forever.
My dream is to create history and take my nation to the international levels. I want to win gold at Mr. World Championships and immortalize India in the world history. I was selected for International championship however; unfortunately I could not participate there. It needed an investment of Rs 1.5 lakhs and I could not afford that. It is heartbreaking to see that athletes do not receive due credit in our nation. However, I will not give up and I will definitely become Mr. World one day.
What is your daily diet plan?
A healthy diet is very important to achieve that impeccable physique. My brother and I both follow a strict diet however, due to financial constraints; it becomes very difficult to manage our meals. With two body builders in one house, a sufficient diet is a challenge. When we can manage our diet includes (the below diet is for both the brothers) –
| | |
| --- | --- |
| Eggs | 20 to 30 daily (300 eggs weekly) |
| Chicken | 4 to 4.5 kg daily |
| Apples, Pomegranate, Banana etc. | 16 kg weekly |
| Milk | 4 liters daily |
There have been days, where we did not have chicken, eggs or fruits. At times, we cannot manage to bring in fruits for weeks. All I am saying is that, we have our shortcomings. We are financially restricted. We have taken loans to support our diet. We are doing whatever it takes to chisel our bodies.
What supplements do you take?
There is no specific brand of supplement that we prefer. We take different supplements and mix it in proportions to suit our body requirements. We have relied on weight gainers since the start. Since the last 3 months we have been taking protein supplement. We both take around 9 kg protein in a month. We also take pre-workout, during workout multivitamins, creatine, glutamine, TLA, carnitine etc. We spend around Rs. 80,000 on supplement and support diet.
What is your workout plan?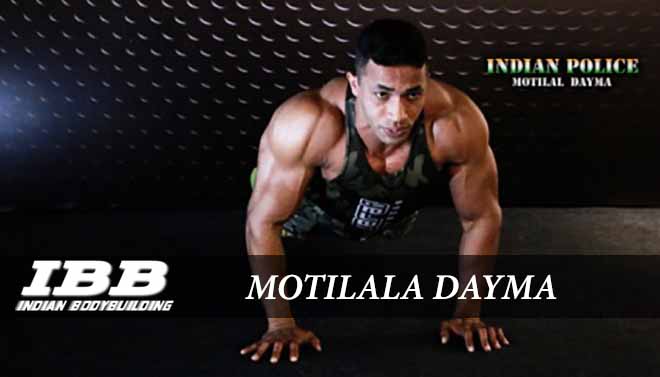 My brother and I work out together. In the early days, I used to complete my duty hours and then do my gym. Now, when they see me working so hard, I get some time off work out. We work out every day from 4 pm to 10 pm. It is a torturous regime.
Day
Exercise
Sets
Repetitions
Monday

(Legs)

Leg extensions
3 set
 20 reps
Back Squat
3 set
20 reps

142 to 247 kg

Leg press
5 set
20 reps
Barbell lunges
4 set
12 reps
Leg extensions
7 set
20-30 reps
Leg curl
3 set
20 reps
Standing calf
3-5 set
10-20 reps
Seated calf  and free Standing
3-5 set
30-40 reps
Tuesday (Chest)
Warm up 50 calorie burn on tread mill for 5 mins
Incline
5 sets
20 reps for 1st set

15 reps for 2nd set

12 reps for 3rd set

8 reps for 4th set

6 reps for 5th set

Press Benches
Start from normal best 102 kg and move on to highest 183 kg
Decline
Pull Over
3 set
15-20 reps
Table cross
Pick, Dig, Fly
Pull ups
Barbells
Cardio
1 hour
Wednesday (Triceps and Biceps)

Focusing on one muscle more (70:30)

Barbells
5 to 7 sets
4 sets of the focusing muscle and 3 of the other
Thursday
Off day
Friday (Back)
Start with Deadlifts
Going max to 233 kg
We work 3 days continuously then take a day off to relax the body. We keep a gap of 3 three days at least between squats and back so that the spine is over burdened. In addition to this, we walk 10 to 15 km each day. There are no Saturdays or Sundays for us.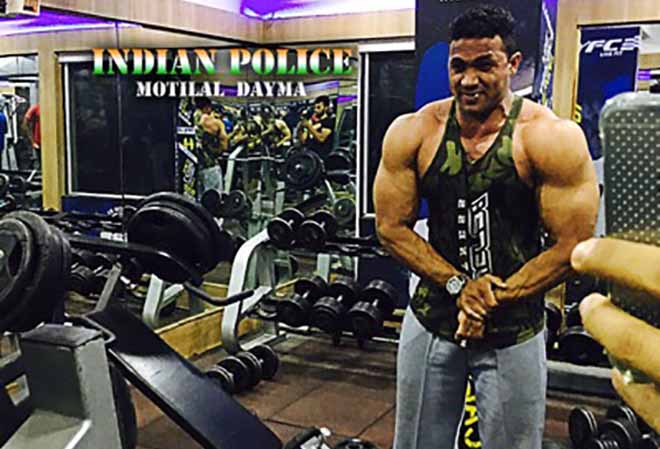 What are you planning next?
We have a district championship coming up on 13 February 2016. We both will be participating in it. There is a state championship coming up in March. Our dream is to become the first brother duo to win the state championship. I want to compete at the national and international level too. I working on my body and trying to gain body mass. I am 88 kg now. I need to be 130 kg to be able to reach the international podium. I will need an immensely focused diet and workout to achieve this. If I receive support from the government, then I can definitely be there.
Do you have any message for the youth who wish to be body builders?
I just want to say that do not lose focus. There have been numerous challenges for us. We are short on finance, resources. I have a spine issue. I can suffer from paralysis at any moment. Around 2008 or 2009, the doctor advised me complete bed rest. In 2010, I was the guard of honor. So there are no excuses. You can do it, if you will. There are no shortcuts. You will need to work hard and if you are willing to do that, nothing can keep success form you.
Where can people connect with your (Facebook, twitter, email, website etc)
I use my Facebook page very actively. I have around six thousands followers there at present. You can connect with me there. I do have an Instagram profile however I am not very active there.
Although the interview ended, his struggle and battle with hardships continues. Motilal Dayma is a real hero, who is serving the nation in every possible way he can. In him we see a legend that India will soon share. We wish him all the best for his upcoming endeavours.