It is admirable to see that India has emerged as the land of promising sports personalities. Our athletes have stepped into all the major sports all across the globe and are making a name for them and for the nation. Bodybuilding too, has flourished immensely as a sport. Over the years, the number of enthusiasts taking up bodybuilding and other fitness related games as a profession has increased tremendously. In the past few years, a few names have come up that are not only participating in the bodybuilding events but are also doing a marvellous job. One such name is Siddhant Jaiswal who is popularly called as the Aesthetic or Core King due to his impeccable physique. He is a leading IBBFF and IFBB Men's Physique Athlete and Fitness Model and has already earned an international fame. He has participated in prestigious Arnold Classic amateur in 2015 and will be competing this year as well. We got a chance to get up close and personal with him. With a simplistic approach to this difficult profession, Siddhant Jaiswal is indeed India's bright future in this field.
1)   Why did you choose bodybuilding as a career?
I had absolutely no interest in studies. I started exercising in my own way at the age of 13 years only. I used to go to an Akhada in my area and see my seniors over there. I used to observe them and follow them. Looking at my interest even they used to guide me. The point is that I loved bodybuilding and the whole concept of fitness since my childhood. I was attracted towards this sport, I liked it immensely. This is the only reason why I took Bodybuilding as my career. I never thought even once about achievements, glory, fame etc. I liked it, I wanted to get into it and so I did it.
2)   Tell us about your journey as a bodybuilder?
When I took up bodybuilding, I did not know anything about it. I did not know what a gym was like and I had no idea that there were so many fitness equipments. Supplements were a new term for me. I took up the profession solely with a passion towards bodybuilding and nutrition. Slowly and gradually I started learning about things. I used to wake up at 4 am, fill my pocket with overnight soaked chana and run all the way to the gym with my bicycle. At the gym I used to do push-ups and chin ups and all that I knew till I was exhausted. After returning home from gym, my mother used to give me boiled eggs. She noticed that I was working really hard and so she gave me her full support. She still looks after my food.
I did not know in true sense what I was doing. I thought if I'll eat more, I would develop more muscles however, now I know that it was so wrong. I ended up becoming fattier rather than muscular. That's when I realized that bodybuilding is not just a power play, it is a science. Every workout routine that you do, every piece of nutrition that you take in, there is a reason behind it which I wasn't aware of.
I came to Mumbai in search of work. I needed money because Bodybuilding is a very expensive profession. The lifestyle that you need, gyming, workout, nutrition, supplements etc. require a lot of money. I took up a job as a salesman with a water purifier brand. Post this, I joined an insurance company. After this, I took up a job with Okaya Power group. In this way, I was supporting the cost of my lifestyle and profession. However, my jobs never interested me. My focus was bodybuilding only.
Soon, I left my job and with the little money that I had, I bought some supplements. I used to meet people, guide them and teach about bodybuilding as much as I knew and I used to sell those supplements to them and earn money. This way I started my supplement work.  Then soon enough I started my online training and counseling portal. Thus, I established myself in terms of finances so that once I start competing on bodybuilding platforms I do not have to worry about money required for my preparations and participations.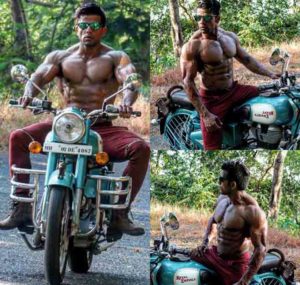 3)   What is your ultimate dream?
I grew up admiring the bodybuilding legend Ronnie Coleman. He is an impressive athlete and an 8 times Mr. Olympia winner. It is my dream to participate in Mr. Olympia some day and win the title.
4)   Why did you switch from Bodybuilding to Men's Physique?
It is true that I started my career as a bodybuilder. The first event I participated in was Navodit Mumbai Shree and even won the overall title there. However, my dreams were big. I wanted to perform on bigger platforms. I soon realized that in order to compete and win on International platforms I would need a lot of muscle mass which was a little difficult for my body. When I found out about the requirements for Men's Physique, I saw that it was more in sync with my body type. I have a naturally gifted body for Men's Physique. Be it my abs or my calves, people have always said that I have great features.  So I decided to take up Men's Physique as I fitted into the criteria really well. Around the same time, Mumbai was hosting Mr. World which had Men's Physique as one of the main events. So I decided to participate in that.
I first qualified for the Mumbai team and them for Maharashtra team and soon enough I was selected in the Indian team. It was a great honor for me. I had participated in only one vent so far and the next event turned out to be an international one. I was representing my nation. Since, then I did not turn back. I took Men's Physique as my profession.
Post this, I participated in Men's Physique in Maharashtra and bagged Silver there. I also participated in Mr. India 2015 in Gujarat and grabbed Bronze there. I went ahead and represented India at Amateur Olympia 2015 Men's Physique held in Hong Kong. Now I am preparing for the Asia event where again I will represent India. I want to ring a title this time.
5)   What are the common mistakes athletes do after a competition?
One of the most common mistakes done by many athletes including me is taking the off season lightly. I saw that I was not improving. Even when I went onto the stage for the next event, there was no development. I had not changed.  The reason was that I had a gala time during the off season.
We work hard to prepare ourselves for the event. It takes hard core training and proper nutrition and a lot of dedication and focus. During off season you start losing to your food cravings and stop working out as seriously as you used to. Thus, your body falls back and you reach back at square 1. Now when you start preparing for the event after off season, you are not able to become any better than what you already were in the past.
So never take your nutrition and routine lightly. Off season or on season, do not lose your focus. I decided that too. I won't let my diet go wrong and I won't waste my time. Each time you go onto the stage, your performance need has to be better than what it was earlier.
6)   What is your advice to the aspiring bodybuilders?
I have just one advice and that is Be Honest. You need to be true to yourself and your profession. If bodybuilding is your chosen profession, then give it your 100 percent at every stage. You must workout properly, regularly and seriously. Do not neglect your diet. Do justice to the sport and eventually you will get what you deserve.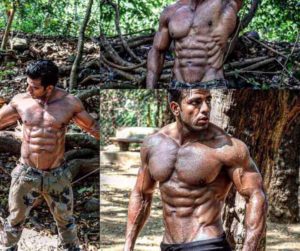 7)   How do you feel when people call you as the Core King?
Honestly speaking, I get scared. I fear losing their trust and letting them down. People have given me so much love and look at me as the Core King, Aesthetic king etc. I feel that it is my responsibility to ensure that their faith in me is never lost. Thus, I never let myself lose focus. I work even harder so that people who proudly call me with such fancy titles can continue to do so even in the future. I feel so proud when my friends and relative introduce themselves as "Siddhant's friend" or "Siddhant's relative". I feel great when they introduce themselves using my name. How can you let such people down? How can you let your fans be humiliated by not performing and not winning? This motivates me even more and I push myself even harder.
8)   What would you like to tell about Indian Bodybuilding as a platform?
Indian Bodybuilding is doing a great job in connecting us to the masses. There are so many people who do not know about us and about this sport. Even our national and international level athletes are unknown to the people. Indian Bodybuilding is spreading awareness and letting the masses know about such great athletes who are making the nation proud. This platform answers their doubts, gives them fitness and health solutions, guidance and motivates the aspiring athletes. This is a marvelous job and I thank the entire team at Indian Bodybuilding for doing this.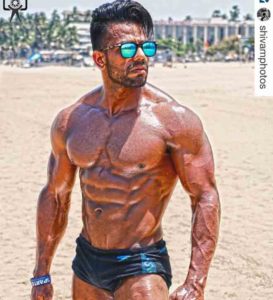 9)   What is your diet plan like?
My pre work out usually contains Complex carbohydrates and a protein. After this, I wait for 30 minutes and then begin with the workout routine. The complex carbohydrates ensure that I get enough energy for work out. During workout, I have BCAA (Branched Chain Amino Acids) by Spartan. It is my favourite brand. Today, as pre work out, I am having oats (Complex Carbs) and Whey protein.
10)   How can your fans connect with you?
I am available on all the popular social media. I have Facebook Profile by the name Siddhant Jaiswal. My Facebook Page is Fitness Model Siddhant. My Instagram Profile is jaiswal.siddhant and my Snapchat profile is Unstopablesid. My fans can follow me on any of these profiles.