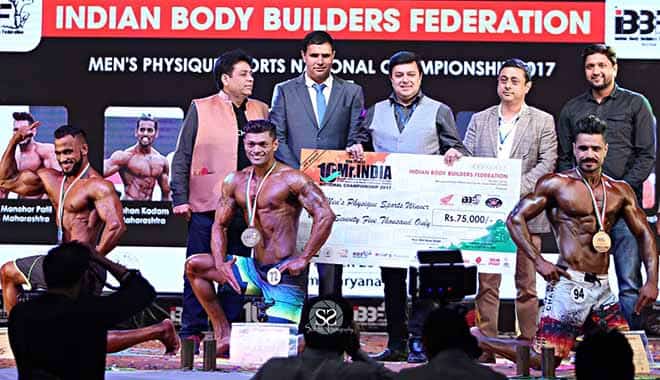 It might interest you to know bodybuilding spread across the Indian Continent from a small state called West Bengal. The nation welcomed this profession however; it unfortunately lost its standing in its birthplace itself. Over the years, people even forgot to associate West Bengal with bodybuilding which was not acceptable for one man – Sumit Banerjee. An IT professional turned athlete from Kolkata, Sumit was determined to awaken the sport of bodybuilding in West Bengal once again. Sumit ( popularly called as the "The Conditioning King" ) who has just been crowned as Mr. India 2017 in Men's Physique category has an incredible success story. We bring to you a journey that epitomizes hard-work, ambition and strong willpower to succeed.
What is your background and your success story?  
My elder brother used to go to gym and initially he was my inspiration. Like every young boy, I too wanted to have a physique like Salman Khan. Back in those days, that was my goal. I used to ask my brother to guide me to get that physique. However, I did not join any gym. I had actually made up my mind to first make a physique at home and then join a gym.
Meanwhile, I got into IT and worked with a firm for 16 years. Then in 2011, a new gym started in my office building and so I went to check it out. I was a normal amateur guy who just wanted a good physique. The gym trainer actually showed me a pic of one of his students on his mobile. He was a Kolkata based bodybuilder. I was so impressed with his physique that I asked the trainer to make me also like him. I told him that even I can compete and perform. However, the trainer bluntly told me that I cannot do it and that bodybuilding is not everyone's cup of tea. I felt bad and I told that he was being unfair in judging me like that. The trainer still shunned me and so, I left the gym right then and there!
Then in Jan 2012, I joined another gym and I started self-training. I did not have any trainer. I made my own plans, learnt from my mistakes and transformed my physique on my own. Finally in November 2012, I participated as a bodybuilder. It was an open Bengal Championship and around 150 athletes had participated in it. I was lucky to get a third place in my first ever competition.
I will also tell you the reason why I succeeded. I was new, had just started training and hence my muscles were very well shredded. On the contrary, the athletes I was competing against were in this since 10 years or more and had not undergone a physique workout in quite some time. So my muscles looked great and I won and that boosted my confidence immensely. From there on I started participating in more events.
I am a certified Transformation Specialist from renowned Transformation Coach Mr. Harry Sandhu Sir.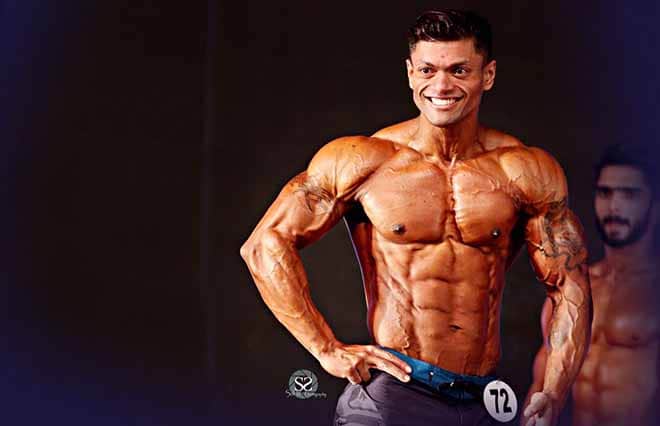 What are your achievements so far?
I started participating in more events, gained popularity and even began securing first place in events. I won Mr. Bengal title 4 times and even bagged the Kolkata Shree Overall Championship.
Post that, unfortunately I met with an accident and had to take a 3 year long gap from bodybuilding. I started thinking about starting my own gym. It was not from a business perspective, I already had a great salary. It was more out of passion. Also because I can workout at any time I want, if it is my gym. There won't be any time constraints on me. And lastly, I wanted to help others to have a great physique by giving them proper knowledge about workout and diet which is something West Bengal athletes lack in. So, I am running my own gym and giving proper transformation training to people. I am a certified Body Transformation Specialist from renowned trainer Kris Gethin.
I have been with Body Power since the beginning. I take care of their entire eastern region. I am the first person to bring Body Power along with world class athletes like Sangaram Chougale and foreign athletes to Kolkata. I am also the first person to introduce Men's Physique and Fitness Model in West Bengal. I gained a lot of popularity while doing all this and eventually I bagged a sponsorship of an Indian supplement company. I became the first athlete from West Bengal to get a sponsorship. After that I participated in Fit Factor in 2016 in Fitness Model Category and got the 7th place. I am motivating others to get into Men's Physique category and in the past few years, participation in this category has increased significantly in West Bengal.  
Last year, we organized an event called Fitexpo where we had bodybuilding competitions, power lifting, men's and women's physique etc. for the first time in West Bengal. Even my students participated and they got good results. After this event I signed the contract with Bodyline Sports as their Official Sponsored Athlete and Team Captain. Post this, I went to BodyPower Expo, Mumbai and I got signed the contract with BodyPower Nutrition as their Official Sponsored Athlete. Prior to this I was signed by Anabolic Nutrition followed by Big Flex Nutrition as their Official Sponsored Athlete. I'm the Brand Ambassador of Omtex Sports as for their Gym Apparels. Post Mr. India I got another contract signed by Rite Bite Max Protein as their Official Sponsored Athlete. And currently I'm representing an upcoming event called BALIN as their Brand Ambassador and Official Athlete.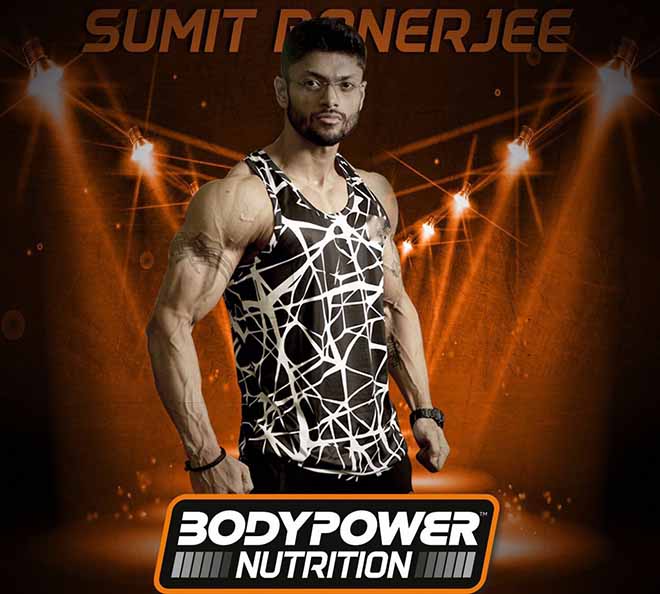 Special Thanks to all my sponsors for their continuous support, Thanks to Harry Sir for taking my physique to the next level and his unbelievable help, support and motivations to reach my goal. Thanks to Chetan Pathare sir for believing in me & giving me the opportunity to be a part of the IBBF family.
Who has been your trainer and how did he help you so far?
My coach is Mr. Harry Sandhu. He has his own team by the name Team Boss Australia and it is very popular and I am their official athlete. He stays in Australia and gives me online training. Whatever I achieved in life, it is only because of him. Besides bodybuilding, I got into men's physique and fitness activities, I got sponsorships, became popular etc., all this became possible only because of my coach. He took my physique to a different level altogether. I follow him blindly; he is more than a family to me. I am completely dependent on him and I just love him.
We started targeting Senior Mr. India 2017 that was held in March. We followed strict plans and routines. For the first time I competed in IBBF and I did not know anyone or anything. Everything was quite new to me. One of my team had also competed and he won 2 consecutive Gold medals. I was too pretty sure that I would get a decent rank as my condition was good and as compared to the previous year, I had gained proper lean mass and gained size. 16 athletes got selected for the finals and I was one of them and on 04 Mar 2017, I won the championship.
It was unbelievable. I had not expected to hear my name that day. Some from West Bengal had won Senior Mr. India for the first time. People were congratulating me, taking pictures, magazines were taking my interview. I had become popular all thanks to my coach.
Tell us something about your parents, your education?
I am 33 years now. Since my childhood days, I have been good with studies. I completed my graduation. I learnt graphics designing. My strong point was in print media. I have also worked with CNBC for their national magazine.
My dad was a government employee but now he has retired. My mom is a housewife and she has a degree in music. Even I have learnt to play tabla. I started playing it at the age of two and half years. I have played with Mr. Zakir Hussain also.
Who plans your diet and how? What are the food items you majorly include in your diet?
Be it my diet or my workout, everything is planned by Harry Sir. I just follow him. Interestingly, I stay in one of the major parts of Kolkata where Bong culture is very dominant and people are extremely foodie. People used to tell me in the past and even now that how can I stay in this profession and control my diet.
I always say that gym is more about mental strength. You need to be mentally strong and focused. Make your target and work for it. If you want to stand out in a crowd and want to be different, then you will have to do things differently. It's that simple.
Do you include any supplements and glutamines or BCAAs in your diet?
I get supplements from Body Power. I take whey protein isolate, glutamine, BCAA and take pre workout also. During off season, I take creatinine as well. Recently, I also got a sponsorship from Rite Bite Max Protein. So I get their protein bars as well. I love to have those. I have it whenever I am hungry and it also acts as a meal replacement.
You mentioned about Rite Bite products, can you tell us more?
Their protein bar is definitely one of the best products in the market. Rite Bite has a great range of products. So people can choose as per their requirement. A weight loss client can also have protein bar and even a gaining client can also take it. They have a lot of flavours and the price range is great as well. Even a student can buy it.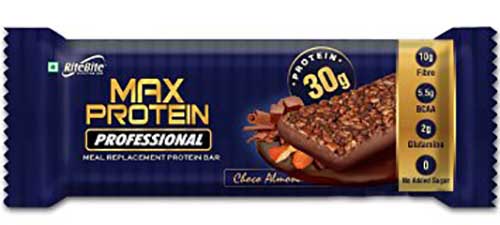 It is very helpful when you are travelling. We try to follow foreign athletes most of the times. Over there, athletes have protein chips. So Rite Bite has also introduced protein chips here. They are very tasty and in my team as well people are having it. Instead of ordinary oily wafers that fill you with empty calories, they are substituting it with non-fried, nutritious Rite Bite chips.
How do you make sure you control your food cravings?
Whenever I get cravings to have something sweet or chocolate, I take Rite Bite Protein Bar instead of taking chocolate. It has protein, good fibre and has glutamine as well. It helps in fighting those sweet cravings and untimely hunger pranks.
What's your workout plan in a week?
During competition days, my morning starts with an empty stomach cardio. This is followed by core workout. In the evening, I go for strength training and target specific muscle groups. First day its chest-back followed by biceps-triceps on second day and legs-shoulder on the third. Basically, I am not concerned about taking more weight. I focus more on getting the right posture so that I do not end up with an injury. I believe in doing things the right way. I focus more on repetitions.
Do you also have a cheat meal day?
Yes I do have, once a week. Sometime it is one meal of the day and sometimes two. So, it is not defined, it depends on my body condition. In my cheat meal, I have anything that I feel like.
I'll tell you a very interesting thing. When I qualified for the finals, I informed my sir about it. I told him that I was very hungry and what should I have. He told me to have chicken biryani. I could not believe him. I then took the liberty and asked him whether I could have sweets and he agreed to that as well. He told me to have sweet but not more than 2 or 3.
How does a typical day of yours flow in terms of diet, workout, rest, and supplements?
I start my day at 5 am and do my cardio. I have my meal and then I start with my personal training sessions. I have back to back sessions till 1 pm. I work with several other gym and fitness studios, so after 1 pm, I go there to give training. Then I get back home and have my next meal. Around 5 pm, I hit my gym for my workout and wrap it up by 6pm. Post this, my personal training sessions start again. Then I reach back home by 11 pm. Then I wrap up some remaining work like making diet plans for my clients. I also give online training.
In a week there are at least 3 days that I don't get any sleep.  Surprisingly it does not affect me. When I get to sleep, I sleep max for 6 hours.
What's the name of your gym and where is it located?
My gym is called Power Flex and it is in Kolkata, located close to the airport. You can get all the details on my Facebook profile to check out the details. You can also visit my website www.fitnessmodelsumit.com.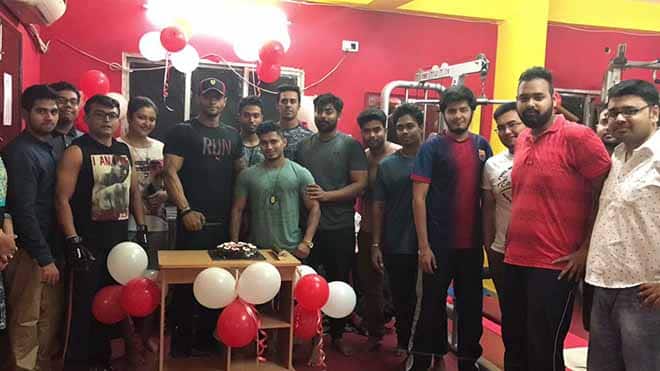 Any message for our readers
It is very important to hire a proper coach. But before hiring one, do a proper research. Check out whether he has full knowledge and that you can rely on him. Do not do overtraining and never take steroids. Focus on your diet and workout. Some people say do 70% diet and 30% workout. But I don't believe in that. I say do 100% diet and 100% workout.
Would you like to tell something about IBB?
I am following IBB since a long some time. It is my dream to do a video interview with IBB, since I am impressed with video interviews of top athletes on IBB youtube channel. I have always loved to see athletes giving interviews. I like to follow IBB interviews on its website as well as YouTube channel. IBB is doing a great job in promoting the athletes.
Sumit has demonstrated in significant ways not only his love and passion for bodybuilding but also for his home, West Bengal. He is single handedly restoring West Bengal's glory as a bodybuilding hub. We congratulate him for all his achievements and wish that he will continue to succeed in all that he does.