You might have heard the phrase "Crouching Tiger and Hidden Dragon". This time we got a chance to get up close and personal with one such hidden dragon – Karanjit Singh. He is one of those silent warriors who simply focus on their goals and each day come up with newer plans and techniques to reach closer to it. With an unparallel determination, this simple man residing in Amritsar, Punjab has made the nation proud by not just representing India at international levels but by also emerging victorious. Many Congratulations to Mr. Karanjit Singh for his historic wins.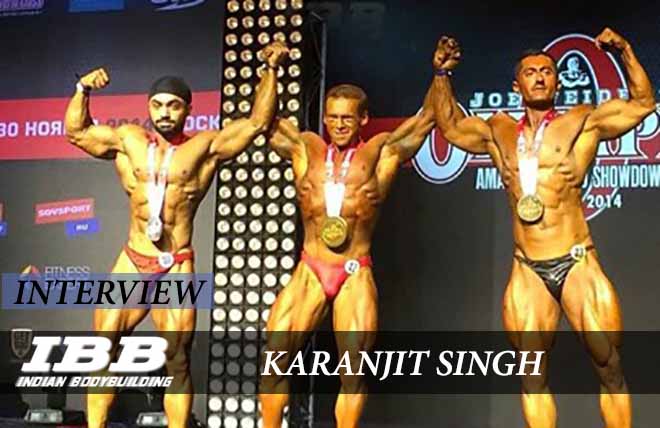 The most impressive thing about Karanjit is his simplicity. Not believing in flashy statements and great words, the interview with this meaty man was a rather simple one. A calm tone and humble words, it does not seem like you are talking to an internationally competent body builder. We are proud to present to you our conversation with this 'White Wolf'.
So firstly Karanjit, tell us a little more about yourself?
Well, there is not much to know about me, to be honest. I am a rather simple man. I was born on 17 June 1986 in Amritsar, Punjab and continue to live here with my family. I simply focus on my body building as this is the only passion I have ever known in my life.
Who all are there in your family?
I stay with my parents. I am a married man and have a beautiful wife and two lovely kids – a daughter and a son. My son is just 13 months old now. I have a brother too. I love my family as they have been so supportive and caring. I owe my success to them.
Is there anyone else in the family who does bodybuilding or is a sportsperson?
No! There is no one in my family who has ever lifted a dumbbell. I am the only one obsessed with bodybuilding. Even in my extended family, there is no one who is really fond of sports or in becoming an athlete.
Have you been interested in Bodybuilding since your childhood?
I won't say that I have loved this or thought of taking it up as my career since my childhood. However, as I grew up and became a little mature I fell in love with a good physique. I used to dream of having big biceps, looking cool etc. This was when I was in my teens. It's not like I did not try anything else. I used to play professional cricket in Delhi. I was a bowler and I did this for 3 years. However, I was never contented with it nor could I focus on it. It was only after I started working out, I found my contentment and so I stood by it.
When did you start bodybuilding?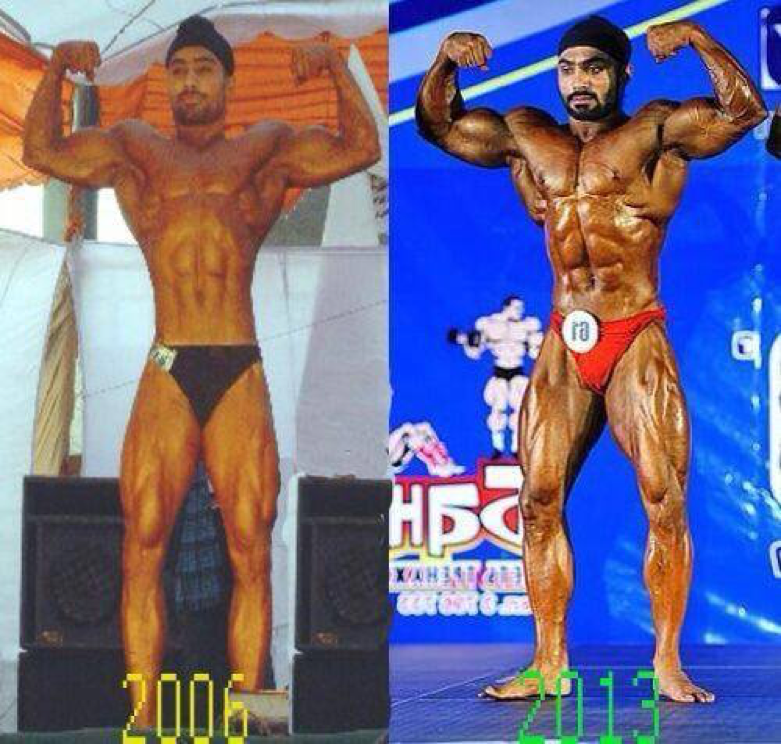 Then and Now
Initially I just wanted to have a good physique and big biceps like the heroes we see. It was more of a 'making an impression' thing for me. I started gyming when I was 19 years old. I guess it was 2005. However, when I started, it became something more than just big biceps and soon my passion became my life, my career.
Who has coached you all these years?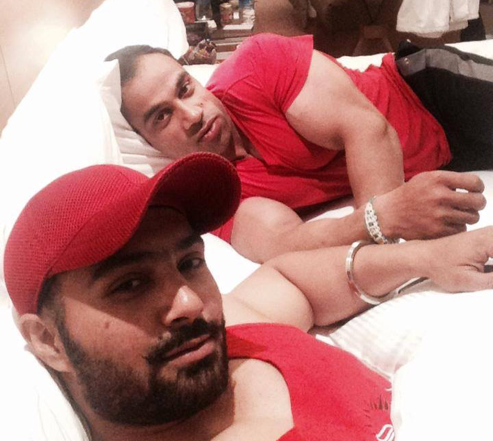 Karanjit with Bihari Lal
In the initial days Shri Bihari Lal was my coach. He too, is a bodybuilder. However, at present my current coach in Punjab is Manjit Singh.
You are a commendable athlete and you have a series of victories against your name. Can you tell us how many competitions have you participated in and won?
I started gyming in 2005 and right in the next year I was competing at Jr. Mr. India 2006. This was my first competition and my first achievement. Since then I have been competing in different weight categories. I started with 55 kg weight category and now recently I competed in 70 kg weight category.
Event
Year
Category
Achievement
Jr. Mr. India
2006
55 Kg
Gold
Mr. Asia
–
60 kg
Silver
All India Inter University Bodybuilding Championship
–
60 kg
Silver
2010
60 kg
Gold
IFBB World Bodybuilding Championships

Mr. Universe

2013
Up to 60 kg
Bronze
IFBB Amateur Mr. Olympia World Bodybuilding Championships
2014
70 kg
Silver
So, I have continuously tried to improve and increase my capabilities and accordingly I have participated in different categories. I am still trying to gain more weight so that I can participate in a bigger category in my next event.
Talking about your biggest achievement i.e. Amateur Mr. Olympia 2014, how did it feel to be on an international platform as a winner?
It was an unbelievable moment for me. The event, Amateur Mr. Olympia, is a very power packed event. You see all high level professionals who are outstanding in their fields and categories. I was competing against the proven champions and hence, all I had in mind was to give my best. When the results were announced I could not believe what just happened. On that day, Karanjit Singh did not win; an Indian Bobybuilder had won a Silver medal and this makes me feel so proud.
How was it to return back home after such an iconic victory?
I knew that my people were happy and proud. However, I did not expect the welcome to be so warm. I arrived at Jalandhar in Punjab and I was greeted by a lovely crowd. Many officials had come to welcome. I was more pleased by the fact that many fellow body builders had also come to congratulate me. A newspaper had interviewed me as well. That welcome has become a lifelong memory for me.
You have several victories to your name. Which has been the most memorable one for you?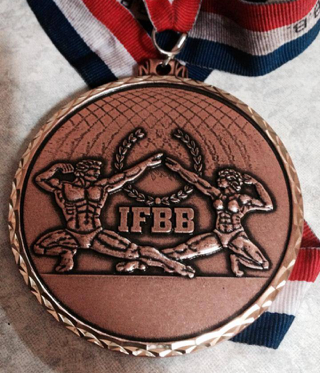 I distinctly remember the event held in Morocco, IFBB World Bodybuilding Championships, in 2013. It was a very exhausting event. Being world championships the level of competition was very high. My body weight was 72 kg and I had cut down 12 kg body weight to participate in up to 60 kg category. I travelled to Mumbai and then to Morocco and I weighed 800 grams more on reaching there. It was a very tough event for me and still I managed to get a bronze there. This victory will be truly memorable for me.
Bodybuilding is a very costly profession. Do you receive any financial support from the authorities?
It is sad that in India, athletes have to struggle so much to support their lives. Bodybuilding too, is not new to this. I have not received any support from any authority or government. I have been competing since past 10 years and not even once an official has come forward. I have managed it so far, on my own. It was easier to get financial help when I was competing at smaller levels. However, with national and international level competitions on the list, managing things have become very difficult.
How are you managing everything on your own?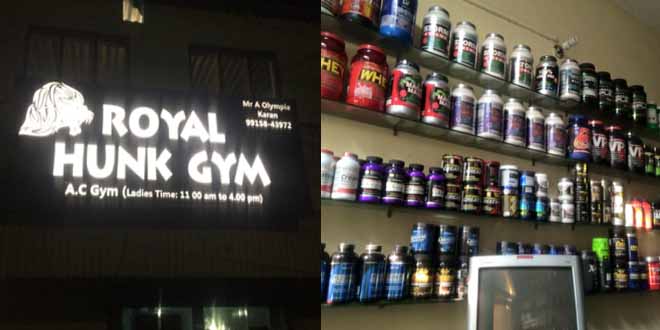 Well, I am aware of the fact that this is a very costly profession but this is all I ever want to do. However, I also have a family to look after. So to support myself and my family I run a gym here in Amritsar. I also have my own supplement store and with God's grace both are doing well. This is how I am able to continue with my profession and at the same time ensure that my family is leading a good life.
Do you coach aspiring bodybuilders at your gym?
I am not a full time coach as of now. I have to give a lot of time to keep my body in shape. However, when someone comes to me for guidance or advice or when I see that a person in genuinely interested in this, I try to be of help as much as I can.
Well I do not have a fixed diet plan. I believe in modifying the diet depending upon my requirement and muscle needs. I strictly monitor my food intake. I have a small weighing scale and I take every ingredient in exact proportions. Be it fruits or rice, chicken or eggs, proteins or carbs, supplements etc.; I design and redesign my diet plan to get the maximum benefit out of it.
What is your work out plan?
I work 5 days a week. Wednesdays and Sundays are my off days. Again, I do not have a pre-designed work out plan. I decide my routine depending upon the muscle requirement. I mostly focus on 2 muscles a day. For example this is one of the ways in which I design my work out:
| | |
| --- | --- |
| Day | Muscle |
| Monday | Chest and Shoulder |
| Tuesday | Biceps and Triceps |
| Wednesday | Off Day |
| Thursday | Legs and Thighs |
| Friday | Back |
| Saturday | Same as Monday |
| Sunday | Off Day |
My routines keep on changing but the only constant is that whatever is taken up on a Monday, it will be repeated on a Saturday.
What is next on your list?
I have not participated in any event after Amateur Mr. Olympia. I am preparing for Mr. Olympia that will take place in the coming November. For that I need to reach a body weight of 86 to 87 kg. Then I will reduce it to around 75 kg and get in shape for the event. This is my only focus right now.
What is your advice to the youngsters who wish to make a career in bodybuilding?
My only advice is that if one wishes to be a great bodybuilder then he or she needs to choose a mentor or trainer very wisely. Choose a trainer who specializes in this and has considerable experience. Your body reacts to everything that you do hence, you need to very accurate with your work out plans, techniques, diet plans etc. One wrong move can close all the doors for you. There is a lot of difference between a gym trainer and a bodybuilding coach. Be wise in your decision and once you get a good mentor, no one will be able to stop you.
A lot of youngsters these days feel steroids, medications and supplements are an easy way to get that perfect body. What do you want to say to such people?
This is a myth that is destroying a lot of potential youngsters. Steroids will only harm your body and sometime the damage is permanent. See, this is what I meant by having a good coach is important. Youngsters are very impatient, they want immediate results. They need to be guided properly and only a coach can do that. There are many boys who tell me that they want to be like me. They see my physique, my muscles my curves but they do not see 10 years of efforts I have put in achieving this. Give your body sometime, work hard and stay away from steroids. If your technique is right, you will not need any steroids.
We were going through your Facebook page we saw something very interesting there. Right below your name, you have a tag "White Wolf". What's the story behind this tag?
White Wolf is my favorite animal. Before you ask me, let me tell you why. I am sure you have been to circuses. You see all the animals there, elephants, birds, monkeys, even tigers and mighty lions. Have you ever seen a wolf at a circus? The answer is no. A wolf is the true king and it can never be tamed. It lives on its own terms and this is how I see myself as. (Well we can't agree with him more).
How can our young readers connect with you?
They can connect with me through my Facebook page. I am not very active on other social media though.
This simple man with a humble speech has made a strong impact on us. It is admirable to see that Karanjit Singh and many unsung heroes like him are conquering the world on their own. Their only support is their determination. We wish Karanjit Singh all the best for his future events and sincerely hope that he continues to make India feel proud.