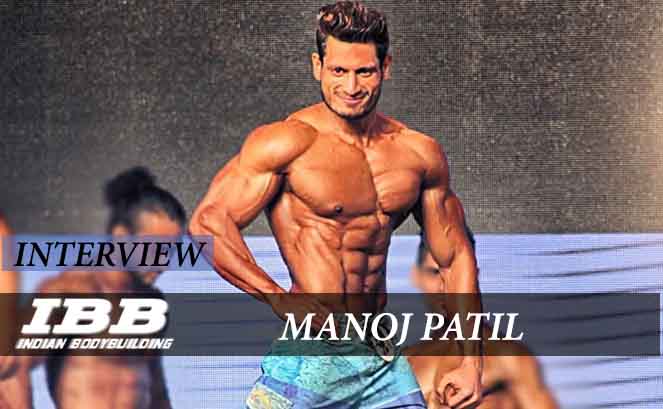 People struggle for years to emerge as successful. There are hundreds among us who give up half way on their goals owing to adversities and failures. However, there are a few personalities who chase success with all their might and prove to the world that nothing is impossible as long as you don't give up and one such person is Manoj Patil. He is a Fitness model and Men's Physique athlete and has recently bagged the overall title of Mr. India 2016 (IBBF) in Men's Physique category . Manoj was not born with a silver spoon nor is his journey an easy one; however, nothing keeps him from going ahead. This self made athlete is an inspiration to the youth who often neglect hard work and give up on their dreams without putting up a fight. We are sharing with you our conversation with this young achiever, hoping that it will inspire you, motivate you and make you chase your goals harder.
Watch the interview video or read the transcript below
1)   How did you start in this game of fitness?
I started working out at the age of 16 years old. I liked to see my elder brother exercising and soon even I started doing it. I loved fitness and I worked out continuously from there on. At the age of 19 years, I participated in my first event – Mr. Mumbai and I grabbed Gold there. At the age of 21 years, I participated in Mr. India but unfortunately I could reach only as far as Top 15.  In the same year, I participated in Mr. Maharashtra and managed to reach Top 5.
Just after 1 year, I participated again and finally nailed it. I took the title of the Overall Champion at IBBF Mr. India Men's Physique 2016 and IBBF Maharashtra 2016 Men's Physique. I also grabbed Silver at IBBF Mr. Mumbai 2016 Men's Physique.
2)   What is your diet?
I have 5 meals in a day focusing on Carbohydrates, Fiber and Proteins.
Meal
Menu
1st Meal  of the day – 7 am
1 fruit – apple, orange etc. and Protein Shake
2nd Meal  – Breakfast

(45 minutes after 1st meal)

8 egg whites (Proteins), oats (Carbs), dry fruits like almonds, walnut etc. (Good Fats)
3rd Meal  – Lunch
200 grams chicken, vegetable salad that includes broccoli, capsicum etc. and curd
4th meal – Evening
A special meal from Being Fit Kitchen and Protein Shake
5th meal – Dinner
200 grams of fish like Salmon, tuna and vegetable salad
Being Fit Kitchen is something that I prefer. They have special curated meals for athletes so that their nutritional requirements are met in an interesting way. Today's Being Fit Kitchen meal is called Rosemary Chicken that has been served along with Broccoli to provide fiber, beans and a smashed potato to provide some carbohydrates. It is a very balanced meal. The meal box always has the nutritional value of the meal written on it. So you get to know what amount of protein or carbs the meal contains. Thus, it really helps me out to monitor my diet.
One hour after my evening meal, I work out. Each day, I focus on 2 muscles like triceps and chest, back and biceps etc. After my workout I have post workout Protein shake.
3)   How do you order food online?
Being Fit Kitchen is an online food delivery portal that has been developed to cater to the needs of athletes who get bored with their monotonous meals. I need to have chicken and fish each day to get proteins and that gets boring after a particular point. Being Fit Kitchen provides balanced meals that include the necessary nutrients in a special way. They have a lot of variety and a meal get repeated only after 15 days. They have a website beingfitkitchen.com. They also have Facebook Page and an Instagram Profile.
4)   Does your diet change during competition?
Of course, the diet changes during competition. We athletes, give up on Carbohydrates completely at least 15 days to 1 month before a competition. We entirely switch to solid proteins and fibers. We derive fibers from vegetables and protein from meat and protein shakes. I take Pure Whey from Spartan. This is my favorite.
5)   What is your big achievement?
My achievement has been significant in this year only. I won the overall title at Mr. India Men's Physique 2016. This year has started in a great way for me.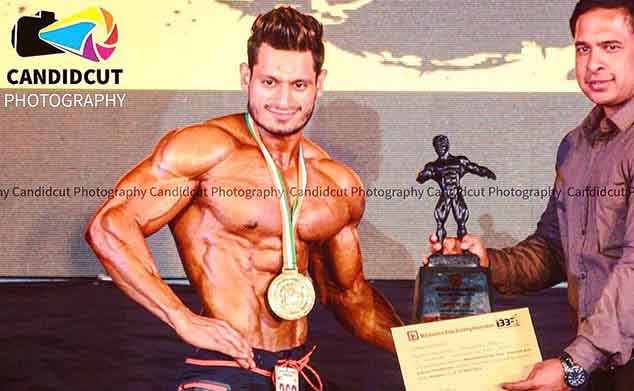 6)   What is your inspiration in life and what keeps you motivated?
I am my own inspiration. I workout with all my passion and I look at myself in the mirror. I look at my physique compare it what it used to be. I look at my pumped up muscles and each time it inspires me. Looking at myself coming so far inspires me greatly.
There are also so many great athletes around who motivate me. I admire athletes who compete at Mr. Olympia. It is my dream too. I want to compete on that stage, represent my country and win a Gold medal.
7)   What is your next target?
Mr. Asia will be held in September 2016. Post this, Mr. World will be held in October. These are the two big events I am preparing for. There is just 1 month left for Mr. Asia. I am already preparing for it and the preparation will be intense in the entire month of August.
8)   What is the most challenging part of this career?
This entire sport is challenging. If I compare it to other sports, bodybuilding and fitness is the toughest of them. You know it very well, not many people know or look at bodybuilding as a sport. It does not have a prestige like cricket does. We athletes remain anonymous. No one knows us, we do not have media coverage, we do not have sponsors readily coming for us etc. We struggle a lot.
I am also a fitness trainer. I wake up at 6 am for my session. Then I come home to rest for an hour or two and then head to the gym for my own workout. Then at 12 pm I have my next session as a trainer. In this way I keep juggling between being a trainee and a trainer.
It is a tough routine and we athletes have to manage it on our own. My mom is a great help. She looks after my meals. My dad goes to the market to get me fresh vegetables. My mentor at the gym helps me a lot. We do everything on our own. This is the story of every athlete.
9)   There are many people who look up to you as a role model. They want o be like you. What advice will you give?
I have just one advice and that is to remain focused. No matter what you want to be – bodybuilder, fitness model, men's physique athlete or a cricketer, give it your hundred percent. If that is not enough, give it your 200 percent.  Be passionate about the game that you love and give it all you got. Do this and you will definitely get what you desire.
10) People say that this sport is too expensive. What do you feel about it?
Yes, it is definitely very expensive. I come from a poor family. It is after I started giving fitness training that my financial status stabilized a little. I take sessions in the morning, afternoon and evening. My diet, my workout and all my other expenses, I derive from training sessions. As far as my supplement is concerned, I have sponsors for that. I get my Pure Whey through them. Thus, I am able to sustain this as my career.
11) How can your fans keep in touch with you?
My fans can connect with me on Facebook. My profile is Manoj Patil Mr. India. My Instagram profile is Manojpatil_mensphysique.
12) What would you like to say about our website Indian Bodybuilding?
Indian bodybuilding is a very cool website and is very motivating for us. The website hosts our images, videos, interviews and makes it available to our fans and bodybuilding and fitness enthusiasts.  You are taking this sport to the people. Spreading awareness and making it popular. This is a great and a commendable job. I am thankful to IBB.
Manoj Patil has made a name for him at a very young age and is heading towards a promising future. These young athletes are the future of Indian Bodybuilding. We wish Manoj all the best for his upcoming events and we hope that the title of Mr. Asia 2016 will soon be added to his list of achievements.