Internet is the biggest blessing that has been bestowed upon us. It not only lets you reach out to the world, it also lets the world reach out to you. Who would have thought that one day you will be able to get fitness training from a legend himself from the comfort of your home? Sangram Chougule, the pride of Indian Bodybuilding, has launched his own YouTube Channel about a month ago – Fitness with Sangram Chougule through which he will teach about fitness and bodybuilding to his viewers. Yes, 15 years of his experience, knowledge and learning are now all at your disposal. If you have not already subscribed to Sangram's channel, then do it now so that you don't miss any of his new videos.
In his first workout video, Sangram has talked about a back exercise routine – Lat Pull Down. He can be seen demonstrating the right way to do a lat pull down so that you reap maximum benefits without any injuries.
Lat Pull Down:
Posture: Sangram mentioned that while doing any exercise your position and posture are the most important. For doing Lat Pull Down, take position, hold the pull down bar and then sit. Do not sit on the bench and then stretch to hold the bar. To avoid injuries, it is important to have an arching back.
Pull Down: You need to pull down the bar only till your back arches out as this is enough to work on the muscles in your back and lower back. Do not over extend as that can lead to injuries. As you release the load, do not over stretch. The routine is to focus on pulling muscles and hence you do not need to stretch.
Breathing: In addition to position and posture, breathing is of immense importance too. As you pull down the load you should breathe in and breathe out when you release the load. You need to follow this systematic breathing pattern.
Reps: The first set is a warm up set and hence you can have as many repetitions as you want. After this you will have 3 variations and in each set you will go on increasing the weight.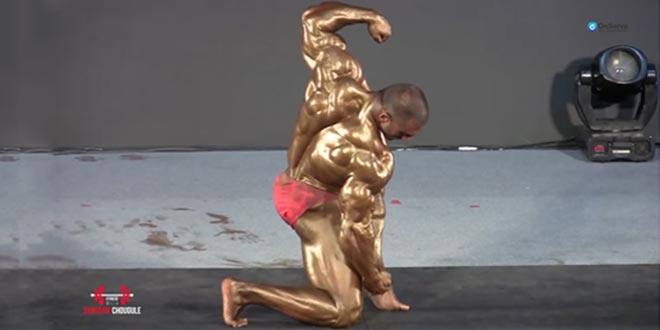 Sangram has kept things so simplified that even a beginner can grasp things right. It is great to see that a renowned athlete like Sangram, who has bagged the World Title twice, Mr. Asia twice and Mr. India 6 times, has taken this step to take correct bodybuilding to the masses. Don't forget to subscribe to his channel to get trained by the expert himself.