Kai Greene, aka Mr Getting It Done is an uncrowned Mr Olympia known for his inspiring and motivational talks worldwide. The Predator (Another nickname of Kai) has always been known for winning people's heart and hence known as the people's champ globally. Nevertheless, apart from his massive 3D physique, he has also been mesmerizing his fans with his amazing sketches, and the jaw dropping posing routines.
Well, here we are with his 12 Most Motivational Quotes that will get you some kickass dosage of inspiration! Check it out:
1. Dream to Achieve

If you don't have a dream, then you have nothing to work for, nothing to get up in the morning for, no reason and no purpose to be. But friends, we do have a dream and dreams do come true not because we keep believing, but we keep working hard
Kai Greene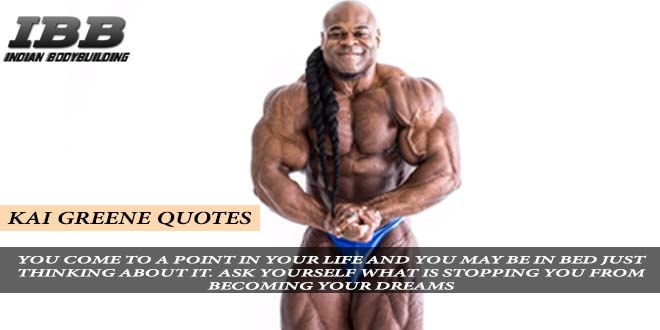 2. Ask Yourself

You come to a point in your life and you may be in bed just thinking about it. Ask yourself what is stopping you from becoming your dreams
Kai Greene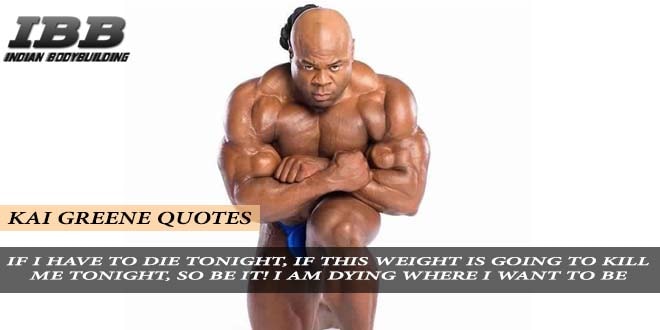 3. That Satisfaction

If I have to die tonight, if this weight is going to kill me tonight, so be it! I am dying where I want to be.
Kai Greene
4. The Mindset

Anyone can train to be a gladiator. What marks you out is having the mindset of a champion. When you are destined for greatness, it shows in everything you do. It becomes you.
Kai Greene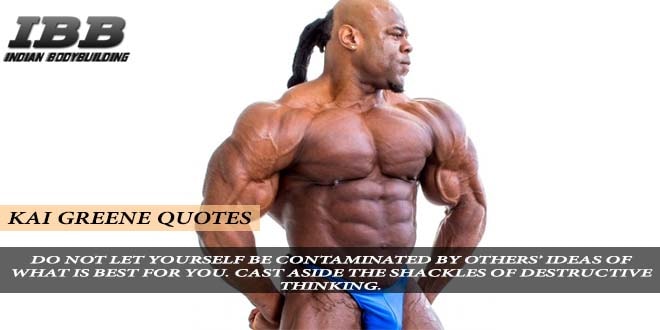 5. Be Yourself

Do not let yourself be contaminated by others' ideas of what is best for you. Cast aside the shackles of destructive thinking.
Kai Greene
6. Mind Is Everything

I am a believer, I believe that we shape and create the life that we choose, and I believe that the tool that we have to do that is our mind
Kai Greene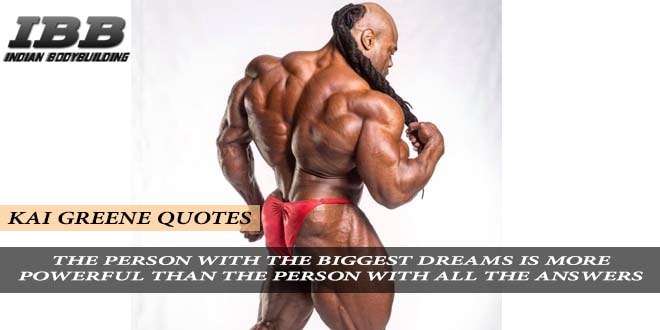 7. Dare to Dream Big

The person with the biggest dreams is more powerful than the person with all the answers.
Kai Greene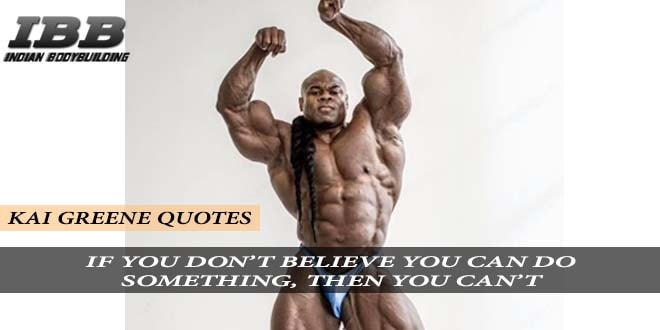 8. Thoughts become things

If you don't believe you can do something, then you can't.
Kai Greene
9. Make Every Breath Count

Nothing comes easy, but as long as you're breathing, you're always one breath away from making your dreams a reality. Make every breath count
Kai Greene
10. Be Your Own Masterpiece

Bodybuilding is an art, your body is the canvas, weights are your brush and nutrition is your paint. We all have the ability to turn a self portrait into a masterpiece
Kai Greene
11. Have A Vision

Champions are an example of what happens when you decide to leave the plane of average thinking, where you dare to dream and you dare to go after that dream, and you make these thoughts and ideas become more than something than just a dream. They actually become a vision.
Kai Greene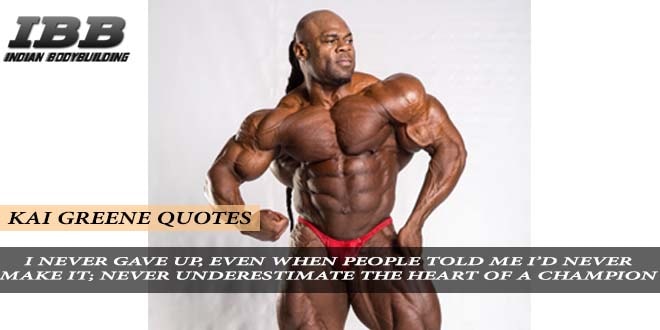 12. Never Give Up

I never gave up, even when people told me I'd never make it; Never underestimate the heart of a champion.
Kai Greene
As he says, it is all in the mind, hence, train your mind to bring the best out of you, because you achieve what your mind believes!