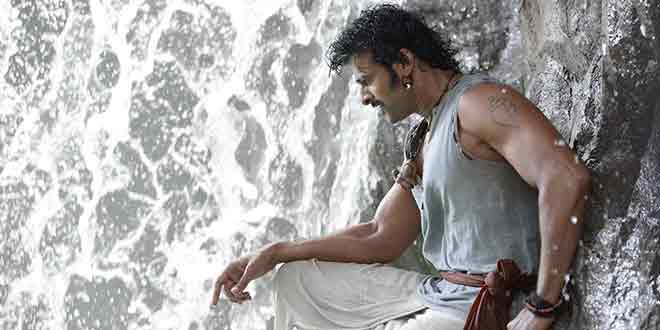 If there is anything other than cricket that has brought the nation together its Bahubali. People, no matter what the age, profession or race; are talking about this magnum opus that has shattered all the box office records without breaking a sweat. The man who played the legendary character Bahubali, Prabhas, has become a craze for men and women alike. And why not? Where do you see such dedication and passion for work in today's film world? Be it Prabhas or Rana, every actor in the movie has given more than their best which is why Bahubali has succeeded in making history on several fronts. Prabhas as Amarendra Bahubali became a national sensation owing to his heart melting looks and Greek god physique. Want to get a physique like that? Well, here is Prabhas' workout and diet for amazing 6 pack abs. Let us be frank…it's not going to be easy to catch up with Bahubali!
How Prabhas became Bahubali?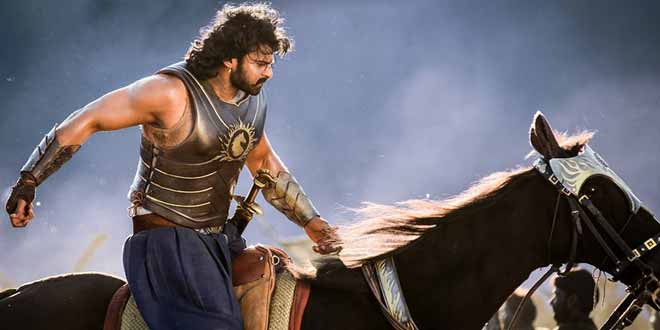 Prabhas proved in every way that he was the right choice for this iconic character. It might surprise you to know that Bahubali spent a year in pre-production and Prabhas started working on his body as long as 8 months before the production could begin. He underwent a massive transformation to get into the skin of the character throughout the movie. Prabhas did not sign any other movie or even a commercial while he was on Bahubali for 3 years.
The character of Sivudu (son) was leaner as compared to Amarendra Bahubali (father). The later was a warrior and therefore had to look like one in every sense. Thus, Prabhas gradually shifted from one body type to the other across the movie.
Weight Gain
Prabhas definitely has a great height. He stands tall as 6 feet 2 inches. However, just like an actor he had a lean body type with a weight of 85 kg which was not suitable for the epic drama. For the first part, Prabhas had reached a body weight of around 105 kg by putting on 20 kg. To bring Amarendra Bahubali to life, Prabhas put on another 30 kg for the sequel – Bahubali The Conclusion and reached 135 kg (approx). There are even statements circulating all over the internet that Prabhas scaled up to 150 kg for the sequel. The tough part was that he needed to bulk up and get more muscular and not just fat. Putting on muscles in such a fashion required heavy diet control and very detailed workout plan.
Inspiration and Preparation
Prabhas took inspiration from WWE wrestlers who perfectly fit the criteria of huge and muscular body types. It has been said that he personally observed them, interacted with them to understand the crux of bodybuilding. Interestingly, even though he took inspiration from international stars, Prabhas did not hire any renowned international fitness trainer for himself.
Instead, he brought with him an entire gym. Yes, to focus on his workout day and night, Prabhas bought the latest international gym equipment worth 1.5 crore rupees on his own accord and set up his own fitness area – an outdoor gym in his house garden. Prabhas enjoyed working out amidst the greenery of his garden where he can take in naturally clean air.
Trainer
Instead of getting a popular name on board, Prabhas decided to seek help from an Indian jewel. If you are a bodybuilding fan, you are ought to know Laxman Reddy. He made India proud by claiming the tile of Mr. World at bodybuilding championship in 2010 in Las Vegas and has 13 other titles to his name. Laxman initially groomed both Prabhas and Rana and eventually he focused completely on preparing Prabhas for his epic challenge. Along with Laxman, there were also dieticians who were continuously monitoring and altering his diet plans.
Prabhas Diet Plan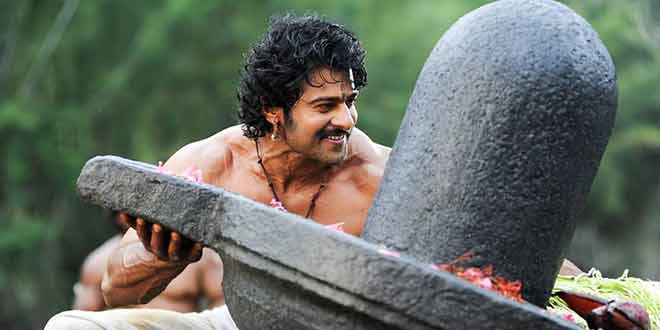 Since Prabhas had to put on 20 kg in 6 months, he had to go on a heavy calorie diet which focused more on non vegetarian foods to make the diet as naturally protein rich as possible. Prabhas' diet was managed between 2000 calories/day to 4000 calories/day which were divided between 6 meals during the day. Prabhas followed the policy of small, balanced and regular meals. He used to eat every 2 hours.
It has been reported by some of the media sources that Prabhas started his day with 40 egg whites to gain muscles faster. The egg whites were half boiled and blended with protein powder. At some places it has been mentioned that the 40 eggs were taken during the course of the day.  
Along with eggs, chicken was integral part of his diet. He consumed 500 grams of chicken a day. Along with this, he had nuts, almonds, ample of vegetables like broccoli, spinach and fishes to supply his body with all the nutrition it needed for that massive gain.
He was on a zero carbs diet. His lunch included a small amount of brown rice, oat meal along with boiled vegetables and chicken or fish. His diet also included protein powders and Prabhas used to have one serving of protein powder with milk or light soup after his workout sessions and before he went to bed.
The next crucial thing Prabhas focused on was hydration. He made it a habit to have 10 to 12 glasses of water at least to avoid any possible dehydration that can lead to weakness and loss of stamina.
Prabhas is strictly against steroids and all that you see on the screen is his sheer hard work. He has followed an extremely stringent diet and workout to gain those muscles and six pack abs. Prabhas states that steroids are body building drugs and they can cause health issues. Steroids can 'give results but for short time'. He strongly supports natural diet and healthy workout.
Prabhas Workout Plan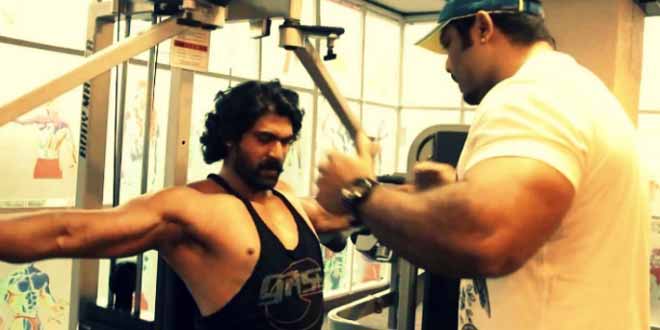 P.C.: recentmovies.in
Prabhas followed the 70/30 rule – 30% workout and 70% diet. Prabhas stated that an appropriate pre and post work diet plan is crucial to ensure that you get the right results from your hours at the gym. He spent 6 hours at the gym everyday divided between morning and evening sessions.
The morning began with cardio sessions followed by stretching and yoga. This was followed by intense stamina building sessions including plyometric and cross-fit exercises.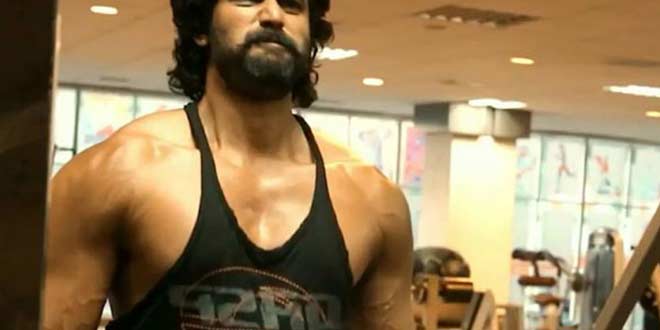 P.C.: jansatta.com
The evening involved muscle building exercises i.e. weight training. Instead of relying on isolation exercises, Laxman put him on compound routines like squats, bench presses and dead lifts. This helped him to get more muscular in lesser time. In addition, Prabhas also remained active outdoor activities like cycling, swimming etc.
After bulking up to 135 kg or may be 150 kg, Prabhas is now surely on a losing phase as the movie has come to an end. Laxman stated in an interview that the weight is being lost gradually and it might take around 5 to 6 months to for him to reach his normal weight. Laxman also mentioned that the diet would remain the same but the amount would start decreasing.
We hope now you know why Prabhas has gained all that fame. He has followed an exhaustive routine and a very strict diet. Yet, he did not deviate from his goal at any given point of time in those 3 years. He gave his 100 percent to workout, diet and acting. That is how he became Bahubali and won the hearts of millions overnight. If you too want 6 pack abs like Prabhas then ensure that you stay head strong and motivated all the time for that is the key to his success.