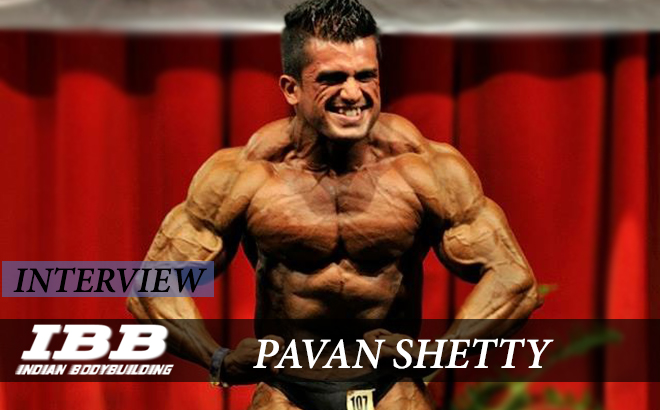 With his impressive abs, toned body, huge muscles and a boyish charm, the WABBA world champion Mr. Pavan Shetty is no doubt more than an inspiration to many. Born on 22nd April, 1986, this 29 year old bodybuilder from Bangalore has went on making invariable achievements out of his love for the sport.
In face of all the trails life put him through, he followed his passion rigorously and went on wining several titles like the Mr. Asia, Mr. India, Bharath Shresta, Mr. Karnataka Shresta and finally went on to be the WABBA world Champion. If you ask him, with an unbeatable zest Pavan proudly states that he has not yet reached his goal, his goal is to go on achieving till he can.
Hailing from a small town in Karnata, Pavan was an ordinary guy who ended up doing something that was not meant for him, all he had with him was his love for bodybuilding. With insurmountable courage and inspite of the financial hardships he faced, Pavan took a bold decision to step out of a lucrative and comfortable 9 to 5 job, in order to pursue his passion. Starting it all from scratch, today Pavan has made history, he has an amazing success story to share.
Let's catch up with the inspiring story of Pavan, while he prepares to compete for his next goal Mr. World 2016 by WABBA in Italy, Venice
With such great achievements at a young age, could you tell us more about yourself and how you got started with bodybuilding?
I am born and brought up in Bangalore. It all started back in 2005, when we were a family of four i.e. my father, mother and an elder brother. My father had a business of transportation which was not going very well, and hence of course there was some financial crunch. Right from an early age, when I was 13 i.e. in the 8th grade I was inclined towards body building. I was inspired looking at my elder brother's workout routine at home. However,
back then, I was only doing some push ups and pull ups and using buckets full of water as dumbbell and grinder stone at home for shoulder press instead of actual dumbbells since I could neither afford a gym nor any sort of equipment's for my workout.
Pavan Shetty
When I was graduating in BSC Biotech, my brother got into IBM as software engineer, he agreed to take care of my finances enabling me to join a gym. It was because of him that I could pursue my passion at the right time, he helped me a lot. In 2005, I joined a local gym and within 9 months I could see good results. I already had a pretty much lean physique, I have been in the athletic field at the district level so I did not have to put much efforts to build abs or for flexibility of muscles. I participated in a university competition in Bangalore where I won gold medal and from there went on achieving invariably till date. The first gold medal I won proved the fact that if I can achieve this in 9 months, then there is no looking back. That was a strong motivating factor in my career.
To fulfill the financial obligations I had, specially to repay my educational loan, I pursued MBA for which I got a government seat through scholarship. Out from MBA, I was placed as an Assistant manager with one of the banks. The 10 months that I worked, reminded me every single day that this is not what I want in life. I then discussed with my brother about what I really wanted to do instead of a 9 to 5 job and he agreed to help me. He helped me with a personal loan required to open up a gymnasium. I could repay half of my educational loan through the salary I earned in those 10 months. The bank I worked with had a contract period of minimum 4 years of service failing which I had to either pay a huge sum of money or leave all my educational certificates right from SSC to post graduation with the bank.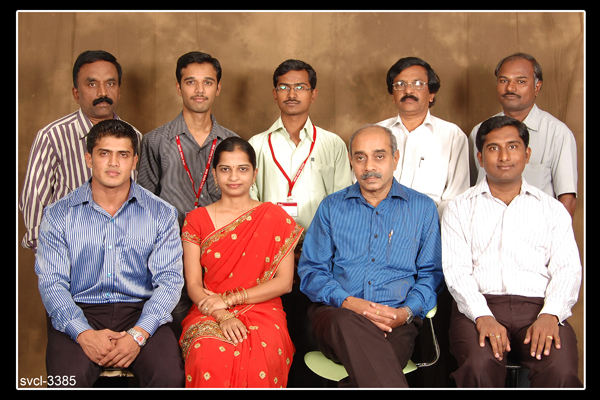 "I had only 2 options either to start a gym and run it and leave all the certificates with the bank, or go back to the bank and serve the contract period of 4 years. I opted for the first one, I started my own gym, funded by my brother. I received All my education certificates 4years later once the bank I was working where done with their procedure"

Pavan Shetty
It has been 5 years now and I own 5 gyms in Bangalore. Business is going on quite well but, I do not want an easy life, and hence I wish to go on participating in competitions till my body allows me.
Who was your inspiration or what was your motivating factor that helped you develop a passion towards bodybuilding?
I must say it was my elder brother and Movie star Salman Khan who inspired me. My brother Jeevan shetty who is 4 years elder to me is currently based   in USA.  He is a software engineer by profession. It all started when I was about 13 years old in the 8th grade, when I saw my elder brother going to the college gymnasium. I was fascinated looking at his growing muscles. My brother's big biceps, fueled my passion to own a great body like he had.  However, at that time, I did not have any gym equipments nor did I have any access to the internet to seek information. All I could get was some inspiration from my brother and a small Television that showed Salman Khan flexing his muscles in the movies.
You recently had an impressive victory at WABBA where you won the world championship. Can you share your success story with us?
Untill 2013, things were working out well for me and I did not feel the need for a coach. In September, 2013 I participated in Mr. Bangalore competition and won a gold medal in my category and overall the 2nd place. I was very sure of wining this competition, however my achievement was not as I would have expected from myself. It was then that I started feeling the need for guidance under a trained fitness coach. Till such time, I was only using my educational background i.e. biology to train myself.
It was difficult to find a well educated and trained coach in India as most of the trainers we come across are either drop outs or lack a sound educational background. Without proper education you cannot understand the health aspect of any workout or diet program.So then I searched through google and found 2 well known experts in the field   IFBB pro Fakhrimubharakh From New York and Denis James. I chose to be guided under IFBB pro Fakhrimubharakh From New York starting in October 2013. Once I started training under Fakhrimubharakh, I became aware of the mistakes I was doing and what I actually needed to do to get the desired results. My training, diet plans, correspondence, everything was over email. After 10 months of training with Fakhrimubharakh, I had to quit since it was becoming expensive considering the difference in currencies of the two countries. Also the recommended diet was quite expensive to be continued on a perpetual basis since I also had my family to look after to. In December 12th 2014, I got married to my long time love Priya Shetty. Although I quit training under Fakhrimubharakh, I was able to use the knowledge acquired from him to train myself further. As I was now clear with the basics and had a firm foundation, I could see the desired results soon and was able to prepare myself for the world championship.
In spite of the hardwork put in and the preparations I did, I faced a lot of hardships with regards to my travel to Italy. Although my tickets were booked, the visa was still under process. I was taken aback by the delay in issuing of visa. I had funded the travel, preparation, participation all on my own and looking at the costs incurred and efforts put in, there was no turning back.
I made several requests to visa issuing authority, which finally allowed me to go to Mumbai consulate and request for a visa within 24 hours. Since this was not a planned activity I could not carry enough meals, so it was like almost 16-20 hours with no proper diet. Finally the consulate there understood my cause and issued an immediate visa and this was the first time they did it for the sake of the sport where I was representing my country at an international level, they said. The feeling of obtaining my visa was as if I won a gold medal at the competition even before I participated because of the difficulties I had to go through to get it.
We have never done this 24 hours' visa before, but just because you are showing that you are representing your country and going for a competition we are doing this for you 
French Consulate - Mumbai
We then travelled to Milan, from Milan to Padova i.e. Italy. Due to the delay caused in travel, I reached late for the competition. It was almost 10:30 pm in Italy and the judges were off to dinner. I had to request for my registration, after which the judges took a quick session and packed up since they had to start early the next day. On the next day, the completion began somewhere in the mid-afternoon. There were about 600 participants participating in different categories. There were close to 240 participants participating for Bodybuilding. The participants were classified into 4 categories i.e. Small, Medium, Tall and Super Tall. I was in the Tall category. On the first day I found some Water retention in my body and hence walked about 5-6 kms after meal as a part of my pre-contest preparation. Since I was all prepared with the steamers, fresh food from the super market and other requisites, the second day was way better when it came to readiness.
Pavan Shetty's Posing Routine at Mr World
Although, I gave in my best when preparing for the contest, I felt close competition from the other participants who I thought were fairly competitive.
"After comparison in each category when they called my name I could hardly believe. I was not sure weather they have called out my number or someone else? Finally, when the trophy was presented to be, I realized that yes, I won. I won the overall championship. When I stood there with the trophy, the feeling was out of the world. It is the most memorable achievement in my career."
Pavan Shetty
It was like fairy tale ride– Right from a point where I was not even sure if I would be able to travel because of visa issue, to getting the visa at the last minute and then eventually winning he overall championship. It was indeed a tough journey, but it was worth. All my efforts and hardwork paid off.
How has your family helped you achieve your goals?
It is of course my brother to whom I owe all the success. It was quite difficult to begin with, I had to give up my Job and join a completely different field i.e. bodybuilding.  During those days it was generally seen that those who were drop outs or did not have a definite career chose to enter this field. I did not inform my parents about my decision to quit my job, it was only my brother whom I informed and discussed with. It was a tough decision since my dad was not happy about it. He did not agree with the choice of profession I made. But if you ask him now, he is proud of his son, he gladly talks about the competitions I participate in and medals I have won.
the only person, who has been with me and supported, guided or inspired me right since my childhood is my brother. I admire him a lot.If he wasn't there I wouldn't have been here.
Pavan Shetty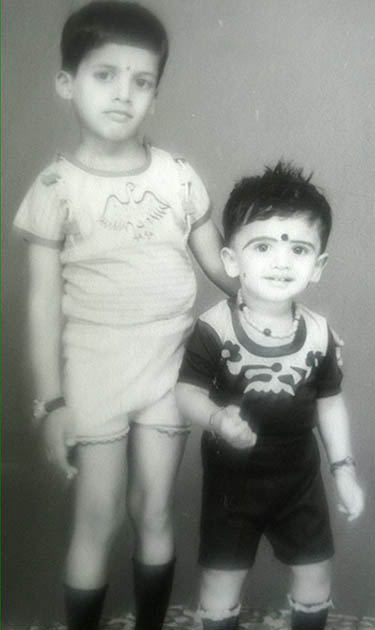 How did you meet your wife? Is she supportive when it comes to your career?
I met her in 2005 in our college when we were in First Year, we were good friends, I used to carry my lunch from home i.e. neer dosa which is a mangalorian dish. She (my to-be wife then) loved sharing my lunch box since she was very fond of neer dosa. That was how it all began and it is almost 10 years now, since we are together. My wife always knew that I am a bodybuilder and she was aware of my lifestyle long before we got married. Hence, it never came as a surprise to her, she was well prepared before we started living together.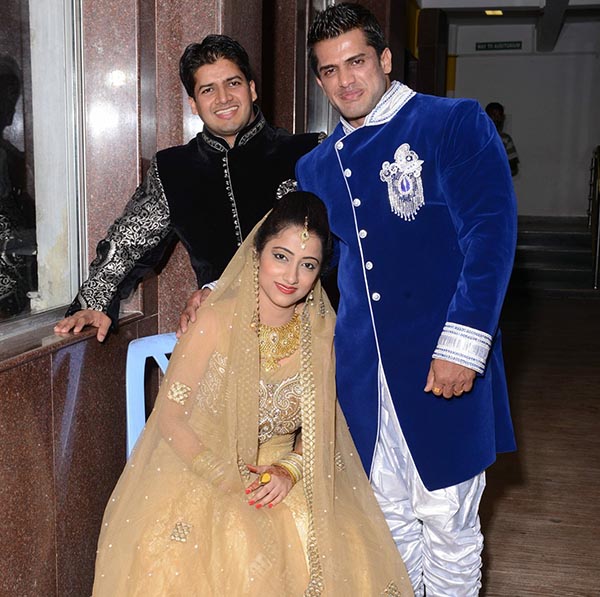 Before marriage I used to prepare all my meals on my own. My mother is suffering from arthritis since last 6 years and is bed ridden. After marriage my wife very well took up the role of a homemaker. She is an MBA and was placed with one of the big organizations however, she quit her job to take care of my family. My wife cooks all my meals. Not only she cooks, she also keeps a track of my meal timings and meal plans. She eagerly calls up to check whether I had my meal on time. She is of course, a great support.
What is your success mantra?
Be patient success doesn't come overnight. It requires constant and consistent efforts and lot of discipline. Even after considerable dedication most of us don't see success, you may be placed second, third, fourth. It doesn't matter. When you are chasing your dreams your character, your personality is molded and changed in such a way that you are able to guide and motivate others. It is not necessary that everyone has to achieve. If it destined that you will be successful it will happen. Thriving solely on the fact that I shall win one day, is a very narrow outlook.
Don't ever compare your journey with others. Don't expect that people shall come and celebrate your name one day and that you shall be world famous. Your efforts and hardwork should be purely out of your love for the thing. If money has to come, it will, sooner or later. Don't focus your mind solely on money think beyond it.
When I come across people who say I want so and so goal to be achieved within next 6 months or 8 months, I wonder if it was that easy, I wouldn't have spent 10 years doing this.
Do it out of your passion, when you want to achieve something, your journey should be something you love more than the outcome.
Pavan Shetty
Youngsters are quite ambitious these days. They want to aggressively pursue their dreams. Sometimes they resort to steroids for bodybuilding, what would you suggest them?
Every sport has a negative shade to it and so is with Bodybuilding. People have to be educated About every aspect of bodybuilding. They do not understand the health aspect of it. Your health and commitment to family comes first, achievement or building your body is secondary.
People should be made aware of the health consequences of taking steroids for bodybuilding. Steroids are medicines used as life saving drugs when taken under the prescription of a health practitioner. They are available in the medical stores for their therapeutic uses. Any other use of steroids is called as drug abuse and can cause serious negative effects on your health.
People who achieve big have spent years Working on their dream and have put in enormous hardwork and have shed a lot of blood sweat and tears to reach their goals. When someone says I have done 50 pushups but I don't see any results, the ones who see results may have done 500 pushups or even more. So youngsters should follow workout and diet plans under the guidance of fitness trainers who atleast know something about the field. You hard work will be rewarded only when done under proper guidance.
Also, when it comes to consuming supplements, do it only under the guidance of your coach and stick to the recommended amount of intake. 
Can you share with us a list of all your achievements till date?
Pavan Shetty during his early days of Bodybuilding
Year 2015:
WABBA Mr. World 2015 Overall Champion in competition held in Venice, Italy.
Mr India 2015 gold medal winner
Mr India 2015 – Bharath Shresta winner,
became BodyPower Athlete, Team Pro Bodeez Athlete, Neulife Athlete, Muscletech athlete
Mr Elite Fitness 2015 title
Sagar Classic – Gulbarga 2015 title
 Year 2014
Mr Asia 2014 – silver medalist
Mr . India 2014 – silver medalist
Karnataka Sreshta 2014
Mr . Karnataka Sri 2014
Mr . Inspiro 2014
Mr . Rocks classic 2014
Narendra Modi Cup title winner
Year 2013
Bangalore 2013 most muscular man title
Sagar (gulbarga) 2013
Year 2012
Mr iron man 2012
Mr kumarswamy cup title 2012
Mr Power house classic title 2012
Mr Bangalore most muscular title 2012
Other
Mr sagar gulbarga 2010
Mr Bangalore 2010
Mr Bangalore most muscular 2009
Mr Bangalore uday title 2008
Best outgoing student award 2006-07(Presidency College)
Most muscular title best poser title Bangalore University 2005,2006,2007 – gold
Gold n silver Reebok certified trainer
Some of Pavan's back stage photos :
Our readers must be eager to know about your diet and workout plans; can you share them with us?
Right now I am being trained under Nathan Harman, before this, I was following IFBB pro Fakhri mubharakh diet plan. During the off season we usually consume a lot of calories so that we can bulk up on muscles. During pre contest protein consumption is very high, whereas fats and carbohydrates are Kept low.  We need to make sure that we keep a check on the number of calories we consume and keep the intake in control as we track the progress.
Diet Plan:
 I split my diet into 6 meals. In the off season, I include white rice, milk, yam, chicken and green veggie in my diet.
During the pre-contest period, my diet basically constitutes of fish, Brown rice, oats, yam, broccoli and asparagus.
Workout Plan:
I  have fixed specific days in a week to focus on different body parts. I do cardio every day for 25 minutes.
| | |
| --- | --- |
| Monday | Back and Triceps |
| Tuesday | AM Quads , PM Hams |
| Wednesday | Chest and Biceps |
| Thursday | Delts |
| Friday | AM Hams, PM Quads |
| Saturday | Biceps and Triceps |
| Sunday | Rest |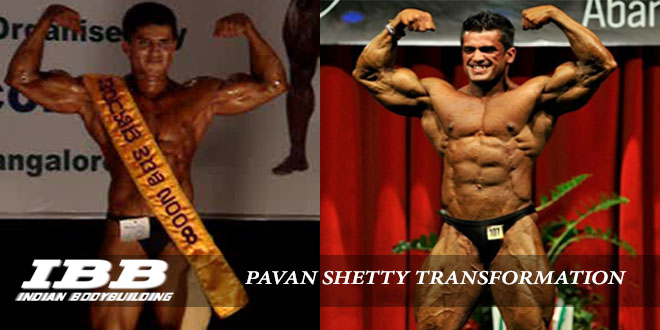 You have endorsed a couple of brands, can we know more about them?
I have been associated with the following brands:
ESN Athelte
Domin8r Nutrition
SUPPLE Fitness
Alpha Armour
Nulife MuscleTech
Team Pro Bodeez
BodyPower Athlete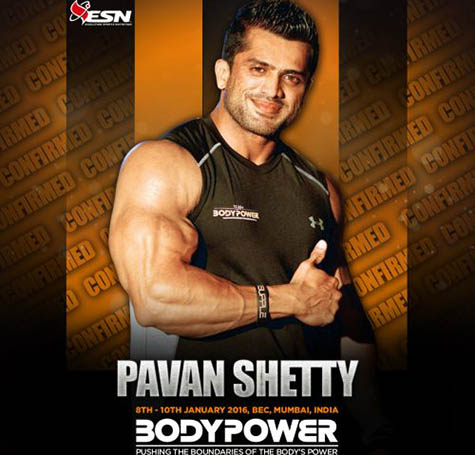 You are also an entrepreneur with your own gymnasiums in Bangalore, can we know more about it?
I have 4 gyms of my own and 1 More I have given the franchise all of which are in Bangalore. I make sure that I visit each of these gyms on a daily basis and I personally spend about 1-2 hours at each of the gyms.
What would your typical day be like?
| | |
| --- | --- |
| 5:30 AM | Wake up and spend about 15-30 mins listening to motivational speakers like Les Brown and ET |
| 6:15 AM | 1st Meal |
| 8:30 AM | Workout |
| 10:30 AM | 2nd Meal |
| 11:00 AM to 4:00 PM | I work on diet and nutrition planning for  my clients and try to catch up with the latest news and research on nutrition , fitness and health. |
| 1:00 PM | 3rd Meal |
| 4:00 PM | 4th Meal |
| 4:30 to 10:30 PM | I visit my 5 gyms spread across Bangalore and meet my clients and solve there doubts and help them to reach their goal. |
| 7:00 PM | on the way from one gym to another 5th meal |
| 10:30 PM | 6th Meal |
| 11:30 PM | Sleep |
What's next on your list?
There is a competition coming up in Italy, Venice Mr. World 2016 by WABBA. It is the biggest thing I will be doing with my coach Nathan Harman in UK guiding me. I have only a couple of weeks at my disposal and I am already into the middle of preparation. I know it is not going to be easy. I am very serious about it and shall strive to give my best. Once this is done Nathan Harman has more plans for me he wants to take me to the IFBB level because WABBA and IFBB are two different things.
What do you have to say about our website IBB?
I am a frequent visitor of your website. One article that has pleasantly taken me by surprise is about my world championship at Venice. The article not only narrated the entire event but also gave some snapshots from the competition. When I was back in India from Italy, there was hardly anyone who knew about my victory. In fact, at Bangalore airport the security guards were completely unaware, it was only when they saw the trophy that they realized what it was for. Of course, they were flattered and couldn't stop congratulating me. However, what your website did was truly a token of Gratitude and made a big difference to me by publishing the event which went unnoticed otherwise.
Do you have any suggestions for improvement to our website?
As a bodybuilder I must say we are ignored most of the times. We do not get equal publicity or fame as the sportsmen in other fields do. Your website has taken the initiative to bring out our personal lives and share our success stories which is very touching and rewarding to us.
I read all your articles, also for the fact that I must keep myself informed about the field. There was one article about Bodybuilder Mukesh Singh which impressed me quite a lot. Frankly speaking, I have met Mukesh so many times during body power expo and also other events but when I read your article and came to know about his success story and then number of things he is into, I felt like I hardly knew him before.
In our country if its about a sport like cricket, everyone knows how Sachin Tendulkar or Virat Kohli have come up. But when it comes to a bodybuilder, he hardly gets the same recognition in spite of the equal amount of hardwork and dedication he puts in.  There are so many bodybuilders whose stories have come up on your website and I must say you guys are doing a great job.