Mr India 2014 will be held from 24th March to 26th March 2014. This prestigious bodybuilding competitions will be held at Mahalunge, Baliwadi in Pune , Maharashtra. This competition is sponsored by IBBF (Indian Body Builders Federation) which is recognized by Ministry of youth affairs and sports, Government of India. Maharashtra Bodybuilding Association will be organizing this event.
Murali Kumar has won the title once again this year.Read one further to see the full results below.
This will be a 3 day event which will include
7th Senior Men's National Bodybuilding Championship 2014
1st Men's Sports Physique National Championship 2014
Mr India 2014 is without doubt the biggest bodybuilding competition in India, The overall winner at this championship also takes the title of the best bodybuilder in India. Its a dream of every bodybuilder to participate in this competition. The Preparation for this starts well in advance. Murali Kumar is the current Mr India Champion, he has won the competition in 2013 (check out Mr India 2013 Results). However we expect that he will be given tough challenge this time by other top Indian bodybuilders like Suhas Khamkar , Sangram Chougule. Last year this event was grand success.It was witnessed and cheered by huge crowd. It was a battle between Sangram and Murali for the title. Murali defeated Sangram top become Mr India. This year we see that this battle will repeat.So don't miss this competition.
Mr India 2014 Results
Results are here.Murali Kumar win Mr India 2014 and retails the title.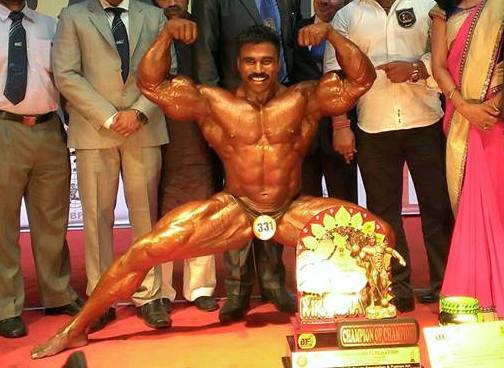 Complete Result:
Champion of Champion : MURLI KUMAR ( INDIAN NAVY )
Most Improved Body Builder : SWAPNIL NARWADKAR ( MAHARASHTRA )
Team Championship Winner : INDIAN RAILWAYS
Team Championship Runner up : MAHARASHTRA
55kg
JJ CHAKRABORTY ( RAILWAYS )
ARUNDAS CV ( INDIAN NAVY )
SUNIL SAKPAL ( MAHARASHTRA )
VINOD METRI ( KARNATAKA )
VIPAN KUMAR ( PUNJAB )
60kg
SWAPNIL NARWADKAR ( MAHARASHTRA )
K. HARI BABU ( RAILWAYS )
ANOOP RAJU ( RAILWAYS )
INDRANIL MEITI ( WEST BENGAL )
VIKRAM GIRI ( UTTARAKHAND )
65kg
S JEYAKUMAR ( TAMILNADU )
M B SATISH KUMAR ( RAILWAYS )
JEELANI ( KARNATAKA )
T RAMA KRISHNA ( ANDRA PRADESH )
FAIYAZ SHAIKH ( MAHARASHTRA )
70kg
T SRINIVAS RAO ( INDIAN NAVY )
RIYAS T K ( KERALA )
ANAS HUSAIN ( RAILWAYS )
RAJU KHAN ( DELHI )
SACHIN KHAMBE ( MAHARASHTRA )
75kg
N SARBO SINGH ( RAILWAYS )
SAGAR KATURDE ( MAHARASHTRA )
ROBINSON PR ( INDIAN NAVY )
JAGDEEP SINGH ( DELHI )
SACHIN PATIL ( MAHARASHTRA )
80kg
B MAHESHWARAN ( MAHARASHTRA )
SUNIT JADHAV ( MAHARASHTRA )
KAMLESH NAIK ( INDIAN NAVY )
E KARTHIK ( RAILWAYS )
KRISHNA MURTHY ( KARNATAKA )
85kg
RAHUL BIST ( RAILWAYS )
SAGAR MALI ( MAHARASHTRA )
SHRIKANT SINGH ( UTTAR PRADESH )
UTTAM KUMAR PASI ( INDIAN NAVY )
SANJOY SAHA ( WEST BENGAL )
90kg
RAM NIWAS ( RAILWAYS )
RENSU CHANDRAN ( MAHARASHTRA )
ANEESH O ( INDIAN NAVY )
DIVIJAY SINGH ( UTTAR PRADESH )
B RAVI KUMAR ( TELANGANA )
95kg
MURLI KUMAR ( INDIAN NAVY )
KIRAN PATIL ( RAILWAYS )
AKSHAY MOGARKAR ( MAHARASHTRA )
GANESH URANKAR ( MAHARASHTRA )
MAHENDRA CHAVAN ( MAHARASHTRA )
100kg & ABOVE
HARI PRASAD SP ( INDIAN NAVY )
JAVED ALI KHAN ( RAILWAYS )
SH SHYAM SHARMA ( RAILWAYS )
PREMACHANDRAN D ( INDIAN NAVY )
YOGESH YADAV ( UTTAR PRADESH )