haryana ki shaan Sultan
 Ali Khan" and that's Salman Khan exuberating this stunning dialogue from his upcoming blockbuster movie Sultan, all set to release on Eid 2016. Teasers of this Ali Abbas Zaffar directed movie are out nationwide, portraying Salman Khan as a wrestler. With Salman's chiselled and toned muscular look it is hard to escape unimpressed.
The superstar Salman, who is known for the hardwork he puts in, has left no stone unturned to look inspiring enough for the role of a 40 year old wrestler. Salman Khan has been trained for the fight scenes in the movie by the renowned Hollywood fight choreographer Larnell Stovall. With the gruelling sessions of training and an all-hectic schedule, no wonder Salman Khan has gone through quite some pain while preparing for the role.
So it is not about body, it is not necessary that he (the character) will be ripped in six-packs, but he is very strong
Salman Khan
In Sultan, Salman Khan is a wrestler who later gets into MMA (Mixed Martial Arts) which requires an altogether different fitness regimen.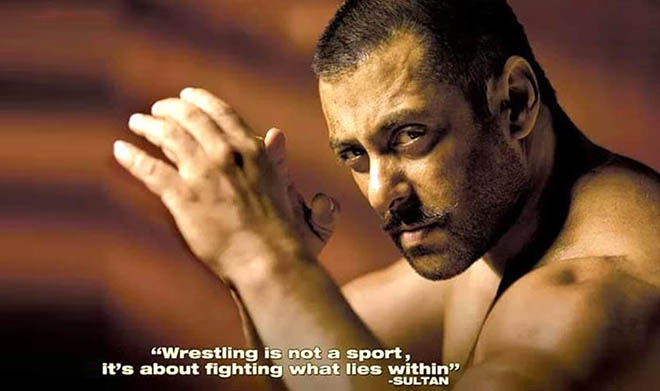 "Wrestling is not a sport, it's about fighting what lies within"
with those infamous words from the movie, we get to see wrestling in quite a different form, mixed with MMA. His workout regime differs in the sense learning to grapple, learning to kick and that too with intense power while establishing a fine level of comfort and flexibility.
I do about 3-4 kicks everyday, but have to increase that to 150-200 kicks
Salman Khan
He dedicates about 4 hours everyday to this type of workout which is then followed by weight training.
Earlier, I used to work out differently, now my workout is aimed towards making me strong
Salman Khan
Salman has always been known to be a fitness enthusiast. Be it on-season or off-season he ensures that his physique is well-maintained. "I cycle, swim, go to the gym, eat the right kind of food and sleep late as I don't get sleep easily and wake up early, that's the secret behind my age." Says Salman as quoted by his physical trainer Manish Advilkar.
He ensures that he is getting the right amount of carbohydrates, protein, vitamins through his diet. Inspite of his hectic schedule Salman finds time to workout. He works out for at least 3 hours a day and is known to do about 1000 push-ups or 2000 sit-ups in a day when he wants to go for an intense workout. He even goes cycling on the streets for hours as part of his cardio regime.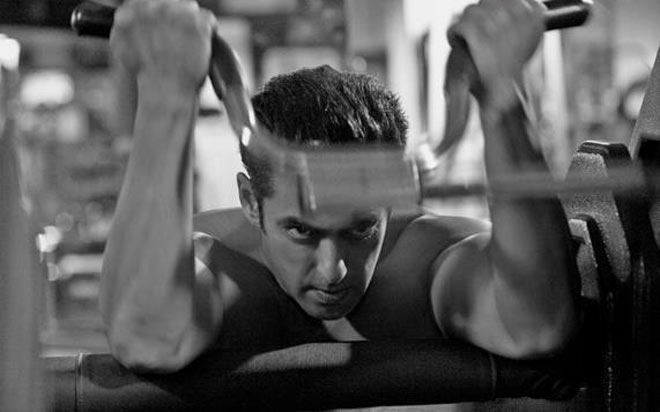 His workout consists of cycling, jogging or swimming, for cardio, dead lifts for leg and back muscles, shoulder press, and bench press. Like the superstar Salman once said in one of the fitness expo's in Mumbai (BodyPower Expo 2016) cheering up the young bodybuilders, 'More than in the gym, body is made out of the gym, you might spend about 1 to 2 hours in the gym but, it is the discipline and strong mind that plays a greater role in achieving the desired body rather than your gym workout.' That's the secret behind owning a great body like he does.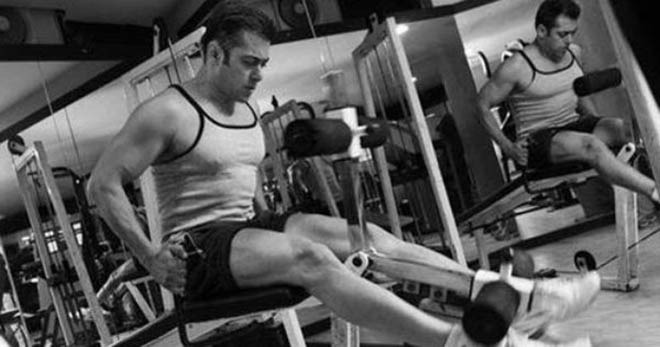 For the movie Sultan, Salman Khan had to gain some muscluar weight for a bulkier look as per the role. He would be looking double-sized in the movie, said Salman.

The weight I need to put on is of the muscular kind. It's got nothing to do with diet. I eat correctly — I have my protein, chicken and fish. I need to train harder and be focussed

Salman Khan

Most of the scenes in the movie have been shot in Punjab. With his graceful Haryanvi accent and the new bulkier and muscular look, this stunning wrestler is sure to invoke an altogether new level of admiration from his fans. While the teasers of the movie have thrilled us enough to eagerly await the big picture, we are sure they are inspiring enough to stay fit as well, reminding us of the saying that age is just a number.

"Haryana ka sher