After the grand success of BodyPower Expo 2014, the BodyPower Team is back again this year and will organize the second edition of this action packed event on 21 and 22 March 2015. Expo will be held at Bombay Exhibition Center, NSE Complex in Mumbai.
For those who have not heard of BodyPower Expo yet, Its Asia's largest sport, fitness and nutrition trade exhibition, which is expected to attract over 20,000 visitors in 2015. Its a must visit for every fitness and bodybuilding enthusiast, and if you have not yet made up your mind, here are 10 reasons why you must visit BodyPower Expo 2015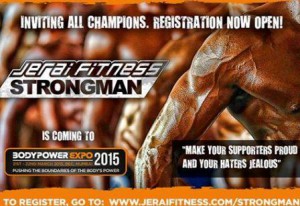 10You get to meet and greet with Fitness Icons
Vikas Chaudhary, Junaid Kaliwala, Miihir Singh , Shivoham and many more will be available at the expo. Fitness Icons and Guru from all across India are coming to this event. So you get to meet your idols at the BodyPower Expo. Meet all of them them and get inspired.
9Jerai Fitness Strongman competition
Its very rare that you get to see Strongman competition in India. Well thanks to BodyPower team and Jerai Fitness, you can witness one at the BodyPower Expo 2015. This is one of the reason why your should visit the expo. If you want to register for strongman competition then you must register on the Jerai Fitness Website.
8The Academy
A selection of guest speakers will provide cutting edge training information and a varied mix of processes, ideologies and balanced views across a packed three day schedule. Visitors can enjoy an array of seminars and discussions surrounding nutrition, training, fat loss and hypertrophy.
The Academy is a unique opportunity for visitors to absorb some of the finest advice and expertise from leading figures in fitness and nutrition. No matter whether you are a fitness professional or an enthusiast, the educational content and demonstrations will improve and supplement your understanding of training.The Academy is here to help everyone train and achieve you potential.
7Workout Stage
The Workout Stage will host a number of different athletes and competitions across the BodyPower weekend with numerous changes for visitors to get involved. Amongst other things, expect to see kettlebell workouts, dance sessions, press up and pull up competitions and many more.

6FitFactor – Witness India's premiere fitness model search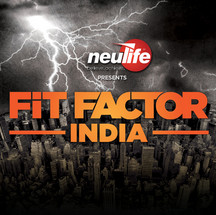 The winners of the Fitfactor 2015 will selected at the Expo. Fit Factor is a fitness model search designed to find the next big name in fitness. The show follows the popular talent show/beauty pageant format with a unique twist. The show is judged 50% on physique, 50% on whether the competitor has the 'Fit Factor', so personality, presentation on stage, grooming, attractiveness and choice of outfits are all key to success. The judges are industry experts carefully chosen for their knowledge and ability to further your career.
If you are looking to register for Fitfactor Auditions, please call Manoj on 09699553927/09773625662 or email admin@bodypower.tv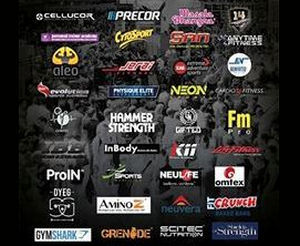 5Meet top of the line exhibitor from fitness and supplementation industry
More than 40 exhibitor has confirmed that they are coming to BodyPower Expo 2015. This includes both Indian companies like Jerai Fitness, Tara Nutricare and International brands like Cellucor, Phil Heath's Gifted Nutrition's. Either you want to stay updated of whats happening latest in the industry or you are looking for business opportunity in fitness industry then this will be by far the best opportunity for you. You don't get to see these brands under one roof all the days.
4Indian Bodybuilding fans get a discount.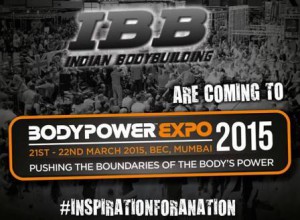 Yes, you heard it correct all our Fans and readers gets a discount. Indian Bodybuilding is an Ambassador for BodyPower Expo and we have secured a discount for you. The normal cost of ticket are Rs 1200 for 1 days (Saturday or Sunday) and Rs 2000 for Both the days. We will provide you with coupon code that will get you the tickets for 1 days at just Rs 500 and tickets for weekend for just Rs 1000. Book your tickets at BodyPower India Website
3You get to meet team Indian Bodybuilding
Team Indian Bodybuilding is one of the exhibitor at BodyPower Expo 2015. You get to meet the fabalous

team behind www.indianbodybuilding.co.in that brings you the latest from the Bodybuilding world. We are also getting along some of the bodybuilders that are part of team Indian Bodybuilding. Stay tuned to our facebook page to get updates on who is coming with us. We are sure you will be surprised. We will be waiting to see you at the expo.
2Meet Indian Bodybuilding Hero's
The best of Indian Bodybuilders like Sangram Chougule, Hira Lal, Varinder Ghunman, Mukesh Gehlot, Premchand Degra (and the list goes on) will be attending this event. This is your opportunity to meet all of them under one roof. They are here to meet the fans so you can get up and close with these idols. We are exited to see all these amazing Indian Bodybuilders at this event.
1Meet Bodybuilding legends Jay Cutler, Ronnie Coleman and Phil Heath

For a bodybuilding fan it cannot get better than this. This will Probably be your only chance to meet Bodybuilding Legends Jay Cutler ,Ronnie Coleman and Mr Olympia Phil Heath under one roof in India. We have not heard of anyone in bodybuilding who does not draw inspiration from Jay , Phil and Ronnie. Guys these are the legends in the industry who set the standards for bodybuilding. You have seen them in motivational videos, posing videos and photos in each and every gym, now you can get to see them in person. We just cannot wait for the BodyPower Expo for this very reason and we are sure you too feel the same. So Join us at this Amazing Event, Book your tickets today (Don't forget to get your Coupon code to get  discount )