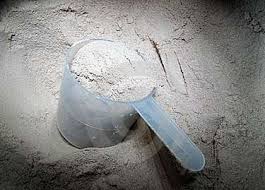 The word Casein is actually came from Latin Caseus or cheese. Casein protein is from the phosphoproteins family which is commonly found in mammal milk. Human milk contains almost 20-45% of casein, and cow milk contains 80% of casein protein. As a food source casein protein contains amino acids, carbohydrates and two inorganic components Phosphorus and calcium.Casein protein is completely water soluble. It is found in milk as suspension of particles called "casein micelles".
Cheese consist of protein and fat from milk, usually the milk of cow, goats, buffalo and sheep, it is actually produced by coagulation of casein protein. Unlike many proteins casein is not coagulated from heat, typically the milk is acidified and then coagulated in addition of rennet, containing a proteolytic enzyme obtained from the stomach of calves.
The casein molecule has an attractive property of forming a clot or gel in the stomach, which makes it very efficient in nutrient supply. The gel is able to provide a sustained slow release of amino acids into the blood stream, lasting for a long time. For that this protein made it's important space in the sports of bodybuilding.Casein is also called by many the bed time protein. As it is able to supply nutrients for a long  duration of time most bodybuilders prefer to take this at night. Here I'm discussing some benefits of Casein protein.
     1.MUSCLE RETENTION:
When you are in the pre contest diet, as you are in a low calorie diet, the most important issue you must concerned of is catabolism or muscle loss. Since you are not supplying sufficient calorie to complete all the body process throughout the day, your body automatically use the stored and hard earned  body tissues for energy. Typically your body uses the fat tissues.But the worst part is that if your body starts to use the muscle tissue for energy. Actually on the  pre contest days the body uses both muscle and fat tissues for energy.One study performed in Boston tasted the variations in lean muscle mass gains as well as total fat loss when subjects either took casein protein hydrolysate in comparison with a whey protein hydrolysate, while also eating a low calorie diet and performing resistance training. While both groups showed fat loss, but the group using casein protein showed greater fat loss and higher increase in strength for the chest, legs and shoulder muscles. Moreover the group using casein protein came out of the study with a greater lean mass body percentage compared to their previous measures. This indicates a greater lean muscle retention rate, showing that casein protein is the most effective at maintaining lean muscle mass.
    2.IT'S A HIGH QUALITY PROTEIN:
Secondly the reason you must add casein protein to your pre contest diet regimen is that casein protein is the best high quality sources of protein available. To maintain lean muscle mass you will need less to meet all the requirements if yo are taking a high quality source of protein like casein. Remember meeting your minimum protein requirements is always top priority. Because if you are taking a lower quality of protein and just meeting your recommended amount of protein, this will negatively impact your goals as not all of that protein is absorbed and you will not actually be meeting the minimum requirements.
A study published by the Journal of Nutrition, researchers  noticed that Casein protein is of a higher quality when compared to Soy, making it an important source of protein. If any bodybuilder is following a vegetarian diet and meat is compromised, which is also a high quality protein source, then casein protein is the next best choice for them.
     3.MORE FAT LOSS:
Casein protein also has a great benefit in terms of total fat loss as casein is a form of protein that is higher in Calcium content. Many bodybuilders avoid dairy products while attempting to lose body fat as they think it will slow them down.But this not the true story.
A study conducted by the International Journal of Obesity observed that those who combined a high Calcium intake over a 24 hour period with a normal protein intake showed increased fecal fat and energy excretion for that duration of approximately 83 kcal greater than those who either took a low calcium, normal protein or those who consumed a high protein, high calcium intake. This study mentions the importance of total protein intake with this factor,stating that it appears though moderate level of protein create this effect with calcium greater than a high protein intake do. This research states the good balance between calcium and protein intake, rather than just increasing protein intake up higher to promote fat loss. Casein protein will help you accomplish both goals of having a higher calcium intake as well as boosting your protein intake, allowing you to maximize your fat loss benefits.
    4. COLON HEALTH
:
One of the most important benefit of Casein protein is that it helps promote colon health. In an Australian study researchers found that dairy proteins promote colon health better than meat and soy. This is another reason why you must add casein protein to your daily diet regimen.

In a Massachusetts Study , researchers found that casein protein actually doubled the effect that Whey protein had on legs, chest and shoulder strength results(previously mentioned). Researchers believe  the reason for that significant difference was the well known anti-catabolic abilities of casein protein.
According to a Texas study Casein is an important ingredient to achieve you muscle gain goals. Researchers took 36 male athletes performing heavy resistance training and found that a group that consuming a casein protein and Whey protein combination significantly outperformed participants who were given a combination of Whey protein, BCAA and Glutamine supplements. Over the course of 10 weeks study, the Whey protein and Casein protein combination yielded the greatest increase in fat free, lean mass. So combining Whey and Casein can provide a synergistic effect on gaining muscle mass faster.
According to a study in the United Kingdom,consuming casein protein also helps in dental protection.The researchers found that casein proteins have the ability to reduce or even prevent Enamel erosion.Consider protecting your teeth by adding casein protein to your diet.