The best past about chicken is that you can enjoy it in any form – a healthy salad with crispy veggies, a yummy soup with beans and cream, fried or baked pieces with sauce, delicious curry with steamed brown rice, etc. There is no end to what you can do with chicken. Indian cuisine has hundreds of recipes to offer that can help you enjoy a chicken rich diet. Buthow can we forget the extra oils, fats and carbs that come along with the delicious chicken dishes. Remember how you had dig through a half an inch of oily layer to reach the chicken curry underneath? Well, no doubt the Indian cuisines are delicious but they, at times, are unsuitable for bodybuilders and fitness athletes who are always on a strict diet. However, we have selected some special recipes that do justice to Indian flavors and yet are low on fat and carbs. It is time for you to add some new chicken dishes to your diet chart.
1)    Chicken Tikka Masala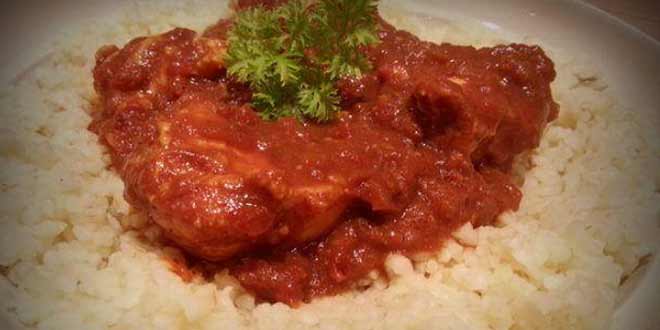 The mere name is enough to make your drool. Every chicken fan would agree with us that Tikka Masala is one of the best chicken preparations. It is delicious, fulfilling and can be had with bread, roti or rice – anything that you like. The traditional way of making utilizes a generous amount of fat and spices however, this recipe from The Health Site has mellowed down the fat levels to almost none. With a perfect combination of spices and absolutely no use of oil, this recipe brings out the taste of Tikka in a very healthy way. Follow this simple recipe and enjoy a lavish protein rich meal. Click here to see the recipe.
2)    Roasted Chicken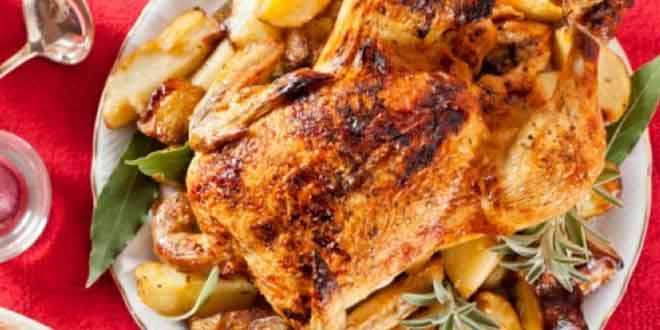 This is a brilliant recipe shared by India Times especially for the bodybuilding community. It has been laid down by Mike Jackson who is a Nutritional Consultant hence, this recipe is the real thing. You no longer have to dig into bland and boiled chicken chunks. With this recipe, you can relish some yummy mustard flavored roasted chicken that is delicious, low on fat and carbs and loaded with proteins. The recipe uses Dijon Mustard, which is easily available online and in many retails. You can replace the it with a mustard sauce that you like. So follow this simple recipe and treat yourself to some scrumptious roasted chicken. Click here to see the recipe.
3)    Chicken Biryani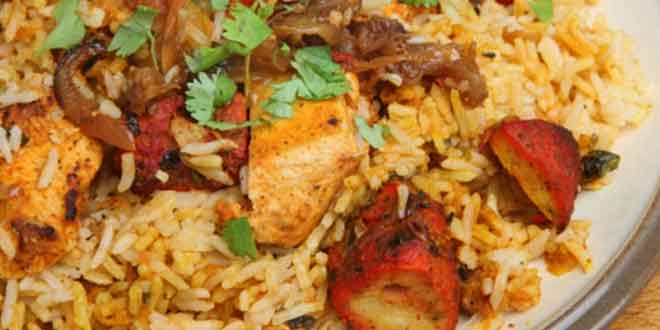 Who does not love Biryani? It is one of the most Indian cuisines and has a fan following all across the world. However, we know that you have to deprive yourself of this delicious offering due to its high fat content, but not anymore. India Times, yet again has come to your rescue with low fat chicken biryani recipe. You can replace plain rice with brown rice and turn this entire recipe into a health blast that is low on carbs and high in protein. The recipe is simple to follow and explains every step clearly. So don't sulk anymore, dig into some tasty and healthy chicken biryani and be loyal to your diet plan at the same time. Click here to see the recipe.
4)    Honey and Garlic Chicken Wings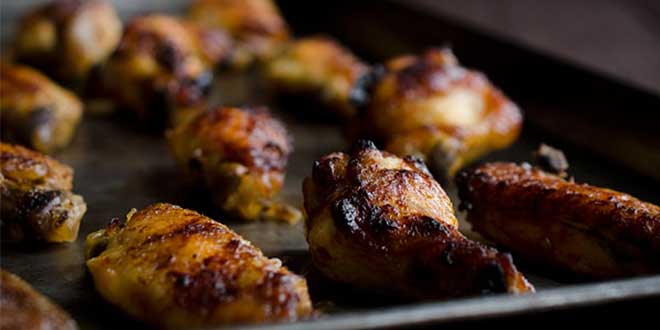 Have those KFC ads given you a hard time? No matter how much you love those delicious looking juicy chicken wings, you have to keep yourself away from it because chicken wings are a tad too oily but not anymore. This interesting recipe from Savory Simple has completely transformed chicken wings into a healthy food. With the garlic and honey used as marinade, these chicken wings are oozing with flavors. This recipe uses microwave for cooking but you can also shallow fry the wings in a non-stick pan with little oil. You can use Olive oil or Rice bran oil as both contain 0% cholesterol and Carbs. Click here to see the recipe.
5)    Low Carb Butter Chicken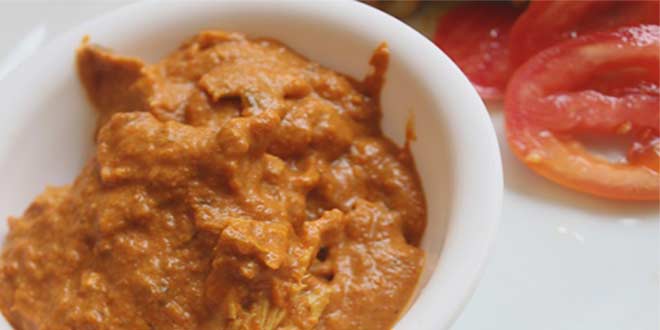 Butter chicken is one of the most popular chicken recipes. It is a Punjabi dish but is enjoyed whole heartedly throughout the nation. Just like any other Punjabi food, Butter Chicken too is full of fats and carbs. However a low carb version of this dish has been presented by Fitness v/s Weight Loss. The recipe simple and does not require any special ingredient and hence can be easily made at home. It is preferable to use Olive or Rice Bran oil wherever required. If you wish you can also cut down a little on the butter content to make this recipe low on fat as well. So enjoy your plate of butter chicken without any worries. Click here to see the recipe.
6)    Chicken Kebabs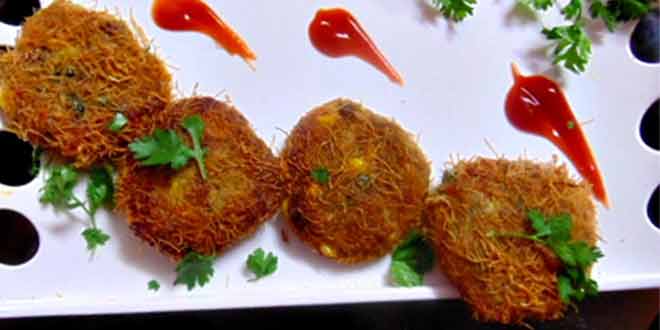 Kebabs are a popular way of having meat. Kebabs give you a lot of space and freedom to experiment and innovate. You can try any ingredient and create your own version of it. Pepper Chili and Vanilla has shared an Indian version of Russian Cutlet that is high on nutrition. Use Olive Oil or Rice Bran Oil for shallow frying. Rice bran oil is absorbed less in the food and hence, is a good choice for frying. This way you can get all the benefits from the ingredients used without the burden of fats. You can prepare the cutlets and store in refrigerator and fry it as and when required. Click
here
to see the recipe.
7)    Chicken Sukka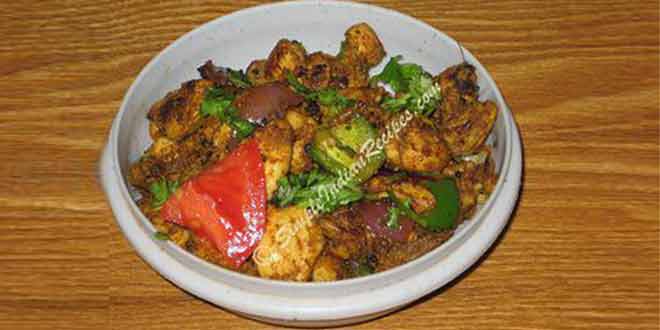 Chicken Sukka is a very popular South Indian chicken recipe. It combines the juicy tenderness of chicken with the spices just perfectly. Chicken uses a lot of dry powders spices and is hence, a very healthy preparation. The best part is that it is made using almost negligent amount of oil. It is super delicious, easy to make and healthy too. Simple Indian Recipes has presented a very simplified version of making Chicken Sukka that will treat your taste buds and satisfy your health requirements in a balanced way. Have it with roti or plain steamed rice, it works well with both.  Click here to see the recipe.
8)    Garlic Chicken
Chicken is full of protein that helps you in gaining lean mass. Garlic has numerous health benefits like being anti-inflammatory, anti-bacterial, fights cholesterol, etc. Now combine the two and you get an amazingly delicious recipe that is full of health. Indian Healthy Recipes has presented this delicious recipe that is easy to make and tasty to have. You can have it as such or mix with some other filler like noodle or rice. While it is high on nutrition, it takes very little oil to make it. The healthier the oil, the more nutritious this dish gets. Click here to see the recipe.
9)    Chicken Salad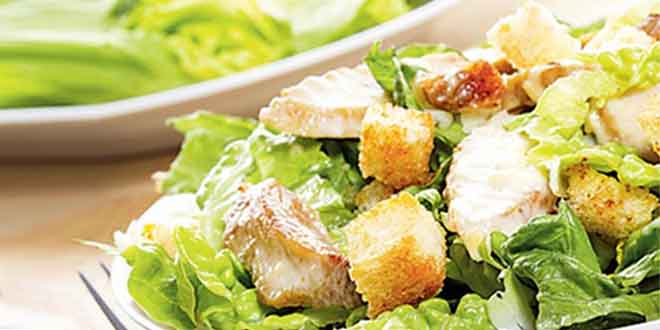 Chicken salad is a great recipe for your lunch. The salad combines the benefits of chicken as well several other vegetables. Salads are a great choice because they do not load your body with unnecessary carbs and fats. You can use as many vegetables as you like and make this salad all the more filling. This delicious Coconut Coated Chicken Salad has been presented by India Times. The recipe says to use extra virgin coconut oil but you can replace it with extra virgin Olive Oil too, if you do not refer a strong coconut flavor. It is easy to make and requires basic ingredients that are available in a regular kitchen. Click here to see the recipe.
10) Guru Mann's Tawa Chicken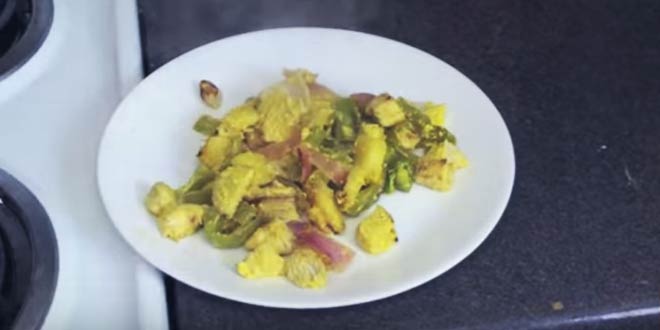 This is probably the simplest chicken recipe you can come across. Even if you are someone who has never stepped into the chicken, you can still make this dish with ease. This recipe has been presented by Guru Mann – a very popular Fitness Trainer. Hence, you know that if the recipe comes from him, it is definitely worth a try. The recipe is easy to make and requires only a couple of ingredients. You can see him personally making this dish on his YouTube Channel Health and Fitness. Check out the video to see how Guru Mann makes Tawa Chicken.

Aren't these dishes simple, nutritious and yet delicious? These are just 10 of the numerous recipes available around you. Cooking is all about innovation. Hence, whenever you come across any recipe that you want to try, modify the ingredients as per your convenience. Replacing one or two ingredients to suit your needs will not change the recipe significantly. Simply substituting regular oil with good quality olive, coconut or rice bran oil can greatly improve the health quotient of a dish. Replace plain rice with brown rice or with quinoa and you can greatly eliminate extra carbs from the meal. In this way, you can enjoy any recipe and yet be loyal to your diet plan. Good Luck!

The profession of bodybuilding cannot be tamed successfully without following a healthy and nutritious diet. As we all know, when it comes to bodybuilding, protein is the most essential nutrient. It is required by the body for the development of muscles. Not only this, protein is also necessary to help your muscles recover from the wear and tear post an exhaustive work out. Hence, bodybuilders need to focus on incorporating protein rich sources in the diet so that a maximum chunk of the daily requirement is obtained from the natural sources. Of all the ingredients available on the menu, Chicken is the most enjoyable and versatile. It is easily available, not expensive, highly nutritive and can be added to almost anything. Hence, among the non-vegetarians, chicken is the most popular protein source.  However, you can't just have boiled chicken, can you? What about the taste? We don't want you to compromise on taste for nutrition. Hence, we are here with are collection of 10 best Indian chicken recipes for bodybuilding that will make your journey to health a delicious one!