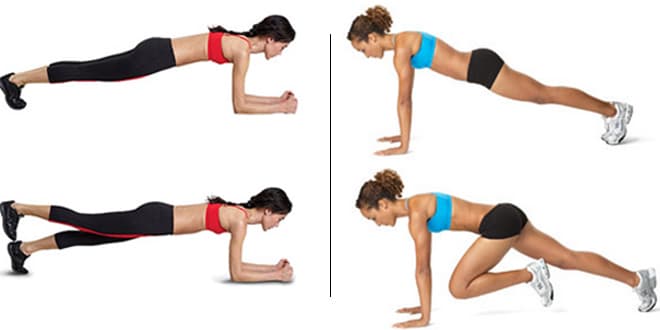 We all dream of having abs, don't we? The idea of flaunting those crisp 6 pack abs and getting envious looks from others is definitely a task on the to-do list. However, no matter how much we desire to get that flat tummy carved with abs, we don't know how to achieve that goal. We can't dedicate ourselves to the gym and we certainly cannot follow a strict diet. Then, how can we fulfill our dream of having abs? Well, the answer is pretty simple; all you have to do is check out these 10 Ab workouts that serve the purpose just great. These workout routines are simple to follow and super effective. All you need is a bit of dedication and motivation. These suggested routines differ from each other however; they all strive to give the same result – fantastic abs. So, you can follow of any of these routines as per your convenience. Simply follow the instructions that we give and get the results that you desire. Here are the top 10 best Abs Workout routines for you –
1)   Tone your Abs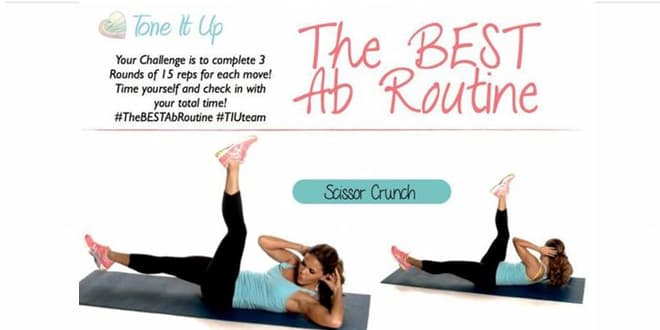 This routine is a well laid down plan by Tone It Up that attacks the fat around your waist and abs ferociously. The entire routine is broken down into 5 steps that work on your abs from different angles. Right from the first step the routine feels strong and effective. Simple moves have been assembled thoughtfully and the entire routine has been laid through infographics with elaborative descriptions of each step. Getting abs was never this easier. Check out the complete routine here.
2)   Total Abs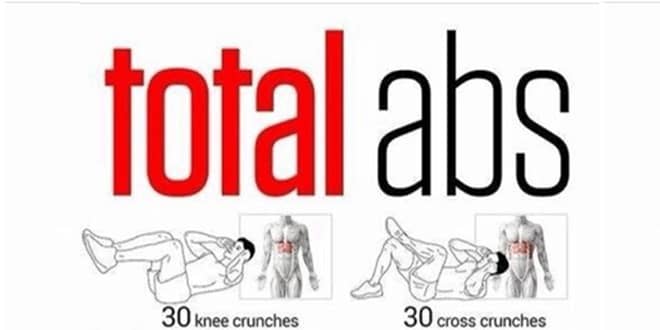 This simple ab workout plan has been laid down by Jen Selter on Pop Work Outs. This simple and yet effective plan gives you quick results provided you do it with some serious dedication. The entire workout has been broken down into 8 routines that target the core muscles and abs strongly. The best part about this workout plan is its presentation. The infographic presentation highlights the muscle being targeted by the routine which helps you in understanding its purpose and significance. Even if you are a newbie in exercising, you will be able to follow this routine just fine. So give it a try! Check out the complete routine here.
3)   Cardio Core Workout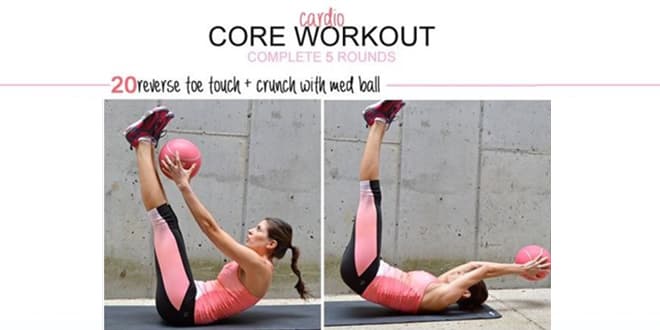 This workout routine for core and abs is for those who love to have a variety in their routines but at the same time do not like to be restricted to equipments. This 7 step workout plan uses simple props like skipping rope and med ball to create a unique abs workout plan that is fun and effective. You can enjoy a heated up cardio session that not only increases your stamina and burns down your fat but also tones down your abs. Follow the steps as described in the beautiful infographic and make your way to great abs. Check out the complete routine here.
4)   Abs for Mommies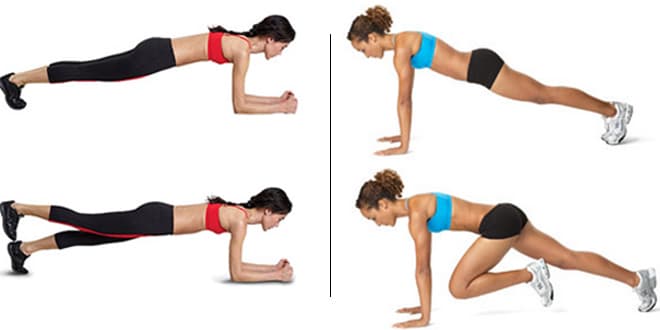 This super effective ab workout routine has been laid down by Fit Mommy Diaries that focuses on creating workout plans and diet plans for mothers who often do not get sufficient time to take care of their bodies. With this workout plan, you can get rid of the post pregnancy fat as well as the usual bulging belly effectively. The best part is that you do not need to go to the gym nor you need any other prop with it. With a few simply moves, you will be able to tone down your stomach and enjoy abs for sure. Check out the complete routine here.
5)   Killer Ab Workout
This workout routine has been presented by Women's Health Mag  and is called Killer because it helps you in getting abs in just 6 weeks. Moreover, the entire routine does not involve even a single crunch. Doesn't it sound great -enjoying abs without any equipment and crunches. This killer routine has simplified the rigorous plans and narrowed it down to a few simple moves that specifically act on your abs. Remember to follow the instructions given so that you are able to reap all the benefits. Check out the complete routine here.
6)   Slim and Slender Abs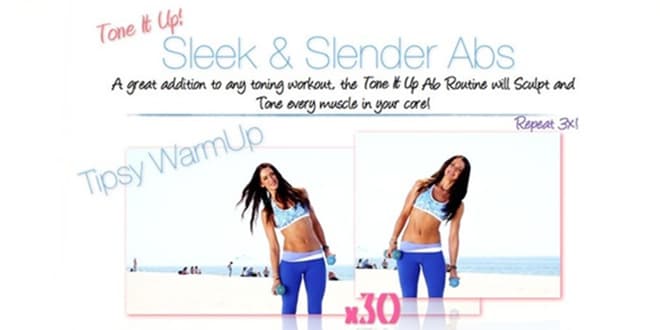 This is yet another fun and super effective abs workout routine from Tone It Up. The entire routine has been broken down into 8 steps that focus on strengthening and toning your core muscles. The best part here is that this particular routine can be added to your existing toning routines. You don't have to discontinue your existing workout plans to take this up.The infographic representation has crisp images and clear instructions that make this routine easy to understand. Follow this routine and enjoy flat and toned abs in no time. Check out the complete routine here.
7)   Better Body Workout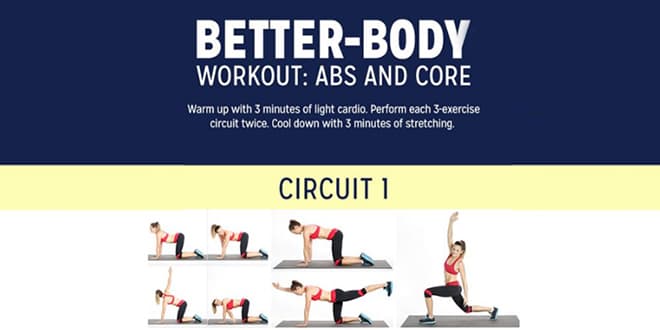 This detailed and effective abs workout has been presented by Pop Sugar. This workout plan has been divided into 3 circuits with each circuit having 3 exercises. These nine exercises together work on your entire core and strengthen them to give you a flat and toned abdomen. Each circuit needs to be repeated twice, thus you won't take more than 20 to 30 minutes to complete this entire routine.  The infographic shows the exercises in a very descriptive way so that even newbies can follow it with ease. Check out the complete routine here.
8)   7 Day Tummy Workout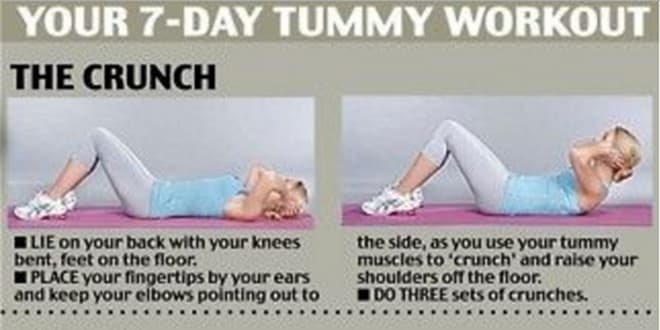 This workout plan has been presented by Fitness Magazine. You will see a significant difference in your core muscles just after 7 days into this routine. The routine has 4 simple exercises that focus on your core muscles including abdomen. You need not stop with this after 7 days. Continue this routine till you reach the desired target. The infographic has pretty descriptive instructions so that you are able to follow this routine precisely. If you are dedicated in your approach then this is the best plan you can get for enjoying abs. Check out the complete routine here.
9)   Flat Abs in 4 Moves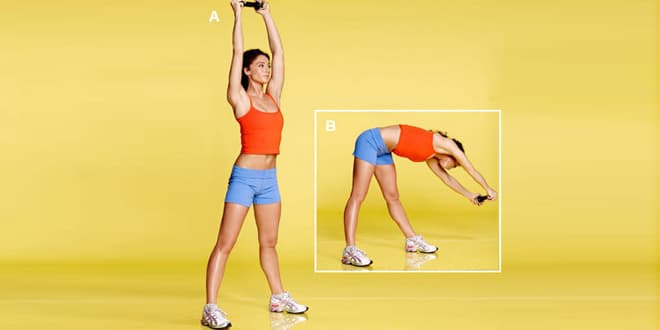 Doesn't this sound great? You can now enjoy a flat abdomen and abs by following this routine that has just 4 simple steps. This routine has been shared by Health and is based on Reebok Club's Core Cuts Class by Kira Stokes. It does not require any mechanical equipment. All you need is a dumbbell and 20 minutes, that's it. This routine targets the core areas strongly and delivers flat abs in just 4 weeks. Follow this routine everyday with dedication and enjoy a toned tummy with abs. Check out the complete routine here.
10) 10 minutes abs workout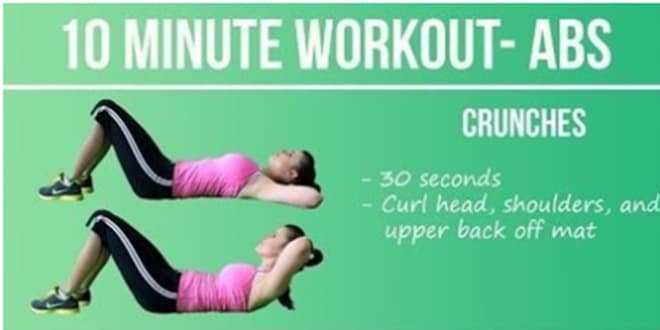 This is a perfect routine for those who re always running short on time. This abs workout has been laid down by Shape. Now all you need to get abs is 10 minutes a day. The routine consists of eight floor exercises that target the abdomen strongly. Each exercise needs to be done for 30 seconds to complete one circuit of this routine. You can complete 2 to 3 circuits in 10 minutes with ease. It is simple and effective and delivers the desired results in a short time. Check out the complete routine here.
Aren't these routine simple? If you are craving for abs then this is all you need. Follow any of these routines singly or include them in your current routines if you like and in no time you will be able to flaunt those well shaped abs. Also remember that you need to support your workout plans with a healthy and a balanced diet as well. If you want to have abs and maintain them for long then a regular workout and a strict diet are very important. So choose for yourself an abs routine to follow and start your journey towards abs. All the best!
Top 10 best Abs Workout routines - Exercise Movement