Varun Dhawan is geared up these days preparing for his upcoming action packed movie Kalank. Varun is known to be very regular when it comes to his workout and inspite of injuries on the set, he continues to train hard for crazy action scenes in the movie. Director Abhishek Varman has ensured that he gets all the gym facilities on the set required for his training, while Varun's trainer Prashant Sawant is making him sweat with tiring squats. Not only the actor is keen on his workout but is also all up for trying up any new techniques that would help him get those ripped abs to pretty much fit into the character of the movie.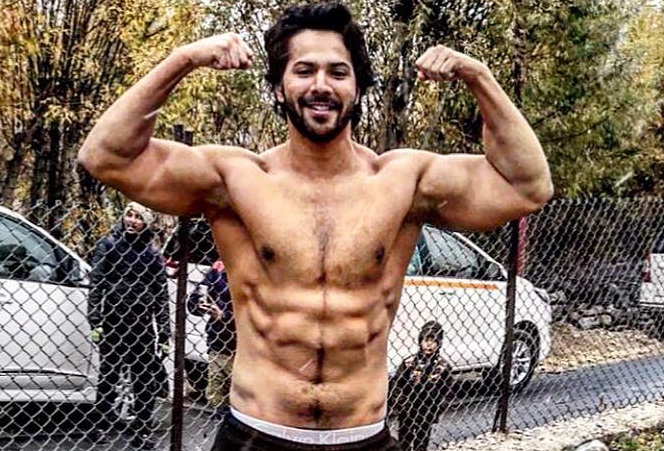 Recently his trainer has come up with a new training technique that Varun has eagerly shared with his followers on instagram. The actor warns to try out the technique under professional guidance.
Varun is being trained under Prashant Sawant, Prashant is a celebrity trainer for actors like Shah Rukh Khan, Sharman Joshi, Aftab Shivdasani. Prashant is also the owner of Body Sculptor gym in Juhu. Actor Shah Rukh Khan is known to be an ardent follower of Prashant when it comes to fitness.
Varun's diet has been carefully chalked out by none other than his trainer's wife Maya Pereira Sawant. For those who don't know her yet, Maya is a trainer herself who trains celebrity clients like Gauri Khan and also has been the nutritionist for celebrities like Ajay Devgan. It is known that Maya has planned a high protein diet for Varun  and provides him all his meals from her kitchen.
Varun Dhawan's Diet
Breakfast: 5 egg whites and 2 egg yolks and bowl of cooked oats
Lunch: Chicken and vegetables like cabbage
Evening meal: Chicken and salad
Dinner: Steamed fish with a bowl of broccoli and french beans
(Source Dainik Bhaskar.com)
Varun is truly thrilled to play his character for Kalank and has  been training crazy. He makes sure that he does not miss out on his workout, and that's how we get to see Varun training even at night with some crazy new techniques under the guidance for his trainer Prashant.
Sure, we can pretty much count on Varun's diet and training tips looking at the toned muscles and abs he flaunts!