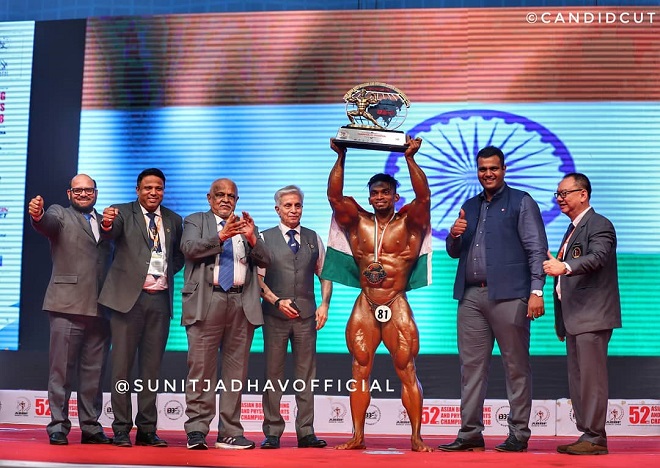 We witnessed a history being created by Indian at the Asian Bodybuilding and Physique Sports Federation (ABBF) or Mr. Asia championship held in October 2018 in Pune. Sunit Jadhav bagged the coveted title that had eluded India for 52 years.
Overall, in this edition of the ABBF championship, 30 Asian countries participated with about 400 contestants. India won more than 15 medals — five gold, six silver, and four bronze, and Sunit Jadhav's title win has put the icing on the cake.
"This is the title (Mr. Asia) which has been eluding India and finally I made it. It is one of the happiest moments with in life and I dedicate this title to my wife who has been very supportive" says Sunit
The art of bodybuilding was on display at the Balewadi sports complex in Pune where sculpted muscles made a spectacular view for their size, symmetry, and proportions. Among all the participants, Sunit was at his best in the creativity of body sculpting. It was evident from his confidence, sharpness, and overall aesthetics. He unanimously won the judges' verdict to win the crown.
"Jadhav being named as Mr. India is a fitting reply to the commendable way the championship was organised and this title for India is an icing on the cake for them." Said Mr. Datuk Paul Chua, President – ABBF
Watch Sunit Jadhav in an exclusive interview with IBB
 Other Achievements by Sunit Jadhav:
Talwalkar Classique Maharashtra Champion of Champions 2018
Maharashtra Shrree – Overall Title
 The 10th Mr. India title – March 2017, Gurgaon, India.
Mr. India 2016 – Gold medal in 85kg & overall champion, Roha, Raigad.
Mr. Maharashtra 2016 – Gold medal in 85kg. & overall champion, Kolhapur
Dubai Indian Championship 2016 – Overall champion, Dubai.
Asia 2015 – 3rd place finish in 90 kg – Bronze medal, Tashkent, Uzbekistan.
India 2015 – 2nd place finish in 85 kg. – Silver medal, Gujarat.
Maharashtra Shree 2015 – Gold medal in 85kg & overall champion, Wadala, Mumbai.
World 2014 – 3rd place finish in 80 kg – Bronze medal, Goregaon (BEC), Mumbai.
India 2014 – 2nd Place finish in 80 kg. – Silver medal, Pune.
Maharashtra Shree 2014 – Gold medal in 80kg. & overall champion, Andheri, Mumbai.
Mumbai Shree 2014 – Gold medal in 80kg. & overall champion, Dadar, Mumbai.
IBBF Federation Cup 2014 – Overall champion – Ludhiana, Punjab.
Sunit Jadhav's Workout Routine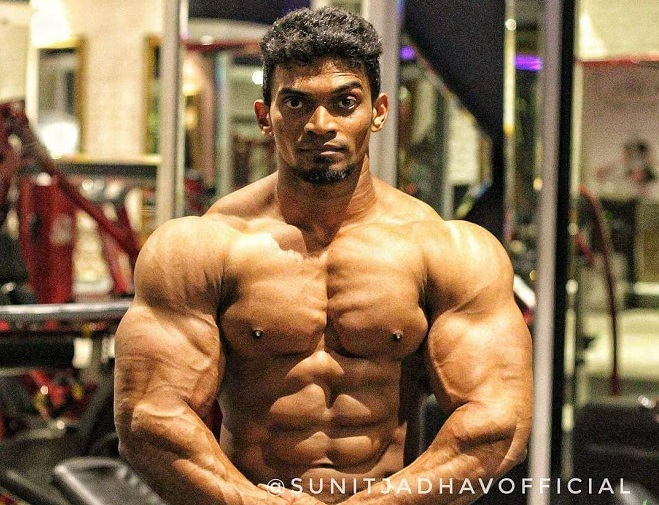 Getting prepared for a top-level bodybuilding competition requires low, moderate and high-intensity cardiovascular workout routine. A planned workout routine along with the right diet goes a long way in helping Sunil get the ideal muscular and aesthetic body.
Sunit's cardio workout routine for the first two weeks of preparation is below (Source: starsunfolded.com, News Website):
Monday: – Treadmill, elliptical or stationery bike for 30 mins, fast walking as well as jogging
Wednesday: High-intensity interval training: 15/40 yards sprints, 1 min of resting time between sprints
Friday: Treadmill, elliptical or stationery bike for 30 mins, fast walking as well as jogging
Sunit Jadhav's Diet
Sunit's  meals mainly consists of planned food items that effectively aid him with his workout goals as below:
Egg whites for Fast and slow digestive protein for muscles recovery
Tuna Fish for slow digestive protein
Semolina for fast digestive carbs for glycogen refill
Cashew and almonds for healthy fat to prevent catabolism in sleep
Fruits and salad for digestive enzymes and fiber to boost metabolism rate
He also ensures adequate intake of liquid diet to replenish his body with fluids and keep it sufficiently hydrated.
After winning Mr. Asia crown, Sunit is now eyeing the Mr. World contest to be held later this year. Champions always set a new goal and never become complacent. "There is one more title left, the Mr. World and I will do my best to reach the top later this year." Says Sunit Jadhav.
We wish him all the best and hope he continues to put India on the world map for years to come.