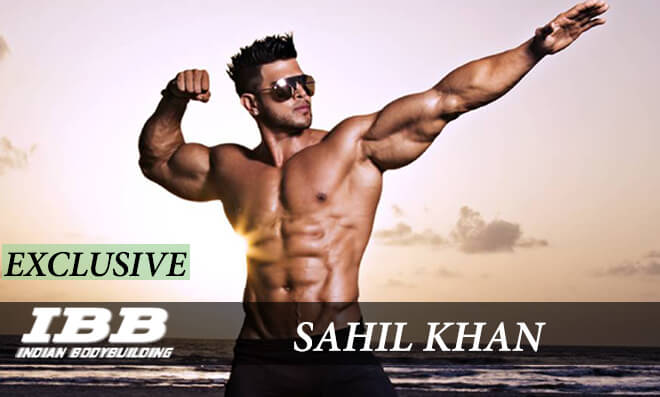 We have seen cricketers and models turning actors, we have also seen actors turning politicians but have you ever heard of an actor turning to a bodybuilder? It seems rather impossible for a person to give up on the lime light, glitter of the silver screen and the oodles of money and fame for sweating it out at a gym, especially when you are giving back to back success at the box office! We too, would have not believed it if we would have not seen it with our eyes. We are talking about none other then the True Aesthetic King of our nation – Sahil Khan and the charismatic idol of the fitness world. His tall and muscular frame, with perfectly carved muscles, has made him a popular bodybuilder not only in India but all across the globe. We were delighted to interview such an esteemed personality and our excitement knew no bounds when Sahil revealed that he is going to start his own online training program. While we calm down our excited pulses, you go and check out our exclusive interview with Sahil Khan on his Online Training Program.
1)   You are probably the only Bollywood star who entered into bodybuilding from acting? Why is that?
I feel that my soul has always been more of a bodybuilder than of an actor. Style happened to me just by chance. People loved my movie, they still remember me and my character but in spite of that I never feel like a celebrity. I always feel like a bodybuilder.
2)   Your beach gym is the first of its kind ever in India. Can you share something about that?
I was actually in Los Angeles, working out, following my routine when I happened to see Arnold Schwarzenegger and I wondered why India does not have this. Why is there nothing like this when it comes to fitness and bodybuilding back in my nation? That was when the idea struck my mind. My gym is called Muscles 'N' Beach and it is located in Goa at Baga Beach. It is free for the handicaps and for anyone who cannot afford bodybuilding. I wanted to create history and I did that by opening up the first ever beach themed gym in India.
3)   There are so many people out there who want to be like you. How can they do this?
It gets difficult sometimes for me to give back all that I have received from my supporters. Hence, I am now going to do something that can bring me close to them. I am starting my own website, isahilkhan.com, going live in the next 24 hours. Through this website, I will launch my own online training program.
This online platform is open for everyone. I want to give people what they need to know about health, fitness and bodybuilding. I will personally make the diet plans and work out plans for my members. I would do Skype or anything else that is required to get to my members. This is my way of giving something back to the society. By sharing my knowledge with others, I would do something that will genuinely make me happy.
4)   What made you take such an approach?
I actually see a lot of potential in Indian boys and girls. There are people who are genetically strong and capable but they are not able to pursue this career because of lack of funds. There are also people who have money and talent but are not able to succeed because they lack knowledge. They run behind coaches and trainers who are under-qualified. I mean, they are qualified on papers but the actual experience that makes one a good trainer is something they don't have.
The end result is that you don't get the desired results even after years and you are left heartbroken. Hence, I want to reach out to as many people as possible. Whoever wants my help, I will be reachable. I have been in this field for almost 20 to 25 years now. I want to share all that I have learnt and observed in these years with them and help them reaching their fitness goals in a lesser span.
5)   How can you help the peopls in achieving their fitness goals ?
I believe in sharing my knowledge and expertise of last 20 years on health, fitness and beauty. Anyone who is interested to transform their bodies, in turn their lifestyles, and want it from ME, can visit my website,  purchase the plan as per their needs,  that will help them in fulfilling their present and future goals, and in a few days, I am there with them in their journey of transformation. My USP lies in giving back to the society all that i have achieved thru this field. Thats the reason I have kept my training plans very affordable so that i can reach out to every household in India. AIMING FOR A FITTER HEALTHIER BETTER INDIA!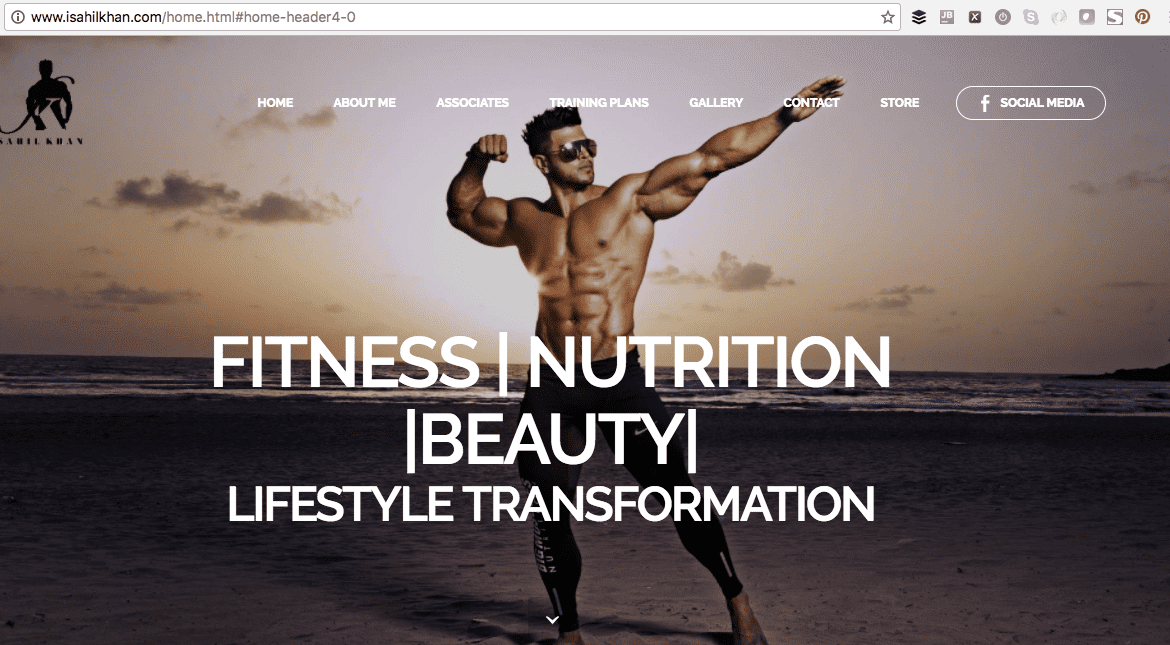 This is a brief from our exclusive interview with Sahil Khan. His website is now live and we would therefore like to share a little about his unique online training program too. You will find a lot of great plans lined up by Sahil for you which you can purchase directly from his website. There is brief of the plans that are available.
14 Week Total Body Transformation Plan: This is Sahil's biggest offering that aims at transforming your entire physique with:

Customized nutrition, workout and supplementation plan
Bollywood Celebrities' Beauty Secrets
Weekly check-ins to monitor start, middle and end progress
Constant motivation, guidance and support
8 Week Beginners Plan: This training plan aims at giving your body the right nutrition and the right workout to give you a head strong start towards fitness.In addition, you also get a one meet and greet session with Sahil himself. How well can fitness get!

Day to day customized nutrition and workout plan for your needs
One meet and greet session with Sahil Khan
Weekly check-ins to monitor your start / middle / end progress
Constant motivation, guidance and support.
Man Breast or Boobs Solution

The effective nutrition plan which will help in lowering the estrogen in your body and convert man boobs into a manly chest
The right type of exercises you should do targeting the chest, belly and surrounding areas.
Personal guidance and constant support for overall fitness via whatsapp / email.
Wait the best is yet to come. Won't you love to work out with their beloved idol? You get this opportunity on isahilkhan.com.  The "Train Live with Sahil Khan" plan lets you work out with the Aesthetic King himself.
Simply drop him an email here to be a part of his fitness family.
We are in an awe of Sahil Khan. He is probably the first star and idol who chose to train his fans and supporters and not celebrities. This shows how dearly he values his fans and how serious he is about taking this profession to every Indian. We are ready to train with Sahil Khan, are you?