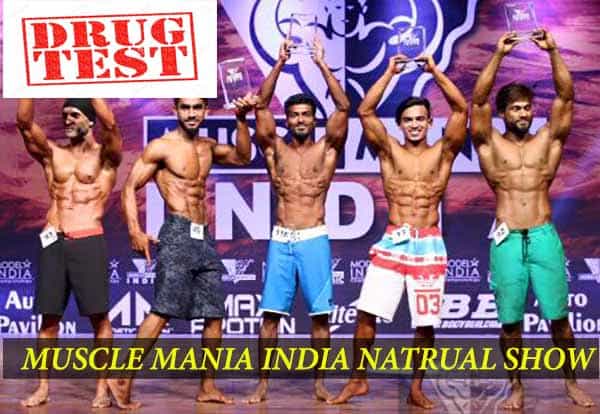 Well who isn't impressed when an athlete gets on the stage and flexes his spectacular muscles at the audience? We admire our muscular idols and they serve as walking inspirations for the bodybuilding aspirants. We believe everything they say including their evergreen quote that the reason behind their success is solely their hard work and passion. However, the truth is not so simple or 'natural'. The sport of Bodybuilding and Fitness has been plagued by doping to such an extent that even school level events have been tested positive for steroids. Amidst such circumstances where athletes are switching to such illegal means of success, we all desperately needed someone to come forward and put a stop to these defaulters. Well, the first one to take a concrete step in this direction is none other than MuscleMania.
MuscleMania strongly encourages 'Natural Championships' and hence to ensure that only the truly deserving bag the fame and title, MuscleMania laid down its own Drug Testing. As per this criterion, MuscleMania tests its Top 5 divisional and weight class finalists for banned substances. This practice was started by MuscleMania in America way back in 2006. By 2010, the drug testing criterion was implemented by MuscleMania in Canada, Britain and Korea as well. It took a while, but finally MuscleMania India too implemented this at the 2016 MuscleMania events.
Not just this, for the first time in India, a drug test will be publicly declared. MuscleMania, after gaining permission from the concerned athletes, is going to declare the drug test results on its official website. It is also posting the results on its official Facebook page. The first drug test revealed is of MuscleMania India Physique Finalist Yuvaprakash Angamuthu. He was tested on 30 October 2016 at an event in Mumbai. His fans must be ecstatic to see that he has passed the drug test and has emerged as a true Natural Champion. Here is the test results ( Source : MuscleMania India Facebook page)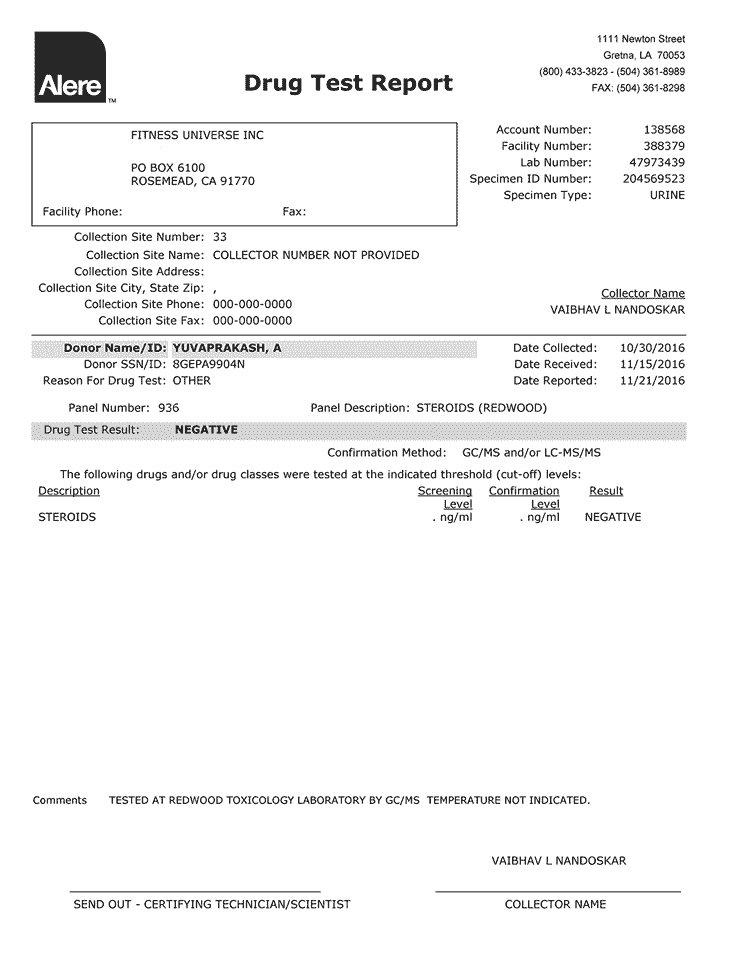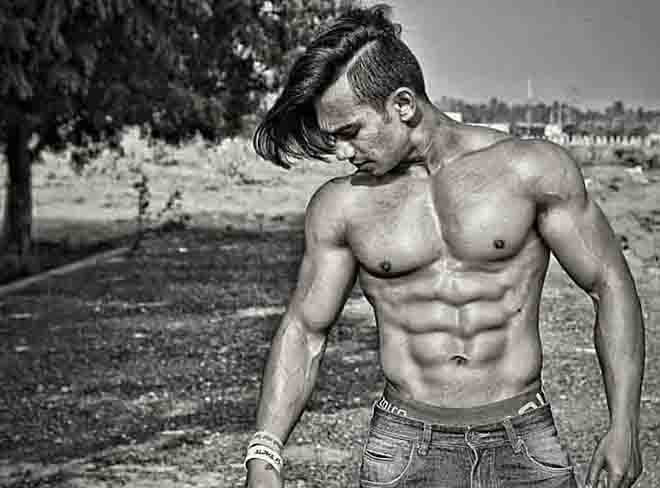 Muscle Mania is known for its 'natural bodybuilding' show. Muscle Mania conducts the drug test for its top athletes at regional championship level and all other athletes or competitors  on the same day as of the competition immediately following their performance. If participants tests positive or fail to give a urine sample or comply with other terms and conditions of the test, they shall be disqualified to participate in the competition as well as will be banned from competing in the Muscle Mania association for a period of 2 years.
A comprehensive list of banned substances against which the competitors or athletes shall be tested is available at Muscle Mania India website
In the coming days, MuscleMania will keep publishing the drug test results and eventually will see the true champions for the first time.  Hope, other events too seek inspiration and come forward to put an end to this era of doping.