You may call it the "Mother of all upsets." At least bodybuilding experts and fans are saying so after what they witnessed at the biggest bodybuilding show in the world.
We are talking about how remarkably Shawn Rhoden turned the tables on his opponents including the walking legend and defending champion Phil Heath. Since then the bodybuilding world is still in shock, and this win will surely be a talking point in the years to come.
Was It a Fluke or Meant to Happen?
Why the result of Mr. Olympia 2010 sent a ripple of shock and triggered controversy among the followers and experts of the bodybuilding world? Well, it is because no one imagined the undisputable favourite and seven-time champion Phil Heath to lose his crown.
Shawn Rhoden sprang a surprise and stunned the world on Saturday night (Sept.15) in Las Vegas. That too when Phil Heath was on the verge of creating history of winning the title for record 8th time and could have equalled the records of Lee Haney (1984-91) and Ronnie Coleman (1998-2005), the only bodybuilders to have achieved that feat.
Before all this, in the earlier years, Shawn lost his class at the NPC Team Universe from 1999 – 2001. He has competed 40 times on the pro ranks, and his career has spanned two decades. So, he is definitely not a new kid on the block; rather a seasoned bodybuilder.
Before winning the Eugen Sandow Trophy (Mr. Olympia), Shawn did have one runner-up finish in 2016. Though, this time around he edged past Phil Heath just by four-point margin (17-13).
Now, the questions that have crossed nearly everyone's mind: Was it just an upset, a fluke, or just flawless preparation by Shawn?
Experts have broken the reason down to this:
The seven-time champion lost his crown to Shawn "Flexatron" Rhoden with the latter's tight, crisp muscles and overall aesthetics.
Although, Heath had a slight advantage due to overall conditioning including muscularity and proportions, he was finding it a little tough to control his midsection. Moreover, in most of the front and side shots and all the transition moves, Shawn caught everyone's attention.
What Shawn Rhoden Did Right?
The road to Mr. Olympia title for Shawn was not an easy one. In 2016, Shawn secured a second place finish, and then slipped to fifth position in 2017. A big blow to his aspiration. However, we should not forget the fact that he had a broken jaw during the off-season and was not even able to eat properly. On top of it, he could not work out at the gym for 12 weeks. Subsequently, in the early part of 2018, Shawn missed the Arnold Classic as he was hospitalized for ulcers.
Now, under those circumstances many would have given up hope of taking part and winning Mr. Olympia. Still there were many people who think, Shawn's title win was not an upset or fluke after all.
"Shawn Rhoden not only his conditioning on point but his symmetry is beautiful blows Phil's lines away. As a matter of fact, moment they line up your eyes quickly fall onto Shawn. Didn't matter what they do your eyes go back to Shawn." ~ Sheila Beck, IFBB Pro Bodybuilder
Shawn's physique has always drawn attention due to his muscle separation, abs, and balance. At the time of Mr. Olympia, his weight was around 250 pounds, which looked perfect on the 5' 10" frame with 28 or 29-inch waist.
Now that Shawn has completed that long and arduous journey from amateur to the best in the world, it is unlikely that his age (43 years now) will stop him carrying on to refine his chiseled physique.
Conclusion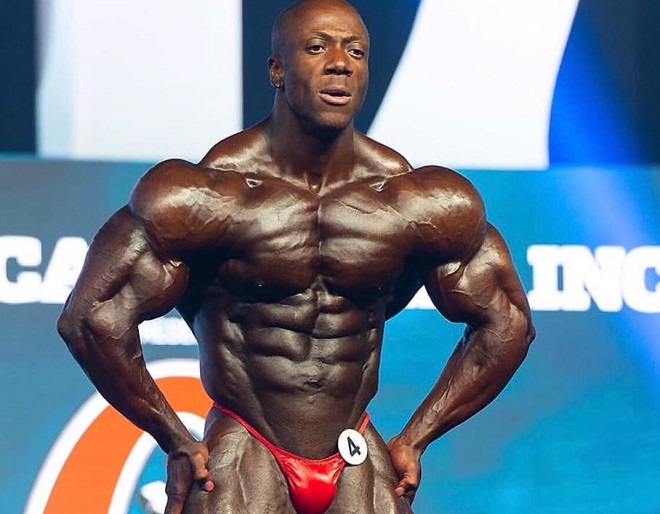 Let's forget all the controversies, and acknowledge a champion, who has reached the summit of the bodybuilding world with years of hard work. We have to keep in mind that bodybuilding is the most physically taxing sporting event in the world, and not just anyone can pull off a surprise at a global event. Let Shawn bask in his glory, and we would await more such champions in the future.
Let us know your thoughts and suggestions by putting in your comments to the article. We would be glad to hear from you.