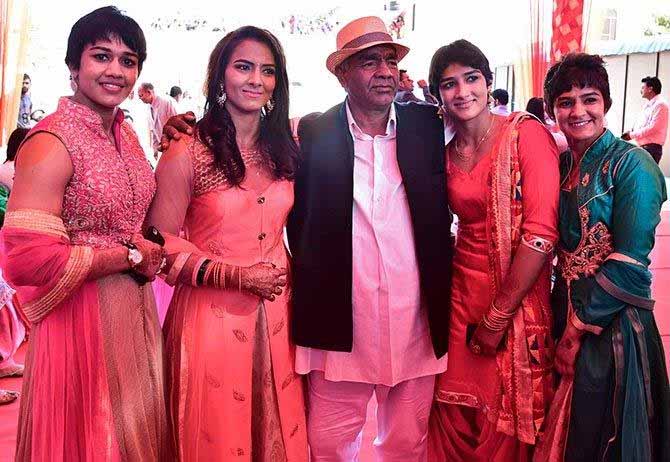 Bollywood is full of movies where women are portrayed as a girlfriend, a mother or a wife. Her first role which is of a daughter is often given least importance. This what is taught to thousands of female audiences across the country, they have to be either a beautiful girlfriend, a good wife or a good mother.
The thoughts and principles of the great wrestler Mahavir Singh Phogat had been unknowingly overlooked and it is with Dangal that Aamir has brought a beautiful and inspiring message to this young female audiences that their worth is all about what they do and not what they are!!
You can be someone's wife, someone's mother, or even daughter but to create your own identity and to be independent is a matter of choice which thousands of women across the country often choose to overlook.
For all those who don't know her yet, Geeta Kumari Phogat born on 15th December, 1988 is a women wrestler who won the first ever gold medal in wrestling at Commonwealth Games in 2010. She is also the first ever Indian women wrestler who has been qualified for the Olympics. Her beautiful and inspiring story is an evidence that women are not only known by beauty but also through their ability, talent, confidence and much more.
Your talent is inborn, it is irrespective of gender, it is given equally to all be it a man or a woman. To unleash one's hidden potential one needs to work hard, give his 100% or even more and work out his ways to be someone as great as the woman wrestler and champion Geeta Kumari Phogat. Sheer passion is not enough, you need to dedicate yourself, you need to go through the hardships that come your way without losing your sight from your goals. This and much more inspiration is what one gets from the movie Dangal specially for those females who want to make their mark but are in some or the other way tied up, due to circumstances or pressure from family. It's time to make a brave move, to make a good start and gear up to cover thousands of miles before you can call yourself a winner!!!