In October 2017, we saw a great initiative from the International Health, Sports and Fitness Festival (IHFF), where Olympia Amateur, a mega competition and event, was organized for the first time ever in India. Yes, it one of those biggest global competitions where the winners qualify for a pro card!
IHFF is all set once again to come up with the second edition of Amateur Olympia powered by Big Muscles Nutrition in October this year! The event exhibition will be hosted by Indian Health, Sports & Fitness (IHFF) which is a B2B fitness and wellness expo also known to be brainchild of Mr. Manish Gandhi. The event is open to all athlete participants from India and the rest of the world, scheduled to be held on 12th, 13th and 14th of October 2018 at the Bombay Exhibition Centre (BEC) in Goregaon – One of the largest and oldest exhibition centres in India.
IHFF is Asia's biggest fitness, sports, health and wellness event to see participation from 500+ exhibitors and more than 1.30,000 visitors. Fitness, health, supplement, nutrition, sports brands, consultant, athletes, enthusiasts you name it and they have it all on one platform. This is by far one of the largest initiatives by IHFF to promote Indian fitness industry on a global level.
Watch the IHFF 2018 promo video
The IHFF event will cover Amateur Olympia and the most renowned competition Sheru Classic 2018. The competitions are designed to give pro cards to the winners and help them reach their professional fitness goals. Besides, the event will also provide a plethora of opportunities to visitors to help them get healthier and fit with knowledge sharing sessions, workout tips and secrets, introduction to new products in the fitness industry,
information and introduction to brands in alternative healing, medicines, yoga, zumba, bodybuilding and much more.
The exhibition will also see a number of key partners from popular health and wellness brands.
While the presenting partner is Big Muscles Nutrition, it also has a lot many other popular brands like Amazon India (Title Partner), Optimum Nutrition (Platinum Partner), Muscle Pro Nutrition (Diamond Partner), Fitness World (Sheru Classic Diamond Partner), Protan (Tanning Partner).
Bodybuilding enthusiasts, athletes and professional bodybuilders shall also get a chance to meet their role models like  Kai Greene, Sergi Constance, Branden Ray, Morgan Aste, Jeremy Buendia.
The event Amateur Olympia 2018 shall consist of competitions under various categories as below with 3 IFBB pro-cards to be won in each of the categories from a total of 21 IFBB pro-cards.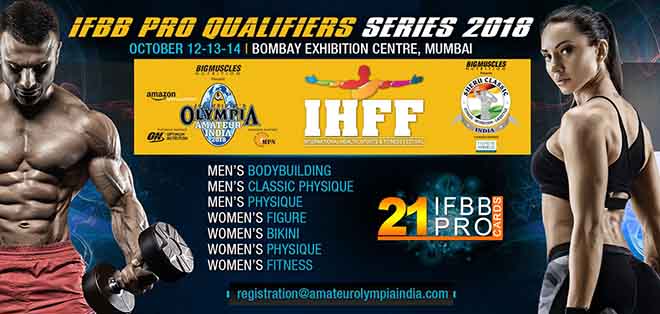 Men's Bodybuilding

Men's Classic Physique

Men's Physique

Women's Figure

Women's Bikni

Women's Physique

Women's Fitness
On winning a pro card an athlete becomes eligible to compete at a global level and may also help them get closer to qualifying for the final Olympia.
This is also a grand opportunity for the bodybuilding audience to meet thier role models like  Kai Greene, Sergi Constance, Branden Ray, Morgan Aste, Jeremy Buendia on 12th, 13th and 14th October at Bombay Exhibition Centre, NESCO, Goregaon, Mumbai
For more information on Amateur Olympia India 2018 event details, schedule and registration visit www.amateurolympiaindia.com
To participate and register for IHFF as a visitor follow the link below:
https://in.bookmyshow.com/mumbai/events/international-health-sports-and-fitness-expoihff-2018-sheru-classic-2018/ET00080647
To know more about the IHFF event, schedule and participants visit:
12Oct
- 14
2018
Mr. Olympia Amateur 2018 presented by IHFF
Event Summary
In October 2017, we saw a great initiative from the International Health, Sports and Fitness Festival (IHFF), where Olympia Amateur, a mega competition and event, was organized for the first time ever in India. Yes, it one of those biggest global competitions where the winners qualify for a pro card! IHFF is all set once …