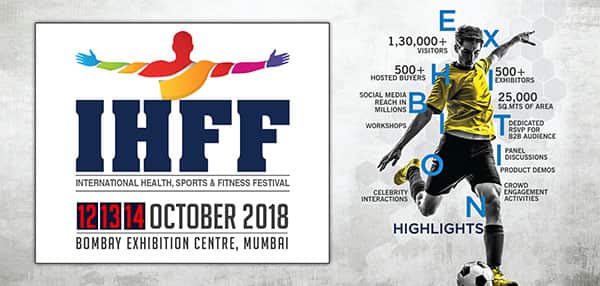 International Health, Sports and Fitness Festival (IHFF), the most popular event in the fitness industry is back once again in Mumbai this October! Asian Business Exhibitions and Conferences Ltd. (ABEC) – one of the largest organizers of trade exhibitions and conferences in India is all set to begin with IHFF 2018 on 12th,13th and 14th October 2018 at Bombay Exhibition Centre in Mumbai.
This mega event will not only host some of major fitness competitions in India but also give an opportunity to a huge number of established as well as upcoming fitness, health, wellness and sports brands to reach the right target audiences.
So what does this mega event has instore for you? From all about yoga, zumba, bodybuilding, fitness, medicine, alternative healing to everything under the sun that the industry knows or holds about fitness and bodybuilding, you will find it all right here! This is a one stop destination for fitness professionals, enthusiasts and market players in the industry alike.
Watch IHFF 2018 & Big Muscles Presenting Partner Promo video
Amateur Olympia 2018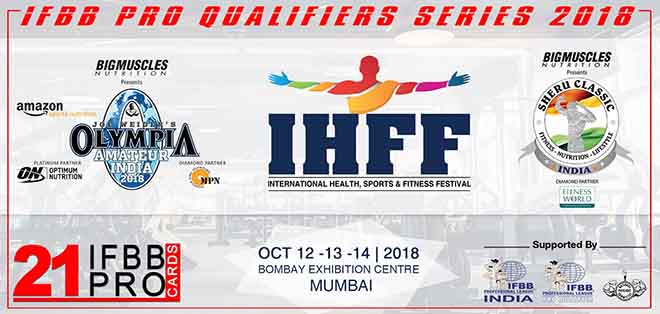 While the very first edition of Mr. Amateur Olympia was conducted in October last year, IHFF is proud to announce its 2nd edition this october. The event Amateur Olympia 2018 shall consist of competitions under various categories with 3 IFBB pro-cards to be won in each of the categories from a total of 21 IFBB pro-cards.
On winning a pro card an athlete becomes eligible to compete at a global level and may also help them get closer to qualifying for the final Olympia.
To know more about the event, schedule and to participate and register visit:
http://www.amateurolympiaindia.com/olympiaIndiaRegistration.php
Sheru Classic 2018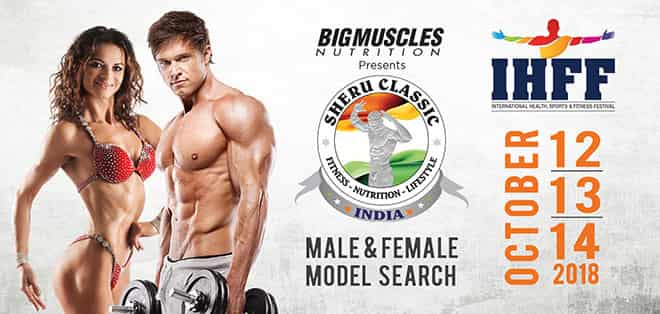 Powered by one of the biggest nutrition and supplement brands in India – Big Muscles Nutrition, the brand new Sheru Classic will be held at IHFF giving an opportunity to aspiring participants to win in the Male and Female Model search. With Sheru Aangrish and Manish Gandhi joining hands for the great event, Sheru Classic is sure to help you begin your bodybuilding or fitness career or take it to the next level whatever your goals are, if you make it here, you are sure to make it big!
For Participating in the Sheru Classic 2018 at IHFF visit:
http://www.sheruclassic.com/registrationform2018.php
While the event comprises of Amateur Olympia and Sheru Classic 2018, the exhibition will see a host of key partners from some of the most popular health and wellness brands in the industry like Big Muscles (Presenting Partner), Amazon India (Title Partner), Optimum Nutrition (Platinum Partner), Muscle Pro Nutrition (Diamond Partner), Fitness World (Sheru Classic Diamond Partner), Protan (Tanning Partner).
The event is designed to provide ample opportunities to participants from all age groups to compete and win from various competitions with attractive prizes to be won.
Some of the key highlights of the event are – Yoga, Meditation, Pilates Fitness, Resistance training, Health and Nutrition, General Fitness, MMA (Mixed Martial Arts), Male & Female Model Search, Bodylifting, Guest posing, Shivfit Crossfit, Arm Wrestling, Spinathon challenge and much more. There will also be opportunities to connect and arrange spot meeting for buyers, dealers, manufacturers, and distributors
IHFF will attract visitors from several domains like – Healthcare, Medicine, Yoga, Nutritionists, Gyms, Health Clubs, Retailers, Alternative Medicine, Consultants, Counsellors, Doctors, and many more.  The list is exhaustive and IHFF aims at leaving no stone unturned in encouraging Indian fitness industry soar to new heights! While India Fitness industry is undergoing a revolution witnessing never seen before growth rate of 19% year on year and a steady trajectory the only best bet is to optimize the right channels and sources available in the industry through participation at IHFF and build the desired network and enhance customer reach to be a long term player in the market.
There are a host of key exhibitors to the show from various domains like -Fitness Clubs/ Gyms, Fitness Equipment Distributors & Manufacturers, Industry Consultants,Training Schools/ Institutions, Nutrition/ Supplements Distributors & Manufacturers,Sports Education & Research Institutes, Sports Goods Manufacturers,Health & Organic Food Manufacturers,Fitness Technology Equipments, Fitness Software & Applications,Gym Managing Softwares, Fitness Innovation Displays, Government Bodies, Fitness Apparel and Clothing/ Gear, Health Beverages & many more.
The event has already received an overwhelming response from the audiences and market players with about 500+ exhibitors and more than 1,30,000 visitors to show up at the event. With big stars like Kai Greene, Sergi Constance, Branden Ray, Morgan Aste and Jeremy Buendia all set to make the event all the more special with their presence, you surely can't afford to miss the show!
Stay tuned to Indian Bodybuilding to know more about Olympia Amateur, Sheru Classic and IHFF event in the coming days!
Give yourself the best chance to create a healthier and better you, and achieve your personal and professional fitness goals, see you on 12th, 13th and 14th October at Bombay Exhibition Centre, NESCO, Goregaon East, Mumbai.
To participate and register for the event as a visitor:
https://in.bookmyshow.com/mumbai/events/international-health-sports-and-fitness-expoihff-2018-sheru-classic-2018/ET00080647
To know more about the IHFF event, schedule and participants visit: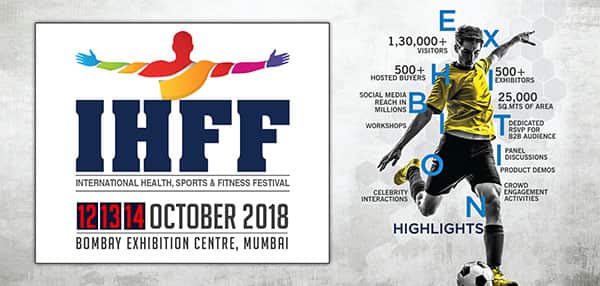 12Oct
- 14
2018
Gear up to witness IHFF 2018 – Asia's Largest Fitness Expo this October!
Event Summary
International Health, Sports and Fitness Festival (IHFF), the most popular event in the fitness industry is back once again in Mumbai this October! Asian Business Exhibitions and Conferences Ltd. (ABEC) – one of the largest organizers of trade exhibitions and conferences in India is all set to begin with IHFF 2018 on 12th,13th and 14th …