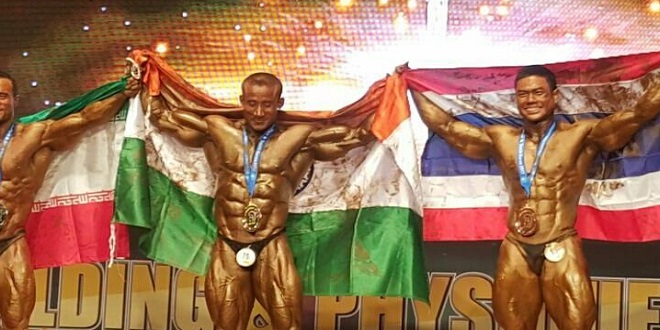 Another feather in the cap! Again an Indian bodybuilder has won on an international platform. Arambam Boby is no ordinary performer, he is bodybuilder  who has grabbed the world title for the 8th time. Before this, he won this title 7 times in 2010, 2011, 2012, 2013, 2014, 2015, 2016, and 2017. Overall, 7 gold, 1 silver and 1 bronze. Behind all these marvellous victories is an awe-inspiring and  riveting story of this extra-ordinary man.
On December 16, 2018, Boby pulled off the 10th Mr. World competition organized by the World Bodybuilding and Physique Federation (WBPF) in Chiang Mai, Thailand. This is the 8th world title win for Boby.
In the national level, Boby also won Jr. Mr. Manipur in 1995, Champion of the Champions, and Sr. Mr. India in 1998. Let's learn about his extra-ordinary journey from a modest background to the pinnacle of glory.
"I struggled a lot. My mother didn't even have money to buy me eggs, which are essential diet for a sportsman. But I didn't give up. I did labour works at times. I even used to carry bricks and assist mason in building works." ~ Arambam Boby (Source: indiansportsnews.com)
Background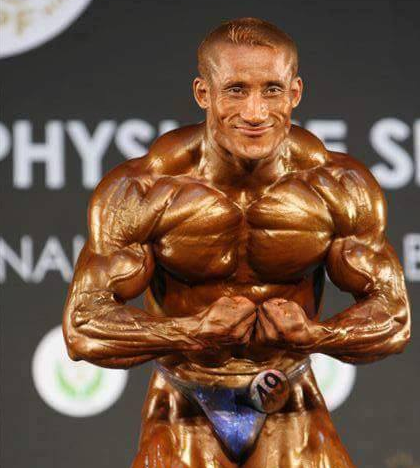 Boby was born in Februay 1, 1975. He lost his father Late Mr. Arambam Ibomcha when he was just two years old. His mother Mrs. Arambam Ongbi Dashumati Devi struggled to raise her six children, and worked hard so that her children can go to school.
This story of struggle is similar to many sporting personalities in India, and large number of them often give up because of monetary constraints. However, Boby and his family kept on fighting all the adversities.
Bobby did whatever odd jobs that came his way to earn some money so that he could have adequate diet that is essential for bodybuilding. He also loved other sports such as gymnastics, football, taekwondo and athletics.
In 1993, he saw a silver lining and applied at the Sashastra Seema Bal (SSB) group centre, which was recruiting two athletes. Boby got the job as a constable in the sports quota and worked there for more than 2 years.
During his time at the SSB, Boby used to practice at the Manipur University ground outside the campus. In one of those days, Boby's sister's friend saw him practicing and suggested to go to gym since he had a good physique. Boby began going to gym without informing the authorities. He found his goal in bodybuilding, and pushed on.
The Bodybuilding Journey
Boby set off his bodybuilding journey under this first trainer Khoirom Yaskul Singh, who was passionate about the sport. According to Boby, most of the bodybuilding equipment at the gym was made from discarded vehicle parts and bamboo.
Within two months of joining the gym, Boby took part and won the 1995 Northeast Bodybuilding Championship at Jorhat. However, the Railways authorities came to know about his bodybuilding, and he had difficulties in getting leave to participate in the events. However, luck smiled at him again when he got the support of a direct Commandant, who gave him permission to carry on with bodybuilding. Later Boby went on to win the Junior National Championship in 1996, and in the same year, he participated in the Asian Championship and secured 4th position.
Luck smiled at Boby again when he received a call from Southeastern Railways, Kolkata as one of the Railway coaches noticed him. He joined there later as a Junior Clerk in November 1997 and began training under Shambu Chatterjee. In 1998, Boby represented Railways the Senior National championship (70 kg category) and became champion. This win opened up more future avenues for Boby as he won more than 20 titles in the National and Inter-Railways Championships.
 Mr. World Title
After working in Kolkata for 12 years, in 2009 Boby shifted his base to Guwahati, in the Northeast Frontier Railway or NF Railway, and started a fresh journey in bodybuilding. In 2010, Boby took part in the World Bodybuilding Championship in the 75 kg category in Benaras, and won the title. That was the first of his seven medals in the international stage.
After all these achievements, Boby reflects how difficult the journey was as he hardly got any support from the government. It is expensive to participate in the international events, and without any support from authorities, sportspersons in India are not able to pursue their dreams.
Another important aspect Boby highlighted on is diet. Even basic diet did cost him at least Rs. 18,000-20,000 a month for eggs, chicken, and supplements. He could not afford these expenses regularly, and often friends helped him out. Thus, Boby urges the government to constantly support sportspersons in their endeavors.
The Way Forward
There is no dearth of talented sportspersons like Boby in India. However, many dreams of making it big are nipped in the bud due to lack of financial support and infrastructure. Hope the authorities will come up with structured programs to encourage the sporting talents in the country so that they can shine on the global platforms and bring more glories to India.
 Watch Arambam Boby win the 1st place at 10th WBPF in December 2018 at Chiang Mai, Thailand