Pre workout supplements are very vital to getting the most out of your training session. These supplements are crafted to help maximize and enhance your workout routines! Massive spikes in energy levels, improved oxygen flow to muscle tissue, sharp mental focus and vigilance, and superior vascular pumps are few of the reasons why people are using pre-workout supplements before their workout session. No matter how exhausted you are or how much you might not want to work out in gym, once you take the pre-workout supplement everything is all effortless from there and you know when you leave the gym you had a beyond fulfilling workout.
We have put together top 10 pre workout supplements we feel will dominate in 2019. If you have any questions on the supplements or more upcoming supplements feel free to email us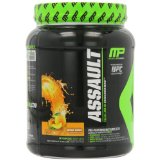 1. Muscle Pharm Assault
Assault is the most popular pre-workout supplement.With each serving of 14.5 grams, you get 2 grams of CarnoSyn beta-alanine which delays muscle fatigue, boosting your performance during high intensity exercises. The ION-3 nitrate technology includes creatine, arginine and BCAA nitrates that work together to enhance your blood flow, promoting nutrient delivery to your muscles. You intensify your athletic performance with an improved strength, recover quickly from muscle soreness and gain muscle mass much faster.

2. Super-Pump Max
Super-Pumo by gaspari nutrition is second on our list.Lots of indian bodybuilders use and recomment this to get the pump for workout.This pre-workout supplement effectively fuses the ingredients Nitric Oxide with ergogenic and anabolic compounds as well as eNOXIDE, a patented real nitric oxide super-molecule to aid the user into new levels of strength and energy.
3. BSN N.O. Xplode 2
N.O.-Xplode™ 2.0 is a blend of ideal nutrients that ignite your energy and boost your performance levels. Ideal as a pre-workout drink, this one here provides you with better focus, endurance and strength. While caffeine keeps you alert, L-arginine, L-citrulline, beta-alanine and taurine provide you with better energy levels, deliver oxygen to your muscle tissues and promote electrolyte balance in your body.The BSN N.O. XPlode 2 Advanced Strength is a nitric oxide supplement which is ideal to be used prior to any strenuous workout in order to get the best results.

4. Muscletech NanoVapor
The combination of 130mg of caffeine and 50mg of L-theanine has been suggested to support focus in subjects up to 90 minutes after ingestion. Caffeine has also been shown to support energy for extreme training intensity. NANO-VAPOR is the first pre-workout to deliver a 833mg dose of betaine, which is suggested to improve muscular endurance.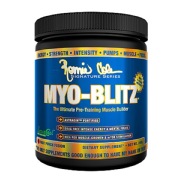 5. RONNIE COLEMAN MyoBlitz
It has vitamin B6 for better absorption of protein, vitamin B12 for better cell metabolism and calcium for stronger bones. Apart from that, l-citruline gives your muscles the pumped look, while Astragin retains the levels of nitric oxide in your body so that your muscles pumps get bigger and better.It has zero amount of fat and 2g of carbohydrates that help avoid the extra weight you get after consumption of other pre-workout supplements.Presence of caffeine helps curb your appetite and provides energy for a strenuous workout session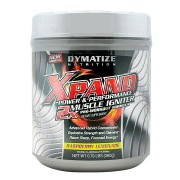 6. Dymatize Xpand Power
Dymatize Xpand Power & Performance 2x Muscle Ignitor helps in enhancing your workout utilizing creatine monohydrate as the main ingredient. It increases the strength and pumps the muscles to get them ready for the strenuous workout.Dymatize Xpand Power & Performance 2x Muscle Ignitor contains high nitrate pomegranate extract that offers prominent tolerance resistance. The instantized BCAAs and glutamine dipeptide helps in enhancing the stamina and fueling up of muscles for an increases performance at the training.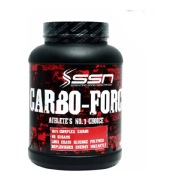 7. SSN Carbo Force
One serving of SSN Carbo Force, which is 100g, contains 100g of carbohydrates. Carbohydrates are your body's principle source of fuel. It provides you with energy that you require for intense workout more efficiently than any other energy source. If there is lack of carbohydrates during workout, your body tends to use up protein as energy source, which in turn, may lead to hard-earned muscle protein breakdown. The supplement provides you energy for extreme workout, and restores the depleted levels of carbohydrates that the body requires, thus helping your muscles to recover from exercise strain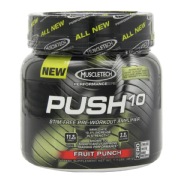 8. MuscleTech Push 10
Muscletech Push 10 amplifies your training and body building manifolds. This starts acting immediately and pushes your everyday performance by increasing strength 10.5 %more than usual. It contains no stimulants or Creatine. Also, it enhances muscles endurance by 21%.Muscletech Push 10 diffuses 3200 mg of beta-alanine in your blood stream to boost up your training performance. This could be consumed before your workout session with breakfast. The preparation requires mixing1 serving of formula with 8 oz of cold water approximately 45 minutes before exercising.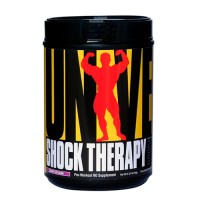 9. Universal Shock Therapy
Universal Shock Therapy is a pumping pre-workout powerhouse which does away with lackluster workouts. This product is combined with proven performance compounds with energy substrates, focus agents and antioxidants. This supplement delivers fruitful results in a very short span of time. Anabolic nutrients included Shock Therapy formula passing through your veins which gives absolute results. This product helps in pumping muscle and provides stamina.

10. BSN CellMass 2.0
BSN CellMass 2.0 gives its customers the awesome benefit of enhanced muscle regeneration. This is the body's ability to recuperate from the stretching that occurs in muscle tissue and fibers when repetition and weights increase with each exercise. Without glutamine, taurine and hydrolyzed whey protein, the muscle will need a day or two to recover from a high impact workout. With this, bodybuilders can work-out almost daily without endangering the muscles from experiencing injury due to abusive tearing and stretching of muscle tissues.