[Updated for 2019]  The 10 Best Protein Supplement in India. Protein supplement is the most popular bodybuilding supplement in India. Protein is the basic ingredient for muscle building.It forms the building block of muscle tissue.
In this top 10 list we some of the most favorite supplement that have been in the top position for a long time. So they are time tested. Also there are some new entries that are trying to challenge the top spot. ON 100% Whey Gold Standard has been topping the list for an decade now. Its no doubt still he best protein supplement available in India. BSN Syntha and Nature's best Isopure are getting good reviews from users hence they have taken the No 2 and No 3 spots respectively.
These are independent and genuine review and top 10 listing. If you feel we have missed some of your favorite supplement then do write to us or leave a comment. If you want us to review any particular product or if you want to submit review to any product do contact us. To buy Whey Protein at low price in India click here
Enjoy the list of best protein supplement in India of 2019 !! Happy Bodybuilding!
Top 10 Indian Protein Supplements for 2019
---

1. Optimum Nutrition 100% Whey Gold Standard
It has topped the list for almost a decade. With 24Gm of pure protein, this protein powder is also known for containing low concentrations of fat, lactose, and carbohydrates. The building blocks of Optimum Nutrition 100% Whey include Glutamine and Glutamic Acid, Branched Chain Amino Acids or BCCAs, valine, isoleucine, and Leucine. This product has also has been approved and recognized by the Public Health and Safety Company, NSF International, and the Good Manufacturing Practices Program standards

2. BSN Syntha 6
This is a very good tasting protein which is become very rare these days. This product is one of the most effective protein powders on the market, BSN Team has really done great job in the formulation. Mixes well and tastes exceptionally creamy. Used by many athletes in India, it assists in building strength and endurance as BSN Syntha-6 Protein Powder contains healthy fat and fiber required by the body to endure long strenuous exercises. Due to the taste of this product it also makes a viable replacement to eating a full meal. It contains essential amino acids, BCAAs, Glutamine, fiber, MCTs, EFAs, and Peptides. It helps in building endurance, and decreasing the risk of injuries especially during physical exertion activities.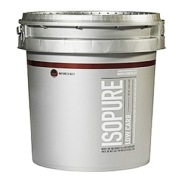 3. Isopure Low Carb
This is another awsome protein powder available in India. It has a very low carb ratio which makes it very good for people trying to gain lean muscle and no carb or fat.This product is produced in a facility with soy, dairy, egg and wheat ingredients, peanuts and tree nuts. There is also a zero carb product from same brand that boasts of 50 Grams Of Protein From 100% Whey Protein Isolate!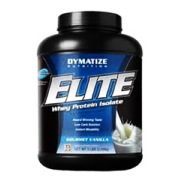 4. Dymatize Elite Whey
This supplement provides 25g Protein in One Serving of 33.6g, that meets half of your daily protein requirement. 5g of BCAAs in each scoop ensures better protein synthesis, leaving you less tired after your workout. This supplement recovers your muscle tissues faster, so that they gain better strength and increased endurance from the constant support of amino acids.This pure form of whey includes all the essential and non-essential amino acids that enhance muscle growth after an intense workout session.

5. MyoFusion Probiotic Protein Powder
This product comes in many flavors that include: Milk Chocolate, Peanut Butter, Cookies and Cream, Strawberries and Cream, and Cinnamon Roll. MyoFusion Probiotic Protein Powder is made from various Amino Acids, Whey Protein Concentrate, Casein Milk Protein Isolate and Egg Albumin. It also contains 24 grams of protein and 9 grams of Amino Acids per serving which is essential in muscle building and regeneration.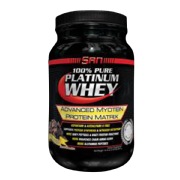 6. SAN 100% Pure Platinum Whey
Processed on low temperature to give you ultra-fine 23g of whey per serving of 29.9g that fulfills almost 40% of your daily protein requirement. Ultra-filtered whey enhances absorption of the protein in your blood stream, leading to a better anabolic action in your muscles.The amino acid profile includes glutamic acid, leucine, lysine and arginine that fight the post-workout catabolic effects and give you an improved muscular strength and endurance.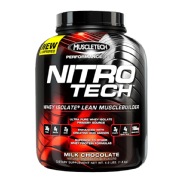 7. MuscleTech NitroTech Performance Series
Muscletech Nitrotech is a protein supplement for rapid post-workout amino acid delivery. It is designed to deliver essential amino acids and proteinogenic (protein building) amino acids that are easily and quickly digested and absorbed by your bloodstream that further aids in muscle cell repair and growth. MuscleTech Nitrotech contains all three key free-form amino acids- alanine, glycine and taurine and is the first to offer. Alanine post-workout helps combat muscle breakdown and promote protein synthesis. Alanine is the second-most widely used amino acid in protein synthesis after leucine and is the primary amino acid for the production of usable glucose during intense training

8. Optimum Nutrition 100% Casein Protein
This product comes in many flavors such as Banana Cream, Chocolate Cake Batter, Chocolate Supreme and Creamy Vanilla and has one of the highest protein content found in protein powders. It also contains over 9 grams of BCAA's and Glutamine per scoop. Optimum Nutrition 100% Casein Protein Powder allows protein to be released slowly which is essential for body building, as the exercises take time and many repetitions to complete. The muscle builds as the protein gets released which in turn sculpts the muscles optimally through time.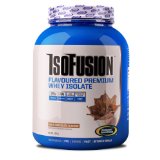 9. Gaspari Nutrition Isofusion
In one scoop of 31 grams of Gaspari Nutrition Isofusion, you get 25 grams of whey protein isolate. It gets easily absorbed in to your body and supports in strength, recovery and gaining lean muscles.This supplement is abundant in BCAAs that stimulate muscle protein synthesis in your body, improving your physical performance and reducing muscle breakdown. Hence, you recover faster post-workout. It is a gluten-free formula and is suitable for people who are allergic to gluten. This gets digested easily, ensuring you get the maximum output.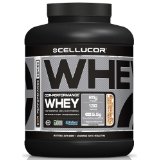 10. Cellucor COR-Performance Whey
Cellucor Super Sport (COR Performance) contains slow digestive whey protein concentrate and fast digestive whey protein isolate that helps build muscle mass at a faster pace.Each serving of 33g has 3g of carbs and 1.5g of total fat that does not allow accumulation of extra fat in your body.