Here we list the Top 5 best whey protein Isolates available in India after in-depth research and feedback from athletes.
If you want to build and maintain lean muscle mass then whey protein isolates is the best option available because they provide quick absorbing protein with very low carb and fat content. Most of these Isolate whey also have good blend of BCAA. Whey protein isolate will be an ideal post workout drink for someone on a low calorie and high protein diet.
First you must understand the difference between whey protein concentrate and whey protein isolate. Whey protein can be found in three main forms: concentrate, isolate and hydrolysate. Both concentrate and isolate consists of whey protein, but whey isolate is superior to whey concentrate. After further processing of whey concentrate we get whey isolate which provide more protein per unit the whey concentrate. Also after the processing the protein is broken down which makes it easier and faster to absorb in the body. Because of these additional processing and high quality whey isolate are more expensive that whey concentrate. choosing which protein you need between whey protein concentrate and whey protein isolate depends on your goals and budgets. Go for whey protein isolate if you are looking for pure and rapidly absorbing whey and are not much concerned about money.
There are lots of factors to be considered when choosing the best whey protein isolate product to meet your protein requirement. Some of the factors are percentage of whey Isolate, source of these whey isolate, quality of the isolate whey, BCAA content, slow digesting protein content, taste and mixability, price etc. We have evaluated all the whey protein isolate available in India on all these factors to find out which is the best one.
A Note of caution
As there are lots of fake supplements floating in the grey market in India, Its very important that you buy your whey protein isolate from genuine source. Fake products can do irrecoverable damage to your body.
We recommend that you buy from trusted and reputed websites like
Amazon.in
and
Snapdeal
only.
So here is our list of top 5 whey protein isolate available in India.
---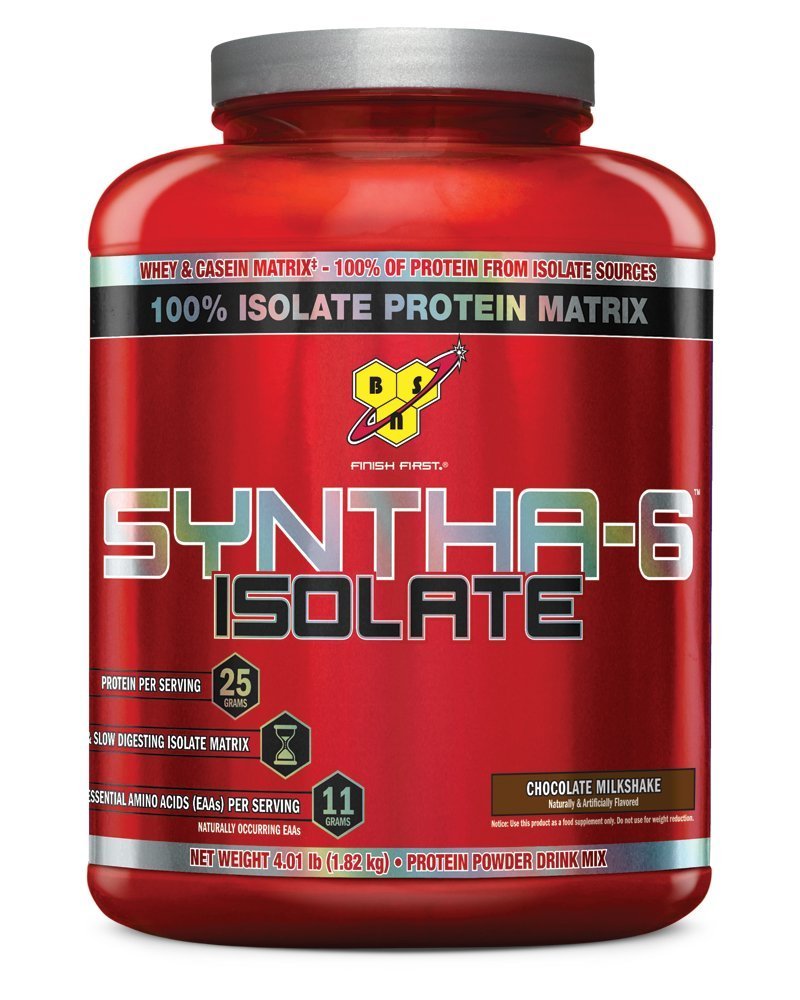 1. BSN Syntha 6 Isolate
BSN Syntha 6 Isolate is a ultra premium protein powder from BSN company. Do not mistake it for the other protein product from BSN which is called BSN Syntha 6,Both of these are different. BSN Syntha 6 is a whey protein, where as the Syntha 6 Isolate is made from 100 % isolate protein sources.Syntha 6 Isolate has half the fat and carb content comared to Syntha 6.
Its a great mixture of milk protein isolates and whey protein isolates. This unique protein matrix gives you a mix of both fast releasing whey protein and slow digesting casein protein which comes from the milk protein isolates. This is the primary reason why this is whey isolate protein is making on the top of our list. Amazingly the taste of the product is also the best as compared to other whey isolates in the list. Also the product is from BSN company which is known for making good product.
The only drawback is that this product has limited stock and we mosly found it out of stock at amazon and snapdeal. If you can get your hands on the product its a good buy specially if your looking for pure whey isoalte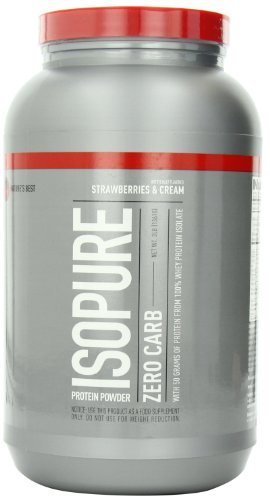 2. Nature's Best Isopure Zero Carb
Nature's Best provides us with quality products and this is just another example of that. Isopure zero carb gives you 50 grams of protein per serving, thats just amazing amount of protein in a serving. The Zero carb Isopure is made up of 100% of whey protein isolate and it makes it 2nd on out list. It also provides you with 10900mg of Branch Chain Amino Acid (BCAA) per serving. Another important factor to look at is that this protein powder is Lactose free which makes it easy on your stomach. It provides you with 4.6g of l-glutamine per serving which is very good for recovery of muscles post workout. Zero carb literally means no carbs at all. The only point that pushes it second on our list is the price factor. All the amaznig things it privides it comes with a cost which you will notice once you compare it to other product. But you get the quality what you par for.
If you have the money, then we recommend you go for the 7.5 lbs tub because its gives you more value for money as compared to 3 lbs bottle.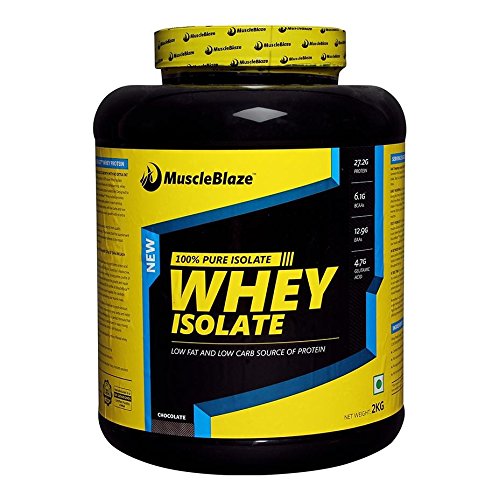 3. MuscleBlaze Whey Isolate
This Whey isolate from MuscleBalze consists of 100% pure isolate whey blend which is micro flitered and fast absorbing. MuscleBlaze provides 27.2 gram of protein per serving. The size of serving is a heaping scoop which is approximetly 33g by weight. The product comes with low carb and low fat which is good when you are low carb diet and looking to load some pure muscle mass. MusleBlaze Whey Isolate also contains 6.1 g of BCAA (like L-Leucine, L-Isoleucine, L-Valine) and 12.9 g of EAA in each of its serving. This makes it a complete amino acid matrix. This balanced BCAA profile of this Whey Isolate protects your muscles against the catabolic effects of dieting or low carb/fat diets thereby helping to maintain your muscle mass.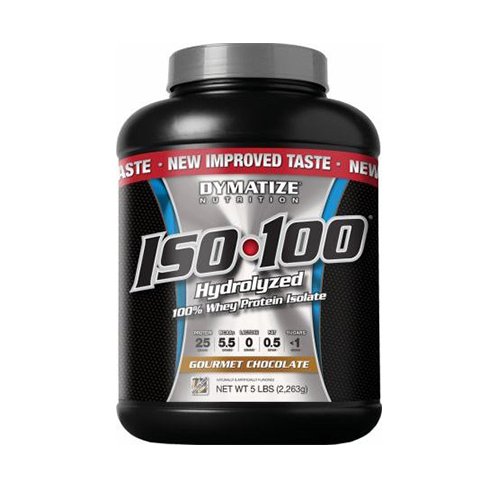 4. Dymatize Nutrition ISO 100 Whey protein Isolate
Dymatize Nutrition provides 100% Whey Protein Isolate hence the name ISO 100 is being given to this product. It provides 24g of protein in one serving which is 1 scoop. This is ultra high quality protein from Dymatize nutrition. Whey Protein Isolate has been highly processed to perfection, 100 percent hydrolyzed and instantized and taken through multiple quality controlled steps. This ISO 100 does not contain any lactose or fat, leaving you with nothing but the most easily digested. It also contains good amount of amino acid and glutamine peptide helping in muscle building and recovery. It does not contain aspartame and mixes very well in water or milk.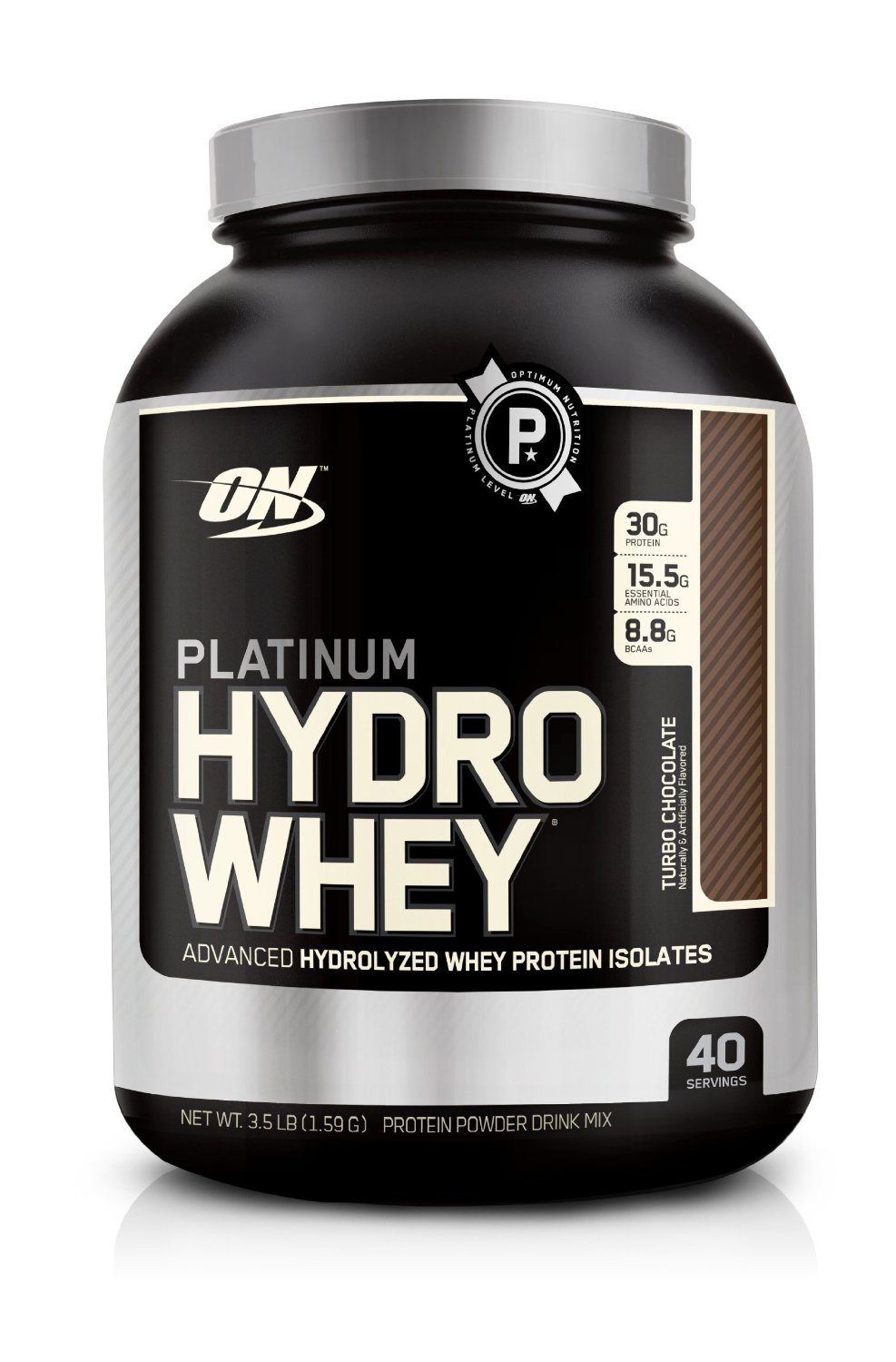 5. ON Platinum HYDRO WHEY
ON claims that Platinum Hydrowhey is the faster, purest and most advanced whey protein ever developeby them. We know that Optimum Nutrition always produces great protein products. Their 100% Gold standard whey and casein protein have been on the top of out list forever. They povide the best quality protein with great taste. However we feel that this particular product, the ON Platinium Hydro Whey, is not what exactly it claims to be. Firstly it says 30g of protein per serving which is quite high compare to 100% gold standard protein which provides 24g of protein per serving. This might make you feel that you are getting more protein from Hydro whey. Well that is not the case , the serving size of 100% Gold Standard is 30g and serving size of Hydro whey is 39 g. This supplements is enchanced with micronized BCAA and ACTITOR peptides.
As a conclusion we are not saying that his is a bad product but its been over priced, looking at the price for which ON sells this and the quality benchmark they have set by their other products, this is below that mark. If you ignore the price then this is a good product with pure whey protein isolate