Hrithik who is now about 40 years old, is once again back with a sculpted physique for his new movie Bang Bang all set to release on 2nd October 2014, with the best glam actress Katrina Kaif showcasing a hot couple in movie teasers.
Satyajit Chaurasia who has been the trainer for Hrithik Roshan's upcoming movie helps us throw some light on his training regime for Bang Bang, let's see how.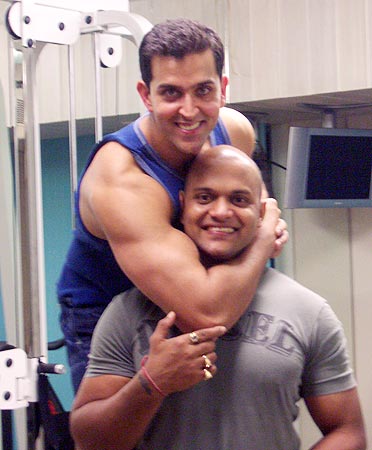 Hrithik in a cozy moment at gym with his long time trainer Satyajit Chaurasia
Satyajit Chaurasaia has been Hirthik's trainer for about 10 years now, when he was introduced to him by actor Zayed Khan, brother of his ex-wife Suzanne Khan. But even before he started training under Satyajit, Hritik had a well sculpted body which he had been working on for about 4 years before he was introduced to Satyajit.

Hrithik's training regime as given by Satyajit in an interview he spoke.
Hrithik is provided with a hardcore body building training with a combination of functional training as well by Satyajit. Hrithik does his workout 2 times a day i.e. Morning and Evening.
Morning: Hrithik works out in the morning for about 1 hour
Morning is for stretches, cardio and about 500 crunches in a single session.
Evening: Hrithik works out in the evening for about 1 to 1½ hours.
Evenings comprise of circuit training with weights, where he focuses on 2 body parts in a single session.
Hrithik Roshan's training routine is as follows: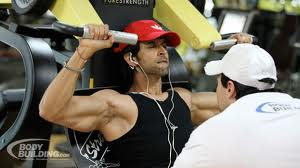 Day 1:This begins with arms, where he alternates between biceps and triceps for 20 sets.
Day 2: This comprises for chest and back which he alternates for about 20 sets
Day 3: This is for shoulders which he does 20 sets of.
Day 4: Consists of legs, 20 sets.
Hrithik's daily exercise routine comprises of stretches, lower back exercises and abs. Before any shoot he likes to work on his lower back and abs 5 days in a week and does 1000 crunches in a single day.
Hrihik Roshan considers his workout as a stress buster which he does solely for himself, whereas rest of the work is all for his fans and audiences. This is one area which he fondly does for his own fitness.

Let's have a closer look at Hrithik Roshan's training secrets for ripped muscles and abs in Bang Bang
Says trainer Satyajit, to prepare Hrithik for any shoot is a process of about 6 months duration, where he first concentrates on building his muscle mass with heavy weights. About 3 months before the shoot, the amount of lifts are reduced and replaced with reps, for an on-screen lean and sharp look that Hrithik is known for.
Before a shooting a body shot, his body is pumped up with about 15 mins of workout for perfect posture and sculpted look.
Now, let's know a bit about Hrithik Roshan's diet or food habits:
Hrithik is a foodie by nature, he loves to indulge in great food while on vacation and loves chocolates. Pizzas, ice creams, sweets are his weakness. But although Hrithik skips his diet once in  a week or while on vacation he does restore the balance by getting back to the workout regime with a proper dedication.
Hrithik hired Marika Johasson as his dietician. Marika made him switch from 3 large meals to about 6 small ones in a day. She helped him with some innovative recipes like protein muffins, and healthy meat balls. Hrithik was quite happy with the food recipes and gladly says there was no sacrifice of taste for health and that he thoroughly enjoyed his healthy meals.
Trainer Samir jaura also worked to train Hrithik for the special effects in his new movie, as told by Samir in an interview he gave, lets see how: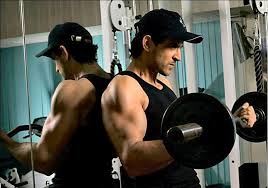 Samir worked on training Hrithik for about 2 months where he used an intense combination of functional training for about 80 minutes to burn about 1000 calories. Besides, he also had to do some outdoor training, cardio and strength training.

Hrithik was back from a head injury, had been eating junk food and had been smoking a lot, he was out of shape for about 2 months, when he was introduced to Samir. He promised to give Hrithik a flexible body and an athletic look for special effects in his upcoming movie

Hrithik Roshan is popularly known for his chiselled look and fantastic muscles in all his movies to start with his debut movie 'Kaho Na Pyaar Hai' where he made a charming first impression with his ripped look.