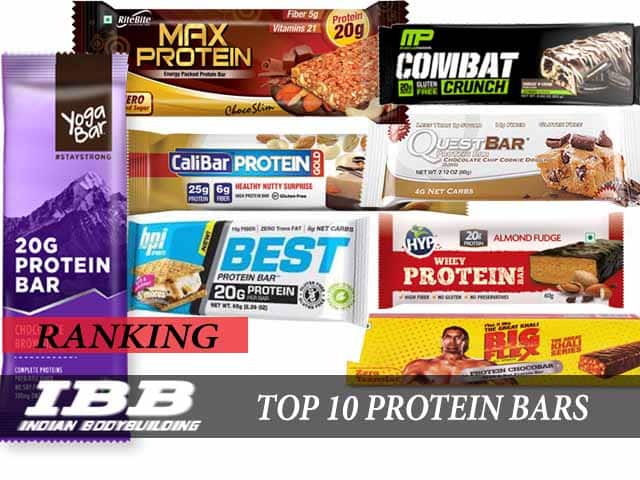 We are listing the top 10 protein bars in India which will help you buy the best product as per your requirements. Protein bars are convenient and healthy snack bars meant to help you meet your protein requirements along with other micronutrients. As with any other food supplement, your first preference should be homemade fresh and nutritious food, however when this option becomes difficult or inconvenient, it is wise to go for a protein bar that contains optimum nutrition to meet your requirements.
In India, the health food industry has a immense scope for development, as compared to some other western counterparts like U.S.A. where this is a booming industry flooded with many competing brands. Today, in India, many young manufacturer's are coming forward with innovative health foods that can closely match the nutrition available in natural foods and ensure optimum health benefits.
So here is the final list of Top 10 protein bars in india for 2018. This is a dynamic listing and the ranking will change as and when the review of the products changes. You can click on the links to read the individual review of these products.
What are protein bars?
Protein bars are snack bars containing protein derived from sources like Whey, Soy, lentils etc. with some amount of carbohydrates and added fibre to keep you full for a longer period of time. These protein bars help you keep a track of the amount of nutrition you consume during travel or erratic and hectic schedules. These bars come handy as a convenient source of nutrition to avoid those untimely hunger pangs or even replace an entire meal.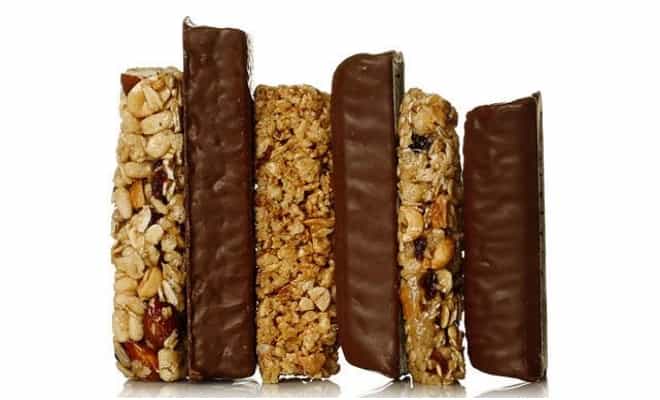 You can conveniently much on these bars while you are on the go and want to keep yourself full for a certain span of time. These bars come handy when you want something that is healthy yet easily available instead of reaching out for junk food. They do help you meet your protein needs, depending upon the amount of protein content in a serving of each bar. Since different brands have different caloric and nutritional contents it is essential that one selects a bar that suits his diet plan or fitness goals. From gluten free bars to sugar free ones there is a wide range of bars available today to cater to varied consumer needs
Types of protein bars
Some of the common types of protein bars widely available in India are:
Protein bars designed to meet your protein requirements
These are the most common type of protein bars, which are not meant to refuel you with enough calories to replace a meal, but to avoid the in-between hunger pangs. Depending upon the quantity consumed, a single bar can easily keep you full for a period of  approximately 1-2 hours. However, these bars do not contain enough carbs or calories to keep you satiated as good as a whole-some meal can. Hence, these bars are meant to replace your snacks rather than replace an entire meal.
Meal Replacement Protein Bars
These bars can be used to replace your meals. Due to erratic work schedules when it becomes difficult to take your time out or sit down for a wholesome meal, these bars come to your rescue. Although they closely resemble the nutritional content available from a meal, they still cannot match the nutrition available from a freshly cooked home-made meal. These bars contain enough protein, carbohydrates and calories to keep you full for as long as 4 hours. Although the content of protein, carbs , fats, sugar and calories differ for different brands, most of them do a good job in keeping you full for a long period of time. However, it is important to choose a bar that does not just add empty calories or fats to keep you full, but meet your protein and other nutritional needs in an optimum manner.
Pre-workout protein bars
This is a relatively new category of protein bars, not many bars in this category are available in India. These bars are meant to provide you with enough energy, quickly absorbing simple carbs and some good protein to effectively fuel a moderate to intense workout. Some of the bars in this category, also promise to provide you with that extra zest for an intense workout and nutrition to prevent muscle injury and fatigue. To trust such claims from manufacturers is a choice one can make by being aware about the nutritional content and ingredients used before choosing a brand.
Recovery Protein bar
Recovery protein bars are a convenient way to consume the much needed protein and carbs after a workout session. These bars are formulated to boost or speed up muscle recovery or repair. These bars may contain whey protein in combination with some other vitamins to boost the process of refuelling and provide you with instant source of energy needed post a workout session. Although these bars provide you with optimum protein and carbs, type of protein, carbs and other nutritional content may vary with the brand.
Difference between a protein powder shake and a protein bar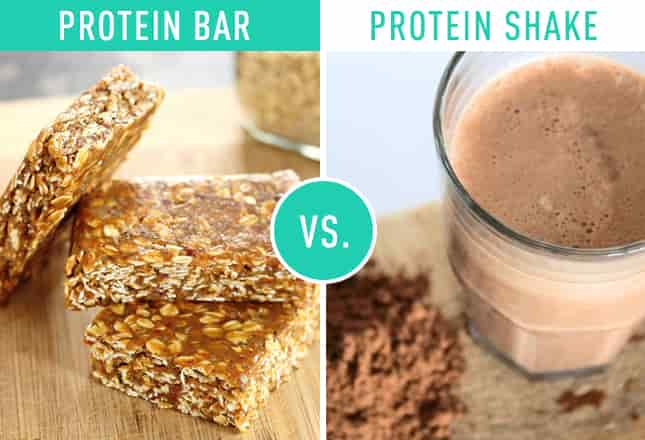 Both, protein bars as well as protein shakes are quite effective depending upon actual protein content which varies with each product/ brand. Generally shakes offer more protein content than bars. Bars help you not just meet your protein needs but also tackle those hunger pangs while keeping a track of your calorie intake. Although, protein content may be similar, protein bars are usually high in calories as compared to Protein shakes. Protein bars can also be used to replace a meal, which is not the case with protein powder shakes which are quite low in calories as compared to protein bars.
Which one would be an ideal choice  whether a protein bar or a protein powder shake and under what circumstances?
If you are looking for a balanced meal, protein bars are a good option. Due to the content of carbohydrates, protein bars are ideal to be consumed post workout which helps with speeding up muscle recovery. Your body needs a re-fuel of protein along with some good amount of carbohydrates to enhance the muscle recovery process. Although, there are protein powders which provide you with complete nutrition, protein bars come handy as snacks or meals that can help you keep full with their content of dietary fibre and carbs.
For those who are on a restricted calorie or carbs diet, or those who want to gain lean muscle mass protein powder is the best option to go for. This is mainly due to the fat content, since protein powders contain less than 2g of fat per serving. Fats also help with muscle development, so avoiding fat completely is not recommended. You can hence stick to a balanced meal at home along with a protein shake to meet your fitness goals.
Protein bars are all about convenience, they can be consumed in place of snacks or even meals when having homemade food is not a very convenient option. When travelling, although you can store your protein drink in a shaker, it is quite inconvenient to maintain its freshness and that is where protein bars can come to your rescue.
Hence depending upon your lifestyle and fitness goals, choosing among various protein products is a choice an individual has to make. Alternating between various protein products to see what works  for you does not seem to be a bad idea though.
When and how to consume a protein bar?
When and how to consume a protein bar largely depends upon your personal needs. To sum it up however, convenience is the main goal when you prefer a protein bar to a home-cooked meal. Due to erratic schedules it might be difficult to have a wholesome meal or healthy snacks and that is where protein bars can be consumed to ensure you keep your intake of protein, carbs and fats under control.Depending upon your needs you can consume a bar as an in-between meals snack and consume it in 2-3 portions or consume it in a single serving when your aim is replace a meal.
Protein bars can be consumed pre-workout or post workout depending upon your requirements and hence the type of protein bar you choose. There are pre-workout bars which are high on protein, energy and simple carbs to fuel a moderate to intensive workout. If you wish to consume a bar post workout, make sure that it contains good amount of carbohydrates , the protein to carbs ratio can be around 1:1 with some amount of good fats for slow release of carbs and hence overall speedy muscle recovery.
Can you replace your meal with a protein bar? what is the right quantity and how frequently you can have it?
On a general note, it is important to understand your health requirements before you consume a bar. Replacing a meal regularly with a bar of protein is not a good idea, since a protein bar cannot match up to the level of nutrition that a freshly cooked homemade meal can provide. Quantity of the bar to be consumed depends upon your specific caloric requirements. However, even when consuming a bar that suits your requirements perfectly, moderation is an important element to consider when it comes to determining the right quantity.
When having it as a snack, a low calorie bar or a bar with sufficient calories, divided into 2-3 portions is recommended. Whereas, if you cannot have a wholesome meal due to inevitable reasons, you may have a bar with a protein to carbs ratio of 2:1 in a single serving.
Side effects of a protein bar
No protein bars will come up with warnings or side-effects about the ingredients used. It is hence important to be sure that the bar you consume does not contain substances which can cause a detrimental effect on your health in the long run. You may check out the list of ingredients mentioned on the packaging of the bar.
It is important to take a look at the kind of artificial sweeteners or sugar alcohols used. Usually plant based extracts like Stevia are artificial sweeteners with zero calories and do not affect the level of blood sugar. Such sugar substitutes usually do not cause any side effects. However,  there are sugar alcohols like Sorbitol or Maltitol that are known to cause some side effects like  digestive distress or can even spike the level of your blood sugar.
You may also want to check the type of fat ingredient used. Hydrogenated Vegetable oils contain trans and saturated fatty acids, which can adversely affect your cardiovascular health.
For those sensitive to gluten, always go for a bar that is gluten free.. Diabetics can choose a bar that is free of sugar or any artificial sweeteners that can potentially increase your blood sugar levels.
How to choose the right protein bar?
With a maddening range and variety of protein products and protein bars available today, it is very essential that we align our individual requirements with what a protein bar has to offer and then make a choice. With several protein bar brands promising more or less the same value, it is imperative to understand which is the best one as per your fitness goals.
We have come up with the a list of essential factors to help you choose the right protein bar to meet your specific fitness goals:
1
.
Overall calorie count:
Although they come up in delicious flavours with a claim of whopping 20-22 g of protein per serving, and claim to be sugar free, what matter finally is the amount of total calories in each bar. Yes, you read it right, calories is the first and most important determinant to whether or not you should go for particular bar. It is all the more important for those who want to build lean muscles and on a weight loss plan. You may want to compare the protein to calorie, protein to carbs ratio and fat percentages when going for a brand of protein bar when most of them offer the same amount of protein. It is important to note that the calorie and fat percentages are highly variable across the different types of protein bars available.
2. Type of ingredients used
First and foremost, it is important to understand what is the source of protein used whether it is whey protein or soy protein, since the quality of protein makes a huge difference when it comes to the actual nutritional value of the product. For example: Whey is highly soluble and helps in speedy recovery of muscles as compared to Soy Protein.
Next, look out for the other ingredients used like added sugar, fats. It is important to check if the bar contains sugar or sugar substitutes. If the list indicates no sugar added, it implies that they have used sugar substitutes to make it palatable. It is hence important to look out for the type of sugar substitutes used. Artificial sweeteners with zero calories are the preferred choice of most of the manufacturers, however what kind of artificial sweeteners are used and in what percentage, do they have any potential side effects is what you need to check, some artificial sweeteners in high amounts can cause laxative effects, others may contain sugar alcohols which may be harmful depending upon the type of sugar alcohol used. For example sugar alcohols like Sorbitol can cause some digestive distress whereas, Maltitol can cause a spike in the level of blood sugar, hence not recommended to diabetics. Some manufacturers prefer plant extracts to replace sugar which is the best alternative since they contains zero calories  and cause no side effects at all.
Fat composition is also an important constituent to check for, you may want to check what are the ingredients used as fats and in what percentages. Hydrogenated vegetable oils which add to the shelf life of the products are solid at room temperature and hence form a non-oily base that gives a good texture. However these fats contain trans and saturated fats which can have adverse cardiovascular effects and add on to unnecessary weight gain.
3. Your fitness goals or purpose of consumption
Not all protein bars are made to serve everyone alike. Some bars are designed to meet lean muscle mass goals whereas others are  essentially designed to meet your caloric needs along with an adequate content of protein. Some bars are designed to be consumed as a pre-workout meal whereas others are meant to serve as recovery bars post workout.
Before selecting a bar to meet your fitness goals or purpose, ask the following questions:
a) What is your fitness goal, whether you want to achieve lean muscle mass and hence targeting weight loss or do you want to gain weight?
There are bars that are designed to add the least amount of calories and are high on protein and fibre. Because protein and fibre gives you a feeling of fullness and satiety, these bars help in curbing hunger pangs effectively while keeping you low on  fats carbs and hence overall calories. These bars are specifically designed to meet needs of individuals with restricted carbs diet or those who want to simply stay fit. These bars help you meet your protein needs adequately while avoiding unintended weight gain.
On the other hand, there are bars which try to meet the nutritional value from a wholesome balanced meal. These bars are meant for those who want to gain some healthy weight. These bars contain adequate amounts of protein with a fair amount of carbohydrates and hence can help you meet your specific caloric requirements.
b) Purpose of consumption
Depending upon your purpose of consumption, whether you want to use the bar as a convenient option to replace an entire meal while on the go or want to avoid those in-between hunger pangs, you may choose a bar that suits your requirements accordingly.
Bar that are meant to satiate unwanted hunger pangs are generally low on carbs and high on protein and/ fibre. However, bars that are meant to replace your meal are supposed to be high on carbohydrates, fibre and hence overall calories to in order to meet your nutritional requirements from a wholesome meal. You may also consume the same bar in 2 or more portions as in-between meal snacks and 1 full serving of a bar when consumed to replace a meal
Some bars are designed to meet your pre-workout needs like protein and energy to boost your workout performance, whereas others are intended to be consumed post workout, called as recovery bars. You need sufficient carbs for speeding up the process of muscle recovery after a moderate to intense workout. That's when you can go for a recovery bar high in carbs but low on fat. You can therefore, check the carbohydrate and fat content of a bar before going for one, depending upon whether you intend to consume it pre or post workout.
With defined and clear goals, you are rightly armed to make a smart choice when it comes to choosing the right bar as per your specific fitness requirements.
4. Quality of the protein bar or brand value:
With the market being flooded with a wide range of similar protein bars that promise big, it is important to do a proper online research regarding the brand of the product, you may check out the official website and authentic consumer reviews if available, before going for a brand of protein bar.
It is imperative that the manufacturer clearly indicates the entire list of  ingredients gone into the making of the bar, this can be easily obtained from the outer packaging of the product or from the brand's official website. Once you have an access to the list of ingredients, it help to be rest assured that the product is safe and free from any harmful or banned substances.
These days manufacturers are coming up with protein bars that closely resemble the nutritional content from natural foods by using natural ingredients. These bars are also free of preservatives to a great extent. The shelf life of a protein bar is a great indicator of the preservatives used. The lesser the shelf life the lesser are the preservatives used. Normally, a protein bar with a shelf life of 3 months or less can be assumed to be free of preservatives.
You may want to be sure that are no potential side-effects of a bar, authentic consumer reviews available online can hence come to your rescue before you make a purchase.
5. Price or value for money
A protein bar would cost anywhere from INR 50 to  INR 150, depending upon the country of manufacture, nutritional content etc. Generally Indian protein bars are better priced for the same value as available from international brands. However, before making a choice it is important to make a comparison between the nutritional value and price of a bar.
You may also want to check out different brands offering same nutritional value for the price.
So depending upon your specific nutritional requirements go for a bar that gives out sufficient value for your money.
6. Other specific needs
Most of the protein bars now-a-days if not all, are made gluten free. If you are sensitive or allergic to gluten, you should go for one of these bars. Gluten free bars are rich in fibre and are a healthy option for all irrespective of whether or not you are sensitive to gluten. Generally there are no side effects like bloating or uneasiness on consumption of these bars.
For those who are diabetics, should go for a protein bar that does not contain added sugar or artificial sweeteners that spike the level of sugar in blood. There are artificial sweeteners better known as sugar alcohols like Sorbitol that contain zero calories and hence do not spike the blood sugar, although it can cause some digestive distress like bloating, gas, uneasiness for some people. Whereas, Maltitol can cause some spike in the blood sugar level. There are other natural substitutes that are plant and fruit extracts like Stevia or Xylitol, that do not affect the blood sugar levels and contain zero calories with no side-effects.
Hence it is important to have a proper look at the list of ingredients that have gone into the making of a protein bar before you make your choice. This is all the more important for those with gluten sensitivity, diabetics or under a carb control diet.
Conclusion
Typically, a protein bar high on protein and less on carbs with a ratio of almost 2:1 with a good amount of dietary fibres and zero to minimum trans and saturated fats should be your ideal bar.  A higher protein to carbs ratio something like 1:1, would be required after a moderate to intensive workout session. Some healthy fats are required for slow release of carbs. Minimum preservatives and free from harmful or banned substances is an inevitable factor for an ideal protein bar.
So it helps to be first clear about your fitness goals and purpose of consumption before you make an informed choice.
Factors we have used in our evaluation of Top 10 protein bars:
As a part of our evaluation process, we have taken feedback from many athletes who regularly consume the protein bars ranked in our list of Top 10 Protein bars in India.
Taste: Since you may have protein bars frequently this is an important criteria for regular consumption. Something that tastes good helps largely to avoid those in between hunger pangs while adequately meeting protein requirements. The more the number of flavours a bar comes up with, the better it is, since that gives you enough room for making a choice of a flavour that suits your taste buds.
Effectiveness: This is an important criteria used in our evaluation. Since most of the bars come up with more or less  the same type of nutrition. Protein content in bar as compared to the percentage of carbs, fats, calories and even sugar in each serving of bar, determines how effective it is in adequately meeting your protein requirements while adding minimum carbs or calories to your diet. Whether the bar is meant to boost your workout performance or speed up the recovery process post an intense workout, only the type and quantity of nutritional content can determine the effectiveness of the claims made by the manufacturer.
Quality: When a manufacturer claims 20-22g of protein , it is important to understand the sources used for deriving this protein. Whether it is soy protein or whey protein, since whey protein is highly preferred over soy protein by most of the athletes, owing to its highly soluble nature which speeds up muscle recovery post workout. Also the type of fat content is important. Zero trans or saturated fat is the ideal fat composition, however, there are fats like hydrogenated vegetable oils which are high in trans and saturated fatty acids. The quality of nutritional sources or ingredients used is an important criteria for evaluating the overall quality of the bar.
Side-effects: Some bars may contain sugar substitutes that cause side effects like digestive distress, fatigue, uneasiness or even spike up the level of your blood sugar.A bar high in saturated and trans fatty acids can cause adverse effects to cardiovascular health. It is hence important to evaluate whether a bar is free from harmful substances like sugar alcohols, contains good fats and is minimum on preservatives for good health in the long term.
Price/Value for money: With a number of brands coming up these days, with protein bars that give more or less the same amount of nutrition. Depending upon your specific requirements, whether a particular bar is affordable in the long run for regular consumption is an important criteria to look for. When a brand is steeply priced, it is important to compare other brands with similar content of nutrition like protein, carbs and calories to determine whether the protein bar provides any real value for your money.
We hope that this list of top protein bars in India will help you make a informed decision. If you have any questions then please share it in the comments section below.