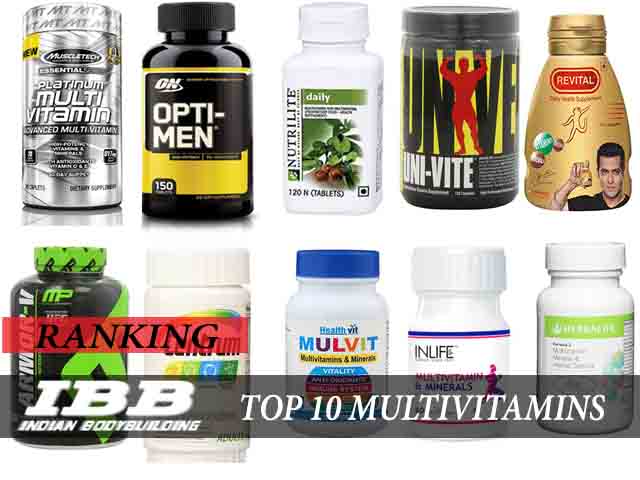 Deciding which multivitamin supplements to buy is a tough decision because Indian market is flooded with lots of supplements in this category too. There are new company coming up almost every month and all of these companies are having Multivitamins in their product portfolio. Some companies with big pockets are sponsoring big athletes to endorse their supplements. However you should never buy any supplements just because a popular athlete is promoting it. You need to understand that they are promoting it just because they are paid to do so without knowing whats in the supplements. They themselves may not be using these supplements but rather show that they are. Well we cannot blame them, this is how the endorsement industry works. But you have to be smart enough to study the product, check its ingredients, check its review from independent sources before buying multi vitamins supplements. Well to help you in making a decision, we have listed below the top 10 multivitamins supplements for men and women that are available in India. Most of the product listed below also have a separate product for women.
So Do you really need a multivitamin supplement ?
Well before you go ahead and read about all the top products listed below, you need to understand what are multivitamins and do you really need them? Some people may argue that if you have a balanced diet then you can meet all you nutrient and multivitamins requirements from the food and there is no need to get it from supplements. Well they are true, its always good to get all your nutrient requirements from natural food. But there may be case when you are not able to get all the multivitamins from your daily diet. In this case it is good to use multivitamin supplements. Multivitamins increase efficiency in your body for all the vital functions. Multivitamins are good for everyone because they cover many different functions. Bodybuilders, People losing Weight, Sports athletes, and even the average person can benefit from good multivitamin supplement.
Some people have the misconception that only people who have been diagnosed with deficiency of a vitamin should use the supplements. However this is not true, Multivitamins supplements also aid in overall good health which eventually helps in building muscle.
Lets move on to the list of multivitamins products that we have reviewed based on
The ingredients:  The ingredients is the first thing that you should check in the supplement.  How many vitamins and minerals are available in the product
Concentration on nutrients: The product should have the right mix of nutrients and in the right proportion. Any excess will not be absorbed by the body and any shortage will not serve your purpose.
Price of the supplements Price plays a vital role because multivitamins are to be taken regularly and we usually stack it with other products such as whey protein or fat burner based on your goal. So we have to choose a product with best quality as well as value for money.
User Reviews: The feedback and reviews of the people who are using the product is very important to understand how effective it is. ( This does not mean you should blindly trust all the review on the marketplace)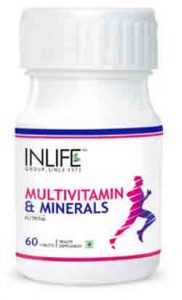 Coming in at No 10 on the list is Inlife Multivitamins& Minerals. It is a safe and effective combination of essential vitamins and minerals to stay fit and healthy. The product is formulated with 12 vitamins and other nutrients. People who are not able to consume an adequate amount of nutrients from their daily diet need to fulfill their requirement through multivitamins and minerals for which this product is a perfect fit. These tablets contains biotin and vitamin D3, the two important vitamins that are essential for retaining bone density, body immunity and calcium absorption.It is advised to take 1 tablet after your meal.
This is a very high quality product and perfectly fits the requirement of an individual. However, if you are fitness athlete or bodybuilder then you should consider the other options listed below.
---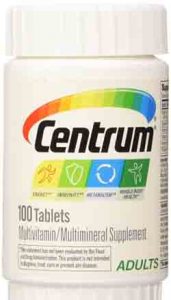 Centrum is a Multivitamin/Multimineral Supplement that will help you meet your daily vitamins and minerals requirements. It provides a complete range from A to zinc (Refers to all nutrients with an RDI). These vitamins and minerals support a varity of functions including
Healthy Immune System: vitamin C, vitamin E, vitamin A, selenium
Conversion of Food Into Energy: B vitamins;
Healthy Heart: vitamin B6, vitamin B12, folic acid.
If you are athlete than you may be left wanting for more in this product. It is a excellent product for normal people who are not into extreme fitness sports.
---
8
Herbalife Formula 2 Multivitamins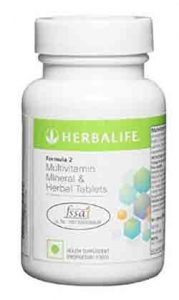 Herbalife provides a unique blend of 23 essential vitamins, minerals & herbs that are vital to the well being of your body. The product will provide all the daily vitamins and minerals requirements of the users. It also provides essential minerals and antioxidants to the body for everyday good health and vitality. It helps improve your immune system. One tablet of Formula 2 should be consumed three times a day along with your meals. For better absorption it is also advisable to take 2 to 3 multivitamin mineral pills instead of a single pill daily and to take the pills with meals.
Additionally it includes the antioxidant vitamins C, E and beta carotene, plus B-vitamins.
Please be cautions while buying this supplement and ensure that you buy only from genuine buyers. Some users have received fake or duplicate products. As an example please see the image below, the small one on the right side is the original supplement. However the one on the left is a duplicate on. Even the colour of the tablets are different.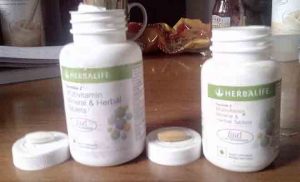 ---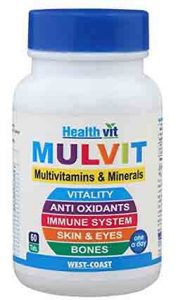 Healthvit Mulvit tablets are a blend of essential vitamins and minerals. They come in a pact for 60 tablets. The recommended dosage is 1 tablet per day. If you are an athlete then you can have 2 tablets in a day due to increases requirements. It is high cost effective and comes at a price of around 320 INR for 60 tablets. HealthVit also provides separate products for womens and children.
One common complain we received from users taking the tablets is the bad odour. The full bottle starts to smell even when you keep it closed.
---
6
6) Muscle Pharm Armour V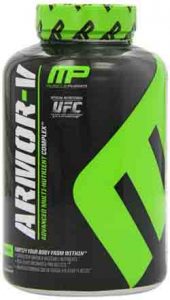 Armor-V from Muscle Pharm is one of the most comprehensive multi-nutrient complex available. It's unique blend of organics, herbals and natural ingredients were specifically formulated to feed your body with everything nature intended and then some. The product is loaded with pure vegetable and fruit derivatives, rich in antioxidants and system optimizers establishing the foundation for strength and performance athletes and bodybuilders.
With a powerful B vitamin complex for energy and complete immune support blend, Muscle Pharm Armor-V has everything which you will need to train hard while staying healthy.
---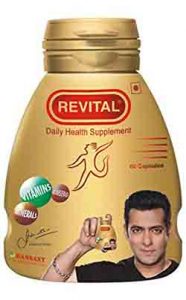 Revital is multivitamins supplement from Ranbaxy, it provides you with a perfect blend with a combination of 11 vitamins, 9 minerals and ginseng.  The recommended dosage is 1 -2  capsule per day after your meal. Its will meet all you vitamins and minerals requirements for the day in this dosage. There are some good benefits of the prodcut which users have observed like improved stamina, active body all day long, improves immunity and fight stress, anxiety. This product is targeted towards all people. There is a separate product for women as well called Revital H for women. The products has been well advertised with big names like Salman Khan, Yuvraj Singh and MS Dhoni endorsing it. That is the reason for its popularity.
---
4
Universal Nutrition Uni Vita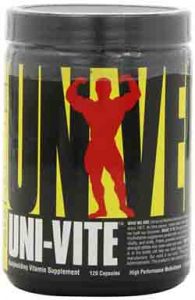 Universal Nutrition Uni Vita is a complete and comprehensive multivitamin supplement which is packed with over 50 potent ingredients. These ingredients are vital for ensuring optimal performance, strength, vitality and virility. This product is designed specifically for elite strength athletes who need and expect more. Its not targeted towards normal users. It helps you improve recovery time and optimise muscle strength and growth. It has be specially prepared for hard-training bodybuilders and athletes.
---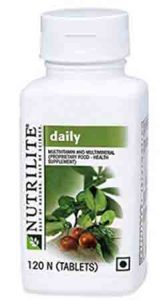 This product from Amway is not specifically targeted towards athletes but rather towards general people. Still it makes a very good multivitamins and minerals supplements for fitness professionals. It provides 13 essential vitamins and 11 minerals along with special product Concentrates like the organically grown Acerola cherry, parsley, spinach, watercress, alfalfa and carrot.
Amway Nutrilite Daily provide broad nutritional coverage and balance of nutrients. It contains organically grown exclusive NUTRILITE plant concentrate which provie additional advantage of phytonutrients. Top top it all the product comes with a exclusive NUTRILOCK coating which makes it easier to swallow the tablets. Also the product does not contain any artificial flavours, colours or preservatives.
---
2
Optimum nutrition Opti-Men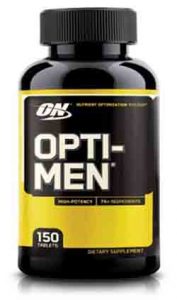 Optimum Nutrition's Opti-Men ( and Opti-Women for Women) is a complete Nutrient Optimisation System. The product gives you a total of 75+ active ingredients in 5 blends which are specifically designed by experts to meet all the vitamins and minerals requirements of the individual. The tablets are designed such that they are easy to swallow, (Swallowing of multivitamins tablets had been a issues in the past because of its size the frequency at which they need to be taken)
The 5 blends that the product claims are :
1 Amino-Blend : Provides you with vital free-form amino acids which are the building blocks of muscle growth.
2 Viri-Blend : Provides with Exotic botanicals and marine concentrates which are designed to enhance your male/female edge
3 Phyto-Blend: This blend provides you with antioxidant-rich fruit vegetable concentrates that helps you in combating free radicals.
4 Enzy-Blend Enzymes for enhanced nutrient digestion absorption.
5 Opti-Blend comprehensive nutritional coverage with 25 vitamins essential minerals with an emphasis on antioxidant and B-vitamins.
Looking at the nutrition profile this product provides, its a great value for money and comes in close second in our list of best multivitamins.
---
1
Muscle Tech Platinum Multi Vitamin Supplement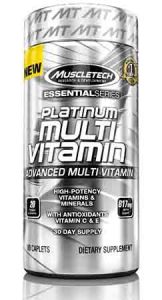 The best available multivitamin in indian market currently is from Muscle Tech called thePlatinum Multi Vitamin. It provides high potency vitamins and minerals. The product also has  gives a Amino support matrix, which consists of glycine, L-citrulline malate, L-arginine HCI, and more  which aids in you muscle recovery. People using this product has given good feedback.
A pack of this product provides 20 vitamins and minerals including  antioxidants, Vitamins C and Vitamin E. It comes in the form of tablets and a pack (of 90 tablets ) will last for a month. The recommended dosage is 3 tablets in a day.
It should be noted that these tablets are not vegetarian.
---
We hope this article has helped you to make a informed decision while choosing the best multivitamins and minerals supplements in india.