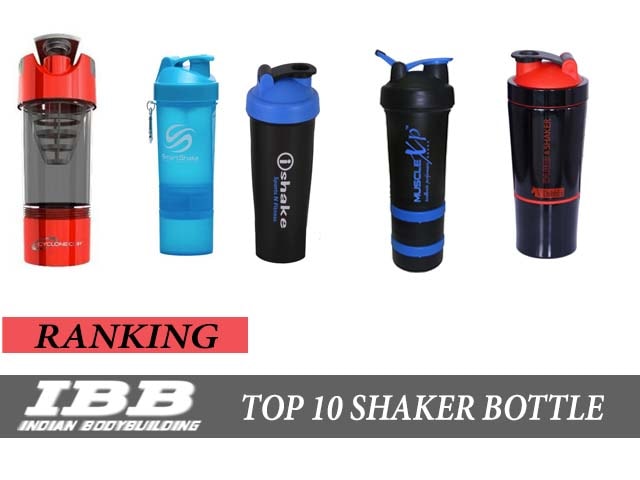 Top 10 Best Protein Shaker Bottles in India
Your dream to have an admirable physique and a muscular body cannot see broad daylight without a gym, a well-informed instructor and a balanced diet. Wait, are we forgetting something? Yes, protein supplements. Every person related to the fitness world would know how important it is to have a proper protein supplement before and after your workout. However, most of us face an issue in carrying our pre and post workout shakes to the gym. We go through the hassle of carrying the protein supplement, creatinine, DHA etc. in separate pouches, as powders, so that we can make our drink at the gym as and when required. However, mixing them up evenly at the gym at the last hour is always a bother and at times messy. Some of us carry ready-to-drink shakes to the gym in cool sippers however, let's accept it, we waste more than what we actually drink. Our sippers might be cool but definitely not leak proof. We have, therefore, shortlisted a list of Top 10 Protein Shaker Bottles that cater to your workout requirements in more than just one way. These bottles are trendy, innovative, sturdy, leak proof, and definitely, add a streak of style to your workout routines.
What makes an ideal Protein Shaker Bottle?
You must be thinking why you should think so much before buying a bottle. Well, if it would have been just an ordinary water bottle, we would have given you all the liberty but this is a Protein Shaker Bottle.  There are a few things that you should keep in mind before picking your gym buddy.
Bottle size: Your Protein Shaker should not be too small or too large. Pick up a bottle that suits your requirement. The most commonly available size is 500 ml which makes the shaker easy to hold, shake and even carry around. With a 500 ml size, it is less likely that you will have any leftover.
Material: Now, 95% of the protein shakers are made up of plastic as it gives the much-required transparency, light weightiness and cost effectiveness to the entire product. Having said that, the biggest drawback with plastic is BPA – Bisphenol A which is used in plastics to make it BPA acts like a mild estrogen and thus, is capable of showing hormonal effects within the body. It is, therefore, advisable to choose a material that uses BPA-free plastic. You have metal shakers as well, but they would obviously be comparatively heavier and costlier.
Blenders: The main purpose of a Protein Shake Bottle is to ensure that it blends together the supplement powder with the liquid. There should not be any clumps in the drink. Hence, while buying a shaker ensure it has a mechanism to ensure efficient mixing. Go for a design that includes whiskers, metal discs or balls or any other object to promote mixing.
Compartments: This is an optional but a very desirable feature. Having compartment in the bottle allows you to carry multiple supplements and tablets together in the same bottle. This lessens your load of carrying different pouches or boxes for each requirement.
Price: Last but not the least, pricing plays a very important role while buying anything. In most cases, Protein Shake Bottles coming from renowned brands are often very expensive which is often taken a symbol of their "superior quality". However, being in India, you definitely get a lot of products with similar features and most of them are pretty economical as compared to global brands.
These are the broad criteria for choosing a protein shake bottle. Based on these, we have shortlisted these 10 bottles. Scroll down and pick your ideal Protein Shake Bottle now.
1)   Smartshake Shaker Cup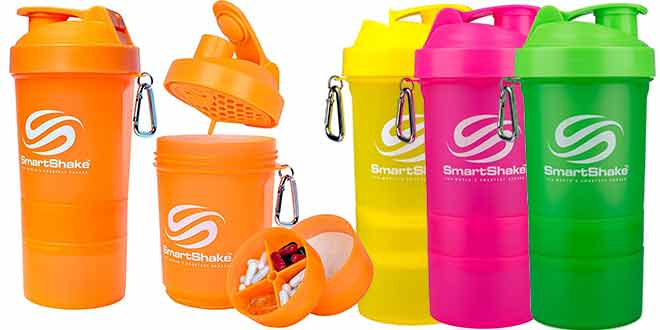 Price (as on September 2016) Around Rs. 600
Smartshake is a European based company that operates from Sweden. The company has an international presence and is widely known and acclaimed for its sports and fitness accessories. This shaker cup, with its trendy design and vibrant colors, is one of their leading products and has a wide audience.
The Smartshake Shaker Cup has three compartments that make it a must for gym goers.
Compartment 1: It has a volume of almost 600 ml and is meant to hold the liquid be it water or milk. This is the area where the actual mixing of the powdered supplement with the liquid takes place.
Compartment 2: This is called as the Organizer. It is a 4 boxed-compartment that is meant to hold your tablets, pills, or dry fruits, money, house or car keys – anything you feel like.
Compartment 3: The last area of the bottle which is designed to hold your supplement powder.
Strainer: This is an innovative Snap-On Strainer that has been patented by Smartshake. This can be fitted to the top of the main compartment before mixing the powder. The strainer allows a thorough mixing of the powder and also helps in getting rid of any lump in the mixture.
Lid: The lid, with the opening flap, is a solid fit and completely leak free that makes mixing and shaking spill free and fun.
Each section can be separated freely. The bottle has been made using fine grades of BPA Free Plastic and hence is safe. It is dish wash safe, can be microwaved or refrigerated. The bottle is available in vibrant colors that add to your style quotient.
2)   Cyclone Cup Shaker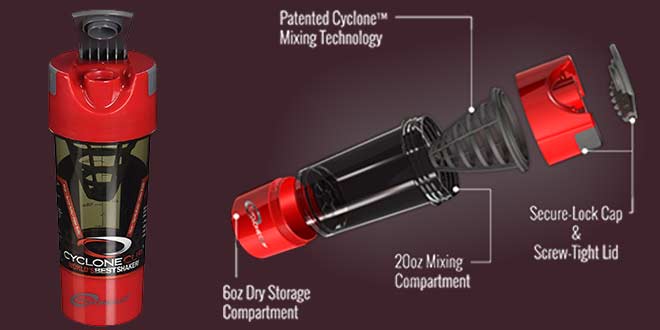 Price (as on September 2016) Around Rs. 820
Cyclone Cup is another leading international brand that has a global presence. It is based in Germany but sells its products in all the major countries. This product too is high on style, efficiency, durability and yet easy on the pocket.
The Cyclone Cup has two compartments that allow easy storage and mixing of the supplement:
Compartment 1: This is the mixing compartment having a capacity of around 500 ml. It is transparent so that you know whether the powder has been mixed thoroughly or not.
Compartment 2: This is a separable compartment that is meant to store your powdered supplement. It has a capacity of around 170 ml and is meant for dry storage.
Cyclone Mixer: This is an innovative piece of this bottle that has also been patented by Cyclone Cup. The Cyclone Mixing Technology (called due to its tornado type shape) is a special equipment that sits on top of the mixing compartment. The special shape allows efficient mixing of the powder and breaks down every possible lump to give you a smooth shake every time.
Lid: The secure cap and the screw tight lid give you a leak-proof bottle that can be taken around anytime
The bottle has been made using 100 percent BPA Free material that is also recyclable. It is non-toxic and hence, a good carrier for your health supplements.
3) I Shake Shaker Bottle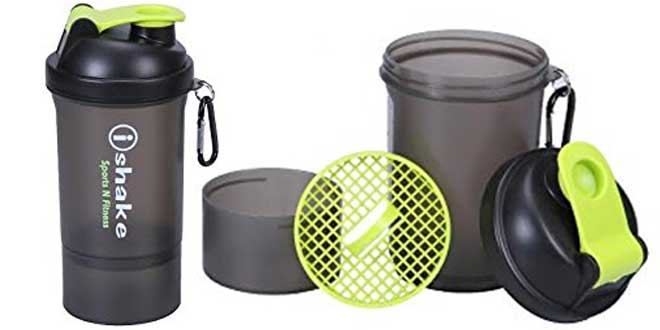 Price (as on September 2016) Around Rs. 300
Amidst the international brands, this one is of the Indian origin. I Shake is a trusted and a leading seller of gym bags and protein shake bottles in the nation and already enjoys a great share in the market due to its quality and cost effectiveness.
The I Shake Shaker Bottle has two compartments to facilitate easy storage and spill-free transportation.
Compartment 1: It is the main mixing chamber with a capacity of 500 ml. It is semi-transparent and gives you a sufficient view of the shake being mixed inside. Every bottle has a motivating message printed on it in catchy fonts to inspire you to give you best at the gym.
Compartment 2: This is the lowermost compartment meant for dry storage. You can keep the calculated dose of your protein shake here or any other supplement that you need to have.
Meshed Strainer: This is a separable grid-like structure that sits at the top of the mixing compartment. The grid-like structure makes sure that even the toughest of the lumps are broken down during mixing.
Lid: The screw lid is solid tight and leak proof, not allowing even a drop of the liquid to slip out during shaking or carrying around.
The bottle has been made using BPA-free plastic and is dishwasher and microwave safe. With vibrant dual toned body, each I Shake bottle is efficient, sturdy and a stylish looking shaker.
4) I Shake Warrior Shaker Bottle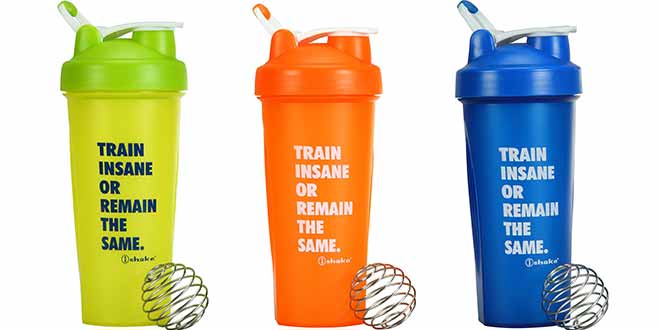 Price (as on September 2016) Around Rs. 300
This is yet another brilliant presentation from I Shake. The 600 ml sturdy bottle comes with an innovative wire ball structure that adds to the efficiency of this shaker by several folds. Exotic colors and motivating sayings printed on the exterior give this shaker a super thumbs-up.
The Warrior I Shaker is a single compartment bottle sealed with anti-leak technology.
Compartment: The single mixing compartment has a 600 ml body meant to store your liquid. The material used is 100% BPA free as well as odor resistant.
Wire Ball: This is an innovative equipment that is being used by most of the leading brands in the market. The stainless steel hollow, wire ball is what gives this shaker its super efficiency. The ball simply needs to be put into the compartment at the time of shaking. The freely moving wire ball ensures that every lump in the mixture is broken down finely.
Lid: The screw lid ensures that your experience is leak proof. The sporty arching spout makes drinking easier and gives the bottle a sporty look as well.
The bottle is dish wash safe as well as microwave safe. Due to its sleek look, it can be used anywhere – gym or outdoors, for an instant healthy drink. With the entire series endorsing sporty colors, this shaker can be used by men and women alike.
5) Muscle XP AdvancedStak Protein Shaker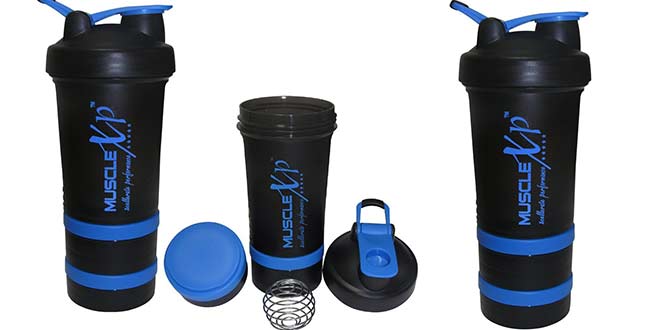 Price (as on September 2016) Around Rs. 850
Muscle XP is not a new name for fitness and bodybuilding enthusiasts. The company boasts of a powerful range of protein supplements, multivitamins as well as protein shake bottles. Muscle XP has one of the most innovative ranges in the protein shaker market.
The AdvancedStak Shaker too uses the Wire Ball structure but is more efficient for gym goers with a 3-comartment design.
Compartment 1: The 500 ml compartment is the supplement storage which holds the liquid. This compartment also houses the wire ball for mixing. The compartment has been sealed with a solid tight lid exhibiting Muscle XP's anti-leak technology.
Compartment 2: This is the dry storage compartment where you can store a measured quantity of your protein supplement powder. It fits below the mixing compartment.
Compartment 3: This too is meant for dry storage. It also has a segmented partition. This compartment is designed specially to hold on to the multi-vitamin tablets or capsules. If you wish you can use it for storing another powder like creatinine, DHA etc. This fits below compartment 2.
Wire Ball: We have already explained above how the wire ball helps in efficient mixing. This shaker with 2 storage stacks and a solid steel wire ball make it a single solution to your multiple needs.
The compartments can be removed if not required. Hence, you can use the shaker with just one attachment too.
6) Dublin Durosteel Shaker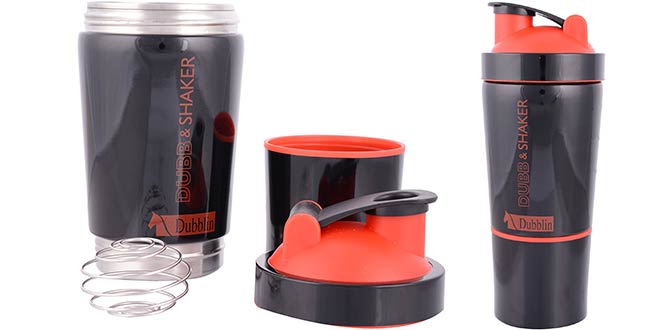 Price (as on September 2016) Around Rs. 600
For those who look at plastic suspiciously, there is a classic shaker from Dublin to cater to your needs. This powerful shaker having a solid steel internal body is up for any challenge you put it through. It is leak-proof, sturdy, and stylish and plastic free – what else could you ask for.
The Dublin Durosteel shaker has two compartments making it super-efficient for your daily needs.
Compartment 1: It is made up of pure stainless steel and has a capacity of 750 ml. The inner steel cylinder has an outer plastic coating that gives the overall shaker its sleek stylish look. Being metallic, it helps to regulate the temperature of your drink thus keeping your hot drink 'hot' for long.
Compartment 2: The second removable compartment is made up of BPA free high grade plastic. It is meant for dry storage i.e. your supplement powder. If not powder, you can use this compartment to store vitamin tablets or pills.
Wire Ball: Stainless steel body coupled with steel wire ball give the mixture a powerful shake blending even the toughest lumps smoothly.
Lid: The lid secures the inner material tightly that ensures a leak-proof experience even when you are on the run.
Dublin Durosteel Shaker is available in three classic colors that add to your presence at the gym.
7) I Shake Speed Shaker Bottle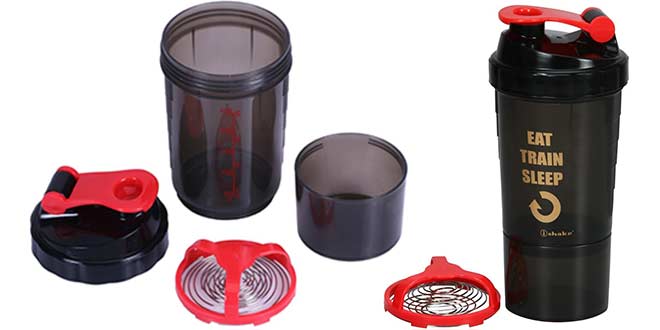 Price (as on September 2016) Around Rs. 330
This is yet another brilliant design rolled out by I Shake. The company sure puts a lot of thoughts into designing its products and this one is no less. We have seen products that have a snap-on strainer or a steel wire ball for efficient mixing. The Speed Shaker blends the two concepts into one by having a spiral steel strainer as a mixer.
Compartment 1: This is the main shaker body with a capacity of 500 ml. You can carry a measured amount of your supplement in this compartment and prepare your drink at the gym or you may carry a ready-to-have drink. On top of this compartment rests the Snap-On strainer. The body shows measurement marking for accurate dosing.
Compartment 2: Meant for dry storage, this compartment is suitable for your dry powders, tablets or pills.
Strainer: The shaker uses a scientifically designed stainless steel strainer that rests across the diameter of the bottle. The interesting feature is its freely hanging spiral end that blends the powder with a powerful spring-like action. The strainer can be fitted easily and removed when not required.
Lid: The screw lid fits over the strainer, to ensure a leak-proof
The entire body is made out of high grade BPA free plastic and is easy to wash. It is available is fun bright colors to add that quirkiness to your daily routine.
8) Omtex Advanced Protein Shaker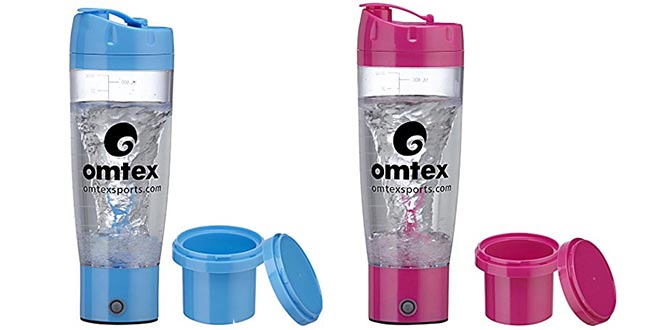 Price (as on September 2016) Around Rs. 1210
If you have had enough of manual shakers then here is an innovative proposition that will surely bring a spark of automation in your life. Omtex Protein Shaker lets you get that perfect lump-free shake with just the press of a button.
This single compartment super cool and powerful shaker meets your daily requirement with ease.
Compartment: The shaker comes with one compartment which is the main mixing area. It has a capacity of 600 ml. The transparent body has markings to help you in filling it up appropriately. The bottom of the compartment is directly connected to the motor below.
Motor: Omtex has made use of one of the most powerful handheld vortex motor for bottles that is powered by a battery. The powerful motor with a speed of 3000 rpm is activated by the push of a button and sets the liquid in motions, breaking all the lumps. The motor can be detached post mixing so that you can drink the shake easily.
The shaker has been designed ergonomically to ensure ease of holding and carrying. The lid fits in tightly giving you a 100 percent leak-proof portable shaker. The shaker even cleans itself automatically. Simply add water to the mixer with a drop of detergent and start the motor. The vortex will clean the entire compartment efficiently.
9) My 60 Minutes Gym Shaker Bottle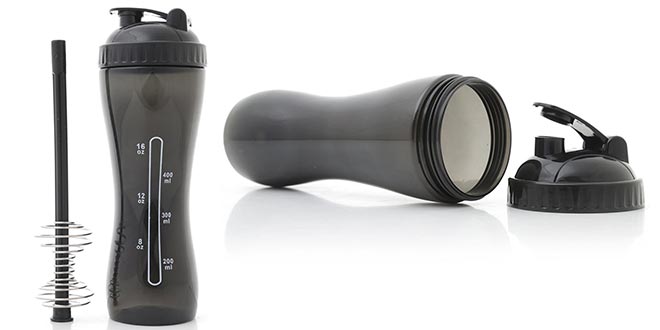 Price (as on September 2016) Around Rs. 400
My 60 Minutes too, has an impressive range of protein shaker bottles and one of the most innovative among them is this presentation. The ergonomically designed sleek looking bottle makes every day gyming easy and fun.
The single compartment leak-proof body is easy to carry and use:
Compartment: The mixing compartment has a capacity of 500 ml. The semi-transparent body has markings up to 400 ml to ensure correct refilling. The body has with its narrowed center gives you an easy grip.
Mixer: The mixer is pretty innovative. It is in the form of a rod with a wire loop or ring around it. This rod stands firmly at the center to ensure that at the time of mixing, every possible lump is broken down and you get a smooth
The entire product is made using food grade BPA free plastic. The shaker is dishwasher safe as well as microwave safe.
10) Muscle XP Pre & Post Shaker Bottle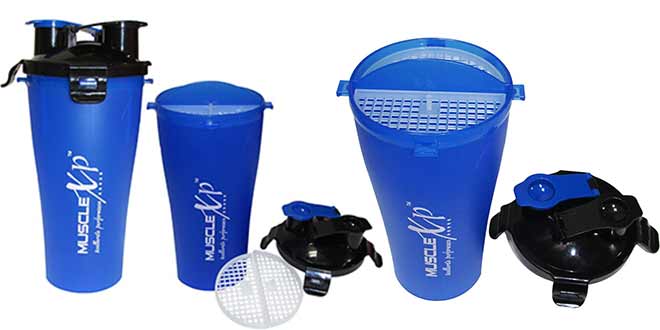 Price (as on September 2016) Around Rs. 850
For those of you who have versatile needs, MuscleXP has released this innovative multipurpose shaker that caters to your needs in more than just one way.
The bottle instead of having a dry storage at the bottom gives you the option of having two mixing compartments in one bottle.
Compartments: The bottle has been divided into two compartments. Each compartment can hold 250 ml of liquid. You can store two supplement drinks in one bottle thus, lessening the gym bag load. You can store pre and post workout drinks in the respective compartments or you may store plain water and one shake in the compartments.
Strainer: To ensure efficient mixing, there is an easy Snap-On strainer that fits tightly on the bottle. The strainer has been designed such that the liquids in the two compartments do not mix while shaking or carrying it around.
Lid: The screw on lid gives a tight leak-proof The lid has two arched spouts so that you can have either of the drinks. The flip on the spouts shuts tightly so that nothing leaks out from the resting spout while you are enjoying your drink.
The bottle is made using BPA free plastic and is dish wash safe and microwave safe.
These are the top Protein Shaker Bottles that are catering to the needs of the Indian masses. These bottles are innovative, efficient and yet pocket-friendly. We would like to stress that blender bottles, even though they are microwave and refrigeration friendly, should not be used for heating or cooling the shake. Protein is a very vulnerable nutrient and should not be subjected to extreme temperature variations. Use cold or hot water or milk, but do not freeze or heat after adding the supplement.
We hope that you have been able to find your ideal Protein Shake Bottle in this listing. So get it and hit your gym with style.