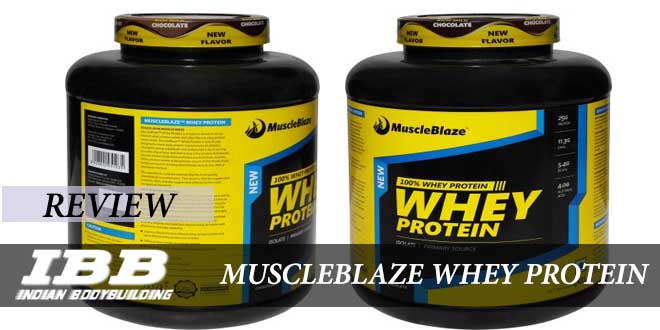 Protein shake is the first thing required by a person while working out in a gym. You may want to gain muscle mass or have a desire to shred some fat, protein shake is quite necessary for both the objectives. Among the 7 components of a balance diet, protein has achieved maximum popularity in the field of fitness, because of its effects for muscle building which are inevitable on improving muscle mass, recovery and growth. Protein helps a person recover from the previous workout, get stronger gradually and enhancement in the Metabolism which in turns helps in effective fat loss.
These days we have many options, many companies and many websites where we can easily buy desired supplement, but still deciding which supplement to buy requires lot of research and some mathematics (confused? we'll explain why shortly). Here are are evaluating one the popular supplements in India, the Muscle Blaze Whey Protein. It is said to be the hottest selling whey protein in India by Health Kart, Lets find out if it is really worth it. We have done all the work for you, all the research and all the study on this protein supplement, to help you make an easy and genuine selection. It is important because you are spending your precious time in gym working hard and you need to feed your body with the best protein for effective result. So does this supplement pass our test and stand up to its claim? Let's find out.
Why is Muscle Blaze so popular?
Muscle Blaze is the hottest (not the best) whey protein supplement in Indian market today. This product is marked as the hottest because people all around India are talking and discussing about it almost in every gym around the country. One major factor for this is that HealthKart is promoting it to the maximum extent possible (without actually letting you know). The truth is that HealthKart and MuscleBlaze both belong to the same company. Well this is the reason why you see that Muscle Blaze supplements is always advertised higher than other products on health kart. Health Kart does not disclose this information(that it owns MuscleBlaze) and keeps it a secret. This is also the reason that we cannot trust the reviews on healthkart.
By placing its product higher on the site, slowly it has managed to promote all its range of product. Both Healthkart and Muscle Blaze are run by the same company Aquamarine Healthcare Private Ltd. What is surprising is that Aquamarine sells the supplements on Amazon and flipkart at lover price. This is not just for this product but for all their product range. You will always find muscle blaze cheaper on amazon and flipkart as compared to healthkart. This is because they want to keep a higher margin on the sale. So if you ever decide to by Muscle Blaze, then go ahead to amazon or flipkart.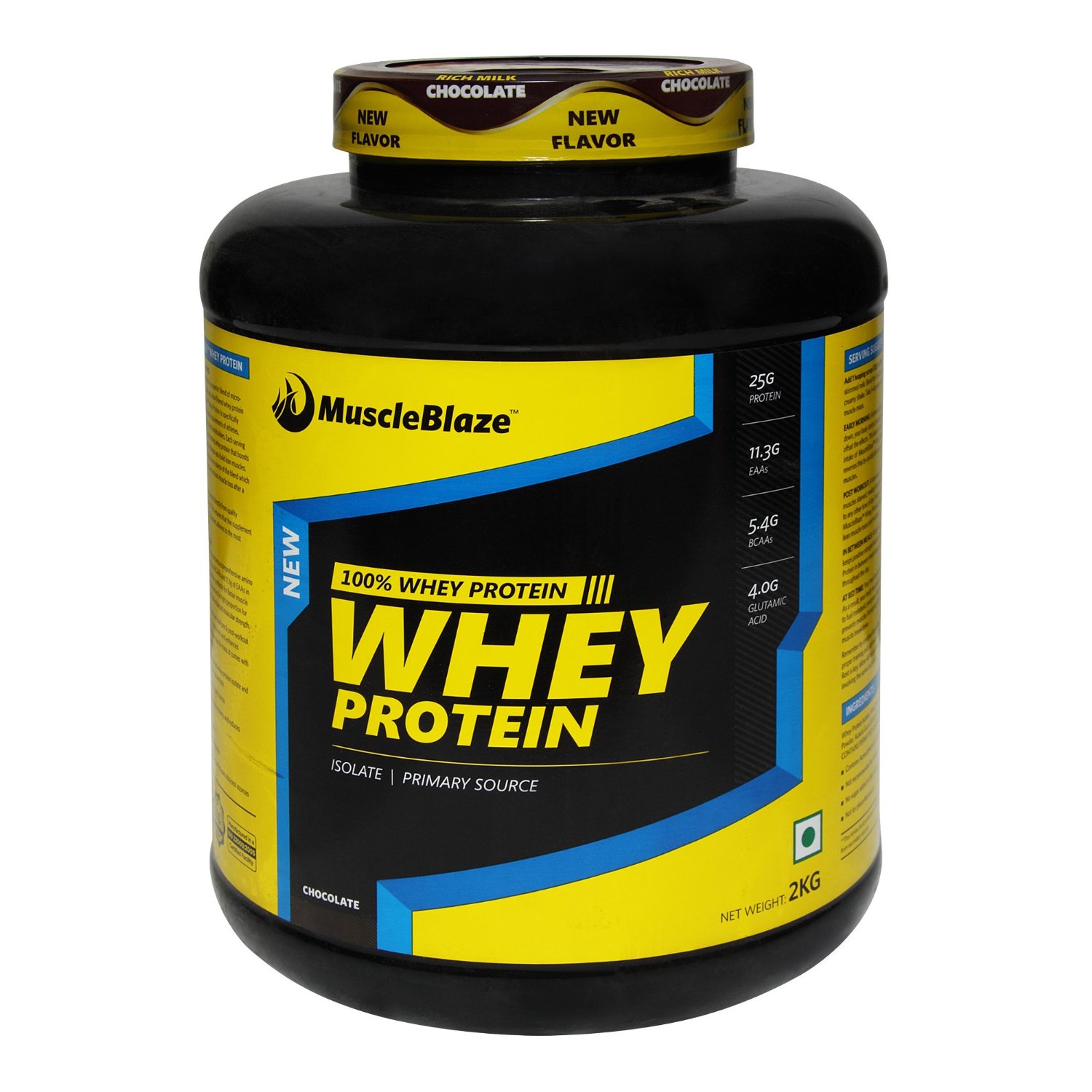 MuscleBlaze Whey Protein, Chocolate, 2kg, MuscleBlaze
Why is MuscleBlaze Protein Cheap ? Well is it really cheap ?
The other factor for its popularity is that it is quite cheaper than most of the other brands that fall in the same category, available in the market. In India people are more concerned with their pocket while looking for supplements rather than any other perspective.
But the Muscle Blaze is actually expensive as compared to Other popular supplements. The main reason why other supplements in expensive is that they are manufactured outside India (mostly USA). So importing these products attracts custom duty that makes it very expensive. But muscle blaze is manufactured in India, hence no custom duty. So it should have been at the same price of what you pay in USA. But that's not the case, see the table below, Muscle Blaze is actually 7% more expensive that ON 100% whey.
Mind you this is in spite of ON being a far superior product as compared to Muscle Blaze.
| | | | | |
| --- | --- | --- | --- | --- |
| Product | Weight | Weight Kg | Price USD | Price INR |
| Optimum Nutrition 100% Whey | 5 Lbs | 2.2 Kg | 57 | 3705 |
| Muscle Blaze Whey Protein | 4.4 lbs | 2 Kg | | 3974 |
Another reason why many people buy Muscle Blaze is because of  its attractive nutritional information presented on the pack. Let's see what is attractive in Muscle Blaze whey protein.

The pack states the following:
There are 60 servings in a pack of 2 kg, and it has 33 grams of powder in each serving. There are 133 kcal, 4.5 grams Carbohydrates, 25 grams protein, 11.3 grams EAAs, 5.4 grams BCAAs and 4.0 grams Glutamic Acid, per scoop, which looks quite an impressive profile for a supplement which just costs 3,974/. But there is a sentence mentioned at the bottom of the same sticker saying "The Amino Acid profile has not been tested by us and has been taken from secondary sources" which questions the authenticity of this product. Such a big company with so much success in selling its product all over the country doesn't bother checking itself for the actual content of its product. But then Muscle Blaze says that these amino acid profile has not been tested by them, they have just sourced. So you cannot be sure of its quality.
Attraction in the product
The first thing that catches the attention is 11.3 grams of EAAs (Essential amino acids). Our body can itself synthesize Non-essential Amino Acids thus they are not much required in the supplements but the requirement of Essential Amino acids is higher when recovery is the top priority. The demand of EAAs can only be fulfilled by the food sources or supplements. With this whey protein a person can get good amount of EAAs and recover at a faster rate.
Second attraction is its 5.4 grams of BCAAs in each scoop. BCAAs are the primary amino acids which promote growth or hypertrophy of muscles, they helps in maintaining the muscle mass even when a person is losing fat and is on a low calorie diet. BCAAs fall under the category of EAAs but they are the first and the foremost amino acids which are required by the body after a hectic workout to enhance muscle mass and burn fat simultaneously. It is good to see a nice quantity of BCAAs in the most economical whey protein in India.
Taste
A person can consume this whey protein in water when the goal is to shred fat and while gaining weight, it can be taken in milk. It will work well for the both type of fitness freaks, but when taken with water it doesn't taste so good. It however tastes fine, when the water is 100 ml; with milk it tastes good even when the quantity is high like 300ml or more.
It tastes good only when taken in 150 ml water, when the water is more than 150 ml it tastes horrible. So a person has to take this protein in just 150 ml water. It will soon get absorbed by the body, and the person consuming it is more likely to get a hunger craving within next 30 minutes.
Comparing with other leading brands
Given below is a table where Muscle Blaze whey protein is compared with some of the other close rivals. These products are very popular on almost every supplement website and also have very high rating.
**The price comparison is as on 20 Feb 2016 and the price may have changed at the time you are reading the article. However, the point we are trying to highlight here is that Muscle Blaze is really cheaper compared to other supplements when you compare the price per gram of protein, plus there are some really good options in this price range with better quality products.
As you can see in the above table, only "Ultimate Nutrition Pro Star" is the brand which is cheaper compared to the Muscle Blaze Whey Protein. The Nutritional Profile of this product is also very beautifully designed and it has better taste than MuscleBlaze Whey Protein too.
Ultimate nutrition Pro star is a blend, which is a good thing, someone might say, "ohh it is a blend, I need isolate". Let me explain some facts. According to recent studies it has been found that the post workout window for recovery is open for 40 minutes, within this time one can take any type of whey protein and achieve good recovery easily. Blend of protein simply means, it has slow digesting and fast digesting, both type of protein in it. It is a good thing. Because of this, the recovery time exceeds and the anabolism state stretches longer. This whey protein not only provides optimum recovery but also create filling in the stomach. This filling reduces food craving and avoids the person from over eating after the exercise.
PROS:
It has Good nutritional Profile.
It is easily digested.
Well filtered supplement
Vegetarian
Can be used by both men and women
It can be used by people who are gaining as well as by those who are leaning.
It is very affordable as generally isolates are expensive.
People, who manufacture duplicate products, generally make replicas of those products which are expensive, imported and are on very high demand. Here, as because this is an Indian product and not much expensive, the chances for you to find a duplicate pack are very little.
Taste is good but the quantity of liquid used, has to be low.
CONS:
Nothing has been mentioned on the website about the raw material used.
Even when the sticker on the package of Muscle Blaze Whey Protein, says too much good about the product, there is a sentence mentioned at the bottom of the same sticker saying "The Amino Acid profile has not been tested by us and has been taken from secondary sources" which questions the authenticity of this product.
This is a new product, unlike "Ultimate Nutrition Pro Star" big name in the supplement industry.
This product appears to be very cheaper at the first glance, but after detailed look in to the facts and figures now we know, it is not cheaper than, one of the most reputed brand Ultimate Nutrition.
Doesn't taste good with water when the quantity of water is more than 150 ml.
Contains Acesulfame potassium and Aspartame, for sweetness. These artificial sweeteners are not good for the body when taken in large quantities and people who use supplements are trends to use their brand for many months.
Overhyped
After studying detailed background, nutrition profile and effectiveness of the product, It seems to be an average protein supplement that has been overhyped by HealthKart which owns MuscleBlaze. The only option going in favour of Muscle Blaze is its price. However, even in its price range there are several other quality products available.
Add your review
|
Read reviews and comments
After a close look at the various websites, review of people who have used it all over the world, and the past of the product and company, it is confirmed that there is no other whey protein product that can beat Ultimate Nutrition in any near future. However some people would still prefer to buy Muscle Blaze with an emotion to support the Indian brand but still one cannot ignore the facts and figures presented in this review.