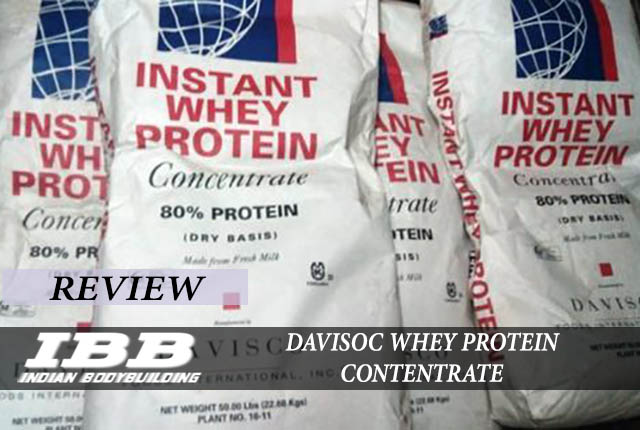 These days every fitness freak understands the importance of high quality protein diet and so most of the gym going people are religiously using protein shakes after their workout session. Not only gym going people but common population have also started adding protein supplements to their diet to fulfill the daily requirements of their body.
In spite of so much awareness about protein shakes and supplements still there are some people who are ignorant of the facts and are trying to stay in shape without adding enough protein to their diet. Some people does not even bother about buying or trying supplements because they think that supplements are always expensive and rather than using them one should take SO CALLED "Natural" Diet to fulfill the protein requirements.
Davisco Whey Protein Concentrate is a great solution for people who have issues maintaining their monthly budget after buying a protein powder and an answer to the excuses that people make when they are supposed to buy protein shakes. Having a healthy and smart lifestyle is everyone's fundamental right, but in country like India, people are more concerned about "How economical and healthy a product is".
Below are some points which shows how the Davisco Whey Protein Concentrate is economical and healthy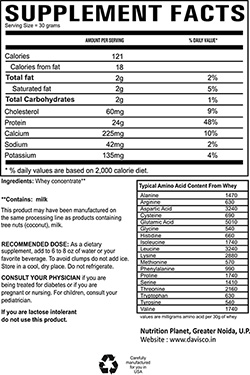 Contains nothing "Artificial"
It is a Purely one single content "100% whey Protein Concentrate"
Has been "Ultra Filtered" for quick digestion and easy on stomach
Manufactured by one of the top 5 manufacturers in the world, DAVISCO FOODS INTERNATIONAL.
Vegetarian
Milk Derived.
American company manufacturing the best grade product which goes through various tests before reaching you to ensure best results.
Contain BCAAs 5.5 grams and Glutamine 4.5 grams per serving, WHICH HAS NOT BEEN ADDED but the WHEY itself contains it.
It is 100% gluten Aspartame free.
Serving Size is 30 grams (1 scoop) and there is 24 grams of protein in every scoop.
Available at a very economical price in India in spite of being an imported product. One has to pay just 1370 INR for 2 lbs (908 grams) on nutrmed.co.in or www.davisco.in/ ( NOTE: Davisco.in is not a official davisco website, Its just an indian website that sells davisco protein as well.  DaviscoFoods.com is the official website of davisco)
Why is Davisco better than other Proteins?
Davisco is being manufactured by a foreign (American) company which has already gained great popularity and recognition in the whole world. There is just one thing which is filled in the pack of Davisco and that is PURE PROTEIN nothing extra has been added to increase the weight of the pack. When you find "Added BCAAs, Glutamine, Flavor, digestive enzymes, Vitamins and Minerals", on a protein pack, you are actually getting little protein and lot of other stuff, which is not "Value for the money" and this is being done by most of the other companies to attract their customers.
Davisco is cheaper than any other whey proteins available in the market yet has all the qualities which highly rated brands have. The production methods, ultra-filtration technique enables Davisco to move into the muscles at a faster rate when consumed after a workout to provide instant recovery to the muscles and thus muscles grow better and even the fat burning effect is high.
Some companies put lot of pressure on the taste of their protein shake but serious lifters hardly care about taste. People are more concerned with the results and purity of a product before thinking about the minor things like taste and aroma.
Protein is very necessary for human body especially when body is exposed to heavy hard work in the gym. One may try to recover in the post workout meal through eggs and chicken but such things doesn't give any instant recovery to the muscles, because they are slowly digested and far more slowly their nutrition reaches the muscles. It is protein shake itself, which has been designed and engineered to give the best possible recovery after a hectic exercise session instantly.
What if someone try to eat eggs instead of protein shake?
For some people eggs are available at a very low price and thus they feel that it is good to have eggs rather than protein shake. Here are some facts which will help you make an opinion over protein rather than eggs.
Eggs have 6 grams of protein (approx) 3 grams in white and 3 in the yolk. If someone needs 30 grams of protein in the post workout, he needs 10 egg whites or 5 whole eggs.
After consuming 10 egg whites in one single meal and especially after the workout, there are chances that the person would suffer from stomach problem soon. If someone eats 5 whole eggs, he is likely to get some fat because of the yolk.
Eggs and chicken  doesn't contain all the required amino acids, it is only WHEY which gives the best bunch of Aminos to the body which are required after a workout session to engage the muscles in recover process and grow instantly.
Neither chicken nor eggs proved to be better in the post workout meal; it is only WHEY which has the ability to provide immediate recovery without troubling the stomach or digestion.
How to consume for best results
Especially for vegetarians who don't have any other source of protein to fulfill their daily protein requirements can have Davisco Whey protein 3 times a day.
As soon as they wake up (to enable the recovery process after many hours of sleep)
After the workout (to pause the muscle breaking effect after a hectic workout session)
Before bed (recovery during sleep)
This can also be done by hard gainers and people who feel they are not getting enough protein.
People who want to gain weight should take protein in milk (in the morning and before bed), whereas after workout they should add a banana along with the protein shake in water.
Good
For a great looking body, exercise is important and after exercise nutrition is very important, and the most important point at which body demands nutrition is "POST WORKOUT". Whey protein is the single most highly required supplement at the Post workout meal time. You can either buy a branded and highly expensive protein shake to make your troubled muscles recover, or you can buy DAVISCO with the same quality. Both are going to do the same job but the choice is yours as the money which you are going to spend on the post workout protein is YOURS.
Add your review
|
Read reviews and comments