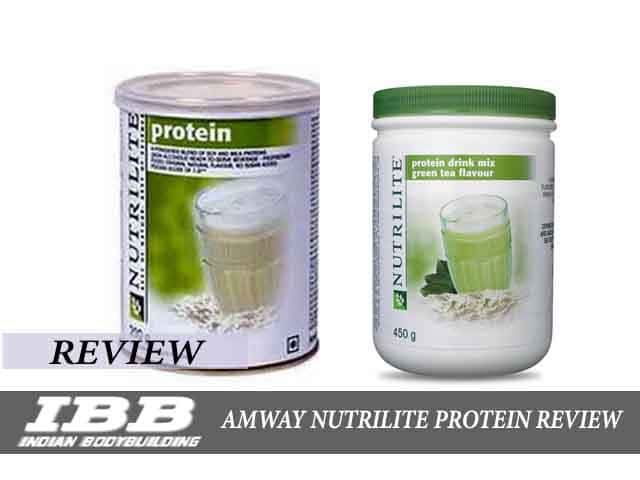 No matter who you are – man, woman, child or old, working personal or student; protein is the most vital nutrient for the body. It is required for the proper growth of the body, for hormonal secretions within the body, for efficient functioning of our systems, for muscle repair etc. To fulfill these needs, it is important to have around a gram of protein per kg of your body weight daily. Unfortunately, the diet that we take in these days is naturally deprived of this vital element. A survey has revealed that about 80 percent Indians lack protein in their diets and 9 out every 10 Indians are protein deficient. Hence, having a reliable protein supplement by your side is of outmost importance. There are hundreds of products circulating in the market with big names and claims; however, today here we are going to review one of the finest protein supplements – Nutrilite Protein Powder that does what it says. According to us this product is great and worthy of being a part of your daily diet.
This review is for Nutrilite Protein Powder and not for Nutrilite All Plant Protein Powder. Both are different products.
Nutrilite All Plant Protein Powder as the name suggests, utilizes only plant derived sources of proteins namely wheat, yellow peas and soy. It does not rely on dairy sources for the Whey concentrate and hence it is lactose free. It supplies all the nine essential amino acids and is a great option for lactose intolerant people.
You can differentiate between the two by the packaging itself. Nutrilite Protein Powder comes in tin container with Milk Glass displayed on the front. The Nutrilite All Plant Protein Powder comes in Plastic Bottles with a Bowl of Beans displayed on the front.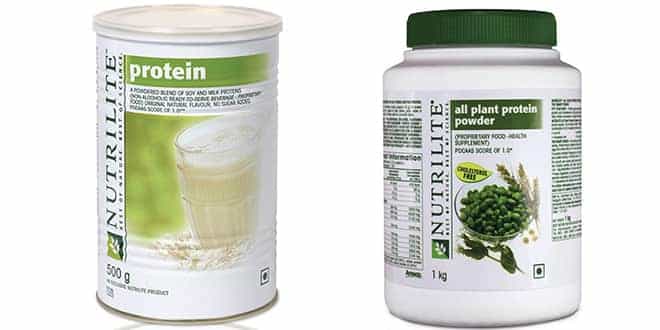 Product Description and Review
Nutrilite has been producing health supplements since the year 1934. In 1994, Amway took complete ownership of Nutrilite and today, all the Nutrilite products are manufactured by Alticor and sold globally via Amway. The Nutrilite Protein Powder is a great product that can be used by a versatile population including teenagers and expecting or lactating mothers. The protein supplement has gained a tremendous popularity in India owing to theits purely vegan composition. Amway Nutrilite Protein Powder has received a Protein digestibility-corrected amino acid score (PDCAAS) of 1.0 which is the highest score under this system.
Ingredients: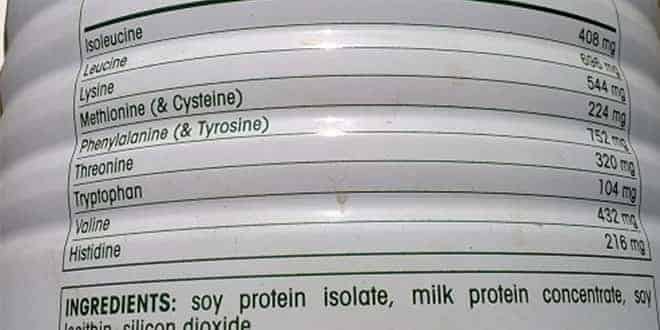 Nutrilite has extracted protein from Soy and Milk- two naturally rich sources of proteins for the manufacture of this supplement. The major actives are Soy protein isolate, Milk protein concentrate (the whey portion from milk), Soy lecithin and Silicon dioxide. Due to a combination of animal derived and plant derived proteins; Nutrilite Protein Powder provides all the 9 essential amino acids as well as several non-essential acids which makes it a complete source of protein.
In addition to the protein part, Nutrilite Protein Powder also contains Red Orange Complex that provides the body with several essential phytochemicals that protect the body against free radicals. Nutrilite Protein Powder also contains Aminogen Enzyme Blend that contains two special digestive enzymes to help in the metabolism of the protein. These enzymes help in the metabolism and absorption of the protein.
The supplement comes without any artificial sweetening agents unlike most of the supplements in the market. Hence, it is low on the unnecessary chemicals and carbs. The label also says that the product has its original flavor i.e. no added flavors.
Nutrition: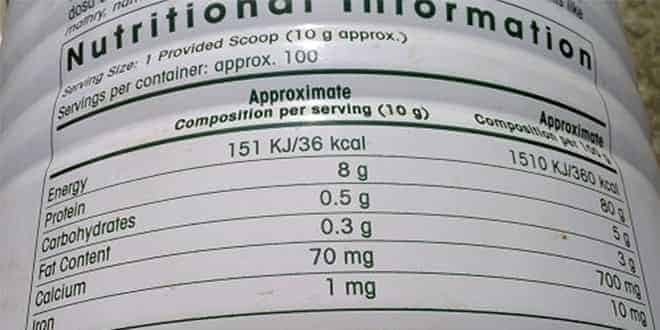 Nutrilite Protein Powder is a great supplement with up to 80% protein in each serving. Every scoop of 10 grams powder gives you 8 grams of protein and only 0.3 grams of fat and 0.5 grams of carbohydrates. Hence, itgives you the benefits of protein without loading your body with extra carbs as seen in some supplement like Proteinex that provide almost equal proportions of Protein and Sugar with every serving.Hence, it can be taken even if you are not into serious exercising. Since, it is to be taken with milk that has 8 grams of protein in every cup; one serving of Nutrilite Protein Powder gives 16 grams of protein.In addition, every 10 gram of Nutrilite Protein Powder also contains 70 mg of Calcium and 1 mg of iron.
Use:
Amway Nutrilite Protein Powder is a supplement that supplies your body with all the essential proteins to help you fulfill its daily nutritive requirements. It can be taken by men and women alike and hence, is a complete family supplement. It keeps you healthy and strong.
Note
This product is not meant to be used by Bodybuilders as a supplement (Although beginners can give it a try). The protein requirements for bodybuilding are high and specific, hence, if you are into bodybuilding this is not the supplement for you. Whey Protein is more ideal for bodybuilding.
Availability:
Nutrilite is a worldwide trusted brand. The Protein Powder from Nutrilite is highly recommended by doctors and fitness trainers. It is available on all the leading online stores and any Amway store.
Packaging:
It is available in three packs 200 grams, 500 grams and 1 kilogram.
Price:
Due to all vegan ingredients, Amway Nutrilite Protein Powder sure is high ranged product. It is available on all the leading online stores.
| | | | | | | | |
| --- | --- | --- | --- | --- | --- | --- | --- |
| Product | Weight | Price on Amazon | Quantity per scoop | Protein per scoop | Scoops per pack | Protein per pack | Price/gram of protein |
| Amway Nutrilite Protein Powder | 500 grams | Rs.1990 | 10 grams | 8 grams | 50 | 400 grams | Rs 4.9/gram |
Summary of Amway Nutrilite Protein Powder:
It is 100% vegan
Amway Nutrilite Protein Powder provides all the 9 essential amino acids
It has a PDCAAS rating of 1.0
One serving is of 10 grams therefore, there are 50 servings in a 500-gram pack.
Each serving contains 80% protein i.e. 8 gram proteins every 10 grams of powder
Every gram of Amway Nutrilite Protein Powder costs youRs.. 4.9
Each serving has only 0.5 grams of carbs and 0.3 grams of fat
It has no added sugars or flavors
It is a daily family supplement
It is NOT suitable for use as a bodybuilding supplement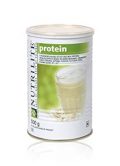 People suffering from any medical conditions are recommended to consult their doctor.; Our body does not store excess protein. Hence, daily intake is ...
Last price update: 2019-03-31 14:42:59
PROS:
Amway Nutrilite Protein Powder is great for more than one reason:
Availability: As we mentioned above, the product being highly recommended is available widely. You can get a can of this supplement easily online or in the stores nearby.
Ingredients: The product has been made using vegetarian ingredients only. Hence, it is great for those who prefer to have nutrition the vegan way. In addition, the ingredients are of great quality making it a superior product.
Absorption: For any supplement to work, a quick and complete absorption of the nutrient is essential. This product is composed of Whey concentrates and isolates that are quick in absorption. It also has special enzymes that assist is absorption of proteins. Hence, the product gives very good absorption rates.
Carbohydrates: The product does not contain any added sugar and hence is pretty low on the carbohydrates. This is evident from the label which mentions that every 10 grams of powder contains only 0.5 grams of carbs. Hence, it is great for people who are on weight loss regimens.
Adaptability: This product can be used with equal efficacy by almost everyone. Be it a man, woman, teenagers, pregnant and lactating mothers, older citizens etc. Hence, this makes it a valuable Family Supplement. However, if you are into body building it is better to use Whey
CONS:
Although the product is great, there are certain drawbacks:
Allergy: The product derives its proteins from milk concentrates. Hence, the whey in this powder is milk derived and therefore, may contain traces of lactose. This could be problematic for lactose intolerant people. However, there are no recorded incidences of lactose intolerance with this Protein Powder; there could be a possibility though.
Pricing: With all vegan ingredients, special enzyme blends and complexes; the product definitely is highly priced. It therefore might be difficult for a sizable population to afford this regularly. However, one must note that with one serving a day, 1 container lasts for 50 days i.e. close to two months. Looking at this, the price could become manageable.
Flavors: As per the label, the product does not have any added flavors. Hence, there is just one original flavor available which may be a little disappointing for people who are used to flavorous supplements available in the market.
Good
Although its not made for bodybuilder or fitness professionals, Nutrilite Protein Powder is a great product that presents a complete source of protein with completely vegan origins. It is great for people who want to give their daily diet a boost of healthy proteins. But if you are looking for serious muscle gain, then this may not be the product for you
Add your review
|
Read reviews and comments