Ram Niwas of Indian Railways have won the overall champion ship and the title of Mr India 2018 on 25th March.  He defeated the current Mr India and 2 times champion Mr Sunit Jadhav and in a very touch and close fight. The fight was so close that 2 panels of judges had to rank the comparision between these two athletes. This is the first time Ram Niwas has won the Mr India title.
Check out the final comparision and winning performance of Ram Niwas.
Kanchi Advani won the Miss India title in Womens Bodybuilding category.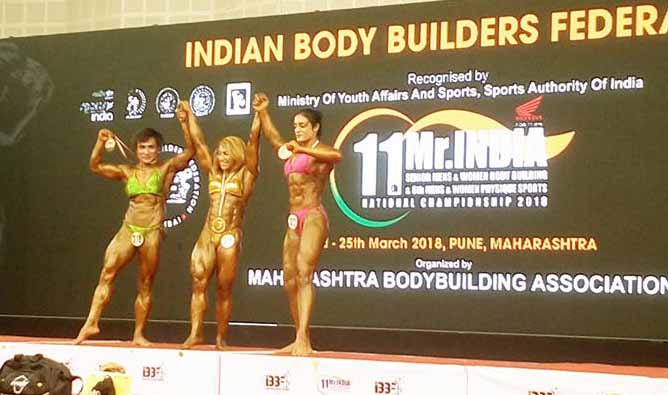 Sanjana Dalak won the Miss India in Women's Physique Sports category and Chetan Saina of Chandigarh won Mr India in Men's Physique category.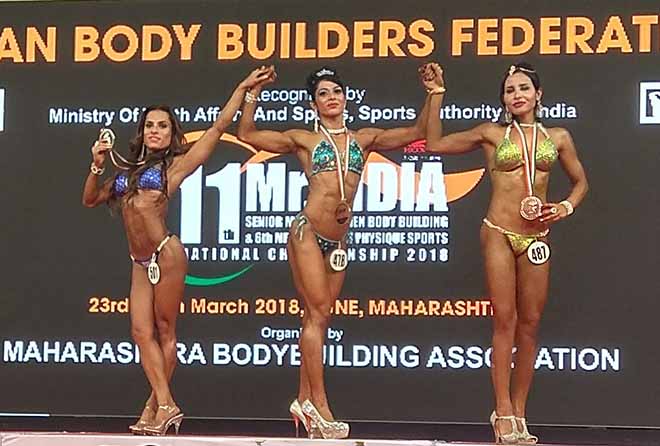 Here is the complete results of IBBF Mr India 2018.
55 KG
PLACE
NAME OF THE COMPETITOR
UNIT
WEIGHT
TRUNK

NO.

1
J J CHARABORTY
RAILWAYS SPB
54.2
15
2
SONU
DELHI
54.5
30
3
KUNDAN KUMAR GOPE
RAILWAYS SPB
53.3
17
4
L NETA SINGH
MANIPUR
54.7
4
5
ARIF V
KERALA
54.5
3
60 KG
PLACE
NAME OF THE COMPETITOR
UNIT
WEIGHT
TRUNK

NO.

1
NITIN MHATRE
MAHARASHTRA – A
58.9
40
2
K HARIBABU
RAILWAYS SPB
59.2
47
3
PRATIK PANCHAL
MAHARASHTRA – A
59.1
43
4
ANKUR
DELHI
58.6
33
5
DIPU DUTTA
ASSAM
58.7
53
65 KG
PLACE
NAME OF THE COMPETITOR
UNIT
WEIGHT
TRUNK

NO.

1
S BHASKARAN
RAILWAYS SPB
63.8
85
2
ANIL GOCHIKAR
ODISHA
64.5
98
3
MITTAL KUMAR SINGH
DELHI
63.8
70
4
T KRISHNA
MADHYA PRADESH
64.9
101
5
RIYAS T K
KERALA
64.1
76
70 KG
PLACE
NAME OF THE COMPETITOR
UNIT
WEIGHT
TRUNK 

NO.

1
ANAS HUSAIN
RAILWAYS SPB
69.8
127
2
HIRA LAL
PUNJAB POLICE
69.2
120
3
RAJU KHAN
DELHI
69.4
110
4
DHARMENDER KUMAR
DELHI
69.3
108
5
HARISHCHANDRA INGAWALE
PUDHUCHEERY
69.3
121
75 KG
PLACE
NAME OF THE COMPETITOR
UNIT
WEIGHT
TRUNK

NO

1
V JAYPRAKASH
RAILWAYS SPB
74.5
169
2
MD SADDAM
UTTAR PARDESH
74.2
159
3
SUSHIL MURKAR
MAHARASHTRA – B
74.4
167
4
PRAVEEN KANBARKAR
KARNATAKA
72.8
164
5
RAJIV SAHU
MADHYA PRADESH
74.9
185
80 KG
PLACE
NAME OF THE COMPETITOR
UNIT
WEIGHT
TRUNK

NO

1
SAGAR KATURDE
MAHARASHTRA – A
76.9
204
2
N SERBO SINGH
RAILWAYS SPB
79.4
208
3
B MAHESHWARAN
TAMILNADU
79.2
212
4
RAVINDER KUMAR MAILK
GUJARAT
78.7
200
5
RAJ CHOUDHARY
UTTAR PARDESH
79.3
192
85 KG
PLACE
NAME OF THE COMPETITOR
UNIT
WEIGHT
TRUNK

NO

1
NARENDER YADAV
DELHI
82.3
242
2
PRITAM CHOUGULE
RAILWAYS SPB
84.6
259
3
A BOBY SINGH
RAILWAYS SPB
82.2
257
4
I DEVA SINGH
MADHYA PRADESH
83.5
267
5
MITHUN SAHA
WEST BENGAL
82.5
266
90 KG
PLACE
NAME OF THE COMPETITOR
UNIT
WEIGHT
TRUNK

NO.

1
SUNIT JADHAV
MAHARASHTRA – A
87.3
283
2
MAHENDRA CHAVAN
MAHARASHTRA – A
88.9
286
3
RIJU PAUL JOSE
GUJARAT
89.4
278
4
SAGAR JADHAV
RAILWAYS SPB
87.4
290
5
ROHIT SHETTY
MAHARASHTRA – B
86.7
289
90 – 100 KG
PLACE
NAME OF THE COMPETITOR
UNIT
WEIGHT
TRUNK

NO.

1
RAM NIWAS
RAILWAYS SPB
93.6
324
2
MAHENDRA PAGADE
MAHARASHTRA – A
96.3
319
3
S SENTHIL KUMARAN
TAMILNADU
90.2
326
4
AMIT CHETRI
UTTRAKHAND
92.7
327
5
SAMEER KHAN
MADHYA PRADESH
93
332
100 KG +
PLACE
NAME OF THE COMPETITOR
UNIT
WEIGHT
TRUNK

NO.

1
ANUJ KUMAR
UTTAR PARDESH
100.08
341
2
JAVED ALI KHAN
RAILWAYS SPB
100.9
351
3
ATUL AMBRE
MAHARASHTRA – A
101.6
347
4
AKSHAY MOGARKAR
MAHARASHTRA – A
105.9
349
5
NITHIN BABU
GUJARAT
102.9
348
OVERALL CHAMPION : RAM NIWAS – RAILWAYS SPORTS PROMOTION BOARD
RUNNER UP: SUNIT JADHAV – MAHARASHTRA
1ST RUNNER UP: NARENDER YADAV – DELHI
BEST POSER: SERBO SINGH – RAILWAYS SPORTS POMOTION BOARD
MOST IMPROVED ATHLETE: ANUJ KUMAR – UTTAR PARDESH
TEAM CHAMPIONSHIP : RAILWAYS SPORTS PROMOTION BOARD – 87 POINTS TEAM CHAMPIONSHIP – RUNNER UP – MAHARASHTRA (60 POINTS) TEAM CHAMPIONSHIP – 1ST RUNNER UP – DELHI – (32 POINTS)
WOMENS BODY BUILDING
PLACE
NAME OF THE COMPETITOR
UNIT
WEIGHT
TRUNK

NO.

1
KANCHI ADWAMI
MAHARASHTRA – A
371
2
MAMOTA DEVI YUMNAM
DELHI
370
3
GEETA SAINI
HARYANA
372
4
TH SARITA DEVI
MANIPUR
369
5
W JAMUNA DELVI
MANIPUR
367
WOMEN SPORTS MODEL
PLACE
NAME OF THE COMPETITOR
UNIT
WEIGHT
TRUNK

NO.

1
SANJU
UTTAR PARDESH
478
2
SONIYA MITRA
WEST BENGAL
501
3
ANKITA SINGH
KARNATAKA
487
4
STELLA GODE
MAHARASHTRA – A
491
5
MANJIRI BHAVSAR
MAHARASHTRA – A
495
MENS PHYSIQUE SPORT
PLACE
NAME OF THE COMPETITOR
UNIT
WEIGHT
TRUNK

NO.

1
CHETAN SAINI
CHANDIGARH
385
2
KIRAN SATHE
MAHARASHTRA – A
410
3
ROHAN PATANKAR
MAHARASHTRA – A
414
4
WESLEY MENON
WEST BENGAL
456
5
ANIL SATI
UTTAR PARDESH
384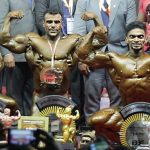 Ram Niwas of Indian Railways have won the overall champion ship and the title of Mr India 2018 on 25th March.  He defeated the current Mr India and 2 times champion Mr Sunit Jadhav and in a very touch and close fight. The fight was so close that 2 panels of judges had to rank the comparision between these two … Read More »