Sunit Jadhav wins the Overall title at IBBF Mr India 2016.
This Mega bodybuilding event was held from 11th to 13th March 2016 at Roha, Maharashtra. It was a big success with lots of people coming to witness the battle of the top bodybuilders in India. Sunit Jadhav who was in his top form won the first place in his weight category and then went on to win the Overall Title of Mr India 2016.
Sarita Devi from Manipur won the Miss India 2016 title.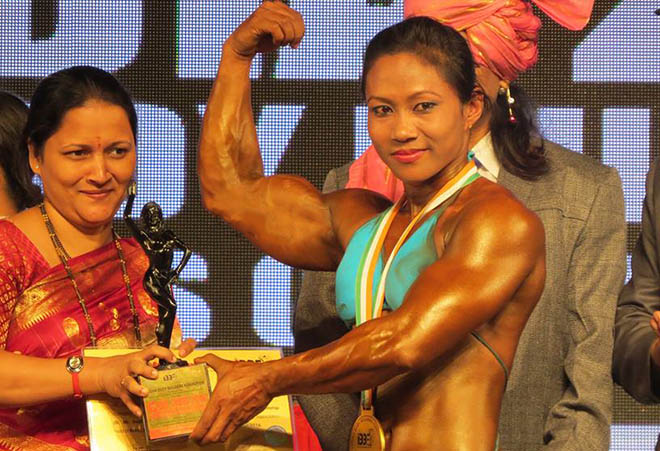 Shweta Rathore won the IBBF Miss India 2016 in Women's Physique Category, while Manoj Patil won first place in Men's Physique Category.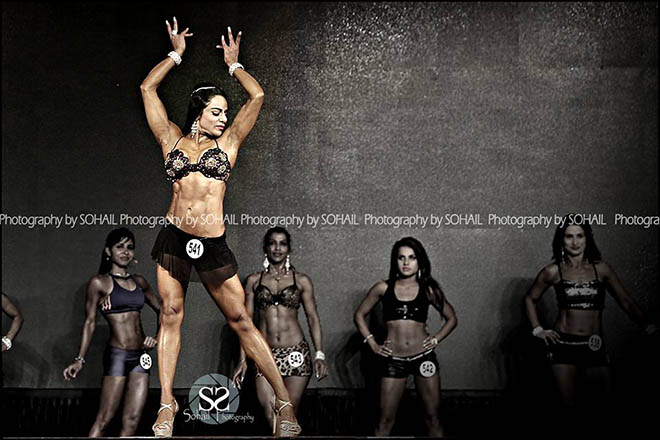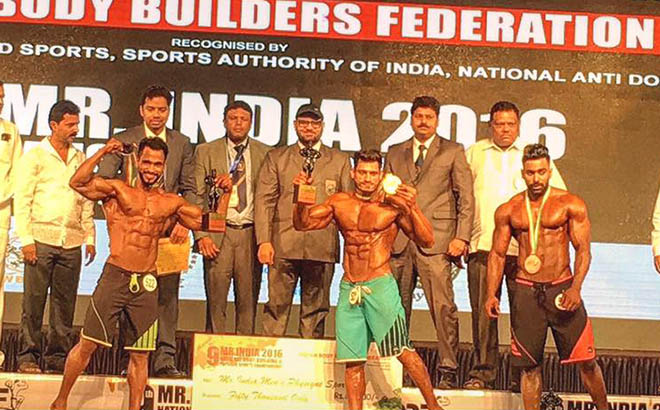 Detailed results of IBBF Mr India 2016:
| | | |
| --- | --- | --- |
| Rank | Name | Unit |
| 1 | J J CHAKRABORTHY | RAILWAYS S PB |
| 2 | ARUN PATIL | MAHARASHTRA (B) |
| 3 | ROSHAN TATKARE | MAHARASHTRA |
| 4 | KUNDAN GOPE | JHARKHAND |
| 5 | RAMA MURTHI M | TAMILNADU |
| | | |
| --- | --- | --- |
| Rank | Name | Unit |
| 1 | NITIN MHATRE | MAHARASHTRA |
| 2 | PRADEEP VERMA | PUNJAB |
| 3 | K HARI BABU | RAILWAYS S PB |
| 4 | SURAJ R K | KERALA |
| 5 | R T MANE | SERVICES SCB |
| | | |
| --- | --- | --- |
| Rank | Name | Unit |
| 1 | SANDEEP DUGGAL |  DELHI |
| 2 | SANJAY SHREEVAS | VIDARBHA |
| 3 |  PRATIK PANCHAL | MAHARASHTRA |
| 4 |  M KOTHANDARAMAN | TAMILANDU |
| 5 |  JAYA KUMAR | SERVICES SCB |
| | | |
| --- | --- | --- |
| Rank | Name | Unit |
| 1 | ANAS HUSSAIN |  RAILWAYS S PB |
| 2 | RAJU KHAN | DELHI |
| 3 |  HARI RAM | CRPF |
| 4 |  ANIL GOCHIKAR | ODISHA |
| 5 |  SHREENIWAS WASKE | MAHARASHTRA |
| | | |
| --- | --- | --- |
| Rank | Name | Unit |
| 1 | N SERBO SINGH |  RAILWAYS S PB |
| 2 | MAHESHWARAN | SERVICES SCB |
| 3 |  SAGAR KATURDE | MAHARSHTRA |
| 4 |  PRAMOD SINGH | MAHARSHTRA (B) |
| 5 |  NISHU KONIA | ARUNACHAL PRADESH |
| | | |
| --- | --- | --- |
| Rank | Name | Unit |
| 1 | YATINDER SINGH |  UTTAR PRADESH |
| 2 | BOBBY SINGH | RAILWAYS S PB |
| 3 |  DAYANANDA SINGH | MANIPUR |
| 4 |  ASHISH SAKHARKAR | MAHARASHTRA |
| 5 |  PRANAY LONDHE | MAHARASHTRA |
| | | |
| --- | --- | --- |
| Rank | Name | Unit |
| 1 | SUNIT JADHAV |  MAHARASHTRA |
| 2 | VIPIN PETER | SERVICES SCB |
| 3 |  VIJAY BAHADUR | RAILWAYS S PB |
| 4 |  BORUN YUMNAM | CRPF |
| 5 |  RAMESH JADHAV | MAHARASHTRA |
| | | |
| --- | --- | --- |
| Rank | Name | Unit |
| 1 | SAGAR JADHAV |  RAILWAYS S PB |
| 2 | JAGDISH LAD | MAHARASHTAR |
| 3 |  SACHIN DONGRE | MAHARASHTAR (B) |
| 4 | | |
| 5 | | |
Mens – 90 to 100 Kg Category
| | | |
| --- | --- | --- |
| Rank | Name | Unit |
| 1 | MURALI KUMAR |  SERVICES SCB |
| 2 | KIRAN PATIL | RAILWAYS S PB |
| 3 |  MAHENDRA CHAVAN | MAHARASHTRA |
| 4 |  SAGAR KATE | ORDANANCE |
| 5 |  PARMINDER SINGH | PUNJAB |
Mens – above 100 Kg Category
| | | |
| --- | --- | --- |
| Rank | Name | Unit |
| 1 | JAVED ALI KHAN |  RAILWAYS S PB |
| 2 | HARI PRASAD | SERVICES SCB |
| 3 |  HIZBUR REHMAN | DELHI |
| 4 |  KH PRITAM SINGH | CRPF |
| 5 |  LAVEEN K | RAILWAYS S PB |
OVERALL CHAMPION: SUNIT JADHAV
BEST POSER: N SERBO SINGH – INDIAN RAILWAYS
TEAM CHAMPIONSHIP: INDIAN RAILWAYS with 75 POINTS
TEAM CHAMPIONSHIP RUNNER UP: MAHARASHTRA with 53 POINTS T
EAM CHAMPIONSHIP 1ST RUNNER UP: SERVICES SSB with 33 POINTS
| | | |
| --- | --- | --- |
| Rank | Name | Unit |
| 1 | MANOJ MANOHAR PATIL |  MAHARASTRA |
| 2 | NILESH BOMBLE | MAHARASTRA |
| 3 |  JUNIAD KALIWALA | MAHARASTRA |
| 4 |  GAURAV KUMAR | DELHI |
| 5 |  NEERAJ BHAMBHN | HARYANA |
| | | |
| --- | --- | --- |
| Rank | Name | Unit |
| 1 | SARITA DEVI |  MANIPUR |
| 2 | SIBALIKA SAHA | MAHARASHTRA |
| 3 |  EUROPA BHOUMIKA | WEST BENGAL |
| 4 |  REBITA DEVI | MANIPUR |
| 5 |  LEELA PHAD | MAHARASHTRA |
| | | |
| --- | --- | --- |
| Rank | Name | Unit |
| 1 | SHWETA RATHORE |  MAHARASHTRA |
| 2 | SHREYANSHI DAS CHAUDHARY | WEST BENGAL |
| 3 |  SONIYA MITRA | WEST BENGAL |
| 4 |  SANJU | UTTAR PRADESH |
| 5 |  ANKITA SINGH | KARNATAKA |
Other Comparison Photos:
Image Source
All images are courtesy of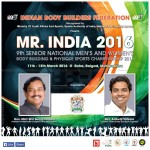 Mr India 2016 will be held from 11th to 13th March 2016. This will be the 9th senior national mens and womens bodybuilding and physique sports championship. The event will be organised by Indian Bodybuilders Federation (IBBF) which is recognised by the Ministry of youth affairs and sports, Sports authority of India. This year Mr India is being held at Roha, … Read More »