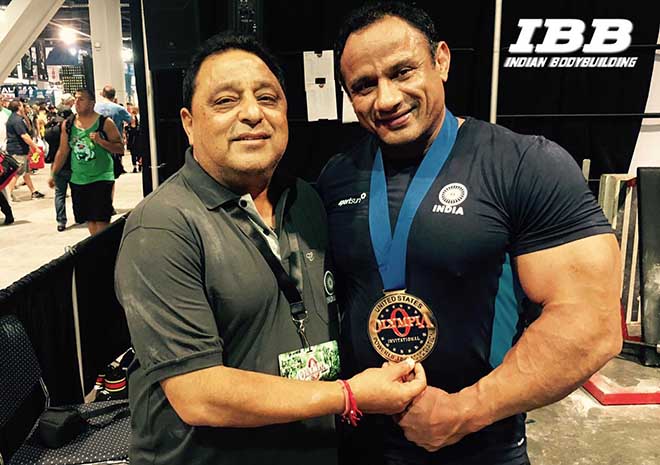 Mukesh Singh has won Gold Medal at the Pro Olympia Power Lifting championship 2017 held in Las Vegas during the Mr Olympia Weekend. This is an historic moment as an Indian as won the Gold Medal in this first participation at the event.
Since the invitation for Pro Olympia came in late, Mukesh Singh had to reduce 10 Kg weight in just 4 days so that he could compete in the 110 Kg Category (He used to earlier compete in 125 Kg Category). Mukesh scored a total of 780 Kg to win gold in his category. Mukesh was able to achieve this performance under the guidance of his coach Mr Bhupendra Dhavan ( Who is a dronachaya awardee ). Bhupendra Dhavan has coached the Indian powerlifting team for 16 international competitions.
Mukesh Singh is 3 times world champion and european champion in powerlifting.  He is also 4 times Mr India in bodybuilding.
Some of the pictures of Mukesh Singh and Bhupendra Dhavan at the event.
This indeed is a very proud moment for India, time and again Mukesh has given us reasons to be proud of his achievements. He is a true all rounder with his amazing performance in bodybuilding and power lifting. We at IBB would like to congratulate Mr Mukesh Singh and his coach Mr Bhupendra Dhavan on this occasion.
Check out the detailed interview of Mukesh Singh with IBB.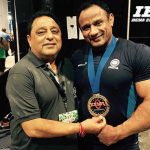 Mukesh Singh has won Gold Medal at the Pro Olympia Power Lifting championship 2017 held in Las Vegas during the Mr Olympia Weekend. This is an historic moment as an Indian as won the Gold Medal in this first participation at the event. Since the invitation for Pro Olympia came in late, Mukesh Singh had to reduce 10 Kg weight … Read More »