IBBF 10th Mr India 2017 was a grand success. It was witnessed by  huge crowd in Gurgaon. Even though the event had to extend till late night. The Crowd was there to support the bodybuilders and throughly enjoyed the competition. Sunit Jadhav won the Overall Mr India 2017. This is the second year in a row that sunit wins the overall Mr India title. Ram Niwas was the the runner up. Mr Anil Gochhikar won the Most Improved bodybuilders award.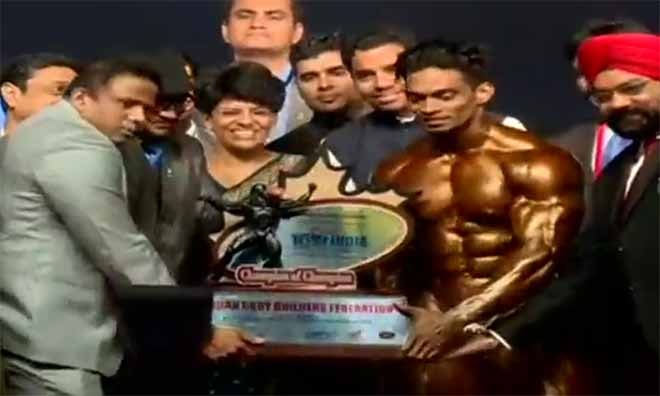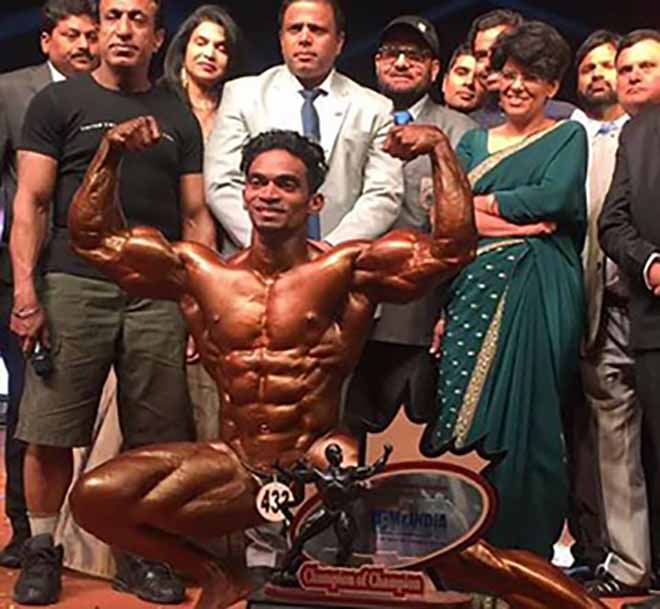 Sumit Banerjee Won Mr India 2017 – Men's Physique Category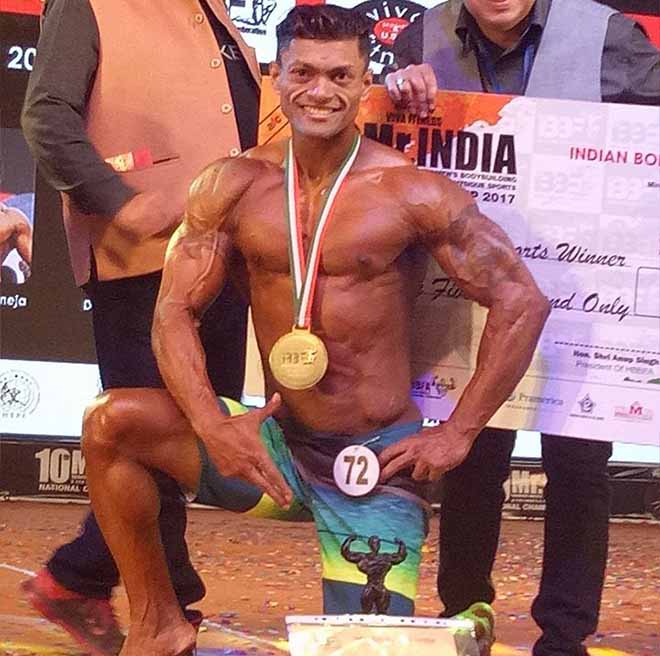 Sanjan Dalak won Miss India 2017 – Women's Physique Category
Other Results:
Nitin Mhatre Won gold medal in 55 Kg Category
Pradeep Varma won gold medal in 60 Kg Category
Anil Gochikar won gold medal in 65 Kg Category
Raju Khan won gold medal in 70 Kg Category
Sarbo Singh won gold in 75 Kg Category
B Maheshwaran won gold in 80 Kg Category
T H DAYANANDA SINGH won gold in 85 Kg Category
Sunit Jadhav won gold in 90 Kg Category
Ram Niwas won gold in uptp 100 Kg Category
Javeed Ali Khan won gold in 100+ Kg Category
Women's Bodybuilding
Sarita Devi won gold medal to win Miss India 2017. Yumnam Mamota was runner up.
Complete Results 
| | | | | |
| --- | --- | --- | --- | --- |
| PLACE | NAME OF THE COMPETITOR | UNIT | WEIGHT | TRUNK No |
| | | | |   |
| 1 | NITIN MHATRE | MAHARASHTRA | 53.9 | 126 |
| 2 | KUNDAN GOPE | INDIAN RAILWAYS | 54.7 | 129 |
| 3 | ARJUN KR SAHU | SERVICES | 53.7 | 128 |
| 4 | RAHUL SALUNKHE | INDIAN RAILWAYS | 54.4 | 130 |
| 5 | SANDEH SAKPAL | MAHARASHTRA | 54.5 | 127 |
PLACE
NAME OF THE COMPETITOR
UNIT
WEIGHT
TRUNK

No

 
1
PRADEEP VERMA
PUNJAB
59.1
177
2
VAIBHAV MAHAJAN
INDIAN RAILWAYS
59.3
154
3
RAMA MALIK
HIMACHAL PRADESH
59.6
157
4
DEPU DUTTA
ASSAM
56.1
171
5
ANKUR
DELHI
58.7
169
PLACE
NAME OF THE COMPETITOR
UNIT
WEIGHT
TRUNK

No

 
1
ANIL GOCHIKAR
ODISHA
64.4
212
2
S BHASKARAN
INDIAN RAILWAYS
63.8
198
3
SANDEEP
DELHI
63
217
4
POTHINA KRISHNA
SERVICES
64.7
197
5
SHRIVIWAS WASKE
MAHARASHTRA
63
196
PLACE
NAME OF THE COMPETITOR
UNIT
WEIGHT
TRUNK

NO.

1
RAJU KHAN
DELHI
68.9
262
2
HARI RAM
CRPF
69.7
264
3
ARNOLD FUDGE
WEST BENGAL
68.7
260
4
PRATIK PANCHAL
MAHARASHTRA
69
244
5
INGWALW H B
SERVICES
69.2
245
| | | | | |
| --- | --- | --- | --- | --- |
| PLACE | NAME OF THE COMPETITOR | UNIT | WEIGHT | NO. |
| 1 | SARBO SINGH | INDIAN RAILWAYS | 74.3 | 302 |
| 2 | SAGAR KATURDE | MAHARASHTRA | 74.9 | 299 |
| 3 | PRASHANT KHANNUKAR | SERVICES | 73.6 | 300 |
| 4 | V JAYAPRAKASH | INDIAN RAILWAYS | 72.6 | 301 |
| 5 | LOKESH KUMAR | UTTAR PRADESH | 74 | 338 |
PLACE
NAME OF THE COMPETITOR
UNIT
WEIGHT
TRUNK

NO.

1
B MAHESWARAN
SERVICES
79.1
354
2
MOHAN SUNRAMANIAN
INDIAN RAILWAYS
79.2
356
3
R K MALIK
SERVICES
77.7
355
4
CHOPADE SACHIN
GUJARAT
78.3
359
5
RAVINDER KUMAR
CRPF
79.8
368
PLACE
NAME OF THE COMPETITOR
UNIT
WEIGHT
TRUNK 

NO.

 
1
T H DAYANANDA SINGH
SERVICES
84.2
384
2
PRITAM CHOUGLE
INDIAN RAILWAYS
83.6
385
3
SHRIKANT SOM
UTTAR PRADESH
83.2
412
4
MITHUN SAHA
WEST BENGAL
83.7
399
5
PRADEEP RAJWADE
JHARKHAND
83.7
388
PLACE
NAME OF THE COMPETITOR
UNIT
WEIGHT
TRUNK 

NO.

 
1
SUNIT JADHAV
MAHARASHTRA
86.7
433
2
SAGAR JADHAV
INDIAN RAILWAYS
88
425
3
M RAJENDRAN MANI
TAMILNADU
88.4
430
4
MAHENDRA CHAVAN
MAHARASHTRA
88.6
422
5
PRITAM SINGH
CRPF
87.8
437
PLACE
NAME OF THE COMPETITOR
UNIT
WEIGHT
TRUNK 

NO.

 
1
RAM NIWAS
INDIAN RAILWAYS
92.8
462
2
KIRAN PATIL
INDIAN RAILWAYS
95.1
461
3
S K SHUKLA
SERVICES
90.4
460
4
JAGAT KUMAR
DELHI
90.8
474
5
SUNIL KUMAR P P
SERVICES
90.8
459
PLACE
NAME OF THE COMPETITOR
UNIT
WEIGHT
TRUNK 

NO.

1
JAVED ALI KHAN
INDIAN RAILWAYS
103.9
495
2
ZUBAIR SHAIKH
MAHARASHTRA
101.5
494
3
HIBZUR REHMAN
DELHI
106.8
502
4
ATUL AMBRE
MAHARASHTRA
101.1
493
5
S PRASATH
TAMILNADU
100.5
499
PLACE
NAME OF THE COMPETITOR
UNIT
WEIGHT
TRUNK 

NO.

1
THIGBAIJAM SARITA
MANIPUR
3
2
MAMOTA YUNMAM
DELHI
6
3
EUROPA BHOUMIK
WEST BENGAL
5
4
KANCHI ADVANI
MAHARASHTRA
1
5
LEELA PHAD
MAHARASHTRA
9
PLACE
NAME OF THE COMPETITOR
UNIT
WEIGHT
TRUNK 

NO.

 
1
SANJANA
UTTAR PRADESH
36
2
HARLEEN SETHI
MAHARASHTRA
17
3
ANKITA SINGH
KARNATAKA
15
4
MRIDULA
DELHI
23
5
SONIA MITRA
WEST BENGAL
22
PLACE
NAME OF THE COMPETITOR
UNIT
WEIGHT
TRUNK 

NO.

1
SUMIT BANERJEE
WEST BENGAL
72
2
NILESH BOMBALE
MAHARASHTRA
48
3
NEERAJ BHAMBHU
HARYANA
94
4
MANOHAR PATIL
MAHARASHTRA
46
5
ANIL SATI
UTTAR PRADESH
99
Source : IBBF Official Website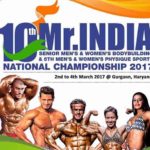 The most prestigious Championship of the year, Mr India 2017 – "10th Senior Men's & Women's National Body Building Championship & 5 t h Men's & Women's Physique Sports National Championship 2017" will be held on and from 2nd to 4th March 2017 at Gurgaon, Haryana under the organization of Haryana Body Building and Fitness Association and District Amateur Body … Read More »