International Health and Fitness Festival (IHFF) 2018 brings you yet another edition of the India's most popular and coveted bodybuilding competition – Sheru Classic 2018 in Mumbai on 12th, 13th and 14th October at Bombay Exhibition Centre, NESCO, Goregaon. With Big Muscles Nutrition as Presenting Partner, the event is organized by Asian Business Exhibitions and Conferences Ltd. (ABECL) – one of the largest organizers of trade exhibitions and conferences in India.
To enhance the visibility of Sheru Classic Mr. Sheru Aangrish has joined hands with Mr. Manish Gandhi – COO of ABECL and the pivotal man behind the India's greatest fitness, health, wellness and sports event – IHFF. The strong hold and contribution of Sheru classic in the bodybuilding community combined with rich experience, expertise and organizational strengths of Mr. Manish Gandhi has laid a strong foundation to help the bodybuilding community and fitness industry in India scale to newer heights.
Sheru Classic features some of the world's top IFBB Professional Bodybuilders, Women athletes and renowned coaches, nutritionists, world's top athletes. Sheru Classic gives an opportunity to 100+ vendors, service providers and industry experts that come together to share their knowledge or spread awareness of their brands/products in the industry.
Sheru Classic at IHFF will give an opportunity for aspirants to win the title of Male and Female Model in the below categories
MALE MODEL SEARCH (MENS PHYSIQUE)

FEMALE MODEL SEARCH (WOMENS BIKINI)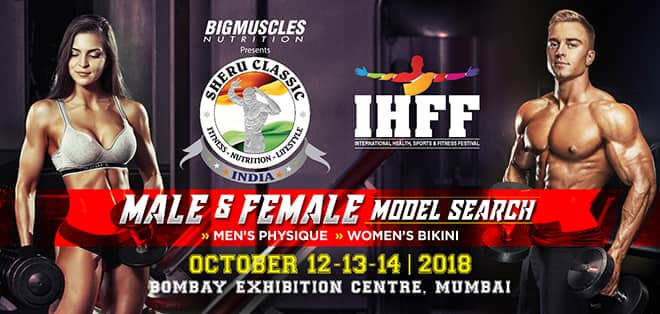 IHFF is expected to witness a massive participation from more than 500 exhibitors and 1,30,000+ visitors. The event is expected to cover fitness, health, sports and wellness brands across the globe, fitness professionals from the industry, celebrities, professional athletes and bodybuilders. The event is meant to benefit every person attending be it professionally or personally from building a healthier lifestyle to gaining knowledge of new trends, popular brands, consultants and trainers, the platform is all set to help the fitness industry collaborate and grow together.
Watch the promo video for IHFF 2018 Key Exhibitors
IHFF will also host the Amateur Olympia 2018 at the event. From professional bodybuilders like  Kai Greene, Sergi Constance, Branden Ray, Morgan Aste, Jeremy Buendia to celebrities, you get a chance to meet them all and learn some great workout secrets from professionals in the industry.
Sheru Classic has been steadily growing on its trajectory of success for the past few years and those who make it at this stage are sure to make it big in the industry. Visitors to participants alike, the event is designed to help everyone achieve no matter what their fitness goals are.
So are you geared up to witness the show stoppers and grand performances at Sheru Classic 2018?
To participate at Sheru Classic 2018 visit
http://www.sheruclassic.com/registrationform2018.php
To participate as a visitor at IHFF
https://in.bookmyshow.com/mumbai/events/international-health-sports-and-fitness-expoihff-2018-sheru-classic-2018/ET00080647
To know more about IHFF event, schedule and participants visit:
12Oct
- 14
2018
Sheru Classic 2018
Event Summary
International Health and Fitness Festival (IHFF) 2018 brings you yet another edition of the India's most popular and coveted bodybuilding competition – Sheru Classic 2018 in Mumbai on 12th, 13th and 14th October at Bombay Exhibition Centre, NESCO, Goregaon. With Big Muscles Nutrition as Presenting Partner, the event is organized by Asian Business Exhibitions and …