IBBF Mumbai Shree 2017 will be held on 24th and 25th February. Event will be organized by Greater Bombay Bodybuilders Association & Mumbai Suburban Bodybuilding & Fitness Association.  Weighing and prejudging will he held on 24th February (Saturday) at Nirvan Corporate, Jijamata Road, Andheri East, Mumbai – 400093, Opposite Aghadi Nagar, Pump House. Weighing in time is 4 PM.

There will be 8 weight category : 55kg, 60kg, 65kg, 70kg, 75kg, 80kg, 85kg & Above 85kg.
The Finals will be held on 25th February at 5 PM. The address for the competition is The Celebration Sports Club, Garden No 5, Lokhandwala Complex, Andheri West, Mumbai, Maharashtra 400053.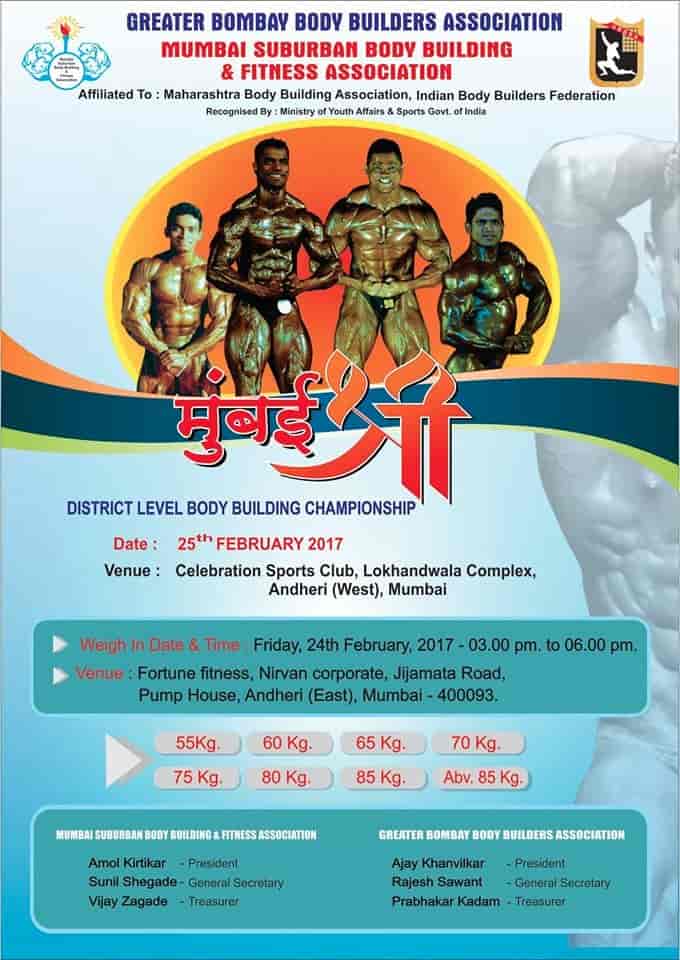 24Feb
- 25
2017
IBBF Mumbai Shree 2017
Event Summary
IBBF Mumbai Shree 2017 will be held on 24th and 25th February. Event will be organized by Greater Bombay Bodybuilders Association & Mumbai Suburban Bodybuilding & Fitness Association.  Weighing and prejudging will he held on 24th February (Saturday) at Nirvan Corporate, Jijamata Road, Andheri East, Mumbai – 400093, Opposite Aghadi Nagar, Pump House. Weighing in time is …