IBBF Maharashtra Shree 2017 will be held on 26th February at Thane. This will be the biggest bodybuilding competition in Maharashtra. Event is organised by Maharashtra Bodybuilding Association which is affiliated to Indian Body Builders Federation (IBBF). Nitro Fitness will sponsor the event this year.
As part of this competition team will be selected for the 10the Senior National Body Building and Physique a sports championship 2017.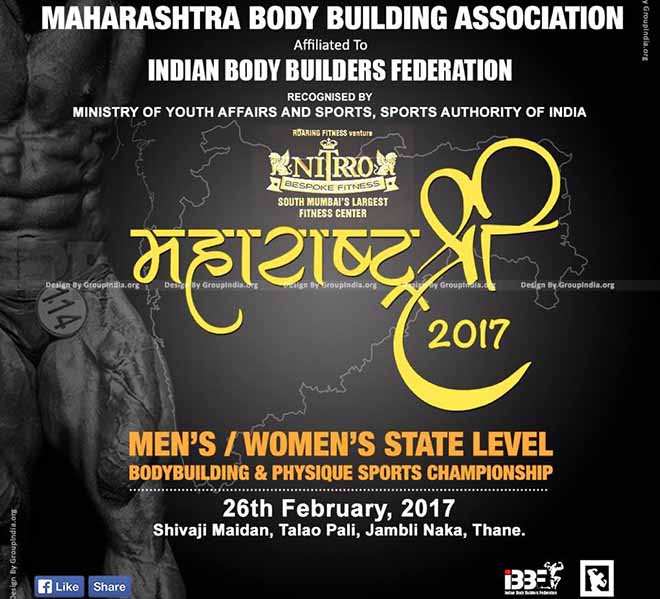 Messages from celebraties about the invite.
Yes Yes Legend Of Indian Bodybuilding Non Other Than "Guruji" Supporting Maharashtra Shree 2017 Bodybuilding Competition Held In Thane Just 2 Day Left FriendMaharashtra Body Building AssociationIndian Body Builders Federation,mumbai,india.Nitrro Bespoke FitnessPraboddh DavkhareySoniyaa Davkharey#IBBF #WBPF #MBBA

Posted by Kamal Soni on Friday, 24 February 2017
Supporting Video From @Shama Sikander For Maharashtra Shree 2017 Bodybuilding Competition In Thane Organiz By Nitrro Bespoke Fitness Association With Maharashtra Body Building Association Indian Body Builders Federation,mumbai,india. Praboddh DavkhareySoniyaa DavkhareyNiranjan DavkhareAdvocate Niranjan V. Davkhare

Posted by Kamal Soni on Thursday, 23 February 2017
Message from Mr Sharman Joshi He Is Supporting Maharashtra Shree 2017 Bodybuilding Competition by Nitrro Bespoke Fitness Praboddh Davkharey Soniyaa Davkharey Niranjan Davkhare Advocate Niranjan V. DavkhareMaharashtra Body Building Association Indian Body Builders Federation,mumbai,india.Nitrro Redefining FitnessStay Tuned For More Major AnnouncementJust 3 Day Left Be There For Support All Bodybuilder And Make It Grand Success.

Posted by Kamal Soni on Wednesday, 22 February 2017
26Feb
- 26
2017
IBBF Maharashtra Shree 2017
Event Summary
IBBF Maharashtra Shree 2017 will be held on 26th February at Thane. This will be the biggest bodybuilding competition in Maharashtra. Event is organised by Maharashtra Bodybuilding Association which is affiliated to Indian Body Builders Federation (IBBF). Nitro Fitness will sponsor the event this year. As part of this competition team will be selected for …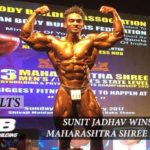 IBBF Maharashtra Shree 2017 held on 26th Feb 2017 was a grand success. It was organised by Praboddh Davkharey's NITRRO fitness together with Maharashtra Body Builders Association. It witnessed huge crowd which came in to watch the battle for the title. Several other prominent athletes also showed up at the event including Suhas Khamkar, Sangram Chougule, Kiran Patil, Shweta Rathore. Film … Read More »