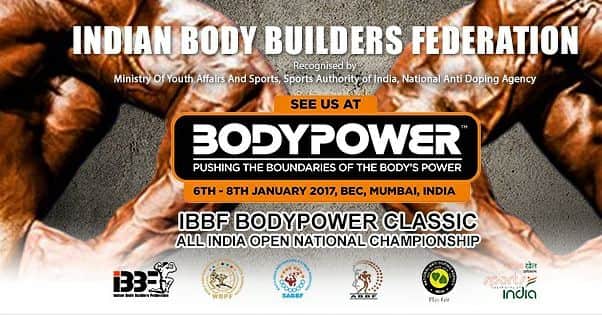 Its a very exiting new, IBBF has planned to have the BodyPower Classic event held during the upcoming BodyPower Expo 2017 in Mumbai. This may have come as surprise to many as its just 4 days left for the expo and the news has been out just yet. This will be an all india open national championship where athletes from all the state association of IBBF can participate.
Detail of the competition are as below. You are requested to share this information with everyone as there is limited time left and all the news should reach all the interested participants.
IBBF Secretariat :
Mr. Chetan Pathare –General Secretary
Mobile: 099679 71970 / 07506267970
Weight Group :
Senior Men's Body Building – Only One Open Group
Eligibility :
1.Senior Men's Body Building
All body builders through affiliated state association/ union territories /sports board can Participate.
Entry Fee for Participants : Rs.500/- per competitor.
Prizes & Awards :
1. The Top Ten winners will be awarded with Cash Awards, Merit
Certificates and the athletes in first three ranks will be awarded with
medals and trophies.
2. Overall Champion will receive Trophy , Medal & Merit Certificate.
3. All the participants will receive participation certificates.
Please note that above cash prizes are subject to Income tax deduction at source and winners have to produce their PAN Card xerox for claiming Prize money cheques.
Doping : Dope test may be conducted at random by the National Anti Doping
Agency (NADA).
Rules for the Contest :
1. The competitors who are not present for the registration within the time limit will be eliminated from the competition.
2. All competitors must arrive prior to the schedule.
3. Organizers will not provide lodging & boarding to the any body builders and officials.
4. Please take note that the Officials and supporters will have to arrange for their own entry passes as the organizers have not provided us with same. We require state units co-operation for the same.
5. It is compulsory that all the Officials and judges come in proper uniform.
6. Golden, Silver and Bronze color tanning cream is not allowed.
Please note : Indian Body Builder's Federation, Body Power India Private Limited ;
Maharashtra Body Building Association or no other organizers will be
responsible for any mischief, injury or damages sustained in travel.
Contact Details:
Vikram Rothe: 09819055000
Ajay Kahnvilkar: 09769879828
Madan Kadu : 09619792444
Rajesh Sawant: 09867209971
Sunil Shegde: 09223348568
6Jan
- 8
2017
IBBF BodyPower Classic 2017
Event Summary
Its a very exiting new, IBBF has planned to have the BodyPower Classic event held during the upcoming BodyPower Expo 2017 in Mumbai. This may have come as surprise to many as its just 4 days left for the expo and the news has been out just yet. This will be an all india open national …